Alumni & Friends Gather for Andrew Harvey 5K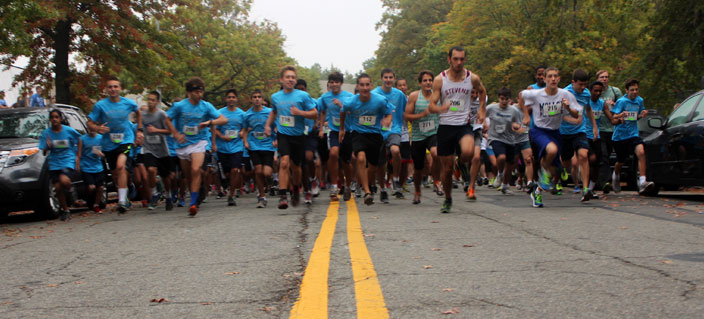 It was a beautiful Sunday morning – the sky was mostly cloudy, and the air was filled with a hint of rainy mist and a cooling breeze. Of course, this was perfect weather for a 5K race! Thankfully over 150 runners and their families were at Molloy to either participate in the 26th Annual Andrew Harvey Memorial 5K Fun Run or to cheer their loved ones on. Also offered were the one mile race, the little one's dash, and plenty of water, coffee, cake and rolls for our many hungry runners. While the Fun Run has been a school tradition dating as far back as the 1980s, it was not quite the same race in its early days. In 1998, Andrew Harvey, a popular student-athlete at Molloy, was killed in a tragic off-campus accident during his junior year. After experiencing this terrible loss, the Fun Run was renamed in honor of Andrew's memory. Today, students, alumni, and their families take part in these races not only for themselves, but for Andrew, who at one time was a proud Stanner just like them.
After all runners crossed the finish line, Coach Frank Gambino '74, the main organizer of the Fun Run, helped in awarding medals to the top performers in each age group. The three 5K runners with the overall best times (pictured) were Joseph Mayer '09 at 17:05, Dillon Scibelli '13 at 17:14, and Tyler Bay '11 at 17:16. For Dillon, this was his second straight top two finish. The top three mile racers were Freddy Murgida at 6:42, Justin Crawford at 6:56, and Steven Palacios at 7:05. In all, every racer impressed with their tenacity and determination. They conquered the course around Briarwood once again, and look forward to next year's 27th annual race. Special thanks to Molloy's entire Track & Field coaching staff for their work in coordinating this event. Thanks also to our student and alumni volunteers, as well as all runners. Last but not least, thank you to the Harvey Family for running and for helping to perpetuate Andrew's memory here at Molloy. Browse a full photo gallery below or view the results: 5K Race Results | One Mile Race Results

View a full photo gallery of the Fun Run HERE.
---
Volunteer Opportunities Available at Open House
On Sunday, October 20th, Archbishop Molloy High School will host its annual Open House for prospective students and their families. Open House is the perfect opportunity for these families to learn about Molloy's many classes, teams and after school programs, how students are taught to lead lives of faith, and how the motto "Non scholae sed vitae" impacts each member of our community. One of the most important aspects of Open House is the many interactions between visitors and our students, teachers, parents and alumni. Parents and alumni are particularly important because they provide different perspectives and share personal experiences that can be of great value to a fellow parent or an eighth grader considering Molloy. Volunteers are great ambassadors for our school, and sometimes their wisdom can mean the difference in recruiting the best and brightest NYC has to offer.
We would like to encourage our parents and alumni to consider volunteering at this year's Open House. Whether giving a tour to prospective students and their families, answering frequently asked questions, or sharing personal experiences, your insights can help future Stanners. Please contact Admissions Director Leslie Poole Petit at (718) 441-2100×155 or email lpoolepetit@molloyhs.org for more information. We also look forward to seeing alumni who are bringing their children or siblings for tours of their own – and we're betting that they will know a bit of our school's story already!
---
Around the School
Classes Celebrate Mass Together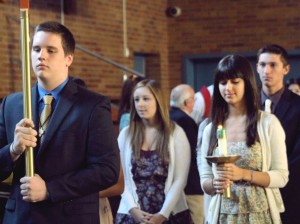 As September came to a close, students had a wonderful opportunity to pray for the rest of the year ahead as they united and celebrated the Mass of the Holy Spirit together. Each class year gathered for their own Mass in which they reflected on themselves, each other, and celebrated the Eucharist. According to Director of Campus Ministry Mr. Mike Germano '93, "Freshmen, sophomores, juniors and seniors gathering separately for their own Masses. This gives each class year a sense of ownership and camaraderie toward their year." Germano continued, "It is important for them to establish a sense of friendship among their own class. It instills a different feeling in them, as if they are part of something very special. It also reminds them that they will share a unique bond with these classmates after graduation and much later in life."
---
Freshman Field Day
Tradition at St. Ann's and Molloy has always been a very important aspect of school life. Esopus retreats, the Walk-A-Thon, class liturgies, and so many other traditions carry our students through the four most important years of their lives. One such tradition, Freshman Field Day, is devoted solely to our newest Stanners each year. After gathering for Mass, freshmen band together to take on other homerooms in various athletic and intellectual competitions. Students participate in basketball and soccer shootouts, spoon and potato sack races, relays, long jumps, high jumps, and even chess and history matches. Between all of these activities, there is an opportunity for everyone to shine and support their homeroom as they strive for first place. The peak of the afternoon comes as the final few students are left standing in the high jump challenge. This is when the competition is set aside and students aim to take over the school record – and every homeroom cheers them on. It is great moment when the freshman class unites to support each other, and it will surely not be the last time.
---
Students Receive Recognition for Academic Excellence
Principal Brother Thomas Schady announced that senior Samantha Sattler '14 was named as a 2014 National Merit Scholarship Semifinalist. Samantha is among 16,000 Semifinalists honored countrywide by the 59th Annual National Merit Scholarship Program. She will be in competition for 8,000 National Merit Scholarships, worth approximately $35 million, that will be offered this coming spring. In addition, four other seniors have been named Commended Students in the 2014 National Merit Scholarship Program. These students scored among the top 50,000 out of 1.5 million students who took the 2012 Preliminary SAT/National Merit Scholarship Qualifying Test last October. A certificate of Commendation has been awarded to the following students: George Gulino '14, Kristian Mosquito '14, Lucy Peng '14, and Shannon Pizzella '14. According to a spokesperson for the National Merit Scholarship Corporation (NMSC), "The young men and women being named Commended Students have demonstrated outstanding potential for academic success. These students represent a valuable national resource; recognizing their accomplishments, as well as the key role their schools play in their academic development, is vital to the advancement of educational excellence in our nation." Visit the NMSC website for more information.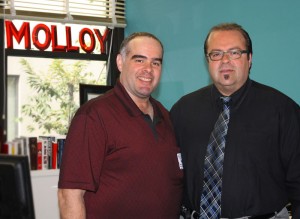 The last time Aldo Rodriguez '81 walked the halls of Molloy the Ralph DeChiaro Center for Arts and Sciences did not exist, there was no Captain Anthony Marsloe Gymnasium, and he was still the sports editor of The Stanner newspaper. Much has changed since then, and this became quite clear to Aldo, who returned to Molloy for the first time in 32 years to visit old friend and fellow Stanner newspaper staffer Richard Karsten '81. Karsten, now the President of their alma mater, was very happy to catch up with Aldo, whom he had been trying to locate for decades. Aldo recently came in contact with Karsten via LinkedIn, which led to an email and a lunch meeting at Molloy. The meeting also included classmate Ted Mcguinness '81, who is a college guidance counselor at Molloy. Aldo was thrilled to return to Manton Street, and he marveled at the impressive changes around the school. "My first impression was 'wow,'" said Aldo. "Between the new gym, the clean hallways, the trophy rooms, the library, the fact that the school is now coed…it's a culture shock. These changes have raised the school's standards. The library in particular, with all the refurbished furniture and new technology, is beautifully and tastefully done. Molloy is in the 21st century and will hopefully keep going strong." Aldo also shared stories about his Molloy days, including when he was one of the very rare students who commuted from Westchester to Molloy full time during his senior year. "I timed it perfectly. I caught the 5:48 am train every day. I loved Molloy and the education I received there, so I went above and beyond to stay enrolled there after my family moved to Westchester." After graduating from Molloy, Aldo went on to study mechanical engineering at Manhattan College. After earning his degree, Aldo found himself moving away from engineering, instead finding a career in transportation and warehousing. He remains in that industry today, and his love of technology continues to inspire his work on a daily basis.
---
After a successful professional season with the Class "A" minor league affiliate of the San Diego Padres, Dennis O'Grady '07 has been invited by the organization to play ball in the upcoming Arizona Winter League. This will provide Dennis with another chance to showcase his talents in hopes of progressing upward through the Padres' system. In 2013, Dennis pitched to a 3.86 ERA in 70 innings while recording 69 strikeouts. He also earned 10 saves out of the bullpen.
---
Joe Forgione '00 is now proud to be an uncle, while Molloy's own Mrs. Kathy Forgione, RN, is now a very happy grandmother. Both welcomed into their lives the birth of Andrew Michael at 7lb, 5oz, 20 inches on September 13th, 2013. It may have been Friday the 13th, but it proved to be a very lucky day for mom and dad, Jennifer and Brian Cestare. All are healthy and doing well. Pictured: The proud grandparents, Fred and Kathy Forgione.
---
Eric Coquinco '92 recently shared the photo below with the Stanner Alumni Center after reading The Beehive. Pictured from left to right are Eli Tretola '92, Konrad Wojciechowski '03, and Eric. "We are all in the 4th Precinct of the Suffolk County Police Department," said Eric. "We're all looking forward to more Badges Alumni events and catching up with our fellow Stanners."
---
Over the summer, Anthony Famiglietti '00 hosted a very special guest on his radio show. Police Commissioner Ray Kelly '59 spared some time out of his busy schedule to call in to "The Morning Show with Anthony" on 92.9 & 96.9 EHM, which is based on Long Island. During the broadcast, Anthony and Commissioner Kelly discussed a charity softball game that both would be participating in later in the week. The two Stanners also spoke about Archbishop Molloy High School and, of course, their proud connections to the school. You can listen to the full audio of this interview HERE.


We are saddened to share news of the passing of Therese Ann Byrne, sister of faculty member Br. James Maher. We ask that you please keep Therese, Br. James, and their family in your thoughts and prayers.

The Molloy family was very saddened this week to learn of the passing of Mary Therese Connor, mother of Carolyn Gallagher '13, spouse of Mark Gallagher '71, and sister-in-law to John Gallagher '66. We ask that our alumni and friends please keep Mrs. Connor and the Gallagher family in their thoughts and prayers during this very difficult time.

We are saddened to share news of the passing of James J. Lynch, father of James '83. Mr. Lynch, of Elmhurst, passed away peacefully while surrounded by family at the age of 97. "Jimmy" is survived by his wife, Kathleen; his son, James J. Lynch M.D.; his wonderful daughter-in-law, Patricia; and his adoring grandchildren, Rosie and Jimmy. Although most of his siblings have gone before him, he kept faithful contact with his sister, Anna Mary and Sean, both of England, and his numerous nieces, nephews, and cousins in the US, England and Ireland. Jimmy had certain things he cared about in life: his brothers in Local 891, IUOE, all things Cavan and the Cavan P&B Assoc. of NY, the St. Patrick's Day Parade on 5th Avenue, Sound Beach and the Miller Beach Surf Club, St. Adalbert's Church, and his family. He lives on in the hearts and minds of all those he knew and loved. Please pray for the Lynch family.

We were recently informed of the passing of William O'Leary '52 at the age of 79 earlier this year. William was a longtime resident of Old Bridge, New Jersey. Please keep William and the O'Leary family in your prayers.

Terry Shugrue '73 asks that the Molloy community please keep his step-father Robert T. Schwarz in their prayers. Mr. Schwarz passed away earlier this year. "Robbie was a great dad, a dedicated husband, and a loving grandfather," said Terry. "He served in the Navy during WWII, married my mom at St. Nick's a few weeks after I graduated from Molloy back in '73, and was a devote Catholic who never missed Sunday Mass." Terry had gotten to spend 40 blessed years with his stepfather, and for that he is very thankful.
---
---