Upcoming Events
Stanner Alumni Reunion – This Weekend!
When: Saturday, November 5th
Where: Molloy HS
Classes of: '61, '66, '71, '76, '79 (special invite), '81, '86, '91, '96, '01, '06, '11
Online Registration is now closed
Use hashtag #StannerReunion to share your photos & content!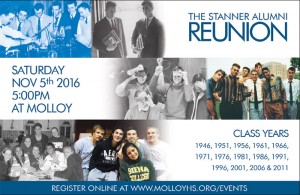 Attention Classes ending in 1 and 6! Your reunion is this weekend! We would like to thank everyone who registered for the reunion in advance, and we're happy to share that we're expected to welcome over 460 alumni and guests! Here are a few important items heading into the big day:
When arriving please enter through the large blue doors across from the track and field.
Early check-in begins at 4:30pm
A Mass of Remembrance will begin in the Ralph DeChiaro Theater at 5:00pm
For those unable to attend Mass, the next opportunity to arrive will be for a cocktail reception for each class, which will begin at 6:15pm. Staff and student volunteers will let you know where to go throughout the remainder of the evening.
Valet parking and coat check will be offered. Ask staff or student volunteers for more information (*Note: the parking lot fills up fast)
A list of current and former faculty and staff members attending the reunion has been posted on molloyhs.org/events in the right column.
Any last minute questions should be sent via email to alumni@molloyhs.org. On behalf of everyone here at Molloy, thank you for being a part of your reunion. We look forward to seeing you all again here at Stanner High!
Alumni Race at Van Cortlandt Park
When: Saturday, November 12th | 12:15pm*
Where: Van Cortlandt Park
Contact: Frank Gambino '74 or AJ Power '84
(*Note: The start time of the race was previously published incorrectly in The Beehive. The correct start time is 12:15pm)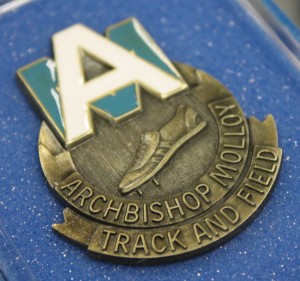 Molloy is looking for alumni to compete in this year's Alumni Race at the CHSAA Intersectional Championship Meet on Saturday, Nov 12th at 12:15pm in Van Cortlandt Park. According to Mr. Gambino, all-stars Tyler Bay '11, Michael Reddy '16, Alex Goldberg '16, and Jessica McEntee '05 will be running this year, but they need your help! The bigger Molloy's entry, the better our chances of finishing in the top spot. Plus, Mr. Gambino and Mr. Dombrowski will be bringing up the rear to make sure everyone finishes the race! Please contact the emails above if interested or fill out the registration form linked above.
Thanksgiving Liturgy & Alumni Reception
When: Wednesday, November 23rd, 10:00am
Where: Molloy Cafeteria / Jack Curran Gym
Contact: alumni@molloyhs.org
Note: Guests are asked to enter through cafeteria.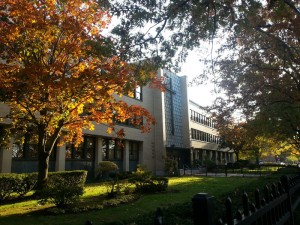 Alumni, family members, and friends are once again invited to join us for a great tradition at Molloy as we celebrate our annual Thanksgiving Liturgy. This is a wonderful opportunity to pause, reflect, and be thankful as we prepare to enter the Christmas season, and we are excited to share it with our community. Alumni and guests are encouraged to arrive by 10:00am to allow enough time to get acclimated and be seated. Please enter through the cafeteria doors. Mass will begin promptly at 10:45am. Following Mass, a light reception featuring hot cocoa and chocolate chip cookies will be held in the student cafeteria. Alumni and guests are invited to attend the reception and catch up with classmates and teachers. For more information please email the Stanner Alumni Center (see above).
DC Alumni Reception / Gonzaga Classic – SAVE THE DATE
When: December 9th – 11th
Where: Gonzaga HS / American Univ. / Reception Location TBD
Tickets: More information coming soon
Contact: Craig Katinas '93
Molloy's boys Varsity basketball team is set to play in this year's Gonzaga DC Classic, which will run December 9th – 11th (Friday – Sunday) at Gonzaga High School and American University in Washington, DC. Led by blue chippers Khalid Moore '18, Moses Brown '18, and Cole Anthony '19, our Stanners are considered strong contenders to win the tournament. We would like to invite our DC Metro alumni to come out and support the team during the tournament! Planning is underway to host a reception that will invite players, coaches, and alumni to come together and celebrate at a location to be announced soon. Additional information about the tournament will be shared as soon as we receive the finalized schedule. If interested to attend please contact Alumni Development Director Craig Katinas '93 at ckatinas@molloyhs.org.
Alumni & Friends Celebrate 4th Annual Oktoberfest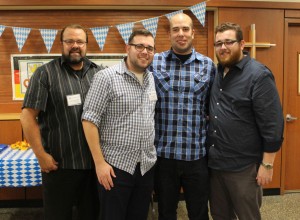 We had a great night on October 6th with alumni, faculty, parents, and friends who joined us for our fourth annual Oktoberfest celebration. This event has become one of our favorites, as it is a wonderful opportunity to come together, sit back, relax, and share delicious food and many laughs with our alumni and faculty. Thank you to Mike McGuire '81 and Trinity Restaurant & Bar who graciously provided the craft beer, Bavarian style bratwurst, franks, pretzels and potato salad as well as additional service staff. Special thanks to everyone who attended, and congratulations to everyone who won t-shirts and other prizes in our raffle drawing! Please take a few moments to check out our photo gallery below (click the button for the full gallery). We'll see you at next year's Molloy Oktoberfest!

Around the School
The Stanner Players Present: Pygmalion
When: 11/18 @ 7PM | 11/19 @ 7PM | 11/20 @ 2PM
Where: Molloy's Ralph DeChiaro Theater
Tickets: Adults are $10 | Students & Children Under 12 are $5
The Stanner Players are ready to perform for you once again, this time in Pygmalion, also known in other iterations as My Fair Lady. In this play by George Bernard Shaw, Professor Henry Higgins has made a bet that he can turn flower girl Eliza Doolittle into a Duchess that will attend an upscale garden party. Will he win his bet, or will Eliza stand in his way? Attend any one of three performances here at Molloy to find out. Tickets can be purchased via the above link. More information is available by emailing stannerplayers@gmail.com.
Guest Speaker Showcases "Alexander Technique"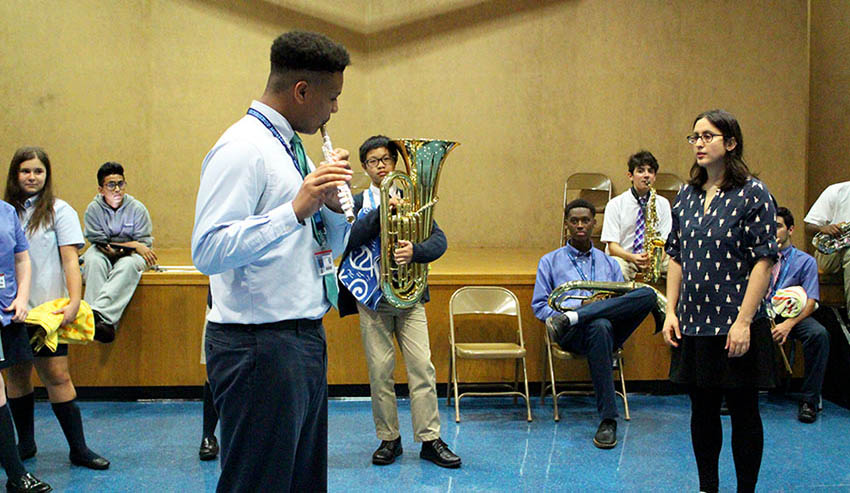 Molloy's music students were recently treated to a special workshop led by guest speaker Ms. Nadia Banna, an expert on the educational process known as the Alexander Technique. Named after its creator, Australian actor Frederick Matthias Alexander (1869-1955), Alexander Technique focuses on realigning one's posture to relieve muscular and mental tension. This well-known exercise is used by individuals and performers in many different fields in order to improve overall performance. Musicians and stage performers are among the many professionals who recognize and use Alexander Technique. Ms. Banna was kind enough to explain and model the technique to the school band, who then tried it out for themselves while using their instruments. A follow-up visit focusing on the Stanner Players and Theater Arts & Improv is currently planned for later this year.

Cara Salvatore '13 Founds "brUNch" Magazine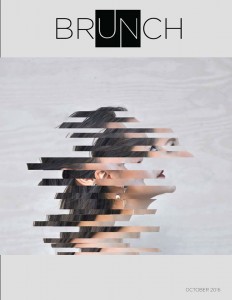 Cara Salvatore '13 is not one to sit by and let things happen. She makes this happen. A student at NYU Stern School of Business, Cara launched a student group called First Timers Club on the premise of exploring the NYC's less conventional health and wellness opportunities (think trampoline cardio, aqua cycling, urban agriculture, etc.). Each week, the Club would publish a newsletter featuring info about free fitness events around the city. After the newsletter's initial success, Cara was inspired to create her own unique events. She started the "Boss Babes Brunch" event series with the goal of uniting diverse but similarly driven young women to learn from successful, entrepreneurial women with experience. "Our first speaker in the series was Chef Taryn Garcia, founder of Vendome Macaron, which had its start at Smorgasburg in Brooklyn and now sells out on Saks Fifth Avenue," explained Cara. The event series was met with modest success, but Cara wanted to reach an even larger audience who could really utilize these kinds of opportunities. "I wanted to build a publication to drive appropriate traffic to in-person, ticketed events, hence the birth of brUNch magazine."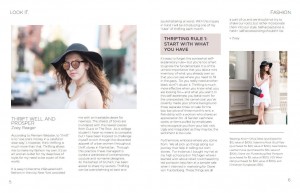 According to Cara, the name "brUNch" stands for "Babes RUNning CHange" and is inspired by young women meeting over a meal to learn from and inspire each other. The stylized "UN" signifies daring to go against the grain and defy gender norms. "Our general focus is femme empowerment, especially for young women. We accomplish this by reporting on the world through their eyes, validating their vantage points with a team of similarly young writers. I would describe our content as espousing New York Times level intellect with high fashion visuals." The magazine focuses on an overall theme each month, which its writers analyze across various industries and issues. "October's theme was Accept It. By accepting ourselves, our strengths and weaknesses, and our femme identities, we activate our power and are best positioned to change the world," explained Cara. Other elements of the publication deal with relationships, food, travel, politics and more. "Because we only publish once a month, we take more of a human interest approach rather than reporting hard-hitting news," said Cara. (Pictured: Fashion spread)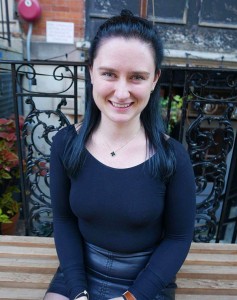 Among the talented people working on brUNch with Cara (pictured right) are fellow Stanners Monika Mowak '12, Rebecca Rivera '13, and Alexandra Bertolini '13. The total team features 6 visual designers and 16 text-based contributors – many from Cara's NYU community.
brUNch is currently only available in digital format with future plans to produce limited physical copies for local businesses to showcase. Readers can subscribe to receive the digital magazine via email at https://iwantbrunch.splashthat.com/ or find more information on Facebook and Instagram.
Cara leaves us with some final thoughts about the project. "I go to a school with a very clearly defined path to success, but it's not a path that makes me necessarily feel fulfilled or happy. I get the most joy and sense of self-actualization from bringing people together in ways that add value for all involved. I hope the magazine will expand and receive support and help not only women, but men, parents, and others. There is a lot to be gained from reading what we're putting out."
Author Rich Kisielewski '70 Releases 5th Novel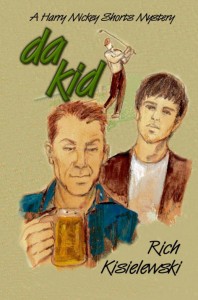 Rich Kisielewski '70 has penned the fifth installment of his Harry Mickey Shorts Private Detective Mystery book series. According to the author, da kid, as seen through the eyes of Harry Mickey Shorts, street-smart private investigator, "gives the reader a feel for what goes on in the underworld of true con-artists and Las Vegas hustlers. Elements of humor, suspense and surprise twist and turn throughout. Together they keep the pace fast and provide the main character, Harry Mickey Shorts, with a trip you will be glad you didn't miss." The book features subtle references to Molloy (the main character played baseball at a certain Queens high school), and even a cameo inspired by alumnus and former professional baseball player Ed Kurpiel '71 (Ed's character owns a golf course). Previous installments in the series include da bushes (2003), da sticks (2010), da bug (2011), and da nuts (2015). The book is available in paperback and digitally via Amazon Kindle: More info about da kid | More info about the author
A Student – and Teacher – of the Arts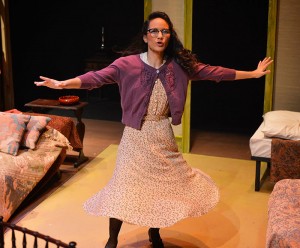 Tiffany McCue '12 is pursuing a Master's degree in Educational Theatre at City College of New York. She has already earned her BA in Theatre Education from Manhattanville, but there is an important difference between the two. Tiffany explains: "Theatre Education is the study of teaching theatre. The same way there are music teachers, there are theatre teachers who also need specialized training. I studied theatre history, acting techniques, stage management, etc. Educational Theatre focuses on creating to educate, build awareness of issues, and inspire social change. It also touches on how theatre games and other activities can be used in classroom settings to enrich everyday learning." Tiffany is a strong believer in theatre's importance in society, and she says her ultimate goal is to "create a safe space for young people to be free to play, create, express, and find themselves."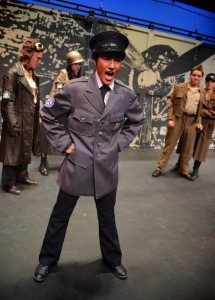 Tiffany's love of theatre grew at Molloy where she learned the basics and built confidence as a member of The Stanner Players. That experience prepared her for monologues and scenes at Manhattanville and in community theatre productions. Some notable roles she has portrayed include Dogberry (pictured left) in Shakespeare's Much Ado About Nothing and Margot Frank (pictured above) in Diary of Anne Frank. "Dogberry was my first comedic role. I discovered new physicality that I never thought I would be capable of. I found out I could be funny! And on the other end of the spectrum, Diary is such a vessel of strength, wisdom, and hope that society needs to experience. Plays hold up a mirror to life and reflect back to us the pains and joys of the human condition. In a world where we are losing empathy and our sense of solidarity, we need theatre to not only entertain, but to help build awareness for today's challenging issues."
Tiffany credits her many mentors at Molloy for nurturing her passion for theatre and literature, among them Kevin Schwab '99, Mary Ann Safrey, Ms. Gannon, Jim Sheehan '75, Brian Kelly 94, and Jessica Petschauer '04. "They always helped me when I fell and showed me love and guidance. I would not be who I am today if not for them." Looking toward the future, Tiffany dreams of being a professor by day and a performer by night. "I never want to stop acting, singing, creating, or learning."


We are saddened by the passing of Frank Fitzgerald '78, brother of Jack Fitzgerald '74 and Jim Fitzgerald '82. Frank was beloved by all who knew him. Please pray for Frank, his wife Jane, and his children Erin, John and Jim.

Please pray for the repose of the soul of Mrs. Cecelia George, mother of Br. Roy George '62.

We ask our community to pray for the repose of the soul of Atanas "Tony" Kilifarski, husband of Denise and father of Mario Kilifarski '93. Please keep Tony, Mario, Denise, and their family in your prayers.