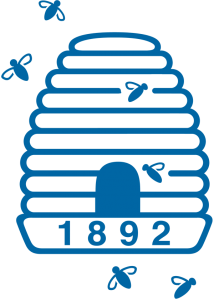 Leading off this week's Beehive, we would like to welcome the Class of 2017 to our alumni community! After four years of hard work and wonderful memories, it is time to move on to college and beyond. Remember, however, that you will forever be a part of our Molloy family. You are always welcome to come back to visit, including attending our alumni events each year. The first step is reading The Beehive, Molloy's bi-weekly alumni newsletter. Every two weeks, your email inbox will receive alumni updates, news from around school, and details about upcoming events. You can also be featured in the Beehive by emailing alumni@molloyhs.org and letting us know about all of the amazing things you're doing.
We would also like to wish all our readers a very happy and restful summer. The Beehive will operate on a reduced schedule – one in July, one in August – as we tend to other projects. In addition, look out for our new Stanner Life magazine, which will be released later this summer. Thank you to all who have faithfully read The Beehive this year and for the past seven years. Thanks to you, we are never short on Stanner stories!

Upcoming Events
Walk/Run Relay & Vigil for Karina Vetrano – 1 Week Away
When: Friday, June 23rd & Saturday, June 24th| Times: See Flyer
Where: Archbishop Molloy High School
Who: All members of the community
Contact: Matt Rizzotti '04
Use #RunForKarina on social media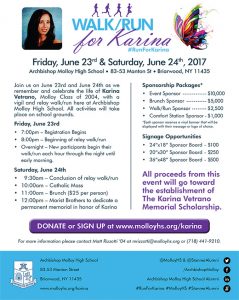 PRESS RELEASE – Queens, NY – In April, Archbishop Molloy High School announced plans to celebrate the life of Karina Vetrano, a member of the school's first coed Class of 2004 who lost her life in August 2016 after she was senselessly attacked while jogging near her Howard Beach home. Molloy will honor Karina with an upcoming evening and overnight relay walk/run beginning June 23 and concluding June 24.
Molloy has also stated that one of main goals of the event is to inspire members of the school and greater Queens communities to make charitable contributions to a new scholarship at Karina's high school alma mater. The scholarship will benefit "deserving young women who are entering Molloy in her memory."
Phil Vetrano, Karina's father, a spokesman for the family, and a member of the school's Class of 1974, is at the forefront of the school's efforts to honor his daughter and is appealing to the public for their help. "On behalf of my family, we invite anyone who wants to honor Karina to come out and take part in this event," said M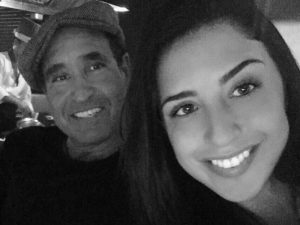 r. Vetrano in a statement. "It would mean so much to my family and to everyone at Molloy, in Howard Beach, and all over Queens to see Karina's memory carry on by helping kids at the high school she loved." Mr. Vetrano is expected to start the relay by carrying an item belonging to his daughter. That item will be carried in laps by participating family and friends throughout the relay. "The more people that get involved, the stronger our belief that Karina will never be forgotten," said Mr. Vetrano.
In addition to the relay, the event will include a Catholic Mass and brunch ($25 per person). The program will end with the dedication of a permanent memorial in Karina's memory. All activities will take place on school grounds and all proceeds will support the Karina Vetrano Memorial Scholarship.
Archbishop Molloy High School is located at 83-53 Manton Street in Briarwood, Queens (11435). Individuals interested in attending the event or donating to Karina's memorial scholarship are encouraged to visit www.molloyhs.org/karina or call Molloy's Alumni Center at 718.441.9210.
For information on banner/sign sponsorships and other event details, please click the above flyer.
---
Stanner Alumni Reunion –

Save the Date
When: Saturday, November 4th, 2017
Where: Archbishop Molloy High School
Classes: 1947, 1952, 1957, 1962, 1967, 1972, 1977, 1982, 1987, 1992, 1997, 2002, 2007 & 2012
Contact: Matt Rizzotti '04
Online registration will open this summer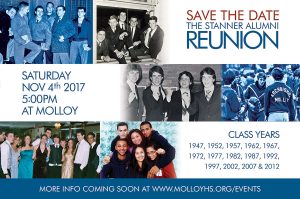 Attention classes ending in 2 and 7! Join us for the Stanner Alumni Reunion on Saturday, November 4, 2017, here at Molloy. Your reunion will include a Mass of Remembrance (5:00pm), Cocktail Reception (6:15pm), class photos, dancing, dinner, and dessert (7:15pm-11:00pm). Many of your favorite teachers are expected to be in attendance to celebrate. Save the date and look for online registration to open and invitations to be mailed this summer. In addition, we are looking for representatives from each class year to serve as "class officers" who will help spread the word and update contact information. If you are interested in being a class officer, or if you have any questions, please forward them to Alumni Development Officer Matt Rizzotti '04 (email above) or call 718.943.3151.
---
Register Your Child for STEM & Theater Camps This Summer
For the first time, Molloy is set to offer STEM and Theater Camps for 6th, 7th, and 8th grade students. Read a brief description of each camp below:
Theater Summer Camp is a week-long workshop which will focus on acting technique, story-telling, acting and improvisational activities, and monologue/scene work. Campers will be able to explore their creative side in a safe and encouraging environment led by current Molloy students as well as recent Molloy alumni

The STEM Summer Camp offers innovative, fun, hands-on learning opportunities in computer science, engineering, technology, and math. During camp, students will develop a soundboard app for android devices, design and print 3D artifacts, learn about circuits and turn everyday objects into musical instruments with a MakeyMakey console.
For more information on how to register your child for one or both of these camps please click the image above to download our brochure.
---
Class of '17  Stars in Molloy's 125th Commencement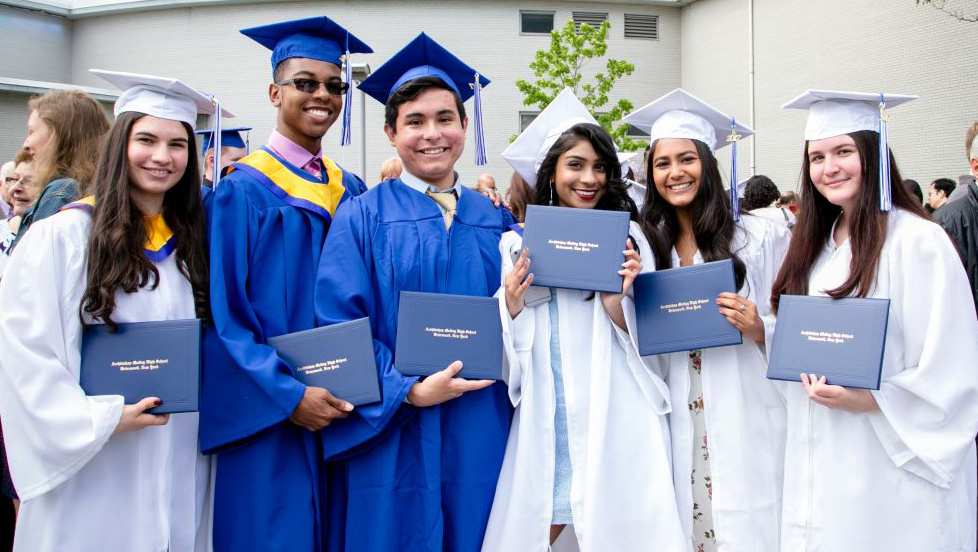 by Joe Sommo '03, Alumni Communications Director | Photos by Michelle Kawka
June 3, 2017, was a historic day for Archbishop Molloy High School. That morning, in the confines of the Colden Auditorium at Queens College, faculty, family, and friends witnessed the 125th commencement in the history of St. Ann's Academy / Molloy. 125 years of faith, service, and excellence in academics and athletics, was perpetuated by this outstanding class, which boasts future teachers, doctors, lawyers, public servants, business owners, and so many other leaders of tomorrow.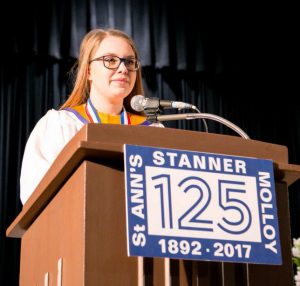 During the ceremony, Salutatorian Stephanie Lechki addressed her fellow graduates. She began by referencing the service and learning opportunities her classmates have enjoyed over the years, including service trips with the St. Marcellin Champagnat Society, Harlem Tutoring, volunteering at Briarwood Shelter, and spring trips to Europe. "We have had the privilege to accept and understand lessons that are vital to our success in life: that we should have confidence in ourselves, but not be too easily convinced; that there are situations for which it is impossible to prepare, but which we will spend a lifetime looking back at, trying to accept, interpret, and comprehend; that listening and reserving judgment is a matter of infinite hope, but action creates change and defines leaders." Stephanie also asserted that her classmates are resilient, adaptable, and capable of forgiveness. "As Stanners, as human beings, we must take the lessons we have learned, the memories we cherish – even the moments we yearn to forget – and use them to make the world a better place…It is our duty to accept this responsibility with open arms and open minds."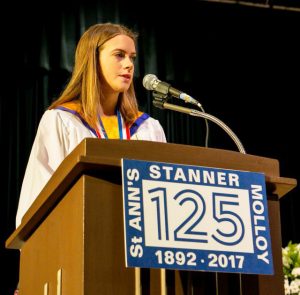 Valedictorian Jillian Hubert also addressed the full auditorium. She attempted to answer the following question: "How do we achieve and refine our character and our confidence?" Refining character, Jillian believes, is an ongoing process. "Our character is always being put to the test. Standing up for what we believe in when the whole world seems to oppose us- is character. Tending to the sick and the outcasts of society- is character. Our every act of intricate care and exceptional bravery strengthens our unique character." Regarding confidence, Jillian encouraged her classmates to look within. "Confidence is our self-assurance, our inherent self-appreciation. It must be upheld carefully and practiced with purpose. Trusting our intuition and following our gut- is confidence. Using our intellect to better society- is confidence. Genuine confidence is powerful." Jillian ended by noting that her classmates have all been prepared after four years at AMHS. "We carry memories, empowerment from our teachers, and relationships that will extend far beyond our high school years…We carry life lessons that will strengthen us along our journeys as we bridge our past to our future."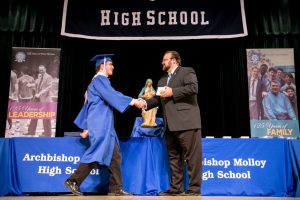 The Class of 2017 will attend colleges around the US and abroad, including Adelphi, CUNY-Macaulay Honors College, Fordham, Georgetown, University of Mass. Amherst, Molloy College, NYU, Pratt Institute, Rensselaer Polytechnic Institute, St. John's University, SUNY Geneseo, Tufts University, Vanderbilt, Villanova, US Air Force Academy, Wagner College, and HZ University of Applied Sciences (Amsterdam) among many other outstanding schools. Download the senior issue of The Stanner for a full list of schools on page 4 (link below).
Downloads: Salutatorian Remarks | Valedictorian Remarks | The Stanner: Senior Issue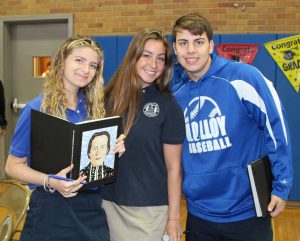 On Monday, June 5th, the Class of 2017 came together one last time to celebrate their Graduation Breakfast in the Jack Curran Gym. Teachers served up plates of hot food, while our new alumni signed yearbooks and shared memories. You will always be welcome to come home, Class of 2017! Please come visit any time and share all of your successes with us in the months and years ahead – and be sure to let us know if we can ever help you. Non scholae sed vitae.


---
Over 60 Attend St. Ann's Communion Breakfast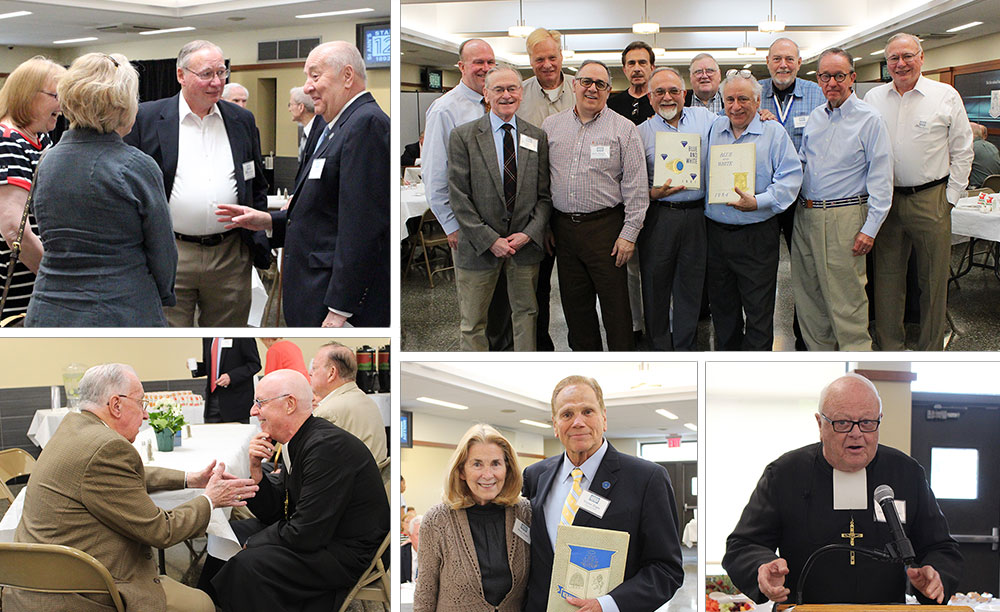 On Sunday, June 4th, Molloy hosted over 60 alumni and guests, including the students of St. Ann's and several of Molloy's first graduating classes ('57-'64). Our annual St. Ann's Communion Breakfast honors our roots in Manhattan at Lexington Ave and 76th Street, and asserts that the traditions that began there are still cherished at Molloy today. It was appropriate to welcome our "Original Stanners" back on the same weekend that saw the Class of 2017 graduate; the presence of our elder alumni is a great example of just how connected we can be to our high school after 50, 60, or even 70 years.
The event included Mass, celebrated by Fr. Mike Whalen, and a delicious buffet breakfast prepared and served by our friends at Culinart Food Services. Alumni reminisced and flipped through yearbooks that brought back a flood of memories. Marist Brothers, including Br. Jim Adams, Br. Roy George '62, Br. James McKnight, Br. Joseph Teston, Br. James Norton '63, and Br. Pat Hogan were also present and provided great commentary and insight into St. Ann's / Molloy then and now. It was a wonderful occasion, and we can't thank everyone enough for making this year's event one of the best attended in years.

---
Around the School
Br. Patrick Hogan Retires, Celebrates 60 Years as a Marist Brother
Congratulations to Br. Patrick Hogan, who officially retired this June after over 55 years of service to the Molloy community. After pronouncing his first Marist Vows at Tyngsboro, MA in 1958, Br. Pat began his teaching career at Resurrection Ascension School in 1961. He then embarked on his storied tenure at Molloy in the fall of 1962. In the classroom, Br. Pat has been known as a passionate and caring science and religion teacher. In sports, Br. Pat coached with dedication for many years, including during the "golden era" of Molloy Track & Field in the 1960's, which saw many city championships line the school's trophy cases. Br. Pat has also served as a guidance counselor, Alumni Director, and later as Alumni Spiritual Director. He has indeed worn many hats during his career. (Pictured: Br. Pay during the 1960s)
One of Br. Pat's truest passions is service. He has devoted so much of his time and energy to people in need. At the Mid-Hudson Valley Camps in Esopus, Br. Pat has volunteered at countless camps serving
deaf and needy children and adults. He has also been a fixture at Molloy camp experiences at Esopus, contributing to the memorable, family atmosphere that so many look back on fondly. Br. Pat's service has also impacted people abroad. In 2004, he and Mr. Chris Dougherty '91 established the St. Marcellin Champagnat Society (SMCS), an international service society that provides opportunities for students to serve the needy, sick, and disabled in Lourdes, France and in other situations throughout the US and the world. Br. Pat has accompanied students on many trips to Lourdes, and the society has since gone on to help people in Nicaragua, Jamaica, Costa Rica, and other locations. (Pictured: Br. Pat at a special needs camp in Esopus, 1992)
Br. Pat's resumé also includes Marist Vocation Director (1980-1985), founding member of Our Lady of Mercy School Board (2008-2012), and member of "Notre Dame De Lourdes Hospitalite" (Lourdes, France, 2009). In addition, 2017 marks Br. Pat's 60th anniversary as a Marist Brother. He will be honored along with other Brothers at a Jubilee Mass at Marist
College on June 17th. (Pictured: Br. Pat at Stanner Games)
In 2015, a scholarship in Br. Pat's name was established by former student and longtime friends Mr. Steve and Linda Matteini. In honor of Br. Pat's retirement and 60th anniversary as a Marist Brother, consider making a donation to The Brother Patrick Hogan Fund. Br. Pat, thank you for all you have done for thousands of Stanners, campers, and families. Alumni can send their congratulatory messages for Br. Pat to alumni@molloyhs.org.
---
"The Stanner" Takes Home Top Honors at The Tablet Diocesan High School Press Awards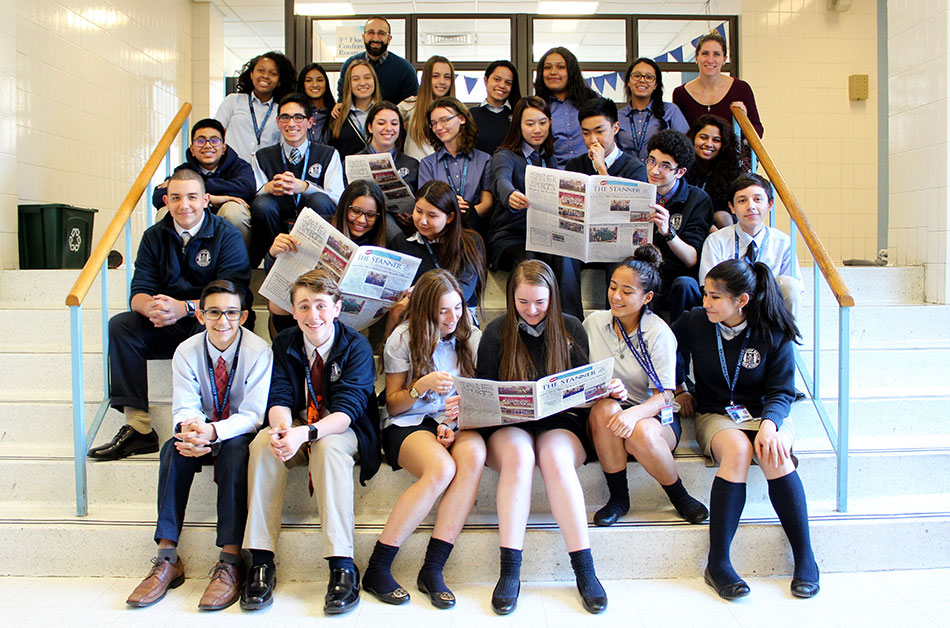 DOWNLOAD THE STANNER: FALL 2016 | WINTER 2017 | SPRING 2017
VIEW FULL LIST OF THIS YEAR'S WINNERS
READ THE TABLET'S PRESS AWARDS ARTICLE
Earlier this spring, Molloy's "The Stanner" went head to head with other student newspapers from the Archdiocese of Brooklyn. Editor-In-Chief Sarah Rodriguez '18, reporter Sydney Bryant '19, and moderators Joe Sommo '03 and Laura Sawyer '07 attended The Tablet's annual Diocesan High School Press Awards with high hopes. Each year, The Tablet recognizes the best young journalists and student newspapers among participating high schools. Awards are presented to the top three finishers in a variety of categories ranging from Best Photograph and Best News Story to the coveted General Excellence. Much to the delight of Molloy's attending contingent, The Stanner was not only awarded First Place General Excellence, but seven other first place honors. Molloy's student paper took home an impressive 14 awards in all. The competition included Cathedral Prep (The Current), Bishop Loughlin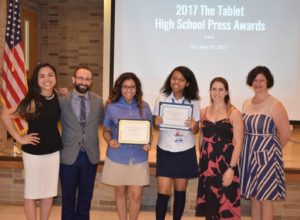 (The Jamesonian), Msgr. McClancy (The Sentenial), St. Agnes (Veritas), and others. (Pictured L-R: Tablet Youth Editor Melissa Enaje, Mr. Sommo, Sarah Rodriguez, Sydney Bryant, Ms. Sawyer, and Guest Speaker Katina Paron of Teen Voices)
"Ms. Sawyer and I first started moderating The Stanner in fall 2015, but it took some time to get acclimated," said Mr. Sommo. "We finished second at the Press Awards in 2016, and then we got off to a late start this year because the majority of previous staff had graduated last June. We ended up recruiting a completely new crew, but we were fortunate to discover some truly talented reporters and designers right from the beginning." Students covered a wide variety of topics throughout the year, from school news and events, to senior and faculty profiles, to horoscopes and politics. The Stanner also benefited visually from more student-generated photography and even comic strips. "Ms. Sawyer and I were very impressed with the content the students created this year, and to have that validated at The Tablet's awards ceremony was very special. We're all motivated to improve even more next year." Check out the video below, which captured moments from the Press Awards and features interviews with The Stanner's own Sarah Rodriguez and Sydney Bryant. One word stood out after we watched this clip: poised!
---
Marist Brothers News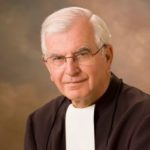 In addition to Br. Pat Hogan's 60th anniversary as a Marist Brother, a number of other Brothers are also celebrating milestones. Among this year's Jubilarians are several known to the Molloy community. Br. Kevin Handibode, celebrating his 60th anniversary as a brother, taught and coached at Molloy from 1961-1966. He went on to teach and serve as an administrator at Christopher Columbus High School in Miami for a number of years. He also served as Principal of Marist High School in Bayonne from 1993-1999.
Br. Robert McCauley is celebrating his 50th anniversary as a brother. He taught math at Molloy from 1970-1998. A Marist College alum, he also taught at Marymount Manhattan College (Adjunct Instructor, 1998-2000), St. John's University (Assistant Professor, 2000-Present), and Upper Room Christian School (2001-Present). He also served as Assistant Principal at Grace Institute Business School (1998-2000).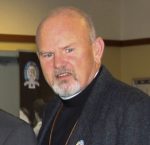 Br. Dan O'Riordan '85 is celebrating his 25th anniversary as a brother. Br. Dan has been an active member of our community for over 30 years. He has deep connections to Esopus, has been a fixture at alumni events, and is a friend to many Stanners. Br. Dan worked at Molloy from 1994-1998 as a teacher, track coach, guidance counselor, and campus minister. He also performed these roles at Bishop Donohue High School in West Virginia and Roselle Catholic High School in New Jersey. In 2010, Br. Dan was inducted into the Stanner Hall of Fame. He served as Marist Brothers USA Vocation Director from 2011-2015, and currently serves as the US Vice Provincial.
We would like to congratulate all of this year's Jubilarians: 70 Years – Br. Alfred George, Br. Martin Healy, Br. Eugene Trzecieski | 60 Years – Br. Kevin Handibode, Br. Pat Hogan, Br. William Lambert, Br. Fabian Mayor | 50 Years – Br. John Byrd, Br. Robert McCauley | 25 Years – Br. Dan O'Riordan, Br. Todd Patenaude.
---
Ms. Safrey, Mr. Sheldon Celebrate Milestones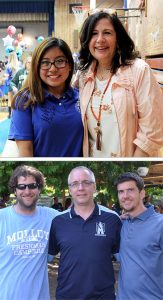 The Beehive would like to recognize Ms. MaryAnn Safrey (pictured top right w/ a graduating senior) and Mr. Jim Sheldon '88 (pictured bottom center at Freshman Camp w/ Mr. Klimas & Mr. Kelly), both of whom recently celebrated their 25th anniversaries here at Molloy. Earlier in her career, Ms. Safrey taught English and several electives, but more recently has served as Assistant Principal for Students. Throughout her career she has been a proponent of Molloy's theater and arts programs. She has always sought ways to expand these programs and discover new opportunities for students to showcase their talents both on Manton Street and through outside programs. Mr. Sheldon's passion for and vast knowledge of the sciences has made him a favorite in the classroom. His work at Freshman Camp, as an announcer at basketball games, as a hockey coach (1998-2008), and through many other programs and activities around the school has resonated with countless students, colleagues, and alumni. Congratulations Ms. Safrey and Mr. Sheldon, and thank you for making Molloy a better place for the past 25 years.

Last Call for Your Alumni Update in "Stanner Life"
This may be your last opportunity to see your alumni update published in this year's "Stanner Life" magazine (our annual printed newsletter serving the St. Ann's / Molloy community). Have you recently gotten engaged? Married? Graduated from college? Have you earned a new degree, reconnected with old friends, gotten a new job, or traveled to a distant land? Has your family gotten larger? We'd love to hear about it. In addition, we are looking for volunteer writers and other story contributions. Your work could be prominently featured in our publication.
If you would like to contribute writing or be featured in Alumni Updates in the next Stanner Life Magazine, please submit a one paragraph update along with a high resolution photo to Alumni Communications Director Joe Sommo '03 at jsommo@molloyhs.org. DEADLINE EXTENDED THROUGH MONDAY JUNE 19.