A New Year Begins!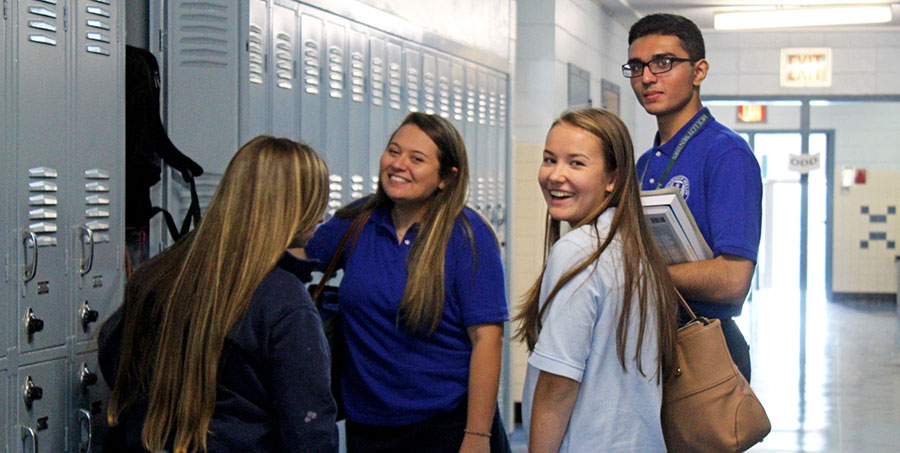 by Joe Sommo '03 | Alumni Communications Director
It is with great pleasure that the staff here in the Stanner Alumni Center welcomes you back to The Beehive, the home of news and notes from around the Molloy community. We are very excited for the 2017-18 school year, which is now underway, and we look forward to experiencing each memorable moment with all of you. (Pictured above: Members of the Class of 2018 on their first day back)
This year will be special for many reasons, most notably because we are continuing our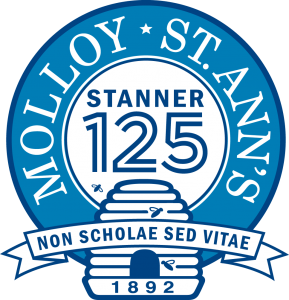 celebration of the 125th anniversary of the founding of St. Ann's Academy / Archbishop Molloy High School. This historic celebration, which kicked off this past spring, has allowed us to reflect on all of the people and traditions that have made our school unique. Consider the following: the Marist Brothers who built St. Ann's and transformed it from a boarding and elementary through 12th grade school in Manhattan into a top-tier high school in Queens; the lay faculty who have inspired thousands of young men and women; the students who have established a tradition of excellence in academics, athletics, and service. Consider the lessons we have all learned as Stanners: Generosity; Gratitude; Confidence; Leadership; Humility; Faith; Respect; Discipline; Integrity, and so many others. In other words, we are celebrating 125 Years of What Matters.
Our anniversary has also inspired us to think about where Molloy is headed in the next 125 years. Considering recent trends, including Molloy's adaptability in adopting new technology and literally dozens of major campus upgrades, we happen to think the future is bright for the next generations of Stanners. We'll be covering this past summer's many extensive facility renovations in our next Beehive on September 22nd.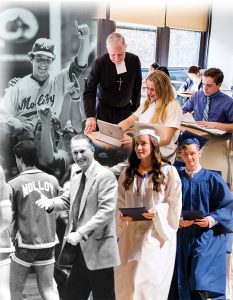 There are many other things that will help define this 125th anniversary year. Planning is well underway for our upcoming Stanner Alumni Reunion, which will host over 500 Stanners and guests this November 4th. We are also looking forward to the 30th Annual Andrew Harvey Memorial 5K Fun Run, which has been announced to be the very last time Molloy will host this event. 2017-18 also marks Molloy's transition into a fully-integrated iPad curriculum. The Class of 2017 was Molloy's last class ever to graduate with printed textbooks. As of now, all teachers and students in our school utilize iPads. (Pictured left: Iconic images that help define our theme, 125 Years of What Matters)
Molloy will also host a historic 125th anniversary Mass on Wednesday, November 22nd. The Mass will coincide with our annual Thanksgiving Liturgy and serve as a symbolic homecoming for everyone in the Stanner family. All are welcome to join us as we celebrate 125 years of What Matters. More information on this event will reach you soon. In the meantime, catch up with today's Beehive, and look out for our next issue on September 22nd. Welcome back to high school!
Please feel free to contact jsommo@molloyhs.org or call 718.441.9210 with any questions or comments throughout the year!

Stanner Life Magazine is Out Now!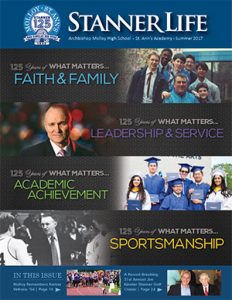 We are pleased to announce that our summer 2017 edition of Stanner Life, Molloy's annual alumni magazine, is now available! Copies have begun to land in over 24,000 mailboxes across the United States and in various parts of the world. The new Stanner Life includes plenty of Molloy news, including curriculum changes, details about our participation in the Marist National Day of Service, a banner year for Stanner Sports, and Br. Pat Hogan's well-deserved retirement. You will also read about our Stanner 125 kickoff celebration, as well as our dignified walk/run event in memory of Karina Vetrano '04. We also extend our thanks to all of the alumni who submitted their fascinating class updates. If you missed your chance to make it into our latest magazine, remember you can always be featured in The Beehive! Submit all content to Beehive/Stanner Life Editor Joe Sommo '03 at jsommo@molloyhs.org.
Note: If you do not receive your copy of Stanner Life in the coming days, please contact Joe via the email above. You may need to update your mailing address! In addition, if you have a large Stanner family, with many magazines coming to a single address, please let us know if you would like us to update our database with new addresses for your children.
And for those who wish to have a digital copy, our latest Stanner Life and archives dating back to 2011 can be found on our website: www.molloyhs.org/StannerLife/
---
Upcoming Events
Stanner Alumni Reunion

– Classes Ending in 2 & 7!
When: Saturday, November 4, 2017
Where: Archbishop Molloy High School
Class Years: 1947, 1952, 1957, 1962, 1967, 1972, 1977, 1982, 1987, 1992, 1997, 2002, 2007 & 2012
Contact: Matt Rizzotti '04 | 718.441.9210
Ticket Prices: See registration link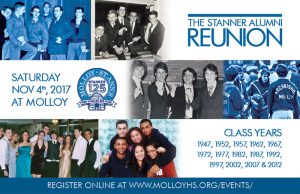 Online registration is now open for this year's Stanner Alumni Reunion! The event will be held here at Molloy on Saturday, November 4th, and we will welcome alumni from class years ending in 2 and 7 (see list above). Notably, the Class of 1967 will be celebrating their golden 50th anniversary, while the Class of 1992 will be celebrating their silver 25th anniversary. We also expect many of your favorite teachers to be in attendance to join in the fun. Here are few logistical notes as we move closer to the big night:
4:30pm – Early check-in begins
5:00pm – Mass of Remembrance (celebrated in the Ralph DeChiaro Theater)
6:15pm – Cocktail receptions for each class (see staff upon arrival)
7:15pm – Dinner, Dessert, Class Photos, Dancing, and more!
Valet parking will be available. Discounted hotel rates are available upon request.
We are seeking individuals who would be interested in acting as Class Officers. This role involves volunteering to call/email classmates to inform them about the upcoming reunion and possibly update their contact information.
Click the link above to register online. A postcard invitation will also land in your mailbox in the coming days. Please help us spread the word to your classmates. We are also expecting a large crowd, so we encourage you to reserve your spot as soon as possible. For more information, or if you have any questions, please contact Matt Rizzotti '04 at mrizzotti@molloyhs.org or 718.441.9210.
---
Community Invited to Support

FINAL

Andrew Harvey Memorial 5K Fun Run
When: Sunday, October 1, 2017
Where: Archbishop Molloy High School
Who: All members of our community
Contact: Frank Gambino '74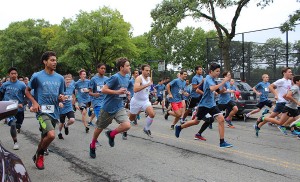 For 29 years, Archbishop Molloy High School has carried on a beloved tradition known as the 5K Fun Run. Each October, as summer turns to fall and classes shift into full gear, students, teachers, alumni, family members and friends have laced up their running shoes and lined up on Manton Street to participate in this friendly yet challenging race through Briarwood. The event was first established as one part of a school-wide celebration at the time. The race was one of the few activities from that celebration that continued annually. While the 5K has featured many amazing runners and unbelievable performances over the years, for many participants the results are not as important as time well-spent with the Stanner community. The event has also featured a One Mile race and Little One's Dash, which has kept the day open to literally every kind of runner you can think of.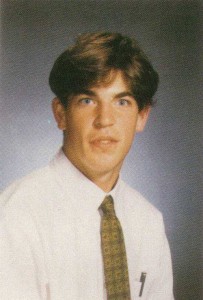 In 1998, the Fun Run was renamed in memory of Andrew Harvey, a bright, talented young student-athlete who was tragically killed in a train accident during his junior year. He would have graduated as a member of Molloy's Class of 1998. Andrew's loss was felt by many, including his large family (many of them Stanners themselves), as well as his track coaches and teammates. Organizers wasted no time in renaming the Fun Run in Andrew's memory, with proceeds to be directed to a scholarship established in his name. These decisions have proved to be a great tribute to a life lost too soon. The Andrew Harvey Memorial Scholarship has helped many deserving young students since its creation.
At the center of the Fun Run for the past 29 years has been Mr. Frank Gambino '74 (pictured), a longtime track coach and religion teacher here at his alma mater. Mr. Gambino has been the main organizer of the race since its inception, and thanks to his dedication and the support of his fellow c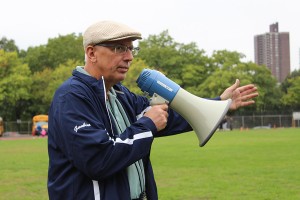 oaches and many volunteers, the event has always seen great success. Earlier in 2017, however, Mr. Gambino announced that the 30th annual Fun Run would be the final time Molloy hosts the event. "Over the past three decades this race has brought back a number of great people year after year, particularly those who knew Andrew Harvey," said Mr. Gambino. "But part of the reason for concluding the event is that I feel sometimes things run their course. I want the Fun Run to end without losing a beat and as a big celebration." Mr. Gambino also expressed his thanks to the Harvey family for their continued support. "They are a wonderful family, and their presence at the race year after year has been greatly appreciated. We wish them well and we hope they continue to remain involved in school life."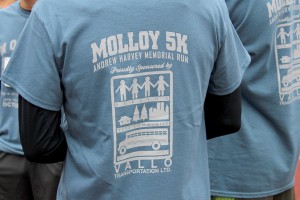 The 30th and Final Andrew Harvey Memorial 5K Fun Run will take place on Sunday, October 1st, 2017 here at Molloy. A Memorial Mass in honor of Andrew Harvey will be held at 8:00am, followed by the start of the 5K at 9:00am. Coffee, juice, cake and rolls will be served to participants and their families following the conclusion of all races. Medals will also be awarded to the top finishers overall and in several other categories. All runners will receive a t-shirt commemorating this historic occasion. If you've participated in the race in the past, or meant to and haven't yet, this would be a wonderful opportunity to get involved and help us give the Fun Run the sendoff it deserves.
---
Alumni Baseball Reunion

– 3 WEEKS AWAY!
When: Saturday, September 30, 2017
Where: Archbishop Molloy High School
Who: Baseball Alumni
Contact: Matt Rizzotti '04
Join us on Saturday, September 30th, for our next Baseball Reunion. Molloy's former baseball players are invited to watch the varsity team play a game that morning (time and team TBD) and then enjoy a tailgate BBQ. We will also play a pickup softball game (weather permitting) on Stanner Field. Online registration is now open (see link above). If you have any questions, please contact Matt Rizzotti '04 at mrizzotti@molloyhs.org or call 718.441.9210.
---
Alumni New England Chapter Event

– Save the Date!
When: Wednesday, November 15, 2017
Where: Two Roads Brewery (Stratford, CT)
Who: Our New England Alumni (Ages 21+)
Contact: Matt Rizzotti '04
Online registration & more details coming soon
Alumni living in and around New England are invited to join members of the Stanner Alumni Center at Two Roads Brewery in Stratford, Connecticut, for a special alumni event on Wednesday, November 15th. Dinner and drinks will be part of the fun as we catch up with our many friends north of NYC. More details will be coming soon, but be sure to save the date! Contact Matt Rizzotti '04 with any questions.
---
Around the School
Molloy Presented with Theater & Music Grants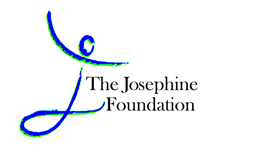 The Beehive is proud to announce that The Josephine Foundation has graciously awarded Archbishop Molloy High School with two generous grants: a $1,000 grant in support of our theater program and a $500 grant in support of our music program. The grants were presented to Molloy during the Foundation's annual Gala at Crest Hollow Country Club on Friday, June 16th. It was the first time the Foundation awarded Molloy with two grants. Ms. MaryAnn Safrey, Assistant Principal, and Ms. Shannon Winters '06, Theater Director and English teacher, attended the event and expressed thanks to Mr. Andrew Koslosky and the Board of Directors at The Josephine Foundation for their recognition of Molloy's outstanding programs. They also expressed their thanks to teachers Ms. Ya-Ting Yang, Mr. Glen DaGrossa, and Mr. Jim Sheehan '75 for their efforts to further develop Molloy's theater and music programs.
The Josephine Foundation was founded in 2002 to honor and remember Josephine Koslosky. Josephine believed that by using arts and sports programs, young people and adults can be successful, as they reach for their dreams, regardless of their background and or financial status. The Josephine Foundation hosts annual events to raise money and distributes 100% of its profits to help give individuals and approved programs an opportunity to achieve their goals.
---
Service Project Comes Full Circle in One Amazing Photo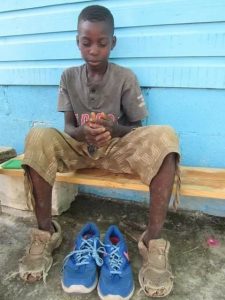 Earlier in 2017, Stanner Hall of Famer Mr. Lou Santos and his JV softball team organized a charity drive that collected 315 pairs of athletic shoes and sneakers. The shoes were then donated to the HHS Foundation in the Dominican Republic, which serves children and teens in local DR communities by working to improve their quality of life. Mr. Santos, who has worked with the organization in the past, recently shared a photo with The Beehive that brings their service project full circle. The photo depicts a young Dominican boy getting ready to replace his old, hole-ridden shoes with colorful new sneakers. This is a testament to the difference just one gift can make in a person's life. We congratulate and thank Mr. Santos, the JV softball team, and the HHS Foundation for making this amazing act of kindness possible.
---
Other Upcoming Events
Golf Outing Benefiting Karina Vetrano Memorial Scholarship
When: Thursday, October 19, 2017
Where: Upper Montclair Country Club (Clifton, NJ)
Hosted by: Family of Karina Vetrano
A letter from Bob Parisi, uncle of Karina Vetrano:
"Almost a year ago, our niece Karina was taken from us far too soon, however her spirit lives on in a variety of ways. Various fundraisers have been created at her high school, Archbishop Molloy, to support a scholarship in her name. Once fully realized, the scholarship will benefit young women that have similar interests to Karina: writing, athletics, world travel, and discovering different cultures.

Karina's family has planned a golf outing in her memory at Upper Montclair Country Club on Thursday, October 19th. The day includes lunch, access to the practice range, a 12:30pm shotgun start, and access to the locker room and facilities. Following golf there will be a 3 hour open bar, hors d'oeuvres, and a buffet dinner. INCLUDED in the $300 cost for the day will be a donation to the Karina Vetrano Memorial Scholarship at Archbishop Molloy High School. There is a cap of 80 players for golf.

For those not interested in playing golf, but who would like to attend the dinner, cocktails and dinner are only $80. This option also INCLUDES a donation to Karina's scholarship fund at Molloy. If you are interested in either event please send a check payable to the Karina Vetrano Memorial Foundation to:

Ms. Susan Parisi
ATTN: Karina Vetrano Memorial Foundation
10 Concord Road
Fairfield, NJ 07004

Please contact alumnI@molloyhs.org for more information. Thank you for continuing to remember and honor our beloved Karina.

— Bob Parisi & Family of Karina Vetrano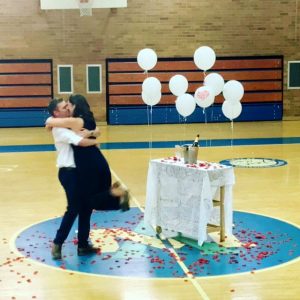 Congratulations to Tim Baynes '07 and Shannon McLoughlin '09, who announced their engagement over the summer…at Molloy! Tim surprised Shannon in July with a trail of flower petals and champagne at center court in the Jack Curran Gymnasium (pictured right). And of course, she said yes! "It was absolutely perfect. Molloy is a significantly important place to both of us," said Tim. We wish all the best to this happy Stanner couple.
Bill O'Connell '61 shares that he is recovering following kidney transplant surgery in late July at the University of California, San Francisco. Bill's daughter, who was his donor, is also continuing her recovery. Bill would like to publicly thank his friend John Kay '61 for his supportive emails and prayers. The Stanner Alumni Center asks that our community join us in prayer for Bill and his daughter during their continued recoveries.
Please also join us in prayer for George Nass '64, who is recuperating following aortic aneurysm surgery at Montefiore Hospital in the Bronx. We're happy to share that George is doing well in the weeks since the procedure and we wish him well in his continued recovery. Special thanks to Tom Winters for passing this information along.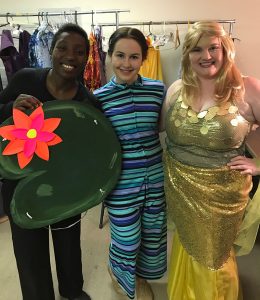 In August, four Stanner Players (pictured left) worked on St. Greg's Theater Group's production of "The Little Mermaid" at St. Gregory the Great in Bellerose: Shannon Winters '06, Melissa Gabriel '12, Deanna Mayo '14 (not pictured), and Katie Van Riper '17. Michael Mayo '79 and Stanner Players Set Designer Todd Wilkerson also worked on the show behind the scenes.
Over the summer, several Stanners attending St. Joseph's College (Brooklyn) were recognized on the Academic Honor Roll of the Skyline Conference, which features a variety of teams from a total of 11 NCAA Division III colleges. These student-athletes performed at a high level on the field of play and demonstrated academic excellence in the classroom during the 2016-17 academic year. "We are thrilled to see so many Bears on the Skyline Conference's Academic Honor Roll," said Stanner alumnus and St. Joseph's Athletic Director James Lally '03. Stanners named to the list include Kristen Candelaria '13 (Women's Basketball), Kevin Linitz '16 (Baseball), and Megan Finnerty '14 (Softball).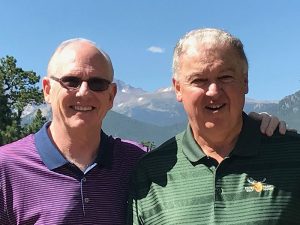 Pictured right are two very proud Stanners and friends: current Miami Hurricanes Head Coach Jim Larrañaga '67 (left) and Matt Lynett '67. The former classmates met up during Jim's visit to Matt's neck of the woods, which just happen to be on the doorstep of the majestic Rocky Mountains in Colorado.
Edward Torriero Sr. '71 and his wife Patricia are proud to announce that their son, Edward, has been promoted to Dynamic Lacrosse Director of Player Development for Team 91 Texas. He is a graduate of NYIT with a degree in Psychology. He previously played lacrosse for the Bears, being elected team captain in 2014 and 2015 and was a 3-time East Coast Conference Selection, 2015 ECC Defensive Player of the year, and 2015 1st Team All American. Edward Sr. and Patricia are also proud to announce that their daughter, Angela, graduated from Sacred Heart University Summa Cum Laude in December 2016. She graduated with a 3.9 GPA and received her degrees in psychology and sociology. She also ran track for the Pioneers, and was a member of the three time NEC Conference championship team. Starting September 2017 she will continue on at Sacred Heart for her masters in Occupational Therapy.


We are saddened to share the recent and sudden passing of Jeanclaude F. Dugue '81. Arrangements are in the process of being confirmed. Any information we receive will be emailed to the Class of 1981 as soon as possible, as well as posted to Twitter and our website at www.molloyhs.org. Please keep Jeanclaude in your prayers.

Please pray for the repose of the soul of Richard J. Parker '01, brother of Jason Parker '96. Richard was a proud Stanner and known by many to be an exceptional writer. He wrote screenplays, and one of his short stories was published in a book titled From the Heart of Brooklyn (2003). He was an avid fan of professional wrestling and organized trips to wrestling events for local fans in New Jersey and Pennsylvania. He was also heavily involved in the Queens music scene, promoting punk rock shows while performing in several local bands such as "The Victory", "Just A Feeling", and "Patent Pending". Richard is survived by his father, siblings, sister-in-law and nephew. Please keep Richard and the Parker family in your prayers.

Please pray for the repose of the soul of Roseann Sawyer, mother of Joanna Sawyer '05 and Laura Sawyer '07, and aunt of Michael Valerio '01.

Please pray for the repose of the soul of Joseph Edward Flynn, father of Patrick Flynn '94 and Colleen Rooney.

Please pray for the repose of the soul of Dominick Bess, a student from fellow Marist school Mount St. Michael Academy in the Bronx.

Please pray for the repose of the soul of John G. Conboy '60, who passed away July 18, 2017.

Please pray for the repose of the soul of Frank Sledzaus, father of Marty Sledzaus '64.

We are saddened to share the passing of Lawrence McNamara '64 on July 28, 2018. Larry was a retired member of the NYPD and a childhood friend of Br. James Norton '63. Please keep Larry and his family in your prayers.

The Stanner Alumni Center was recently informed of the passing of Edward J. Kruk '66 on December 31, 2016. Please keep Edward and the Kruk family in your prayers.

The Stanner Alumni Center was recently informed of the passing of Paul Bianco '65. Please keep Paul and the Bianco family in your prayers.

We are saddened to share the passing of Louis B. Decolator, Sr. '48 on August 23, 2017 at the age of 87. An obituary published by the Decolator family reads: "Lou was born June 30, 1930 in Brooklyn, NY to John Vincent and Mary (Ferrara) Decolator. Lou was raised in Brooklyn and graduated from St. Anne's Academy for Boys, now known as Archbishop Molloy High School in Briarwood, New York. He then attended and graduated from the Academy of Aeronautics in New York with a Bachelor's Degree in aeronautical engineering. Lou married Maren Olsen in 1984 and they made their home in Farmingville, NY until relocating to Huntingtown, where they have lived for the last 23 years. He was employed as an aeronautical engineer for Grumman Aerospace Corporation, now known as Northrop Grumman, retiring in 1990. Lou was an avid shooter, especially trap shooting and sporting clays and traveled all over Europe to participate in events. He also helped design the shooting range for the Peconic River Sportsman's Club in Manorville, NY and organized competitions for Ducks Unlimited with Maren. Lou was preceded in death by his son Louis B. Decolator, Jr. He is survived by his wife Maren Frances Decolater, sons John Decolator and his wife Nadine of North Merrick, NY and Joseph Decolator and his wife Dana of Malverne, NY, step-daughters Diana Cano and her husband Scott of Princeton, NJ and Maren Weaver of Yardley, PA, grandchildren Marisa, Marielle and Alex Decolator, Casey and Connor Weaver and Mason and Sawyer Cano, brother Frank Decolator and sister Jessica Ley, as well as numerous nieces and nephews."