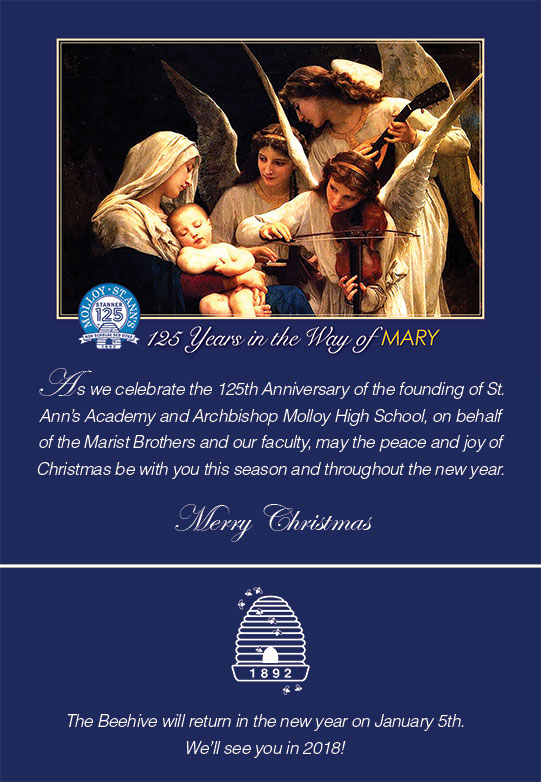 Molloy Addresses Emergency Sewer Damage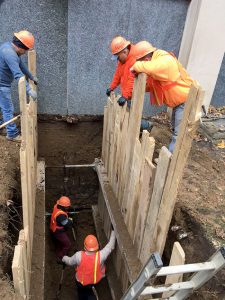 Two weeks ago, Molloy's facilities staff discovered a major backup in the building's 60 year old sewage pipes. After an inspection with an exploratory camera, it was discovered that the pipe had collapsed outside the building's foundation. Further investigation uncovered damage that led all the way out to Manton Street. After careful thought, a decision was made to replace all of the pipes that run from the building and under the lawn and sidewalk out to the street. A crew was procured and work began on a Sunday. The project received round-the-clock attention and wrapped up in less than a week. The speedy and thorough repairs allowed school to operate normally without the need to close.
Like a typical homeowner who has to address unforeseen circumstances like a pipe burst, so too does Molloy. We are in a position to address these types of emergencies thanks in large part to the support provided through the annual fund – the Fund For Molloy. Your gifts to our alma mater allow us to have the resources to address planned efforts such as nurturing our needs assistance program, and critical capital projects. Your gifts also ensure that we are able to deal with the unforeseen, such as the sewer pipe breakage earlier this month.
To be transparent, the cost of the inspection, excavation, and replacement of the damaged pipes ranged in the area of $60,000. Thanks to careful thought by administrators and the hard work that was put into the emergency/preventative maintenance, this appears to be a smart investment for the future.
In case you missed it, in November the Stanner Alumni Center announced the "Drive for 125" … this gift challenge matches your donations. Every $2 contributed to the Fund For Molloy through December 31st is matched by $1. That means your gift of $50 becomes $75, $100 becomes $150, and so on. Your generosity can help Molloy stay on track with its planned efforts as well as meet the challenges of unforeseen needs. Your kindness literally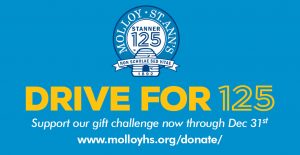 helps keep our school running!
If you have any questions about the emergency repairs, the impact of your gifts, or the Drive for 125, please reach out to the Stanner Alumni Center at 718.441.9210 or email alumni@molloyhs.org … Thank you for your continued generosity and Stanner spirit.

---
Molloy Badges Network Honors Lt. John Russo '93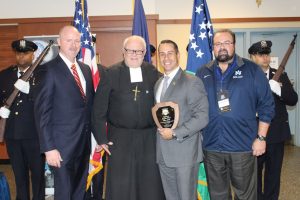 On December 7th, Molloy held its annual Alumni Badges Network reception. Our Stanner first responders were treated to dinner and VIP access for the basketball game of the night: Molloy vs. St. Anthony's. Molloy won its home season opener in convincing fashion by a score of 85-54. Prior to the game, a ceremony was held to honor Lt. John Russo '93 as 2017 Badges Network "Man of the Year". The program featured remarks by Mr. Ed Shannon '84 and President Richard Karsten '81. The national anthem was sung by senior Anesia Whitfield '18, while the presentation of colors was provided by the NYPD Ceremonial Unit. (Pictured L-R: Mr. Shannon, Br. Pat, Lt. Russo, President Karsten)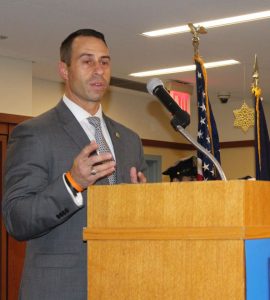 President Karsten introduced Lt. Russo, who was honored for his impressive career and service to our communities. In February 2017, Lt. Russo was credited for providing the key lead that aided investigators in making an arrest in the case of the tragic passing of Karina Vetrano '04. "Lieutenant Russo's career in public service has been marked by consistency and leadership," said President Karsten. "As a White-Shield Investigator, Sergeant, Detective 3rd Grade, Detective of the Year, Field Intelligence Officer, Commanding Officer, and a trusted member of the Chief of Detectives office, Lt. Russo has shown an ability to adapt to new challenges." Speaking about his work on the Vetrano case, Mr. Karsten said Lt. Russo, "went above and beyond to bring about justice for Karina and her family." Mr. Karsten then presented Lt. Russo with a plaque on behalf of the Molloy Badges Network. (Pictured: Lt. Russo)
Lt. Russo shared a few words with those in attendance, stating that he still thanks God that he was in the right place at the right time, which allowed him to make the connection that led to an arrest. Karina's parents, Phil ('74) and Cathie Vetrano, were in attendance and hugged Lt. Russo as he left the podium.
Thank you to our Molloy Badges Network for supporting this year's event, and congratulations once again to Lt. Russo. Join the Network on Facebook at https://www.facebook.com/molloy.badges

---
Stanners Gather at Two Roads in Stratford, CT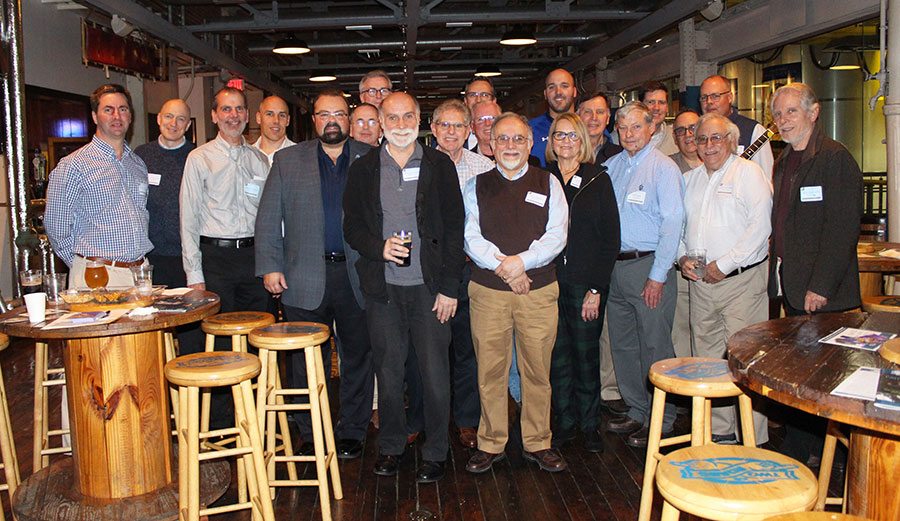 On November 15th, Stanners enjoyed Molloy's second New England / Connecticut Chapter alumni event. Over 25 alumni and friends gathered at Two Roads Brewery in Stratford for a casual evening with good friends and delicious brews. The event included dinner, catered by local favorite Vazzy's Italian, and a private brewery tour. A special treat came later in the evening, when Barry Mastellone '64 performed an original song – complete with Molloy-centric lyrics – on his acoustic guitar. Barry plans to share the song again at future alumni events in 2018.
A great deal of thanks is due to Bill Dunn '64 and John DiGirolamo '64 for reserving space at the brewery and setting up the tour. Bill and Jon also provided refreshments and our dinner. "The generosity Bill and John have displayed by spearheading both of our Connecticut events is deeply appreciated," said President Richard Karsten '81. "Their efforts go a long way toward connecting Stanners living in the New England area. Bill and John facilitated a fun and spirited evening, and I believe that we can build from this event's success and continue to grow our New England network in the years to come." For more information on our Connecticut / New England alumni chapter, please contact 718.441.9210 or alumni@molloyhs.org.

---
Around the School
Volunteers Needed for Stanner Games!
Coach AJ Power '84 is seeking volunteers to work the 2018 Stanner Games at The Armory on January 13th. Volunteers fulfill a number of roles throughout the day and are essential to the meet's success. Alumni, parents, and family members are all welcome. If you are interested in volunteering please contact Mr. Power at apower@molloyhs.org.
---
Khalid Moore '18 signs with Georgia Tech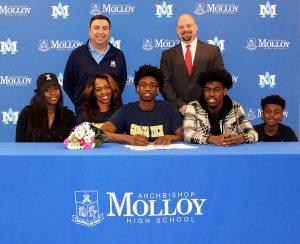 Khalid Moore '18, Molloy's nationally ranked 6'7" small forward (137th nationally, 34th at small forward position, 3rd in NY via 24/7 Sports), has signed to study and play ball at Georgia Tech. Khalid will join a renowned Division I program that once included Molloy's own John Martinson '84 and Kenny Anderson '89. The university has also produced dozens of other pros including Chris Bosh, Derrick Favors, Jarrett Jack, Stephon Marbury, Iman Shumpert, Thaddeus Young, and many others. (Pictured: Khalid Moore & family with Coach McCleary & Principal Penikas)
---
AMHS Winter Sports Are Underway!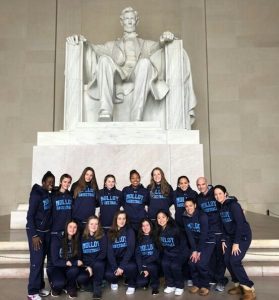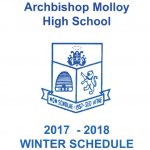 Molloy's winter athletics schedule is now available for download. Click the thumbnail to the right or the link below to download schedules for our basketball, swimming, and indoor track teams.
Molloy basketball has gotten off to a great start. As you may have read in our Badges Night article, the boys varsity basketball team is off and running at 1-0. Coming off their city title game last season, expectations and hopes are high. They have a few big events coming up, which you can read about later in The Beehive's upcoming events. The girls varsity squad just returned from Washington D.C. where they competed in the She Got Game Classic. "We were really competitive in a national tournament and had a great bonding experience," said Head Coach Scott Lagas. Coach Lagas is pictured with the team and Assistant Coach Alison Scalice.
Download the AMHS 2017-18 Winter Athletic Schedule
---
Students/Faculty Support Multiple Charity Drives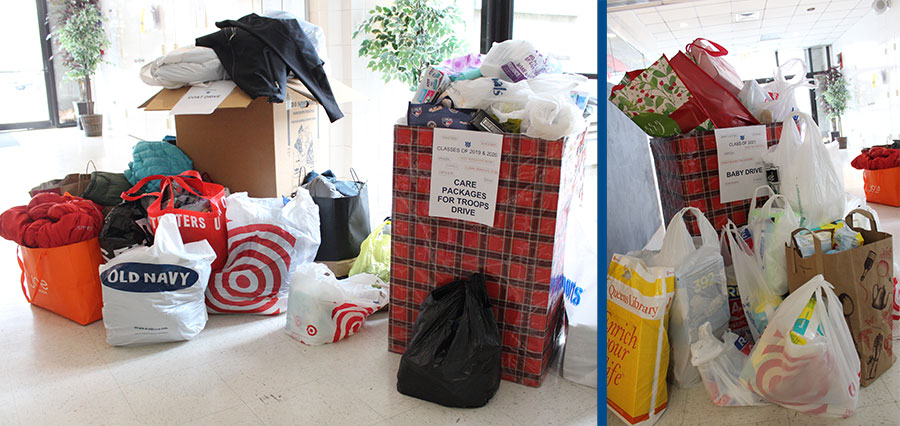 This giving season, students and faculty have been at the forefront of several charitable efforts. Each class year was assigned items to donate, including baby/maternal items (Class of 2021), toiletries and small personal items for troops overseas (Class of 2020 and 2019), and new and used coats (Class of 2018). A dress down day on December 15th also encouraged each student to donate $2, which will be used to purchase toys in bulk for five different groups: Briarwood Shelter, HeartShare, Catholic Charities, Make a Difference Christmas, and St. John's Bread and Life. The results have been wonderful, with hundreds of items donated and ready to be distributed to those who need them most this Christmas. Thank you to Campus Ministry Director Mr. Mike Germano '93, our faculty, and our students and their families for supporting these important causes.
---
Stanner Players Dazzle in "Diary of Anne Frank"
Read More About The Cast (Download Show Program)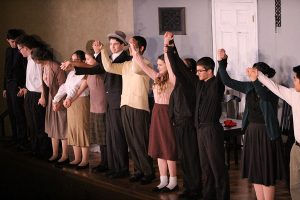 This December, audiences were treated to the superb Diary of Anne Frank (by Frances Goodrich & Albert Hackett) as performed by our very talented Stanner Players. Premiering in 1955, this adaptation of The Diary of a Young Girl by Anne Frank tells the story of the young Jewish girl and her family as they hide alongside their neighbors from the Nazis during World War II. Anne's diary reveals their struggles as well as her own self-discovery.
Director Ms. Shannon Winters '06 was very pleased with the way her actors handled the difficult subject. "This play is not only an exercise in acting, but also in exploring the 1940's, and Jewish culture and history. The story and characters are daunting to portray, but acting is meant to be challenging. I have been immensely impressed with the maturity of our students throughout the rehearsal process." Check out our photo gallery from the show below and on Facebook, which features photos from student photographers Jake Temkin '20, Isabella Fazio '19, and Jennifer Marry '19.
Look out for the Stanner Players' spring musical, You're a Good Man Charlie Brown, April 26-29, 2018! | View Photos from Diary of Anne Frank
---
Forensics Class Visits Ballistics Lab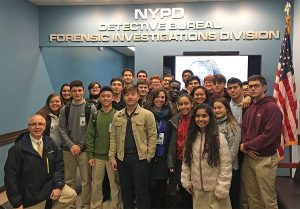 In late November, Mr. Sheldon's forensics class enjoyed a special field trip to the Queens Ballistics Lab. Capt. Denis Burke '89 gave the class a tour of the facility and demonstrated the process for testing, analyzing and recording evidence. "It was a soup to nuts explanation of the chain of events from the time something becomes evidence to when it is logged in the evidence database," said Mr. Sheldon. Thank you to Capt. Burke and his team for the informational experience!

Basketball Alumni Reunion | AMHS vs St. Francis Prep
When: January 12th, 2018 | 6:00 PM
Where: Archbishop Molloy High School
Who: Basketball Alumni
Tickets: $40 per person
Contact: Matt Rizzotti '04 | 718.943.3186
All alumni who played basketball at Molloy at any level are invited to a reunion event on Friday, January 12, 2018. A reception with food, beverages and other refreshments will take place here at Molloy. Admission also includes VIP seating in the Jack Curran Gym for the game of the night, as our boys varsity basketball team takes on St. Francis Prep. Our varsity team is fresh off a City Championship appearance last season, and they are more motivated than ever to bring home Molloy's first title in nearly 30 years. Come reunite with old friends and cheer on our Stanners!
---
Christmas Concert
When: Tuesday, Dec 19th | 7:00 PM
Where: AMHS | Jack Curran Gymnasium
Who: Molloy Community
Tickets at door: Adults $10 | Students & Children $5
Come out to Molloy on Tuesday, December 19th for our annual Christmas Concert! Enjoy our freshman/sophomore chorus, junior/senior chorus, and concert band as they perform a selection of traditional and eclectic Christmas songs including Scenes from Nutcracker (Band), Jingle Bell Rock (Frosh/Soph Chorus), White Christmas (Junior/Senior Chorus), and more. Tickets are available for purchase at the door. Call 718.441.2100 for more information.
---
Boys Varsity Basketball – SAVE THE DATES!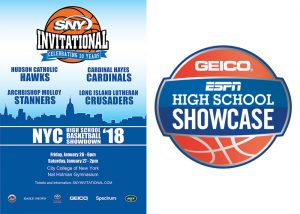 SNY Invitational Tournament – Jan 26 & Jan 27, 2018 at City College of NY
Feb 2 on ESPNU 5:30pm – ESPN HS Basketball Showcase – AMHS @ CTK
City of Palms Tournament – Livestream from Dec 18-23 (link below)
Alumni are invited to support our boys varsity basketball team this season. On Friday, 1/26 and Saturday, 1/27, Molloy will compete in the SNY Invitational Tournament as one of four teams. Also featured will be Hudson Catholic, Cardinal Hayes (reigning city champs), and Long Island Lutheran. Ticket information will be announced via The Beehive and Molloy's website soon.
Molloy will also be featured as part of the GEICO ESPN High School Basketball Showcase on Friday, February 2nd. Molloy will play at Christ the King, and the game will air at 5:30pm on ESPNU. Check local listings for channel information.

For those interested in following the team in the City of Palms Classic Tournament (pictured above) down in Florida (December 18 – December 23) please check out a livestream/subscription opportunity with FloHoops: https://www.flohoops.com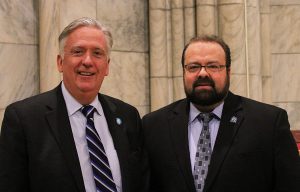 President Richard Karsten '81 celebrated the feast of St. Lucy (patron saint of the blind) at a special Mass in the Lady's Chapel in St. Patrick's Cathedral. The Mass is Xavier Society for the Blind's defining annual event. President Karsten is shown here with Malachy Fallon, the Society's Executive Director, discussing Molloy student internship and volunteer opportunities. For more information about Xavier Society for the Blind, visit www.xaviersocietyfortheblind.org.
---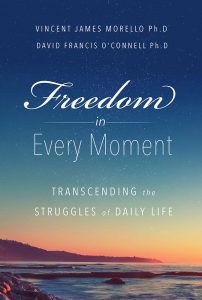 Vincent Morello '70 has published his first book titled Freedom in Every Moment: Transcending the Struggles of Daily Life. The book "provides a succinct program of 21 spiritual lessons from early to more advanced stages of spiritual development. Each lesson is rooted in a teaching from an Eastern or Western spiritual tradition." Vincent says that the topics selected all "strike at the heart of the daily struggles of individuals who seek to uplift their mental and emotional states." The book also examines the words and theories of renowned minds such as Lao Tzu, St. Francis, Albert Einstein, and others in an attempt to uncover the applicability of their teachings for daily life. "Readers are expected to notice concrete changes in reducing stress and uplifting their emotional states," says Vincent. The book is available in paperback on Amazon and other retailers. About the Author: Vincent Morello is a Queens College graduate with a Ph.D. in Human Development from Penn State. He now works as a Clinical Psychologist in private practice in Wayne, Pennsylvania. Vincent has been "a spiritual student/seeker with teachers from the East and West for 35 years." He has also written for accredited journals and newsletters. More information: www.Freedomineverymoment.com
---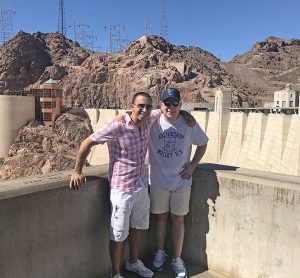 Back in October, Jason McGann '96 and William Rella '96 met up in Las Vegas to "celebrate life and Will's Masters in Technology from Columbia University." Jason's wife was attending a work conference in Las Vegas, which was the original impetus for the trip. Jason and Will decided to "take a break from researching applied statistics and bond market liquidity" to head over to the Hoover Dam and Lake Mead. While there, they walked across the Dam and took a tour of the hydroelectric power plant. They also checked out the Mike O'Callaghan – Pat Tillman Memorial Bridge. Jason shared a fun fact they learned during their excursion: since the Dam was constructed during the Great Depression, it came in ahead of schedule and under budget. When it was dedicated on September 30th 1935, by FDR, former president Herbert Hoover wasn't even invited to the ceremony.


We are saddened to share the passing of James Cullen '62 on December 8, 2017. Mr. Cullen was a graduate of Iona College and St. John's University School of Law. He served in the Army Judge Advocate General's Corps where he was awarded the Distinguished Service Medal, retiring in 1996 as a Brigadier General and the Chief Judge of the U.S. Army Court of Criminal Appeals. A real estate and human rights attorney, Mr. Cullen was the co-founder and first President of the Brehon Law Society, served on the Advisory Board of Human Rights First, was President and Chairman of Friends of Sinn Fein, Inc., was the Treasurer of the Construction Industry World Trade Center Disaster Relief Fund, and a Board Member of the 4th JAG Alumni Association. After putting himself through law school driving tractor-trailer trucks, Jim dedicated his life to carrying out the values instilled by his Catholic faith. | Read more about Mr. Cullen's life.

We are saddened to share the passing of Richard Ingenito Sr., father of Richard Ingenito '81 and Jim Ingenito '86. He was a member of Local #3 (Electrical Workers Union) for over 60 years. Visitation services will take place today, December 15th, from 2-5pm and 7-9pm at Edward D. Lynch Funeral Home (43-07 Queens Blvd, Sunnyside, NY). Funeral Mass will be held at 10:00am on Saturday, December 16th at St. Raphael's RC Church (35-20 Greenpoint Ave, Long Island City, NY). Please keep the Ingenito family in your prayers.

Please pray for the repose of the soul of Dana Galinis Silbajoris, mother of Robert Silbajoris '70 and Paul Silbajoris '75.

The Stanner Alumni Center was recently informed about the passing of Matthew J. Smeragliuolo '99. Matthew passed away on August 2, 2015. He is survived by his parents, Joseph and Dorothy, and siblings, Bill, Robert and Donna. Please remember Matthew in your prayers this week.