Welcome to the New Beehive!
by Joe Sommo '03 | Alumni Communications Director | Beehive Editor
In September 2010, the Stanner Alumni Center sent out its very first Beehive newsletter. The bi-weekly online publication brought news from around Molloy, alumni updates, Stanner sightings, photos, and more to our community. Over the years, The Beehive has grown in readership, serving as the go-to source for Molloy news. As the Beehive has evolved, so too have the needs of a growing Stanner population. With growth and the passage of time often comes change, and so this month we bring you something a little different.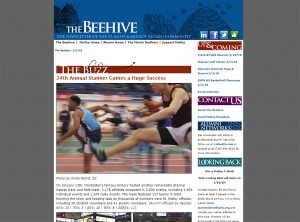 (Pictured: Part of the previous Beehive design) Welcome to the new Beehive! As you can see we've given our newsletter a much needed visual update. Considering we introduced our brand new website in June 2017, we felt it was time to modernize the look of The Beehive while unifying its appearance with the new site. All graphics feature a new color palette and have been designed to make each section of the newsletter more clearly identifiable. Bolder links lining the top of the page offer easier navigation back to www.molloyhs.org or to the Marist Brothers website, and social media icons reside conveniently in the top right corner – the same spot as the new website. In addition, the left and right columns have been slightly widened, while the dingy gray background has been removed. "The Buzz" still features its signature bee and dotted trail, a nod to the previous iteration of the newsletter.
In the coming weeks and months, you may also see the addition of new features or "widgets" to The Beehive. If any such additions are implemented, we will be sure to inform you in a future issue.
Having written every Beehive since 2010 (over 170 issues to date), I believe that this publication is as strong as ever! I have never been at a loss for stories, and that is because of the consistent engagement on the part of our community. You drive the Beehive, and for that, I thank you on behalf of my colleagues in the Stanner Alumni Center. Please continue to share your inspiring stories with us, or feel free to get in touch any time by calling 718.441.9210 or emailing alumni@molloyhs.org.
---
Alumnae Transform DeChiaro Theater into Yoga Studio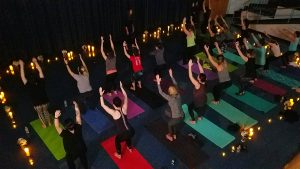 The Stanner Alumni Center was fortunate enough to help facilitate a very special event on February 4th, believed to be the first of its kind at Molloy. We collaborated with Jennifer Kelleher '04 to bring our alumnae community the very first official yoga and meditation event in Stanner history. The idea was conceived by several of our active alumnae, who worked with Jen to make the concept a reality. Jen, a seasoned yoga instructor, had a clear plan for the class. "I approached this event like any of my open level classes. Yoga is not about doing every pose perfectly, or even doing every pose. It's about breathing, and allowing commotion in the mind to sift and settle. Ultimately, the poses in yoga are about a person moving in his/her body, through space, in a way that's different from how he/she normally moves," she explained. To help with this, she set up the room with beautiful greenery and candles that created a wonderful meditative atmosphere.
Over 20 alumnae and friends participated in the class, some of which had never taken yoga before. A light brunch followed, which gave everyone an opportunity to catch up over a meal. "After the event, those who had never taken yoga said they enjoyed it and would no longer be intimidated attending classes with friends. A few others said they felt relaxed, looser, and more open after the class. Personally, I very much enjoyed reconnecting with old friends in such a unique way. I felt uplifted – pure joy – to be back at the school. I welcomed the opportunity to [lead the class and] give to something that gave so much to me," said Jen.
The event, while free to all participants, still managed to raise an amazing $517 in support of the Karina Vetrano Memorial Scholarship. This is a testament to the giving and selfless nature of our amazing Stanners.
We hope that the success of this event will inspire more unique ideas among the alumnae community, who have been communicating regularly via social media to stay connected. The Stanner Alumni Center is ready to support your ideas, so whether a social gathering, professional networking seminar, sporting event, reunion, or brunch, we want to hear your ideas! As far as yoga, we believe there may be another session in the future. "I would absolutely hope to be involved with future alumnae events," said Jen. "Getting back in touch with Molloy through yoga made me remember how special the community is, and realize how much my high school experience has to do with who I am today. Volunteering for this event was nourishing for me. I am looking forward to being an active participant and contributor to future events!" Thank you to Jen, to the Rizzotti and Del Maestro families, Keri Jetter '04, Jessica McEntee '05, and to all who helped make this event a reality and a great success. For more information on alumnae events, contact alumni@molloyhs.org.
---
Molloy is Now on Instagram! Follow Us @molloyhs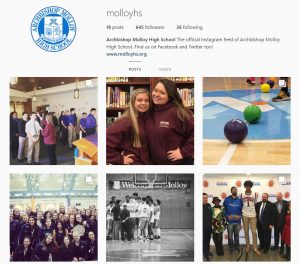 In January, Molloy's Student Advisory Board met with Principal Darius Penikas to discuss a variety of topics important to them. The Student Advisory Board gives students a voice in the state of the school as well as a direct line of communication with administrators. Members of the Board, which is made up of six juniors and six seniors, expressed disappointment with Molloy's lack of presence on Instagram. Molloy has been active on Facebook, LinkedIn, and Twitter since 2010, but the school has not been known for using Instagram in recent years. Now, thanks to our students voicing their opinions, Molloy has begun posting to Instagram! The first post was made within days of the Board's meeting with Mr. Penikas, a clear signal that their concerns and opinions are taken seriously by our administrators.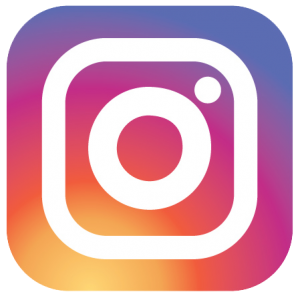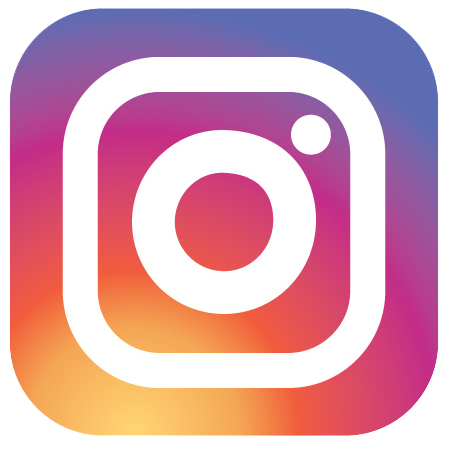 Molloy's Instagram account will celebrate student life as well as our traditions, history, and Catholic Marist identity. Posts will highlight "slice of life" or day to day moments, after school activities, sports, special achievements, school functions, and even major news announcements. The account may also be used to promote certain alumni events, but initially the main focus will be on our students. We hope that alumni will consider following us on Instagram (@molloyhs) to get a deeper understanding of student life today, as well as to see some of the fun ideas we have planned. For instance, expect to see some vintage yearbook photos pop up for Throwback Thursday or Flashback Friday, or maybe some of your favorite faculty members on "Teacher Tuesday."
If you don't already, be sure to follow Molloy on Facebook, Twitter, LinkedIn, and now Instagram. Search these hashtags for all things Molloy: #MolloyHS | #GoMolloy | #Stanners | #StannerPride | #Nonscholaesedvitae | #Stanner125
---
Around the School
Molloy Observes Beginning of Lent with Ash Wednesday
On February 14th, students and faculty accepted repentance ashes in observance of Ash Wednesday. Through this confession of sin, we begin our observance of the Holy Season of Lent. Lent allows us the time necessary to reflect and prepare for the death and resurrection of our lord and savior Jesus Christ. A brief prayer service was held in the chapel at the beginning of each class period throughout the day. Campus Ministry leaders and faculty members administered the ashes to conclude each prayer service.
---
Science Olympiad Places as Top Catholic School at Regionals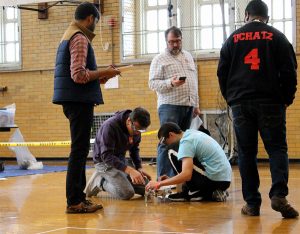 Photos by Stephanie Szpylka '19
Molloy's talented Science Olympiad team recently enjoyed back to back invigorating weekends. On January 27th, the team traveled to Yale University for a practice event in advance of the NYC Regional Competition the following weekend. "Team members got valuable practice in their events and also learned what 'not to do' the day of the real competition. After seeing the practice results they could then make any corrections needed," explained moderator Mr. John Attard '06. The NYC Metro Division C Regionals (or the Super Bowl of Science Olympiad if you will), held at Grover Cleveland High School on February 4th, featured 62 teams from 40 different city schools. Molloy's team performed exceptionally well, however they fell short of qualifying for the state event in Syracuse by just one place. Molloy, however, finished as the best Catholic high school in the competition. Out of the 40 schools, Molloy finished 9th (the top 8 schools are invited to the state competition). Medals were awarded to the top 10 finishers in each event. Individual achievements among Molloy's team members include:

"Alex Rezhets '18 is to be commended for taking 1st place in the whole region in an event as tough as Helicopters," said Mr. Attard. "Alex Rief '18 should also be commended for his efforts. In total, Alex earned 4 medals since joining the team in his freshman year. Hailey Kirmaier '20, one of the youngest and newest members to the team, should be commended for receiving a medal as well." | More Results
---
Moses Brown '18 Featured in Prospect Spotlight on ABC
Molloy's 7'2" varsity center Moses Brown '18, who recently made national headlines by committing to UCLA and being named a McDonald's All-American, was prominently featured by ABC 7 News in New York on February 3rd. The segment, titled Sports Stars of Tomorrow and hosted by Joe McCann (@JoeMcCann3), frames Molloy in a positive light and introduces Moses to viewers as a senior standout with a bright future. Coach McCleary provides commentary in the segment, noting that seven NBA players developed through Molloy's basketball program while under the instruction of Coach Jack Curran. Coach McCleary also discusses Moses' challenges, personal growth, and skills on the court, which have helped shape him into a significant player to watch in the years to come. Check out the full segment below:
In addition, below you will find moments from the McDonald's All-American Games press conference featuring Moses, which was held at Molloy on February 1st. The McDonald's All-American Games will take place on Wednesday, March 28th at the Philips Arena in Atlanta, Georgia. More information is available at https://www.mcdonaldsallamerican.com.
---
Girls Varsity Swimming Celebrates 15th Straight B/Q Title
Congratulations to Molloy's girls varsity swimming team, who captured their 15th straight Brooklyn/Queens Championship and finished their season at 9-2. The team advanced to the City Playoffs where they finished in 2nd place. Team members from the Class of 2018 also took part in the "Senior Walk." The walk is a tradition of the girls swim league recognizing the seniors who have competed in the league for four years.
In addition, junior Kevin Claibourne '19 is to be commended for qualifying for the State Meet in both the 100M Butterfly and 100M Back Stroke. Kevin took more than 3 seconds off his best time to qualify for the meet.


Track & Field Reunion – REGISTER ONLINE!
When: Saturday, March 24, 2018 | Time 5:00-8:00PM
Where: Archbishop Molloy High School
Who: Track & Field Alumni, Family Members & Friends
Donation: $40 per person (Includes Reception)
Contact: Craig Katinas '93 | 718.441.3151
Wall of Honor Inductees: Andrew O'Connor '03, Ian Cassidy '04, Coach Jerry Dunne, Jeff Gallagher '88, Christian Limberg '93, Girls Track & Field Class of 2004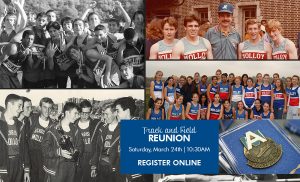 The Stanner Alumni Center invites all track and field alumni, family members, and friends to Molloy on Saturday, March 24th for a reunion event. Your donation includes food and beverages during our evening reception. Please spread the word to your classmates and teammates and help us get everyone together for a great night. We look forward to reminiscing and celebrating this outstanding program.
During the event we will also enshrine several individuals and one team onto our prestigious Track & Field Wall of Honor. This year's inductees include Andrew O'Connor '03, Ian Cassidy '04, Coach Jerry Dunne, Jeff Gallagher '88, Christian Limberg '93, Girls Track & Field Class of 2004. We encourage alumni and friends from these classes and athletes coached by Mr. Dunne to come out and show your support during this once in a lifetime moment!
---
VOLUNTEERS NEEDED! (Stanner Golf Classic)
When: May 7, 2018
Where: Plandome, North Hills, and North Hempstead (NEW!) Country Clubs
Who: Alumni, Parents, Friends, Corporate Sponsors
Contact: Matt Rizzotti '04 | 718.943.3186
More info at www.molloyhs.org/golf/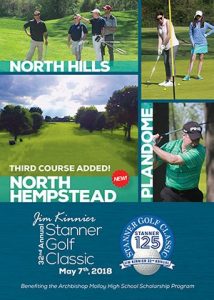 VOLUNTEERS NEEDED! Molloy has officially begun gearing up for its 32nd Annual Jim Kinnier Stanner Golf Classic. This is one of our largest fundraising events of the year, as over $2 million in scholarship support has been raised since the event was founded in 1987. The Stanner Golf Classic is a massive undertaking, and this year will present an even greater challenge as we expand to a third golf course for the very first time. Our golfers are expected to fill North Hills Country Club, Plandome Country Club, and North Hempstead Country Club. While we have staff members working at each course, it is essential that we have the support of many volunteers throughout the day.
Members of the Class of 2013: We have a special offer for you. If you volunteer at this year's Stanner Golf Classic, you will attend your 5th anniversary reunion on November 3rd completely free of charge!
To find out more about volunteer opportunities, or for general information about the Stanner Golf Classic, please contact event organizer Matt Rizzotti '04 at 718.943.3186 or mrizzotti@molloyhs.org.


Nicole Baran '05 Shares What It's Like When Your Job Is On A Glacier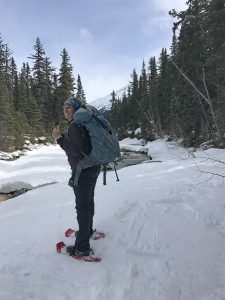 In our February 2nd issue of The Beehive, we highlighted Alberto Alvarez '00 and his suggestion that aviation is a viable career for alumni looking to be more adventurous. This week, Nicole Baran '05 further reminds us that the most fulfilling jobs don't have to be your typical 9 to 5. Nicole is a wilderness guide in Southeast Alaska who leads multi-day expeditions, single day trips on the Laughton Glacier, hikes to Denver Glacier overlooks, and kayaking. The Niagara University graduate, who holds a degree in Tourism and Recreation Management with a concentration in Special Events, used to consider herself "the biggest city girl." In her words, "My friends and family will tell you I've always had an incredibly adventurous spirit. The first summer I worked in Alaska was 2012 as a cruise director and I hated it. But I grew to love the remoteness and resourcefulness necessary to not only survive, but enjoy living in Alaska," she explains. Nicole moved to Alaska in 2013, later spent some time in Key West sailing and guiding snorkel and kayak trips, but ultimately felt drawn to Alaska.
While the work is invigorating, it is also challenging. "Weather is a huge day to day factor. We guide every day, rain or shine. It's a lot more rain than shine. We call it 'Alaska Liquid Sunshine'. Tourists don't realize they'll be hiking in a rainforest and often aren't properly dressed," says Nicole. The tours are also physically demanding and can last up to eight hours over uneven terrain. The remoteness of the tours also means no cell service, which necessitates proper emergency training. Nicole is well versed in rope rescue training, and she is an EMT and a Wilderness EMT should any client or colleague need assistance. Despite these challenges, Nicole feels very satisfied by her career choice. "I like to share a quote from Mark Twain with my clients: 'A man who keeps company with glaciers comes to feel tolerably insignificant by and by.' Spending time on a glacier every week is truly one of the most humbling and incredible experiences one could ever ask for," says Nicole.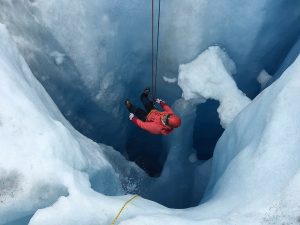 Nicole offered up this advice for young alumni who want to explore their career options: "If the idea of working indoors makes you twitchy, as it makes me, don't be afraid to think outside the box. Even if you spend as little as one season (six months in the guiding world) taking a path less traveled, the knowledge gained can be equivalent, if not greater, to what can be learned working a traditional 9 to 5 indoors."
Nicole firmly intends to continue her guiding career for the time being, but she also has personal aspirations to summit Denali and Kilimanjaro. She also has her eyes on developing a career as a volunteer firefighter, EMT, or Search and Rescue first responder in Southeast Alaska. Thank you for sharing your story, Nicole!
---
Alumni Volunteer in Jamaica
The following was submitted by alumna Melissa Foley '13, who assembled several Stanners together for an incredible service journey in Jamaica. The group worked with Mustard Seed Communities, an organization Molloy often coordinates its St. Marcellin Champagnat Society trips in conjunction with. In Melissa's words (because we couldn't say it any better):
"I wanted to share my recent trip to Jamaica with some wonderful Molloy graduates! I just led a mission trip to the Mustard Seed Communities' Blessed Assurance location in Montego Bay, Jamaica, with my best friend from Texas. We gathered up people from New York and Texas to join our team. It was tough at first to recruit members, but with the help of Brother Pat Hogan & Mr. Dougherty, Molloy graduates started to reach out to me. My dad's friend Brian Mulcahy '75 came along for the adventure as well as Chris Autera '16, Stephen Velez '16, and Amanda Zeni '15. We were definitely able to practice living out our motto 'Not for school, but for life.'"

"The community we visited housed 32 children/young adults with a variety of special needs. I can easily say that this trip changed my life. It was such a healing experience and it felt "Esopus like." Each night my friend and I led small group sessions where everyone opened up about their lives and shared stories about what led them to join this trip. It was beautiful."

I just want to thank you [Molloy faculty and staff] for always being powerful role models for me. The entire Molloy community has shaped me in so many ways and has had such an impact on my heart. Without the leadership skills and lessons that I learned at Molloy, I do not think I could have ever led my first mission trip or even be standing where I am today. After my dad, Brian Foley '75, passed away, I knew I had to do bigger and better things. I wanted to help make a difference and cherish each day we have here on Earth. This trip reminded me of what it means to be a Stanner. It reminded me that my dad & I share the Stanner connection that will never be destroyed. I received an email about my dad's scholarship recipient in Jamaica and I started to cry because I was so thankful to be surrounded by fellow Stanners who have helped make this scholarship possible."

"I got to know Stephen, Chris, Amanda and Brian so well and we have become such great friends. Brian and I shared a deeper connection because he was a great friend of my dad's. It was almost like we were honoring my dad by doing this trip together."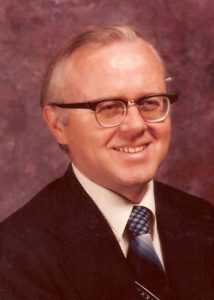 We are saddened to share the passing of Br. Luke Reddington, FMS, on February, 2018 at the age of 83. Br. Luke was a Marist Brother for 67 years. Born in New York City, Br. Luke became a postulent with the Marist Brothers in 1950 and entered the Novitiate in Tyngsboro, Massachusetts in 1951. He professed his first vows in 1952 and his final vows in 1957. He taught at including our own St. Ann's Academy and Archbishop Molloy High School (1956-1957, 1957-1962), Christ the King High School (1962-1963), Christopher Columbus High School (Miami, 1966-1970). He then served as a school administrator at CTK, Sacred Heart School (Bronx, 1979-1981), and Queen of Angels School (Newark, 1994-1998). Br. Luke was appointed Marist Provincial of the United States from 1974-1977 and as Master of Novices from 1988-1990. He also served as the Director of Education at Highbridge Community Life Center (Bronx, 1990-1993), as a guidance counselor at Christopher Columbus (1993-1994), as a Pastoral Administrator at St. Mary Parish in Petersburg, West Virginia (1998-2004), and in Youth Ministry at Marist High School in Bayonne (2004-2012). Br. Luke was the son of John and Rose (Dever) Reddington. He is survived by his many nieces and nephews and his grand nieces and grand mephews, as well as by his Marist Brothers of the Province of the United States. Please keep Br. Luke in your prayers.

Please pray for the repose of the soul of Tim Leary, longtime coach at St. Francis Prep.

Please keep in your hearts the victims of the tragedy in Parkland, Florida.