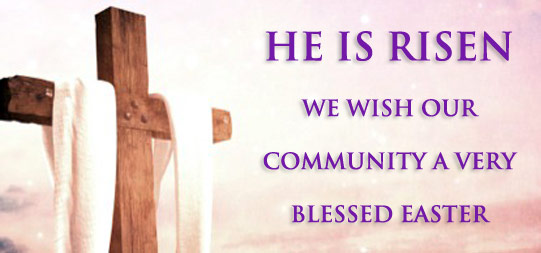 On Wednesday, March 28th, students and faculty began their day by celebrating our Easter Liturgy. While students always look forward to Easter vacation, our Liturgy is a powerful reminder that we are in the midst of the holiest events on the Catholic calendar. On behalf of everyone at Molloy, the Stanner Alumni Center wishes all in our community a very blessed Easter. (Photos from our Easter Liturgy by Ms. Laura Sawyer '07 and Photography Club member Isabella Fazio '19)


5 Individuals, 1 Team Inducted to Track & Field Wall of Honor

Pictured left to right: Christian Limberg '93, Joe Dombrowski, Jerry Dunne, Ian Cassidy '04, Jeff Gallagher '88, Diana Oerzen '04, Jen Kelleher '04, AJ Power '84, Lauren (Diffendale) Howard '04.
On Saturday, March 24th, Molloy welcomed over 70 alumni, family members and friends for a special Track & Field Reunion. The event provided an opportunity to reconnect and reminisce with Stanners across generations, as well as to celebrate a track and field program that has nurtured young men since the days of St. Ann's, and young women since the year 2000.
The event also featured the induction of several individuals and one team onto Molloy's prestigious Track & Field Wall of Honor. This year's Wall of Honor Class includes (with comments by Coach Joe Dombrowski):
Coach Jerry Dunne (2002-Present): Jerry ushered in a second great era of Molloy pole vaulters. His athletes have set school, league, Catholic and state records, and have earned All-American honors. He mentored 3 boys over 15' (O'Connor, Cassidy, Dombrowski) and Rebecca Power, who vaulted 11', setting the first Molloy girls' CHSAA record. His energy and enthusiasm continues to lead Molloy's pole vaulters.

Jeffrey Gallagher '88: Jeff Gallagher enthusiastically bellows, "Big Smiles!" to our tracksters on a daily basis, and brings a big smile to our program. His title at Molloy is sprint coach, but he is much more. Our sprint group forms the basis of our jump and hurdle programs, and the points they score are bolstered thanks to Coach Gallagher's guidance. Jeff was a fine quarter-miler on the 1988 CHSAA Championship team.

Christian Limberg '93: Christian dominated the NY throw scene, winning championships at: Loughlin, West Point, Eddy Meet, Glen Loucks, and the CHSAA Championship. He earned indoor All-American honors in the shot put. His outdoor bests are 59'9.75" (shot) and 160'6" (discus). He won both at the 1993 outdoor CHSAA Championships – earning the Outstanding Field Event Athlete Award.

Andrew O'Connor '03: At the Outdoor Brooklyn/Queens Championships in 2003, Andy O'Connor became the first CHSAA athlete to clear 16' in the pole vault. This jump set the NYS Catholic record. His 15'6" vault at the indoor NY state meet also set both CHSAA and NYS Catholic records. These performances were the Irish Junior National Records in the indoor and outdoor pole vault.

Ian Cassidy '04: Ian burst onto the CHSAA pole vault scene by jumping 11'7" indoors as a freshman. This jump broke the Molloy indoor freshman record by over two feet. He jumped 15' (indoor) and 15'3" (outdoor) as a junior. Ian set the indoor NY State Record of 15'9.25" in 2004. He went on to vault 16'10.75 at Duke University.

2004 Girls Track & Field: In September 2000, a group of strong-willed girls entered Stanner High, joined the track team, and took off running. Molloy's first girls track team were a force, making history with great individual performances and by winning both the BQ and CHSAA Freshman Cross Country Championships. These trailblazing girls established a legacy of success that endures today.
Thank you to all for who attended the event, and congratulations to our honorees.

---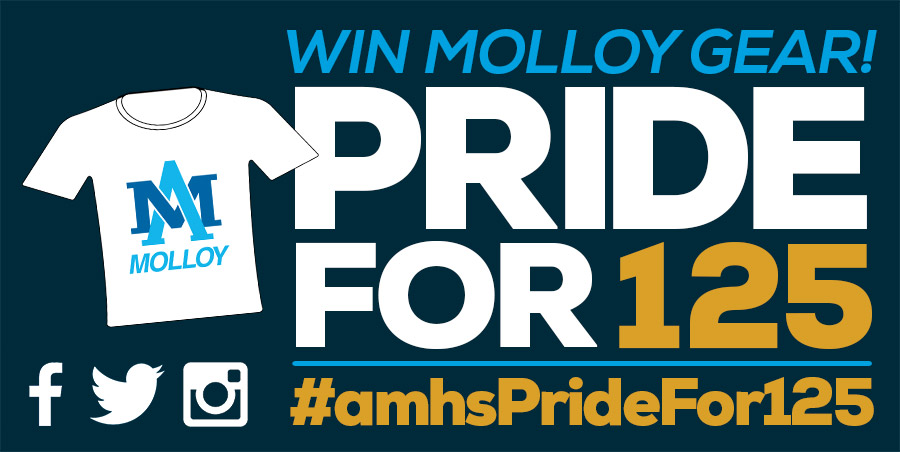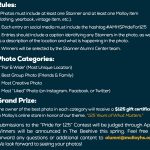 Our "Pride for 125" contest is still going! We're continuing our celebration of 125 Years of What Matters by giving Stanners a chance to win Molloy gear. To be eligible to win, Stanners should take a photo of themselves, or with their families and friends, wearing Molloy apparel or with vintage items (yearbooks, mugs, diplomas, jerseys, etc.) and post it to social media (Facebook, Twitter, Instagram) using #amhsPrideFor125 … Four winners, one from each of four categories, will receive a $125 gift certificate to Molloy's online store. Photos are judged based on creativity by members of the Stanner Alumni Center staff. Click the thumbnail to the right for the full rules and photo categories. The contest runs through April, so post your photos now! Contact alumni@molloyhs.org with any questions.
---
Around the School
Stanners Celebrate "Spirit Week"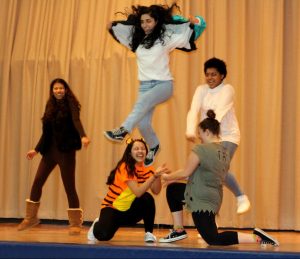 Molloy was buzzing with activity during the first week of March as we celebrated Spirit Week. Students and faculty showed their school spirit each day of the week through dress down themes and after school games. A food drive was also held throughout the week. Participation in each dress down, event or fundraiser awarded students points, and the class year with the most points at the end of the week would earn their own dress down day later this year. Dress down themes included pajama day, athletes vs. mathletes, celebrity/character/meme/decades day, and heritage day. Activities included Amazing Stanner Race (finding clues around school), Kahoots! (trivia), Minute to Win It (quirky challenges), and the Lip Sync Battle (pictured left). By the end of the week, the seniors claimed first place with 3,925 total points. Juniors placed second, sophomores third, and freshmen fourth. Overall, it was great to see students and faculty show a ton of school spirit. Thank you to Ms. Murdocca, the Spirit Leaders, and the faculty who helped coordinate Spirit Week. Special thanks also to Molloy's Photography Club for all of the wonderful photos.

---
Faculty Bests Seniors in Basketball Showdown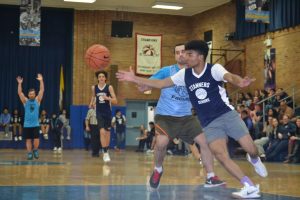 One of the most anticipated school events of the year is no doubt Molloy's Seniors vs. Faculty Basketball Game. Bragging rights are on the line for both sides in this heavily contested matchup. This year's game, held in the Jack Curran Gym on March 16th, pitted the best of the AMHS faculty against the Class of 2018. Students brought signs, wore face paint, and chanted throughout the night in favor of their favorite seniors and teachers. Evening entertainment also included a tug of war and performances by the Sassy Seniors, Dance Team, and Step Team. The game itself was tight, and it was fairly called by referee Mr. Jim Sheldon '88 (depending on who you ask). Despite the best efforts of the seniors, the faculty managed to pull away in the fourth quarter and claim victory over the seniors 71-63, much to the chagrin of the senior faithful. The Class of 2019 are already planning for better results when they get their chance to face off against the faculty next spring. All photos by our very talented Photography Club members: Andie Ratilla '20, Ariya Mangru '19, Daniel Ramirez-Mendez '20, Guitry Germain '18, Isabella Fazio '19, Paula Tobar '18, and Vassilia Plakas '18.

---
JV Soccer Team Honored at NYCFC Game
Molloy's boys JV soccer team was honored on the field at Yankee Stadium during halftime of the New York City Football Club game on March 17th. Our Brooklyn/Queens regular season champs were among a number of other local winning teams who were honored for their outstanding play this season. Pictured with the team are JV coach and alumnus Glenn Whelan '10, as well as alumnus Marco Rodrigues '12, who currently works for NYCFC and is formerly a coach with Molloy's varsity soccer team.
---
NYC Science & Engineering Fair Winners Announced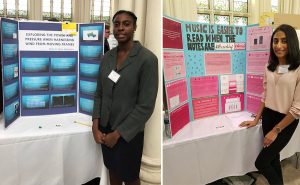 Congratulations to Gabriella Ali '18 for earning a second place award for her research project "Music is Easier to Read When the Notes are Differently Colored to Alleviate Visual Crowding" and to Brittney Germain '18, who received the Brooklyn Friends of Clearwater Award for her project "Exploring the Power and Pressure when Harnessing Wind from Moving Frames." Gabriella and Brittney received their awards at the Finals Round of the NYC Science & Engineering Fair, hosted at the American Museum of Natural History on March 20th. You can learn more about their research and other student projects at Molloy's 2018 Music, Art & Science Festival on Wednesday, May 2nd beginning at 6:00PM. Enjoy performances by our concert band and choruses, and view art and photos created by our students. Our science researchers will also present their projects and answer questions.
---
Upcoming Beehive Schedule
Thank you for reading this week's Beehive! The Stanner Alumni Center would like to inform you that our next issue will be published in three weeks rather than the usual two. Look out for the next Beehive on Friday, April 20th. Thank you!


Jim Kinnier Stanner Golf Classic – 6 WEEKS AWAY!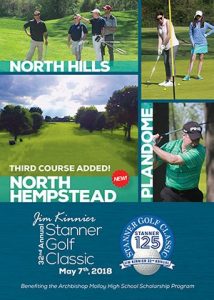 The 32nd Annual Jim Kinnier Stanner Golf Classic is just 6 weeks away! This year will mark the first time Molloy's outing will expand to a third golf course. The event, which has been held at North Hills and Plandome Country Clubs for a number of consecutive years, will now also include North Hempstead Country Club. We hope that our expansion to North Hempstead will improve the quality of your game and overall experience of the day. No matter which course you choose, all golfers will enjoy brunch, a mid-morning shotgun start, food and beverages throughout your round of golf, as well as an evening program featuring cocktails, a gourmet dinner, and dessert. Live and silent auctions, and our raffle, will offer outstanding prizes. This year's raffle prizes include: 1st Prize: 2 Tickets to the Super Bowl (airfare & hotel included); 2nd Prize: 4 Day/3 Night Trip for 2 to Las Vegas (airfare & hotel included); 3rd Prize: 55" HDTV.
JOURNAL ADS: Sponsor a journal ad in support of this year's Stanner Golf Classic or in honor of our 2018 Golf Chairman, longtime benefactor and outing supporter Robert Rossi '81. Journal ads should be standard page size (8.5"x11"). Choose from the following donation levels: Gold Page – $1000 | Silver Page – $750 | Blue Page – $500 | White Page – $400 | Half Page – $200 | Quarter Page – $100
---
Women at Work Panel – RESCHEDULED
When April 12, 2018 | 2:15PM
Where: Molloy's Ralph DeChiaro Theater
Who: Students | Parents, alumni welcome
Join us on March 21st at 2:15PM at Molloy for a panel discussion led by our alumnae and Stanner family members. Conversation will focus on career pathways and women's experiences in the workplace. Open Q&A with panelists will follow. While the panel is geared toward students, parents and alumni are also welcome to attend.
---
Swimming Alumni Reunion 
When & Where: June 9th, 2018 | 5:00PM @ Molloy
Who: Alumni, family members, friends
Tickets: $80 per person; $40 for Classes of 2007-2017
Contact: Craig Katinas '93 | 718.943.3151
Attention all Stanner Swimmers! Join us on Saturday, June 9th for a reunion event celebrating the success of our over 45 year old swimming program. In recognition of this special occasion, we will be honoring all athletes, coaches and staff who have been a part of this amazing and decorated program for so many years. Your admission includes cocktail hour, a dinner reception, and open bar. Register online at www.molloyhs.org/events/ or contact Craig Katinas '93 for more information.
---
St. Ann's Communion Breakfast
When: Sunday, June 3, 2018 | 10:00AM
Where: Archbishop Molloy High School
Contact: Merl Doyle | mdoyle@molloyhs.org | 718.441.9210
The Stanner Alumni Center will host a breakfast for all graduates of St. Ann's Academy (Molloy was known as St. Ann's from 1892 – 1957) as well as graduates from the Classes of 1960-1967. If you have connections to St. Ann's or are a graduate from these years, please consider attending this free event on June 3rd. Your RSVP is requested. Please contact Ms. Merl Doyle to RSVP or for more information.
---
Walk/Run for Karina – SAVE THE DATE!
When: Saturday, June 23, 2018 | 11AM – 11PM
Where: Archbishop Molloy High School
Contact: Matt Rizzotti '04 | 718.943.3186
Save the Date
Join Molloy on Saturday, June 23rd as we again remember a beloved member of our Stanner community, Karina Vetrano '04. Last year, Molloy held a two day, overnight walk/run vigil in remembrance of Karina. This year, the event will kickoff at 11:00AM and conclude at 11:00PM, all on June 23rd (11 being Karina's favorite number). More details and registration info will be released soon. All proceeds from this event will benefit the Karina Vetrano Memorial Scholarship. Please save the date, or contact Matt Rizzotti with any questions.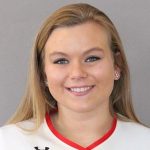 Congratulations to Camille Sears '16 on being named the Middle Atlantic Conference (MAC) Commonwealth Player of the Week for March 26th. Camille is a pitcher and plays first base for the Albright College women's softball team. Information courtesy of the MAC: "Camille Sears had the two biggest hits for Albright in its doubleheader sweep of conference foe Lycoming on Saturday. In game one, Sears hit a two-out RBI-double to score the go-ahead run in a 4-3 victory. In the eighth inning of a scoreless game two, Sears homered to center field with one out to provide the lone run in a 1-0 victory. It was her first career home run." | MAC Sports | Camille Sears Bio | (Photo courtesy of Albright College Athletics)
---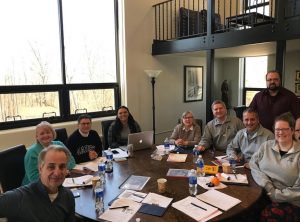 During the Marist Brothers' recent US Provincial Chapter Meeting, Molloy President Richard Karsten '81 (pictured standing far right) joined the Brothers and fellow lay Marists to discuss future goals and the Lay Marist Assembly planned for this summer. Having just finished celebrating the 200th anniversary of their founding in 2017, the Marist Brothers, alongside lay people, are now building the groundwork for the next 100 years of Marist life. For more information on the Marist Institute in the United States visit https://www.maristbr.com/.
---
Fr. (Chaplain) Jim Krische '76 has been asked to postpone retiring from the Army Reserve and is back in Afghanistan by popular demand for a third and fourth tour. His mission is to offer the Catholic sacraments and religious support to our military personnel serving there. Any Stanners deployed to the region in uniform or civilian status between now and May 2019 are invited to contact him at jkwanderer@aol.com for a potential reunion abroad.
---
During a recent cruise to Australia and New Zealand, Rich Williams '65 and his wife Donna toured the Mission Estate Winery in Napier/Hawk's Bay, New Zealand. "I was surprised to find out that the winery was founded by, and still owned by, the Marist order. I mentioned to the tour guide/winemaker that I was taught by Marist Brothers, but was never told of their sideline business," said Rich.
---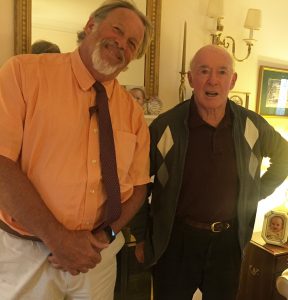 Track & Field Coach Mr. Joe Dombrowski recently visited Robert West '48 at his home in Malverne, NY. Mr. Dombrowski and Mr. West discussed track records from Bob's St. Ann's days, as well as the state of the program today.


Remembering Firefighter Michael R. Davidson '99

Archbishop Molloy High School is deeply saddened by the tragic passing of Firefighter Michael R. Davidson while battling a five-alarm fire in Harlem on March 23rd. Michael was a Stanner from the Class of 1999 and a 15 year veteran of the Fire Department of New York. He was first appointed as a Firefighter and assigned to Engine Company 69 in May 2003. According to the FDNY, Michael, was cited for bravery and life-saving actions on four separate occasions. After Michael's passing, Mayor Bill de Blasio and Fire Commissioner Daniel A. Nigro announced that he would be posthumously promoted to the rank of Lieutenant. Michael is survived by his wife, Eileen, and their four young children. He is also the son of retired Firefighter Robert Davidson, who served the FDNY for 26 years (much of which was also spent with Engine Company 69), and the brother of Firefighter Eric Davidson, an 11 year veteran of Engine Company 88 in the Bronx. Sadly, Michael is the 1,150th member of the FDNY to make the ultimate sacrifice in the line-of-duty. On Tuesday, March 27th, Molloy lowered its flag to half-mast in honor of Lt. Davidson as he was laid to rest. We ask that you continue to join us in prayer for Michael, his family, and his friends and colleagues in the FDNY during this very difficult time. | Click Here for More Information | News Report by Currents TV | Follow Up Report by Currents TV
---

Please pray for the repose of the soul of Mr. Robert Board, father of junior Xavier Board '19.

We were recently informed of the passing of Col. Richard H. Esau, Jr., USMC, '52 on October 21, 2017. Col. Esau was featured in a Beehive article published in January 2016. In the article he discussed his impressive military career and his upbringing and education at St. Ann's Academy, and reflected on his survival despite wounds he sustained during the Vietnam War. Thank you, Col. Esau, for your service. Please keep Col. Esau and his family in your prayers. | Read Beehive Article About Colonel Esau

Please pray for the repose of the soul of Philip Messina '61, who passed away February 4, 2018. | More Information about Philip Messina

We were recently informed of the passing of Robert A. DePascale '64 on October 2, 2017. Please remember Robert in your prayers this week.

We are saddened to share the passing of Jose De Jesus Bonifacio, husband of Anna De Jesus, a member of our food services staff. Please keep Jose and his family in your prayers.