Chicago Alumni Event –

REGISTER ONLINE
Stanners and friends located in the Chicago metro area are invited to join President Richard Karsten '81 on August 22nd (6:30PM) for an Alumni Chicago Chapter Event at On Tour Brewing Company. Drinks and food are included in your $25 per person admission fee. Family and friends are welcome. Please help us spread the word to any Stanners in the Chicago area. Contact alumni@molloyhs.org or 718.441.9210 for more info.
---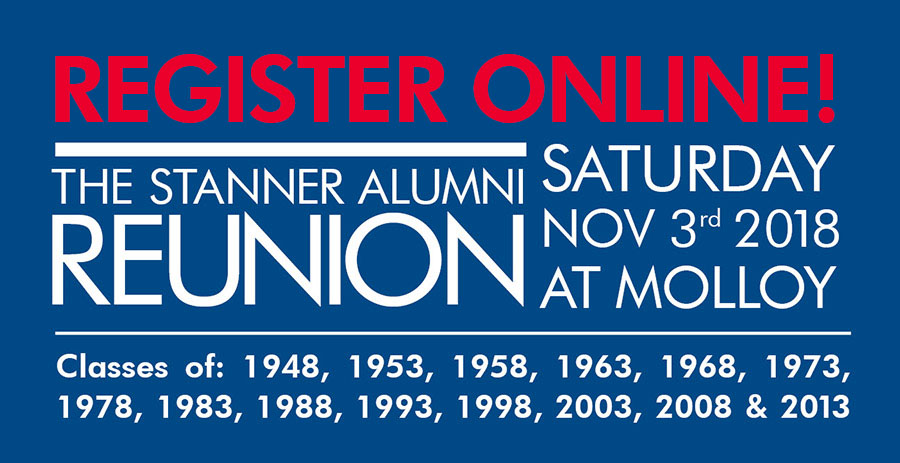 Alumni from class years ending in 3 and 8 are invited to join us here at Molloy on Saturday, November 3rd for the Stanner Alumni Reunion! This is a great opportunity to reconnect with classmates and your favorite teachers, and walk the halls of Stanner High once again. See more info below:
BASIC INFORMATION:

4:30PM – Check In Begins
5:00PM – Mass of Remembrance (Ralph DeChiaro Theater)
6:15PM – Cocktail Reception
7:15PM – Welcome, Class Photos, Dancing, Dinner & Dessert
Valet parking and discounted hotel rates available

VOLUNTEERS NEEDED: If you would like to serve as a class officer, tasked with finding and recruiting classmates, please let us know!
---
Molloy Oktoberfest –

REGISTER NOW!
We are excited to announce that Molloy Oktoberfest will return this fall. All members of our community (ages 21+) are invited to join us on Thursday, October 4th, for Bavarian style dinner and music as we kick off our event season with this fun and relaxing evening. Everyone in attendance will also receive a raffle ticket good for a prize drawing later in the evening.
We extend special invitations to members of our Badges Network as well as supporters of the Br. Ron Marcellin Memorial Scholarship. This year's Oktoberfest will be the first to honor Br. Ron in place of the annual dinner held previously every January.
---
Golf Outing Remembering Karina Vetrano '04
The family and friends of Karina Vetrano '04 will host their second annual golf outing on Thursday, September 27th, in memory of their beloved Karina. The event will include lunch, a round of golf, cocktails and dinner. Those who register will also have full access to the driving range and locker facilities. All proceeds from this event will support the Karina Vetrano Memorial Scholarship at Archbishop Molloy High School, benefiting future young women entering Molloy. Please click the image to the right or the link above for full details.


Please Take Our Survey: Molloy's Strategic Plan
During the upcoming 2018-19 school year, Molloy will be conducting a formal Strategic Plan to assess the dynamics of the education market place in New York City. In order to effectively do so, we need the input of our key constituents: faculty, staff, students, alumni, benefactors, and our community at large. The Strategic Plan process is designed to gain insight from those who have the deepest stake in the future of Molloy. Key opportunities and challenges will be identified to ensure that the vibrancy of the mission at Molloy continues to thrive for generations. Please complete our survey by August 30th.

---
Repairs to Front Entrance & Track Are Underway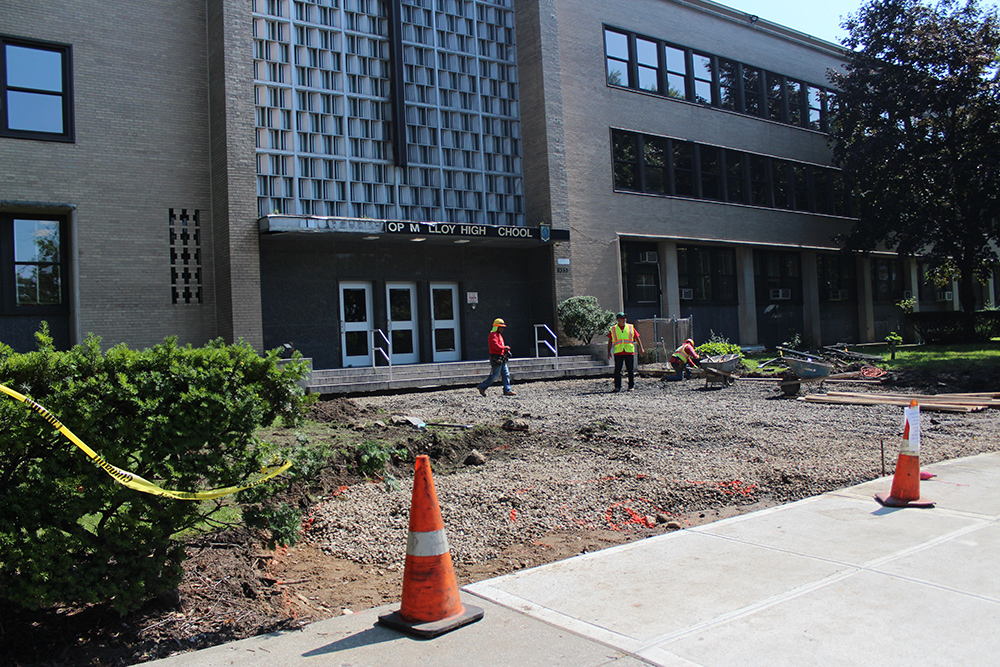 In our last Beehive, we shared news about our latest major capital project: adding air conditioning to classrooms in multiple phases. This week, we share a few photos from other areas of our campus receiving attention. First, the main entrance on Manton Street is under construction as a crew works to repair damage from fallen trees back in May. At the moment, the entire walkway and parts of the lawn have been pulled up. Repairs will be made to the awning and front signage soon, while last week the crew began repairing the netting around the cross (the nets are meant to repel birds).
Elsewhere, back by Stanner Field, several damaged sections of Molloy's track are currently being pulled up and prepped for replacements. Facilities within the building, including hallways, the Capt. Marsloe Gym, and the Jack Curran Gym, are all being cleaned and receiving fresh coats of wax. As for the air conditioning project, the first phase is just about complete. This capital project figures to take several years to fully realize, as only select classrooms receive air conditioning during each phase. For now, the Main Street side of our campus figures to be much cooler in the warmer months.
Expect to see the finished products once school is back in session in September. Be sure to read our next Beehive for more coverage.
---
Stanner Life Magazine: Coming Soon!
The newest issue of our alumni magazine, Stanner Life will be dropping in mailboxes around the globe very soon. This issue is a special one, commemorating our 125th anniversary. We won't be sharing any photo previews just yet, but we do want to give everyone one last chance to update their mailing address so they receive this special magazine. Please note that due to the increased size of the book, one copy per household has been mailed, rather than multiple copies for family members that share one address. Please feel free to contact us to let us know if you'd like an extra copy, or if you did not receive it and would like us to send you one.
Send your updated address information, or your children's updated information, to alumni@molloyhs.org. Thank you, and we hope you enjoy the new Stanner Life!
---
Changes to Molloy's Alumni Login Feature
Stanners intending to login to Molloy's alumni website at www.molloyhs.org/alumni/ may have noticed some changes recently. It is at this time we must announce that the alumni login feature is no longer active on our website. The link to login has been replaced by a link to update contact information and opt-in to The Beehive. The Beehive is one of the most important ways that Molloy shares news and engages with alumni and the greater school community. With this in mind, the ability to opt-in to the newsletter is now more prominently featured on our website. We hope that this will make The Beehive available to an even great number of alumni, and keep even more Stanners informed about the many great stories from around our school.
Click on the screenshots below for examples of where to look and what to expect:
While we understand that many alumni enjoyed the ability to login to our website, please know that we are considering new ways to engage and connect with alumni online. We hope that you will continue to read The Beehive and follow us on Facebook, Instagram, Twitter, and LinkedIn for future announcements. If you have any questions, please contact alumni@molloyhs.org. Thank you for your ongoing enthusiasm regarding all things Molloy, as well as your patience and understanding regarding these recent changes.
---
Employment Opportunity: Associate Attorney

A Molloy alumnus has shared an employment opportunity open to qualified Stanners. Candidates for the Associate Attorney position at Rossi, Crowley, Sancimino & Kilgannon, LLP should be energetic and motivated individuals with 0-5 years of litigation experience. Good writing skills are important, and candidates must be self-starters and able to work independently and handle case loads assigned. There are partnership possibilities and the potential to build a practice at the firm. Candidates must be admitted to the New York State Bar. For more information and where to submit cover letters and resumés, Click Here or click the logo above.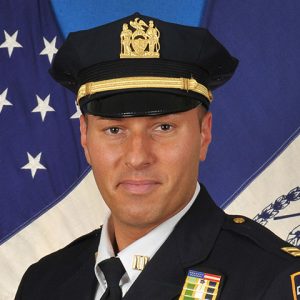 In June, Capt. Jonathan Cermeli '98 was formally introduced as the 112th Precinct's new commander during a monthly community council meeting. Queens' 112th Precinct includes the neighborhoods of Forest Hills and Rego Park – just several subway stops from Molloy. In his remarks during the meeting, Capt. Cermeli said he feels blessed to have been appointed as commander of the precinct, and that he is confident he and his fellow officers can work together with the community to make a positive difference. Congratulations, Capt. Cermeli! Read more via the following local news coverage: Queens Chronicle | QNS.com | More Info on 112th Precinct | Photo courtesy of the NYPD
---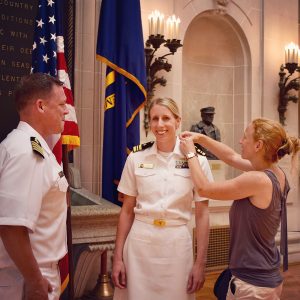 On the 4th of July, Sarah Kuehl '04 was promoted to Lieutenant Commander (LCDR) in the Navy Reserves. The ceremony took place at the US Naval Academy in Annapolis, Maryland. Congratulations, Sarah!
---
Raez Jafri '83 has been included on The National Law Journal's Inaugural Immigration Trailblazers list. This list recognizes a select group of individuals who have "moved the needle in facilitating ever-changing immigration policies" and are "making great strides in the fight for justice." The Journal highlights Jafri's accomplishments and shares a story from Jafri himself about how his journey on this professional path began (see link below, flip to page 10). Jafri is a Partner in the US offices of Withersworldwide (Withers LLP), an international law firm with headquarters in London. Withers employs over 160 partners and over 900 people worldwide. According to a story published by Withers, Jafri's legal practice "integrates immigration, tax, and financial planning" and he has established himself as an "efficient immigration counsel." | Read The National Law Journal's Inaugural Immigration Trailblazers List | Pictured: Raez Jafri '83 with President Richard Karsten '81 at the Stanner Golf Classic 5/7/18
---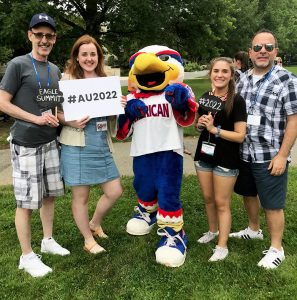 John Fanuka '85 shared the following good news earlier this summer: "This past Thursday and Friday (June 28 & 29) was orientation at my daughter Samantha's new college. She's starting her pursuit of her Justice and Law degree at American University in Washington DC. Several days earlier, I had learned that Kevin Finegan '79 had a daughter, Kelly, starting at American as well. We met each other for the first time at our daughter's graduation from Northport High School on Long Island in mid-June. (Pictured L-R: Kevin Finegan '79, Kelly Finegan, Samantha Fanuka, and John Fanuka '85)
---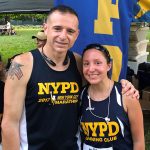 PO Joe Savino '86 of the NYPD Mounted Unit recently took part in the Elitefeats Police Chase 5K in Flushing Meadows Park alongside another NYPD Stanner: PO Justina Russolesi (Dinko) '10. Joe was excited to share that Justina finished second place in her age group.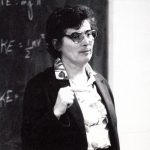 We are saddened to share the passing of Ms. Josephine Barry (pictured). Ms. Barry taught math and physics at Molloy between 1980 and 1996. Everyone at Molloy extends their deepest sympathies to Ms. Barry's family, and we ask our community to please join us in prayer for our beloved teacher. | More information about Ms. Barry

We are saddened to share the passing of John Owen Toy '62. John was a retired City Honors and Buffalo State College history teacher who recently resided in the Buffalo area. He is survived by his sister, Nancy Reedy, as well as his cousins, nieces, nephew, grandnieces and grandnephews. Please keep John and his family in your prayers. | More information about John Owen Toy '62

Please pray for the repose of the soul of Manuel Velez, father of Manny Velez '79. Mr. Velez passed away on July 31, 2018 at the age of 101. He is survived by his wife, Margaret, his sons, Alfred and Manny, his sisters, Catalina (105 in Mexico), Esperanza (99 in Mexico), and his brother, Victor (93 in NY), his grandchildren Samantha, Danielle, Michelle, and Anthony, as well as in-laws, cousins, nieces and nephews and so many friends that knew him for so long.

The winners of the "Pride for 125" contest that started in spring will be announced in September. Thanks to everyone who submitted photos, and thank you for your patience!
The "Looking Back" contest will also return in September. It's great to see that this contest has only grown in popularity since it debuted nearly a decade ago. For more information see the "Looking Back" section in the right column of The Beehive.
Last year, many of you let us know that you missed Oktoberfest being on our event calendar. Well, we're happy that it's back this fall! This year we are inviting everyone to attend, with special invites to our Badges Alumni as well as the alumni who have attended the Br. Ron Marcellin Dinner in past years. We hope to have a great turnout, so please register early and spread the word. Expect good food and good company. Note: There's a special discount for young alumni!

Joe Sommo '03 | Alumni Communications Director | Beehive Editor