(Pictured above: Reunion postcard invitation out now. Check your mail!)
Online registration is open! Alumni from class years ending in 3 and 8 are invited to join us here at Molloy on Saturday, November 3rd for the Stanner Alumni Reunion! This is a great opportunity to reconnect with classmates and your favorite teachers, and to walk the halls of Stanner High once again.
BASIC INFORMATION:

4:30PM – Check In Begins
5:00PM – Mass of Remembrance (Ralph DeChiaro Theater)
6:15PM – Cocktails, Dinner, Dancing, Class Photos, & More!
Valet parking available, but spots limited. Public transit or car service encouraged.

VOLUNTEERS NEEDED: If you would like to serve as a class officer, tasked with finding and recruiting classmates, please let us know!
---
Molloy Oktoberfest – REGISTER NOW!

We are excited to host Molloy Oktoberfest this fall. All members of our community (ages 21+, Friends & Family welcome!) are invited to join us on Thursday, October 4th for Bavarian style dinner and music as we kick off our event season with this fun and relaxing evening. Everyone in attendance will also receive a raffle ticket good for a prize drawing later in the evening!
We extend special invitations to members of our Badges Network as well as supporters of the Br. Ron Marcellin Memorial Scholarship. This year's Oktoberfest will be the first to honor Br. Ron in place of the annual dinner held previously every January. All proceeds from this event will benefit the scholarship in Br. Ron's name.
---
Golf Outing Remembering Karina Vetrano '04
The family and friends of Karina Vetrano '04 will host their second annual golf outing on Thursday, September 27th, in memory of their beloved Karina. The event will include lunch, a round of golf, cocktails and dinner. Those who register will also have full access to the driving range and locker facilities. All proceeds will support the Karina Vetrano Memorial Scholarship at Molloy, benefiting future young women entering our school. Please click the image to the right or the link above for full details.


Capital Projects Update: Air Conditioning, Manton St & More!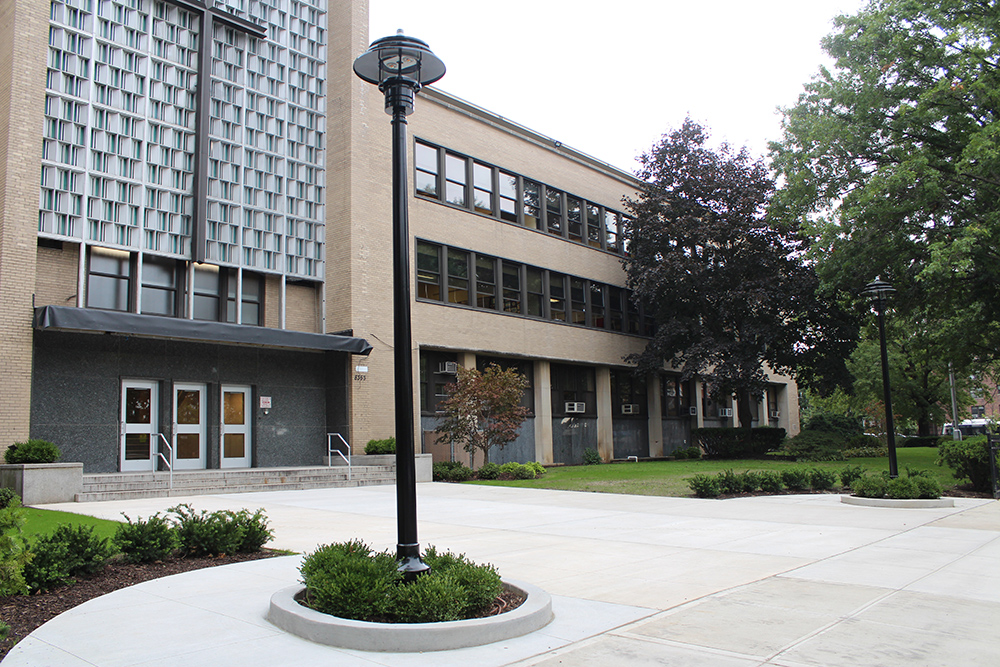 In our August 16th issue of The Beehive, we provided a brief update on several capital projects that were being addressed over the summer. In today's issue, we would like to share an additional update on the progress of these important campus improvements.
Back in May, a strong storm caused two of the large trees on Manton Street to fall toward Molloy's main entrance. This resulted in damage to our front awning and netting around the cross, parameter fencing, and the sidewalk. After the trees were removed, administrators decided to take advantage of the situation by planning several improvements to the Manton Street entrance. The pathway has since been replaced and widened with new concrete, damaged fencing has been removed, and new light poles in round planters have been installed near the street on both sides of the entrance. The new lights should improve visibility in the evening hours, making it easier for our Safety & Security Officers to monitor activity in the area. The addition of the lights is part of Molloy's ongoing commitment to improving safety and security throughout our six acre campus. Repairs to the front awning and landscaping continue.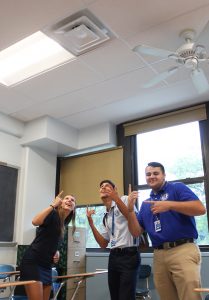 We are excited to share that the installation of air conditioning in 11 classrooms, which began in late June, is complete and fully functional. As a result, students and teachers who have class on the south side of the building (bordering Main Street) have had a much cooler September (pictured left). These 11 classrooms represent the first of several phases of a master plan to air condition all 52 classrooms over the next several years. "Creating an efficient and cost-effective solution, and one logistically feasible in a 60 year old building, was an engineering challenge," said President Richard Karsten '81. "With the help of our buildings and grounds committee on the School Board, we developed a split system that called for two eight ton units on the roof. Air handlers and vents are concealed in the ceiling." The 11 classrooms also received new lighting, special window film that reflects heat out, and new transparent window shades that allow more light in.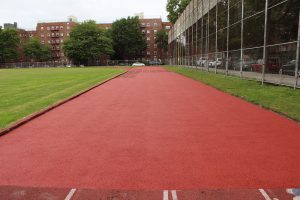 Elsewhere, the girls' locker rooms received a new coat of new paint, while Molloy's track received 100 tons of new clay in several damaged areas (pictured right). New lanes and markings are expected to be painted on the track soon. In the Ralph DeChiaro Center, two new sets of doors were installed; one at its first floor exit and one leading out to the St. Ann's Courtyard. The doors were earmarked for improvement after water penetrated the entrances during a recent rain storm. The new doors provide a tighter seal and feature a better locking mechanism for increased security. We would also like to report that more roofing has been replaced over the Brothers' residence on the fourth floor, and extensive work was done on the drains and scuppers that allow water to clear the roof into the storm drains.
We hope you will continue reading The Beehive in the weeks to come for more updates on our capital projects. Molloy is able to address these and many other important projects thanks to the generosity of our community. Gifts made to the Fund For Molloy by alumni, parents, family members, friends, and gifts made by our students in support of our annual Walkathon, can have a great impact on our campus and academic and athletic programs. On behalf of everyone at Molloy, thank you for your continued support of our mission to provide a quality Catholic Marist education in a modern and safe environment.
---
Stanner Life Magazine Update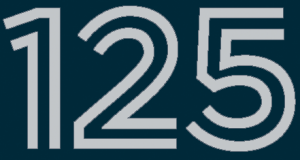 We are very excited to share this year's Stanner Life magazine with our community very soon! The new issue is an expanded commemorative edition that features plenty of nostalgia, news about the present, and thoughts on our future. The production of the magazine has taken a bit longer than originally planned, however it is now complete and in the mail. We are excited about the finished product and hope to hear your feedback in the days and weeks to come. Please keep an eye on your mailbox over the next several business days.
Due to the size of the magazine, only one copy was mailed to each household. If you do not receive your magazine by the end of September, this could mean that we do not have your most up to date mailing address, or the magazine was sent to your parents' home. If this is the case, or if a member of your family would like an additional copy, please contact alumni@molloyhs.org The Stanner Alumni Center thanks you for your patience and looks forward to hearing from you soon.
---
Molloy Seeks Hosts for Future Professional Networking Events

For decades the Stanner Alumni Center has recognized and endeavored to meet the evolving needs of its alumni by creating events and opportunities for Stanners to connect personally and professionally.
In the last decade, networking has progressed with the founding of several professional networks, each one highlighting very large sectors of the professional landscape. The goal of these networks is to connect Stanners in the industries of law, finance, real estate, and law enforcement/public service through events and personal outreach. We also welcome alumni to recommend and provide insights as to what professional networks should be established next.
We have seen our professional networking events hosted by generous alumni and companies such as Fundamental Advisors LP, RFR Realty LLC, UBS, and Venable LLP.
The Alumni Center continually seeks to build new relationships with Stanners whom may be interested in hosting future professional networking events at their companies. Our networks are only as strong and vibrant as the community who supports them. We always welcome your stewardship.
Hosting an event for Stanners serves as an excellent opportunity to build awareness for your company and its services as well as to create greater opportunities to connect and collaborate with fellow Stanners. If you or someone you know may be interested in hosting one of our professional networking events, please contact Craig Katinas '93 at ckatinas@molloyhs.org.
---
Stanner Artifact on Display at 9/11 Memorial Museum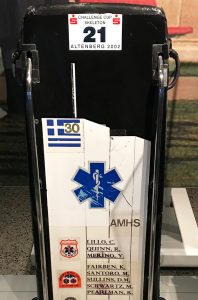 On September 11th, 2001, Michael Voudouris '78, an EMT, joined the hundreds of other first responders who answered the call at the World Trade Center. In early 2002, just a few months later, Voudouris competed in the Skeleton (sledding) event at the Winter Olympics in Salt Lake City. A dual US and Greek citizen, Voudouris competed for Greece.
With the world watching, Voudouris planned to take advantage of the spotlight by decorating the bottom of his sled with a tribute to 9/11 victims. The names of nine EMTs, the letters "AMHS", and a silhouette of the World Trade Center were intended to serve as a tasteful remembrance of colleagues, fellow Stanners, and all who lost their lives that tragic day. Unfortunately, due to a decision made by the International Olympic Committee, Voudouris was not permitted to use the sled because they believed there was a possibility the tribute could be interpreted as a political statement. Voudouris went on to compete with a different sled, however he still managed to incorporate a tribute on his new sled by arranging Greek flag stickers in the shape of the Twin Towers.
Voudouris' sled with his original tribute is now on display at the 9/11 Memorial Museum as part of the museum's new "Comeback Season: Sports After 9/11" exhibit. The exhibit chronicles the impact of sports in the days and months after the September 11th attacks. Alumnus John Glover '99, an EMT and Certified Instructor Coordinator, recently visited the museum with several of his probationary officers from the FDNY Academy. When John saw Voudouris' sled, he was quick to observe the Molloy connection and forwarded a photo of the sled to social studies teacher Mr. Jeff Gallagher '88. Thanks to John and Mr. Gallagher for sharing this news with our community. If any of our alumni are planning to visit the museum in the near future, we hope they will keep an eye out for this interesting piece of Stanner and American sports history.
---
Molloy Hosts First College Night of 2018-19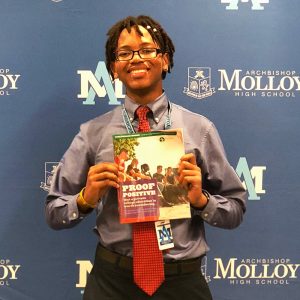 Over 500 students and parents attended Molloy's first College Night of the 2018-19 school year. Representatives from more than 100 colleges, from across the US and abroad, were present to share important information about their schools. Colleges represented at the event include many SUNY and CUNY schools, Cooper Union, St. Joseph's College (Brooklyn), Vanderbilt University, Southern Methodist University, University of Richmond, United States Naval Academy, University of Scranton, Seton Hall, University College Dublin, and many more. "We heard from many people that they found the fair to be very beneficial," said Mr. Gus Esgro, College Guidance Counselor.
---
Prayers for Central Catholic High School Community
Earlier this month, a gas explosion in Lawrence/Andover, Massachusetts necessitated the evacuation of Marist Brothers living in the area, as well as led to the displacement of several families in the Central Catholic High School community. Central Catholic is one of the seven schools owned and operated by the Marist Brothers in the United States. Fortunately there were no injuries. We ask that the Molloy community keep the Marist Brothers and our friends in Massachusetts in their prayers as this situation continues to develop.


Sign Up For Alumni Trip to China
Ms. Dorothy DeNoto invites alumni to sign up for a once in a lifetime trip to Beijing, Xi'an, and Shanghai. This 9 day adventure features a fully planned itinerary with a full-time tour guide. The enrollment period is now open. See links and information above to get started. Must be at least 18 years of age to participate. Graduates of Molloy preferred, family members welcome. Enroll by October 15th and receive a $150 discount. Deadline for all enrollments is January 1, 2019. Number of available spots is very limited. For more information on this unique opportunity, contact Ms. DeNoto (email above).
---
Class Updates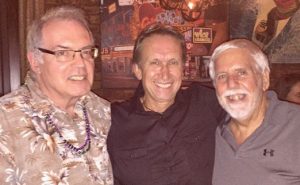 George Byrne '70, a musician based in Florida, reports that he connected with two of his classmates over the summer. George played a show in Islip, NY, in July. After posting a promotional flyer online, George was excited to see that Doug Lange '70 and Joe Harder '70 came to the gig to show their support. "We had a great time reminiscing, and we plan to make the mini-reunion even bigger next year, as I've already been invited back to play next July," said George. He also shared that all three Stanners are looking forward to their 50th anniversary reunion in November 2020.
---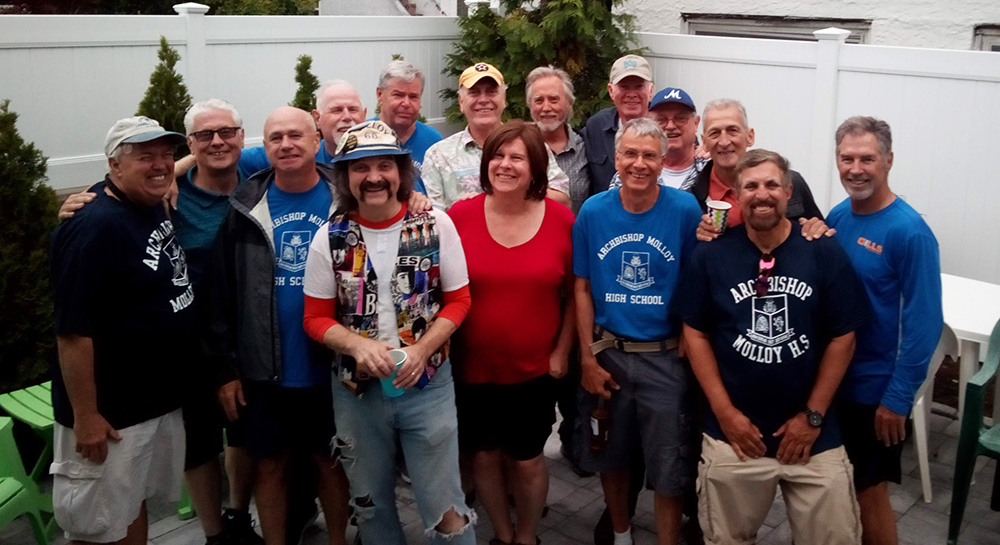 Dr. Bill Endy '68 shares the following news about the "South Shore Stanners" and their recent mini-reunion: "On July 21st, fifteen of the South Shore Stanner faithful converged from around the country, at the home of Lt. Jack Gremse,'68, FDNY (deceased). The gathering was graciously hosted by Jack's wife, Kathy. As you can see from the enclosed picture, time may have passed, but it has not dimmed the strength of our bond or the joy of once again seeing each other. We remain, always, brothers. I hope you enjoy the picture and the staff and faculty can take a great deal of satisfaction in the lasting bond that grew from our four years together at AMHS." Pictured back row left to right: Don Stanton, Chris Kilroy, Ed Berkman, Graham Kistler, Mike Sommers, John Mullen, Gene Murtha, Paul Higgins Jim Cella. Front row: Joe Fitzgerald, Rick Sliasky (wearing his original 1968 senior hat), Camille Hopkins, Bob Miola, Bill Endy, Fred Amman.
---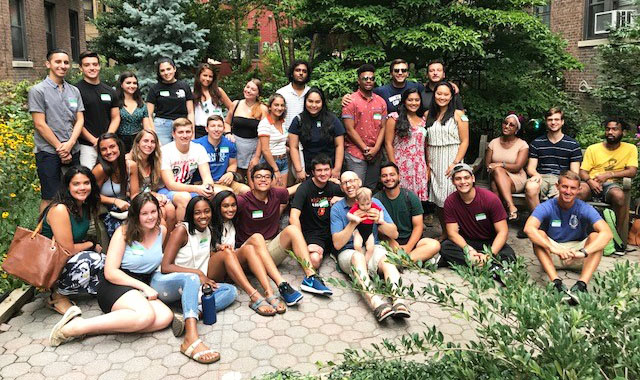 Mr. Chris Dougherty '91, Molloy's Guidance Chair, is excited to share this group photo with The Beehive. The photo was taken during a summer reunion of 35 of Dougherty's past Peer Group Leaders (or "PGLs" as they are commonly referred to as). Stanners from the Classes of 2013, 2014, 2015, 2016, 2017, and 2018 came together to reconnect and reminisce over pizza in Dougherty's neighborhood of Jackson Heights. They also got to meet Doc's son Xavier!



We are saddened to share the passing of John W. "Jack" Joyce '47 on September 13th. Jack was a proud graduate of St. Ann's Academy as well as a proud US Army veteran. He served as a Lector and Eucharistic Minister for his local parishes in both West Harwich, Massachusetts, as well as Naples, Florida. He enjoyed volunteering in the community. For more information about Jack, please click the following link published by the Naples Daily News. We ask that you keep Jack and his family in your prayers. | Read More about Jack Joyce

We are saddened to share the passing of Frances E. Waldron, mother of John C. Waldron '69 and grandmother of Matthew Waldron '01. Mrs. Waldron passed away on September 2nd at the age of 92. She is survived by her three children, six grandchildren, and eleven great-grandchildren. Please keep the Waldron family in your prayers.