On behalf of the Marist Brothers, administration, Stanner Alumni Center, faculty, staff, and the students we serve at Molloy, THANK YOU to everyone who supported Molloy on #GivingTuesday and every day! Giving Tuesday is an international day of charitable giving celebrated annually on the Tuesday following Thanksgiving. After a weekend that has evolved into a shopping extravaganza in recent decades, Giving Tuesday serves as a timely reminder that we must stop, reflect, and consider giving to charitable causes we believe in.
This Giving Tuesday, Stanners and friends donated over $13,000 in support of the Fund For Molloy. By supporting the Fund For Molloy, you directly enhance our programs and physical campus, in turn creating opportunities for present and future Stanners. In the past decade, the support of the Stanner community has enhanced Molloy's capacity to provide scholarships and needs assistance from 150 to 300 students. This inspiring progress would not be possible without the support of all in our Stanner family. Together, we are helping more students attend Molloy and receive the gift of education. With YOUR stewardship, Molloy remains one of the most AFFORDABLE and ACCESSIBLE Catholic college preparatory high schools in the New York metro area.
The lesson of service to others, taught to us by the Marist Brothers and our dedicated faculty, is affirmed by the time, talents, and treasure you provide to inspire our students to give back and help the neediest. During the Christmas season we conduct our annual coat and food drives, which help a number of charities. While this is a symbolic time to give thanks for what we receive, we are always mindful of God's blessings. Our service to others does not end when the holidays do. So many of our students and faculty participate in service programs that operate throughout the year, serving communities of need locally, nationally, and internationally. We are able to do more for others because of what you do for Molloy.
We have received a number of questions regarding the last day one can make their year-end gift. You can still make a gift to Molloy any time this Christmas season. Gifts made by 11:59PM on December 31st are tax-deductible on your next tax return.
Thank you for all you have done and continue to do to strengthen our Marist Mission. We thank all of you whom have ever made a gift to Molloy. Every gift matters. Every gift has a positive impact.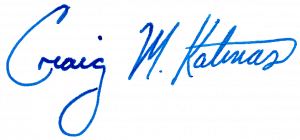 Craig M. Katinas '93 | Alumni Development Director
---

Over 100 Alumni & Friends Come Home for Thanksgiving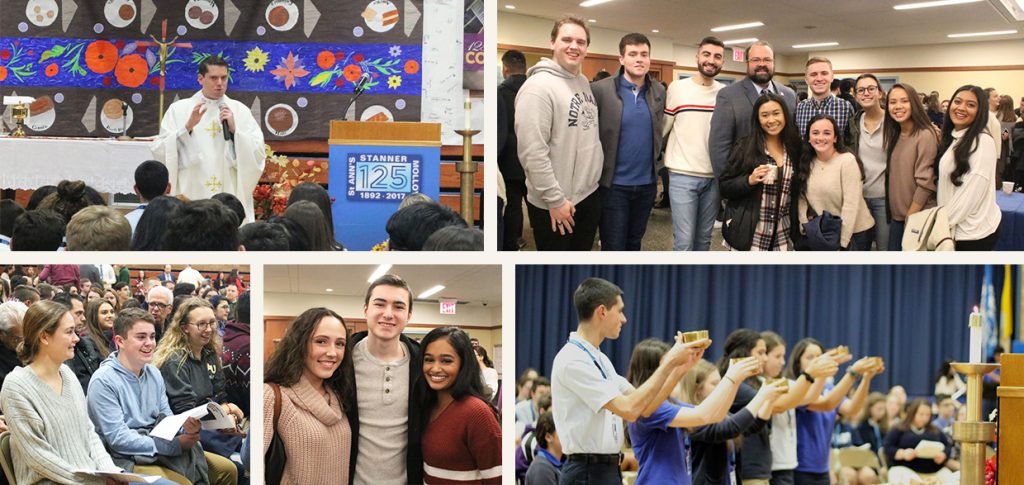 Molloy welcomed over 100 alumni, family members, and friends on November 21st in celebration of our annual Thanksgiving Liturgy. The liturgy was organized by Campus Ministry and celebrated by Fr. Chris Heanue of Holy Child Jesus Parish, while the theme was created by the Liturgy Committee. In the days leading up to the Mass, students in the committee painted a large, colorful wall mural that was hung behind the altar. The mural symbolized the diversity of Molloy's students and families.
Later, all visiting guests were invited to a light reception featuring chocolate chip cookies and hot chocolate. As is tradition, returning alumni had the opportunity to reconnect with their friends and former teachers. It was great to hear your college updates! In all, it was a wonderful day. Thank you to everyone who organized our Thanksgiving Liturgy, and to all who came home to Molloy. We hope everyone had a wonderful Thanksgiving weekend.

---
Latest Women at Work Panel a Great Success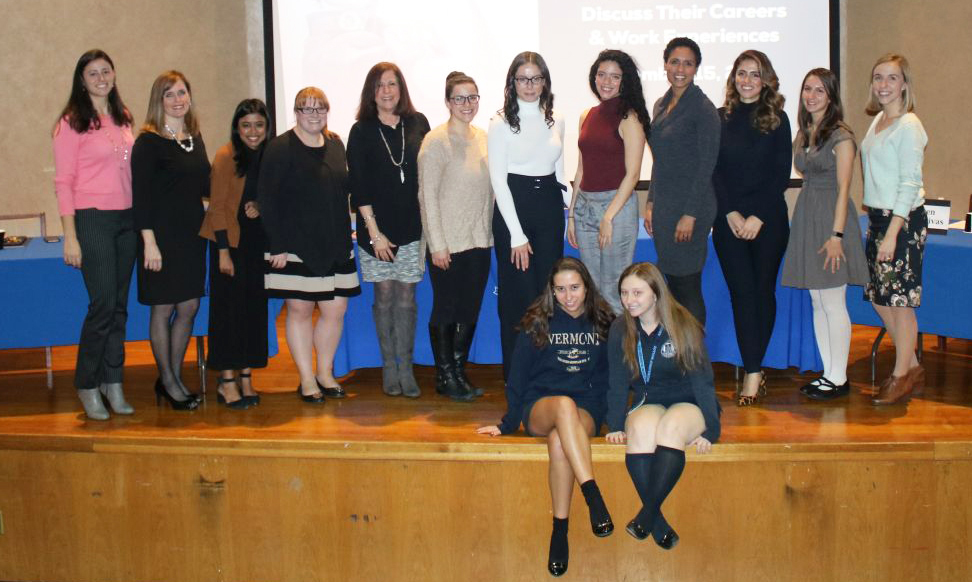 Download the Women at Work Event Program for Full Panelist Bios
Pictured L-R: Catie Massowd, Kerry Henning, Tamanna Akter, Shannon Winters, MaryAnn Safrey, Dr. Nicole Maniscalco, Stephanie Ingilis, Arleen Aguasvivas, Lisa Garcia, Dorina Lleshi Aliu, Ashley Callagy & Sabina Kobinski. Front: Sarah Doyle '19 & Diana Maneri '19.
On November 15th, Molloy welcomed four inspiring alumnae and one Stanner parent as participants in the latest Women At Work Panel (Read Beehive coverage of our first panel earlier this year). The panel was the second in a series of new events aimed at informing and empowering the young women of Molloy as they begin to plan for college and their professional careers. Molloy was proud to welcome:
Arleen Aguasvivas '11 – Arleen is a Harvard graduate who is now working for NBC News Specials. Arleen covers breaking news on the network side, where she monitors developing stories and prepares visual content for air. Arleen previously worked as a tenant organizer in East Harlem.

Dorina Lleshi Aliu '08 – Dorina is a Cooper Union graduate who began her career in a biomedical startup and as an engineer for Con Edison. Later, she became interested in environmental work and accepted a position as a Sustainability Associate in the Environmental Health and Safety Department. Currently, Dorina works as an Environmental Engineer for HydroTech Environmental Construction Services.

Lisa Garcia – Lisa is a Clinical Review Manager at the Visiting Nurse Service of New York. She earned her nursing degree at Adelphi University and a BA from Barnard College. Lisa is currently enrolled at Hunter Bellevue School of Nursing where she is working on her Master's in nursing. She aims to become an adult geriatric nurse practitioner.

Stephanie Ingilis '10 – Stephanie is a graduate of Parsons School of Design. As a young professional, she became a design intern for British brand Luna Mae London. She worked her way up to Press and Design Assistant, and eventually Associate Designer, responsible for custom client designs. In 2016, Stephanie moved to Florence, Italy, to pursue a Master's in Fashion Brand Management. Currently, Stephanie designs her own fashion pieces and works with Dreamwear Inc. as an Associate Designer.

Dr. Nicole Maniscalco '11 – Nicole completed her doctorate degree in Physical Therapy at NYIT. She has performed her clinical rotations in a range of settings, from subacute rehab at the VA Hospital, acute rehab at North Shore University Hospital – Northwell Health, and outpatient rehab at NYU Langone OIOC. She recently finished her research platform and is in the process of being published.
"Our Women at Work panel was assembled based on requests our students made last year for certain professions to be represented," said Ms. Safrey. "Questions for discussion came from suggestions students made on exit surveys after last year's forum. Panelists who could not make our mid-day panel on November 15th will be addressing our new G.E.R.L.L. Club (Girls' Empowerment for Real-Life Leadership) in smaller forums during the school year. The G.E.R.L.L. Committee worked with our Female Faculty Steering Committee to assemble the November panel. Staff on that committee included teachers Sabina Kobinski '04, Danielle Jones, Catie Massowd '07 and Shannon Winters '06, along with counselors Ashley Callagy '05, Tamanna Akter, and Kerry Henning. Our goal was to address issues like contending with the glass ceiling, career trajectories, balancing work and personal life, job networking, and asserting oneself and one's ideas in the workplace. Students have the opportunity to email panelists for follow up conversation and advice."
The Beehive invites alumnae in the workforce to update Molloy on their professional progress! Let us know about your latest career moves and successes. Email alumni@molloyhs.org and share your story.
---
Six Student-Athletes Sign National Letters of Intent

On November 15th, six outstanding Stanner student-athletes signed national letters of intent to continue playing their sports at the college level next year. Molloy held a special signing ceremony for Kevin Claiborne '19 (Swimming, Howard University), Tori Hall '19 (Girls Basketball, Winthrop University), Emily Scarda '19 (Girls Soccer, Manhattan College), Michael Dorcean '19 (Baseball, Coppin State University), Anthony Cipri '19 (Baseball, Adelphi University), and Dillon Kim '19 (Baseball, Adelphi University). Congratulations to these outstanding student-athletes and their coaches. Be sure to keep reading The Beehive for news about more signings throughout the year.
---
Softball Player Earns Sandlot Scholarship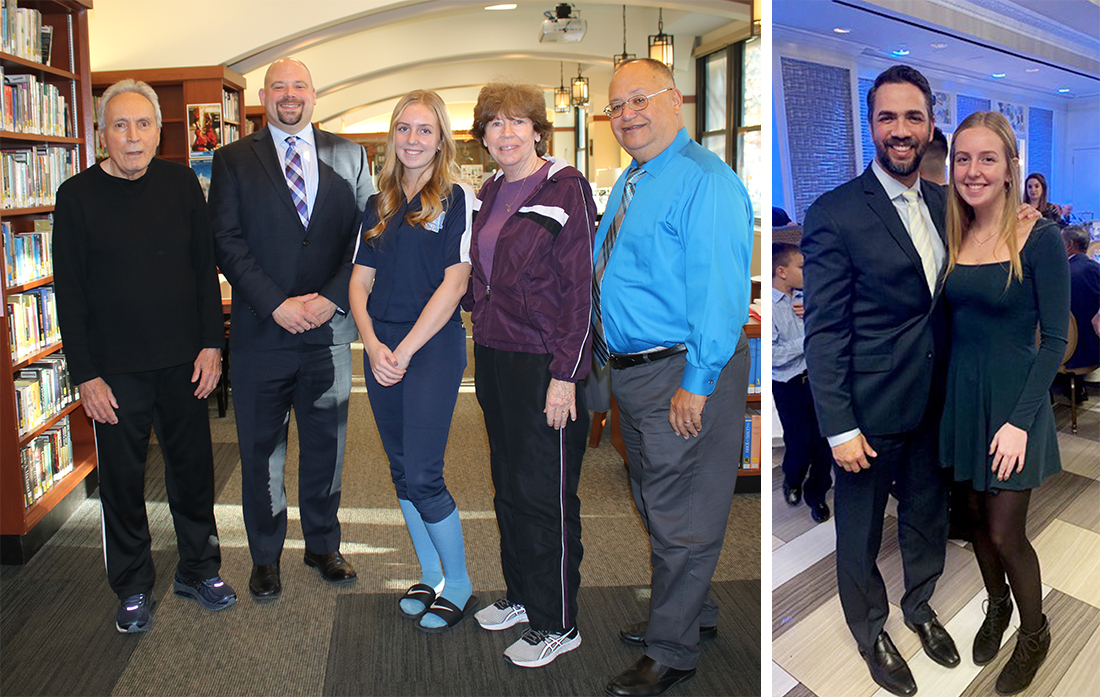 Congratulations to varsity softball player Chloe Giustiniani '19, who received the Greater NY Sandlot AA Scholarship on Wednesday, November 28th at a dinner held at Russo's on the Bay. One of the highlights of the dinner was when Chloe got to meet and take a photo with former pro baseball player and current SNY analyst Nelson Figueroa. The Greater NY Sandlot AA Scholarship awards a $1,000 grant to qualifying outstanding student-athletes in the NY metropolitan area. (Pictured L-R: Greater NY Sandlot Alliance President Vic Feld, Principal Darius Penikas, Chloe Giustiniani, Maureen Rosenbaum, Lou Santos. Pictured right: Chloe with Nelson Figueroa.)
---
Students Work the Polls on Election Day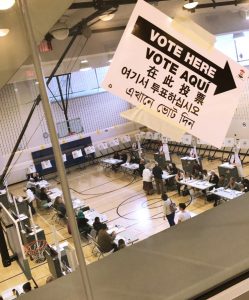 On November 6th, General Election Day, at least a dozen Molloy seniors spent the day as poll workers at voting sites around Queens. While some worked during peak hours only, the majority of these students experienced full shifts. In New York City, that means 6AM – 9PM. Prior to the General Election, a number of students also served as poll workers during New York's most recent primary election. Juliana Giacone '19 worked the General Election and recently covered her experience in The Stanner newspaper, noting that "witnessing people bringing strollers and toddlers with them, or people who just came off the train briefcase in hand, or people who had just turned 18, all coming out to vote, can be quite inspirational." Juliana also said that being a poll worker is great experience for teens to add to their resumés, and that they can learn a lot about the voting process while serving their communities at the same time.
In addition to working on Election Day, the number of students actively engaged in political discourse is on the rise around Stanner High. One of the most prominent examples of this is in The Stanner newspaper, which will see a full two-page spread dedicated to political content published next week. A link to the newest Stanner newspaper will be shared in our next issue of The Beehive. (Photo by Juliana Giacone)

Stanner Players Present: The Christmas Carol
December 6th @ 2:00 PM (Private Showing, Students & Faculty Only)
December 7th @ 7:00 PM
December 8th @ 7:00 PM
December 9th @ 2:00 PM
Where: Molloy's Ralph DeChiaro Theater
More Information: stannerplayers@gmail.com
REGISTRATION NOW CLOSED
This December, the Stanner Players Present: The Christmas Carol, based on the writing of Charles Dickens. The Players will tell the timeless tale of Ebenezer Scrooge, a man who is overwhelmed with bitterness on Christmas Eve, and the Ghosts of Christmas Past, Present, and Future who attempt to show him the error of his ways. Click the button above to visit the event page and reserve tickets. Note that the December 6th performance is open to students and faculty only. All other performances welcome all members of our community.
Tickets can be reserved by clicking the button above. Reserved tickets must then be purchased at the door. Email the Stanner Players using the email above for more information.

Vadhan '11 Places on Pace University's "30 Under 30" List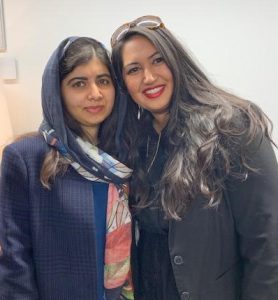 Earlier this year, Opal Vadhan '11 was named as one of Pace University's 30 Under 30. This list recognizes outstanding young entrepreneurs, scientists, performers, activists, teachers, and other professionals who are already making a major impact in our world. Opal is featured as an activist. Her resumé is quite impressive: she is a two-time recipient of the NY Women in Communications Scholarship, she enjoyed internships at NBC Nightly News, the Rachael Ray Show, Sony Music, and MSNBC. She served as Campus Editor-At-Large for Huffington Post, and as a freelance reporter for TV ASIA. Opal also has internship at the White House to her credit – one of the most competitive internships in the country.
Opal's White House internship was just the beginning of her story. After deciding she wanted to work in public service and politics, she applied for work in President Obama's administration. During that process, she was encouraged to work on a presidential campaign. Opal soon found herself working on Hillary Clinton's "Hillary for America" advance team. After an intense election cycle, Opal now finds herself working as Ms. Clinton's executive assistant. We encourage you to read Opal's incredible story in full at: pace.edu/magazine/features/30-under-30/opal-vadhan ….the article includes an interesting anecdote about Molloy's 2016 Alumni Reunion, which Opal attended just days before the 2016 General Election.
In addition to being recognized by Pace, Opal was also recently featured in the Marist Brothers' USA newsletter. Opal, an active USA Lay Marist, traveled to the University of Oxford for a meeting and had the opportunity to meet Malala Yousafzai, the youngest Nobel Peace Prize winner in history and a leading advocate for the rights of girls and all young people to be educated. Next spring, Opal will serve on Molloy's next Women at Work panel.
---
Class Updates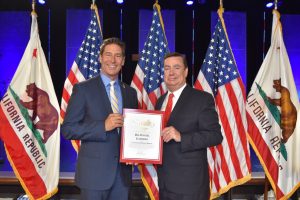 Dr. Danny Gambino '81 recently received the "California Hero Award" from Senator Joel Anderson. The CA Hero Awards are given to unsung heroes of the community who rise above the norm and do outstanding work for the community. Dr. Gambino is the current President of the California Chiropractic Association, the largest non-profit of its kind in the US, representing more than 13,000 Doctors of Chiropractic (DCs). His relentless pursuit of healthcare excellence in California includes being a keynote at chiropractic colleges, founding the largest network of Pre-Chiropractic Clubs in San Diego and running practices in both San Diego and West Virginia. Said Gambino, "I can directly tie my achievements to the cultivation and education I received at Molloy and the motto, 'Non Scholae Sed Vitae.'" Gambino has received accolades including back to back California Doctor of the Year Awards and the Life University (Marietta, GA) Distinguished Alumni Award. Gambino was past chair of the membership department and one of 7 regional directors.
---
John Sammet '49 sent the Stanner Alumni Center a written note recently, sharing the following: John Sammet graduated St. Ann's Academy in 1949 after 4 years in grammar school and 4 years in high school. John later joined the U.S. Air Force as a Private First Class. He was accepted into flight school and was promoted to Pilot and 2nd Lieutenant. John flew the Strats Jet B-47 during the Cold War, and flew the North American continent often. He also flew C-45, C-47, B-25, and C-119 jets. John finished his time in the Air Force as a Captain. He later worked in West Africa (Liberia) for several years. John was married in 1955, and he and his wife were blessed with a daughter and three grandchildren. John's oldest grandchild attends medical school. Thanks so much for sharing, John!
---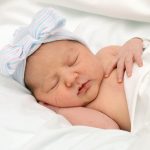 Congratulations to Brittany Schieler '07 and Kevin Crum, who welcomed their daughter, Emma Marie (7lb 2oz), into the world on October 28th!
---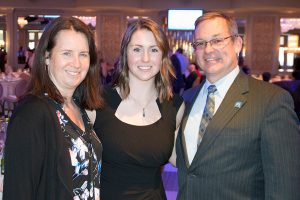 Rebecca Power '08 was recently featured in The Tablet diocesan newspaper. The article highlights Rebecca's work as a certified personal trainer, through which she helps all types of clients. This includes her work with young adults with physical and developmental disabilities. Click the following link to read the full feature: https://thetablet.org/trainer-gives-all-athletes-power-to-change-lives/
---
Christopher Kai '91 recently gave a TEDx Talk in Texas entitled "How to Live a Life Worth Remembering" based on 500 interviews with some of the most successful people in the world. Interviewees include Navy Seals, Olympians, and business visionaries such as Elon Musk. Click the following link to watch the TEDx Talk: Chris Kai TEDx Talk on Youtube | More information: www.christopherkai.com
---
NYC Marathon results keep trickling in here at The Beehive. We are excited to report the following alumni performances: Steven Bione '07 with a time of 2:36:31 (previously reported), Tyler Bay '11 with 2:51:25, Anthony Chan '09 with 2:59:22 (NYRR Pacer), Joseph Mayer '09 with 3:42:10 (Cure SMA), Robert Rossi '12 with 3:59:15, and Dylan Dombrowski '07 with 4:36:27 (Team Boomer). Also of note, the Alumni Center's Craig Katinas '93 recently ran the Philly Marathon with a time of 3:32:00.


We are saddened to share the passing of Daniel O'Malley '91. A Memorial Celebration of Life will take place Saturday, December 1, 2018 from 2pm-4pm at Edward Lynch Funeral Home, 43-07 Queens Blvd., Sunnyside, NY 11104. Please keep Daniel and the O'Malley family in your prayers.

Please pray for the repose of the soul of Eileen B. Caro, mother of Thomas Caro '68 and grandmother of Wayne Caro '93 and Michael Caro '90.