Prayers for Br. Bob Andrews
We ask the Stanner community to please keep Br. Bob Andrews in your prayers. Br. Bob is recovering after suffering a stroke in late December. He is currently rehabbing at Burke Rehabilitation Hospital in White Plains, NY. Visiting hours at the facility are 8:00 AM to 8:00 PM. Please contact alumni@molloyhs.org for more information.
---
Scholarship Spotlight: The Brian Foley Memorial Scholarship

Kevin Lavoun '22 is having a great time at Molloy. The enthusiastic freshman, who previously attended PS 207 in Howard Beach, loves math, Biology, and hanging out with friends. He also had a great experience at Freshman Camp last summer. "When I wake up, I want to go to school, see my friends, and learn new things," said Kevin.
Kevin is attending Molloy as the first recipient of the Brian Foley Memorial Scholarship. This scholarship honors the late Brian Foley '75, who is remembered by his family and friends as an extremely caring person who went out of his way for just about everyone. "Brian would always stop whatever he was doing to help a friend," said Lisa Foley, Brian's wife. "His friends have told me how funny and caring Brian was. When his friend and Molloy classmate, Richard Kelly, passed away, Brian went above and beyond for the Kelly family. He brought them food, made sure Richard's sister was ok…. he just always reached out to people."
Brian maintained a strong bond with Molloy and his fellow Stanners. During his high school years, Brian was a hard-working member of the National Honor Society. He loved Esopus, and he identified strongly with Molloy's values. That's part of the reason why in the fall of 2009, Brian and Lisa encouraged their twin daughters, Melissa and Jennifer (AMHS Class of 2013), to attend Molloy. "Brian said, 'Molloy is where they have to go' because Molloy is a family. And that's what I always loved about the school. Everybody cares for each other. Brian had so many friends from Molloy years later," said Lisa.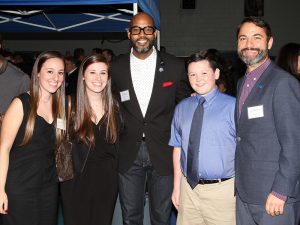 As a husband and father, Brian went above and beyond. "Raising twins is not easy, but Brian was devoted right away," said Lisa. "He was always present, working hard while being a full-time father." Lisa went on to say that it was important to Brian that Melissa and Jennifer not only did well in school, but that they discovered what their passions were; Brian wanted them to have fulfilling careers after college. Jennifer is now a middle school math teacher, while Melissa is in her last semester of her master's program in speech pathology. (Pictured left to right: Jennifer Foley '13, Melissa Foley '13, Admissions Director Edwidge Turenne '98, scholarship recipient Kevin Levoun '22, and Alumni Development Director Craig Katinas '93)
One other important part of Brian's life was his creative side. He became interested in art later in life, developing into a talented artist. He most enjoyed painting collages and still life portraits, as well as writing poetry. Brian even joined an art student league in Manhattan in his adult years to further explore his creativity.
"We are just so happy that Kevin received Brian's scholarship," said Lisa. "We look forward to watching Kevin grow, and we also want to keep the scholarship going for years to come."
Please consider making a gift to the Brian Foley Memorial Scholarship. Your gift will honor Brian's legacy as a devoted husband and father and proud Stanner, while also providing future students with opportunities to learn and grow in the Marist tradition – just like Brian once had. Click the blue button below to visit our donate page or contact alumni@molloyhs.org for more information. On behalf of the Stanner Alumni Center, the Foley family, and the students we serve, thank you for your generosity and continued support of Molloy and its scholarship program.

---
Stanner Games Coming Jan 12th – VOLUNTEERS NEEDED!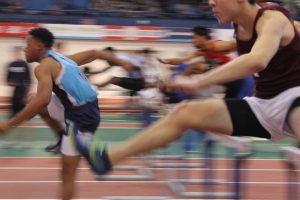 Molloy's Track & Field athletes and coaches are gearing up for their biggest meet of the year: Stanner Games! On Saturday, January 12th, thousands of athletes from local and regional schools will gather at the legendary Armory in Manhattan for Stanner Games. Last year, 3,178 athletes (137 total teams) competed in 3,506 events. Similar or higher totals can be expected this year. Good luck to all student-athletes and coaches! (Photo by Andie Ratilla '20)
VOLUNTEERS NEEDED! Alumni and family members who are interested in volunteering at this year's Stanner Games are asked to contact AJ Power '84 at apower@molloyhs.org as soon as possible. AJ will provide schedule and transportation information.
---
Join The New Parents Guild!
by Heather Green-Wresch, Admissions Director
Pictured left: Admissions Director Heather Green-Wresch. Pictured right: Principal Darius Penikas.
On January 3rd, Molloy held the first meeting for its recently launched Parents Guild. The Parents Guild is a parent volunteer group that will volunteer at some of the events Molloy will be holding throughout the remainder of the school year. These events include:
The Parents Guild will be Molloy's core group of go-to parent volunteers and will help promote Molloy in their communities. Most communications between the Admissions team and the Parents Guild will be via email, but periodic meetings will be held to bring everyone together. Our first meeting on January 3rd was well attended by some great parents who were very excited to be part of the new Guild. Together we talked about the events above and what would be expected of the volunteers. All in all, the Parents Guild is a great opportunity for Molloy parents to increase their presence and impact at the school. Email admissions@molloyhs.org for more information.

---
Download the 2019 Winter Athletics Schedule
Click the image below to enlarge, right click to save.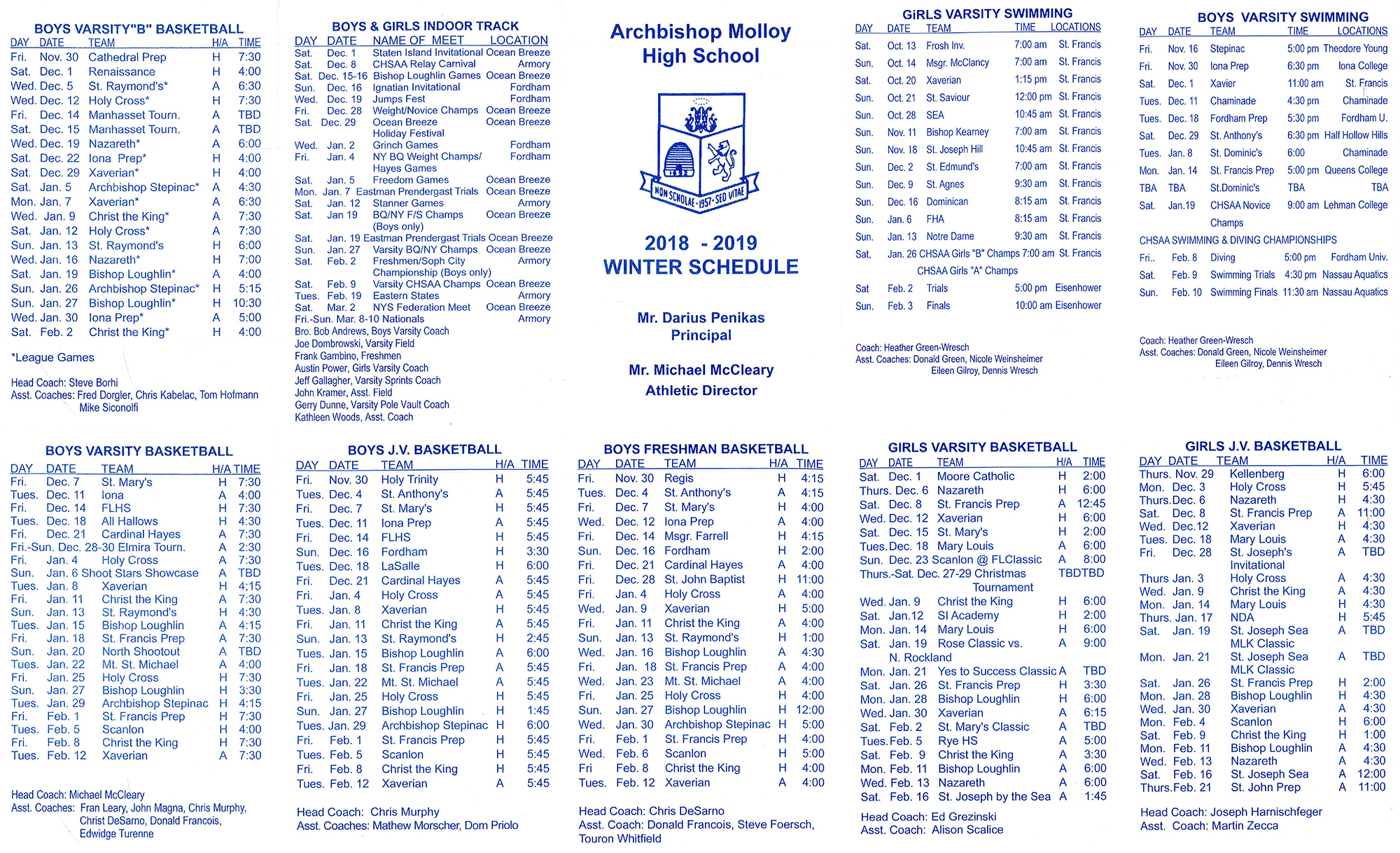 Alumnae Yoga / Meditation – REGISTER NOW!
We are excited to host our second Alumnae Yoga & Meditation event on January 26th. Join Jennifer Kelleher '04, a professional instructor at Body Love by Jen, for a full-length yoga and meditation session. Jen's class is suitable for both yoga newcomers and more experienced yoga enthusiasts. Participants are encouraged to bring their own yoga mat and a water bottle to stay hydrated (water will also be provided). *NOTE: The start time has been updated to 11:00 AM. Contact Matt Rizzotti '04 (email above) for more information.
All proceeds from this event will support the Karina Vetrano Memorial Scholarship.
---
Wine Tasting with Jim Sheehan
Join us on February 7, 2019 for a unique wine tasting experience led by Molloy's in-house wine expert Mr. Jim Sheehan '75. Participants will enjoy small bites and sample five to six different wines (theme to be announced) while learning how to evaluate each wine based on appearance, taste, smell, and other defining characteristics. We welcome alumni, current parents, family members and friends to this very special evening. Please save the date and look out for online registration on our website on January 8th. Contact Joe Sommo '03 with any questions.
---
Badges Night / AMHS vs. Christ the King HS
Members of our Molloy Badges Alumni Network and friends are invited to an evening reception beginning at 6:00 PM on February 8, 2019. Cost of admission includes food, soft drinks, and adult beverages as well as admission to the Game of the Night in the Jack Curran Gymnasium. Catch the opening tipoff at 7:00PM from VIP seats as Molloy's boys varsity basketball team faces off against rival Christ the King High School. Register online or contact Joe Sommo '03 for more information.


Brothers Matthew Grogan '08 and Kevin Grogan '03, both law enforcement officers, were honored by the Nassau County Legislature on Monday, December 17th for their quick-thinking efforts that led to the apprehension of a suspect in Queens. The younger Grogan, Matthew, is a Nassau County police officer, while older brother Kevin is a Port Authority police officer at Laguardia Airport. On November 25th, Matthew responded to a situation in Franklin Square involving a suspect who fled the scene of a home robbery. Based on the information available, it was believed the suspect was headed for an airport in Queens. Matthew radioed his brother, Kevin, who happened to be on duty at Laguardia at the time. Kevin and his fellow officers acted quickly, locating the suspect's car in a nearby parking lot and taking her into custody. The Grogan brothers were subsequently each honored with the Nassau County Legislature's "Top Cop" award during a ceremony in Mineola. In a statement, President Richard Karsten '81 shared that, "Molloy is proud of these two exemplary Stanners." | Read Newsday Coverage
---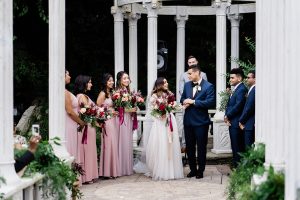 Congratulations to Christian Fortuna '09 and Chelsea Maria Emrit-Fortuna '09, who were married on September 7, 2018 after 10 years together. "The crush began during our Senior Encounter at Esopus in March 2009," said Christian. "Funny enough, we spent all four years at Molloy in the same homeroom and never spoke to each other until the Encounter." Pictured to the right of the newlyweds are Christian's brother, Michael Fortuna '11, and brother-in-law, Jerod Emrit '15. Elizabeth Maharaj-Antoo '07 is second from the right among Chelsea's bridesmaids.
---
In our December 14th issue of The Beehive, we highlighted Billy Mitaritonna '90 and his new book Last of the Red Men. The book chronicles Billy's relationship with his father, Angelo, and his love for basketball. The book also includes stories about the late Jack Curran, who Billy worked alongside as a manager. Since the book's debut, Billy has been receiving a lot of positive feedback and has been enjoying a successful promotional tour. He was featured by News 12 Long Island as well as the Seeing Red SJU basketball podcast. On December 23rd, Billy was interviewed by WFAN's Rick Wolff during Wolff's weekly Sports Edge program. Click the following link to listen to Billy's interview on WFAN. | Listen To Sports Edge with Rick Wolff
---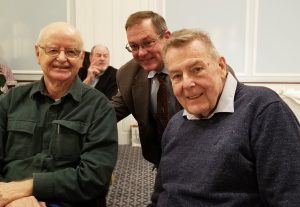 AJ Power '84, Br. James Maher, and a group of family and friends gathered for dinner in December to celebrate Jim Kinnier's 80th birthday. Jim has served the Molloy community since the 1960s. His career included teaching, moderating extracurricular activities and field trips (geology trips!), and working in Molloy's Alumni Association as Director. Jim is also one of the founders of the Jim Kinnier Stanner Golf Classic, which has raised over $2 million in support of Molloy's scholarship program since 1987. In retirement, Jim has continued to help prepare for and support Molloy's annual golf outing. Jim is also enshrined in the Stanner Hall of Fame. Happy belated birthday, Jim!



We are saddened to share the passing of Josiah Boulet, brother of Joshua Boulet '19. A visitation will take place Friday, January 4th from 2-5:00 PM and 7-9:00 PM at Fox Funeral Home (98-07 Ascan Ave, Forest Hills, NY 11375). A Funeral Mass will be held Saturday, January 5th at 9:30 AM at Our Lady Queen of Martyrs Church (110-06 Queens Blvd, Forest Hills, NY 11375). Please keep Josiah and the Boulet family in your prayers.

Please pray for the repose of the soul of John Hickey '86. | Read Obituary

We are saddened to share the passing of Gloria Adeline Marzullo, mother of Vincent Marzullo '65. Gloria passed away December 14, 2018 at the age of 93. Please keep Gloria and her family in your prayers. | Read Obituary

Molloy was recently informed of the passing of Terry B. Dyer '61 on June 14, 2018. Please keep Terry and his family in your prayers.