On behalf of the Marist Brothers, administration, faculty, staff, and the students we serve, the Stanner Alumni Center would like to thank everyone who generously supported The Fund For Molloy and our named scholarship program this Giving Tuesday. Throughout the day on December 3rd, we shared thoughts from members of our community who have witnessed the impact that giving to Molloy has on our students. Our Stanner family responded by generously donating over $27,000, which will directly benefit our students! Your kindness will help Molloy continue to feature an innovative curriculum, offer formative retreat and encounter programs, facilitate the ongoing modernization of our six acre campus, and enable critical needs assistance for students and their families.
Once again, on behalf of everyone at Stanner High, thank you for your generosity and commitment to our mission on Giving Tuesday and every day. Please read on for a deeper look at "Curriculum Innovation" at Molloy.
---

Gifts to The Fund For Molloy directly impact the school's ability to offer an innovative curriculum that emphasizes the latest technology, challenging AP courses, and programs that put our students in a position to become leaders.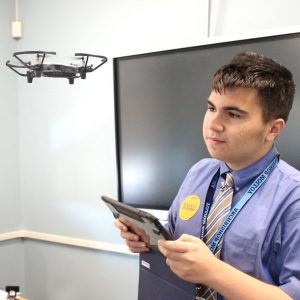 While the implementation of our one-to-one computing program in 2014 was a historic moment, many more leaps have occurred since. Over the past several years, Molloy has seen significant progress in STEM and Computer Science. Courses and programs such as AP Computer Science Principles, Java Programming, College Robotics, STEM Club and Girls Who Code all offer unique learning opportunities. Students have access to state-of-the-art technologies such as Ultimaker 3D Printers, model design software, drivable robots, and flying drones (pictured right).
Our annual STEM Symposium showcases dozens of original student research projects, many of which present how technology can positively impact our everyday lives. Molloy's teachers also benefit from one-to-one computing and utilize countless iPad apps as well as new SMART Boards with 4K resolution and high-speed Internet. As a result, every educator and student at Molloy has immediate access to limitless resources.
Earlier this year, Molloy was recognized by The College Board with the AP® Computer Science Female Diversity Award for attaining female student representation in AP Computer Science Principles for 2018. Among the more than 18,000 secondary schools worldwide that offer AP courses, Molloy is one of just 685 schools that has achieved this milestone. The College Board recognizes the importance of diversity in computer science and has commended Molloy's commitment to preparing its young women for the in-demand tech jobs of the future.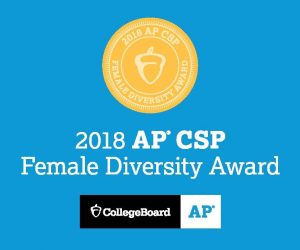 Off the heels of the Diversity Award, Newsweek has since recognized Molloy as a top secondary school for STEM education in the United States (top 8% nationally). More recently, in November, Molloy was one of 10 schools to be observed as part of a research study of successful schools in AP Computer Science Principles. Molloy's inclusion in the study was based on positive student outcomes as well as diversity in its Computer Science program overall. "Our STEM program is still in its relative infancy, but to already be nationally recognized by these outside institutions is a tremendous accomplishment," said Principal Dr. Darius Penikas.
The new Murphy Scholars Program empowers freshmen, sophomores and juniors to attend summer leadership programs and explore their academic interests on university campuses. Our first four scholars, Kaaya Withanachchi '20, Emilia Wojciecowska '21, Ryan Burke '20, and Layla Guthrie '21 (pictured below left), enrolled in programs including the US Naval Academy Summer Seminar, the Business Explorer Program at Stevens Institute of Technology, the Summer College for High School Students at Ithaca College, and the W.E.B. Du Bois Scholars Institute at Princeton University. Molloy's 2019-20 scholars are currently evaluating their program choices for summer 2020.

In the new Virtual Enterprise elective (pictured below right, team-building exercise) seniors intellectually conceive and implement their own online businesses. These young entrepreneurs invest hypothetical dollars in each other's businesses while honing their understanding of finance, marketing research, public relations, and internal governing structure. Virtual Enterprise also promotes teamwork, which is put to the test in competitions with students at other participating schools. By the end of the course, seniors have an introductory understanding of how to run a business in a collaborative environment. Seniors can now also take a TV Production elective that utilizes the state-of-the-art equipment in our Video Broadcast Studio. Seniors will write and produce their own documentaries and short films and receive hands-on instruction on the use of video and audio equipment and editing software.
Gifts to Molloy create endless opportunities for our students, the leaders of tomorrow. Your commitment to our alma mater helps put these programs and the latest technology in place. To reiterate the words of Dr. Penikas, "our students are empowered to lead and innovate everyday." Thank you for your support of The Fund For Molloy.



Molloy Community Celebrates Thanksgiving Liturgy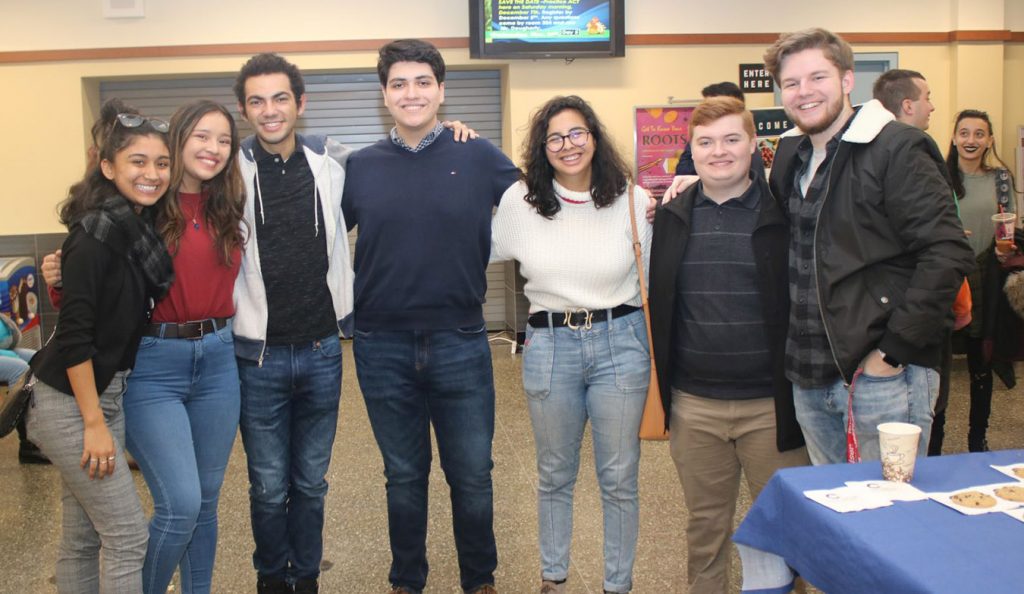 On Wednesday, November 27th, over 100 alumni, family members and friends joined the students and faculty of Molloy as we celebrated our annual Thanksgiving Liturgy. This year's homecoming also included a reception compliments of the Stanner Alumni Center, which featured delicious chocolate chip cookies and hot cocoa. We were excited to hear so many positive updates from our alumni, in particular many from our recent graduating Class of 2019!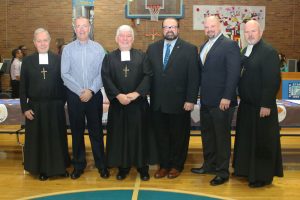 The theme of this year's Thanksgiving Liturgy was uniting as one international Marist community. Mr. John Kramer and Ms. MaryAnn Safrey, both part of the Liturgy Committee, spoke before Mass. "We give thanks for the work of the greater Marist community of which we are a part," said Ms. Safrey. "On the table in front of the altar is last year's student-created mural representing the provinces of Arco Norte, the Marist community of the Western Hemisphere. Recently, Marist Brothers from South America, Central America, the Caribbean and Canada convened in the United States. We were honored and privileged to attend their meeting and have those brothers, generous Marist leaders, sign our mural."
Mr. Kramer then spoke. "On the wall above our altar today, we have a new mural, created by Rebecca Donowski '20 and painted by our students. It represents an even wider diversity of countries around the world. Countries from which our alumni, students, and staff trace their roots. We are A.M. Our families originate from all corners of the globe, just as our Marist family serves in all corners of our globe to carry the good news and mission of Jesus, Mary, and St. Marcellin Champagnat across our world." Ms. Safrey closed, "We have so much work to do as Marists, but also so much to celebrate. Let's rejoice, be glad, and offer our many blessings, as well as our struggles, back to God in the form of gratitude for our ongoing Marist mission and calling."
Thank you to everyone who came out to celebrate our Liturgy. Special thanks to Rev. Fr. Chris Heanue, Br. Patrick McNamara and Br. Dan O'Riordan '85 of the Marist Provincial Office, the Liturgy Committee, alumni who joined the chorus, and Culinart Food Services.

---
Late Joe Russo '62 To Be Honored By St. John's University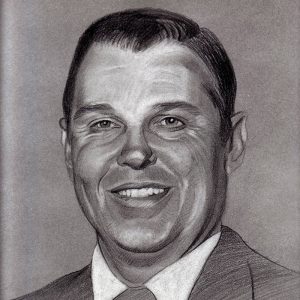 St. John's University recently announced that the late Joe Russo '62 will be among eight outstanding individuals who will be inducted into its Athletics Hall of Fame during the weekend of January 18, 2020. Russo, also a Stanner Hall of Famer, coached St. John's baseball for over 20 years and never had a losing season during his tenure. He achieved a record of 612-310 as coach, which equates to an elite .664 winning percentage. He famously led St. John's to two appearances in the College World Series (1978 and 1980). Congratulations to Coach Russo and his family on this prestigious honor. Coach Russo is sorely missed by everyone at Molloy and especially by our baseball alumni community.
For more information about SJU's Hall of Fame weekend or to read more about Coach Russo's outstanding career, click the following link for the full press release. | Read Full Press Release
---
The Stanner Players Present: Little Women

Photos courtesy of the Photography Club.
Congratulations to our talented Stanner Players and Director Ms. Shannon Winters '06 for their successful production of the classic play Little Women. Ms. Winters noted that the selection of Little Women was in part inspired by recent events at Molloy. "One of the biggest struggles I have encountered in selecting a play each fall is finding one with more than a few female characters, let alone substantial female characters. Since "GERLL Power" is very much alive at Molloy following the creation of the Girl's Empowerment for Real Life Leadership Club, the first annual Fashion Show, and a new scholarship fund for female students this past year, it seemed appropriate to find a way to keep the momentum going," said Winters. Little Women tells the story of a mother and her four daughters, the March sisters, as they deal with the absence of their husband/father who has gone off to serve as a minister during the Civil War. "Women in the 1860s traditionally were not empowered compared to the way women are today, but the March women show that being opinionated, strong-willed, and ceaseless in their faith and love for each other is something to be celebrated," said Winters. | Click here to read the playbill & read more about the cast & crew.
SAVE THE DATE: Our spring musical Curtains will run from April 2-5!
---
Softball Player Earns Scholarship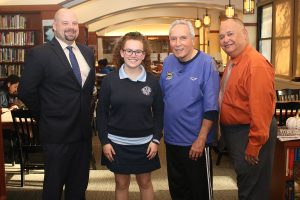 Congratulations to varsity softball player Riley O'Connor '20, who was awarded a $1,000 scholarship for college books next fall. The scholarship was presented by Mr. Vic Feld, President of the Greater NY Sandlot Athletic Association. Riley was recognized for her outstanding dedication to working with inner city children, teaching them baseball and softball. Pictured left to right: Principal Dr. Darius Penikas, Riley O'Connor, Mr. Vic Feld, and Mr. Lou Santos.
---
Seniors Nominated for NYS Academic Scholarships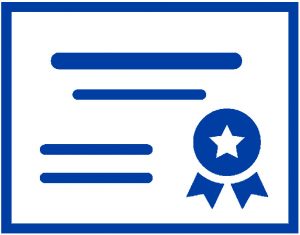 Archbishop Molloy High School is pleased to announce its nominees for New York State's 2020 Scholarships for Academic Excellence. According to New York State guidelines, Scholarships for Academic Excellence will be awarded to ten Molloy nominees. Molloy is charged with applying students' cumulative career GPAs at the end of junior year in 2019 as criteria for the nominations. Pending the appropriation of State funds during the 2020 session of the New York State Legislature, 8,000 Scholarships for Academic Excellence will be awarded to the top students graduating from New York State high schools in June 2020.
New York State anticipates having 2,000 scholarships valued at $1,500 per year and 6,000 scholarships available valued at $500 per year awarded over four years of college attendance beginning in 2020. Guidelines and nomination forms are supplied by the Office of Higher Education, The State Education Department/University of the State of New York in Albany. Scholarship monies may only be applied for students attending New York State schools upon their graduation. However, the students listed below will all receive New York State recognition for their outstanding achievements regardless of where they choose to attend college. Scholarships for Academic Excellence were formerly known as New York State Regents Scholarships.
Current seniors nominated for awards of $1,500 per year are: Haley Kirmaier and Krista Schemitsch.

Current seniors nominated for awards of $500 per year are: Nicholas Cusumano, Nhi Ly, Kelsey Carr, Sadie Lozano-Mieles, Genesis Soto, Natalia Piotrowski, Elizabeth Sullivan, and Veronica James.


Alumnae Yoga & Meditation – REGISTER NOW!
When: Sunday, January 12, 2020 | 11:00am
Where: Archbishop Molloy High School
Who: Alumnae, Family & Friends
Admission: $20 Gift to Karina Vetrano Memorial Scholarship
Contact: alumni@molloyhs.org
We are excited to host our third Alumnae Yoga & Meditation event on Sunday, January 12, 2020 at 11:00am. Join Jennifer Kelleher '04, a professional instructor at Body Love by Jen, for a renewing yoga and meditation session. Jen's class is suitable for both new and experienced yogis.
Participants are encouraged to bring their own yoga mat and a water bottle to stay hydrated (water will also be provided). Light refreshments will be provided after the conclusion of the session.
All proceeds from this event will support the Karina Vetrano Memorial Scholarship.
---
Christmas Concerts
Junior/Senior Chorus: December 16th at 7:00pm
Band & Freshman/Sophomore Chorus: December 18th at 7:00pm
Where: Archbishop Molloy High School
Who: All Welcome!
Tickets: $10 Adults | $5 Students (sold at the door)
We invite our community to join us on the evenings of December 16th and 18th for our annual Christmas Concerts! Our Junior/Senior chorus and special guests The Bronx Triple Choir will perform on Monday the 16th at 7:00pm, while our Band and Freshman/Sophomore chorus and special guest The Clarinet Trio will perform on the 18th also at 7:00pm. Tickets are available at the door and are $10 for adults and $5 for students. For more information please contact our General Office at 718.441.2100. Please share the attached flyer with your family and friends!
---
Molloy Wine Tasting – SAVE THE DATE!
When: Thursday, February 6, 2020 | 6:30pm
Where: Archbishop Molloy High School
Who: Parents, Alumni, Family & Friends (Ages 21+)
Contact: hgreen-wresch@molloyhs.org | 718.441.2100 x155
Online registration will open soon
Join us on February 6, 2020 for a unique wine tasting experience led by Molloy's in-house wine expert Mr. Jim Sheehan '75. Participants will enjoy small bites and sample five to six different wines chosen by Jim (theme to be announced). You will learn how to evaluate each wine based on appearance, taste, smell, and other defining characteristics. We welcome parents, alumni, family members and friends (ages 21+) to this special evening. Online registration will open soon. Contact Ms. Heather Green-Wresch for more information.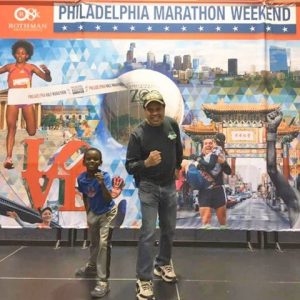 Congratulations to Robert Pasqual '77, who ran the Philly Marathon (at age 60) with a final time of 4:25. Rob is pictured with his son Joey at the Philly Marathon Expo.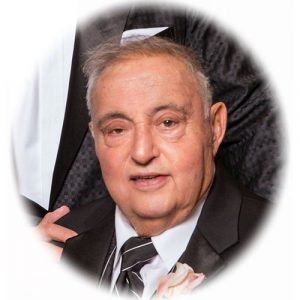 We are saddened to share the passing of Stanner Hall of Famer Louis Brusco '56 on November 19, 2019. He is survived by his wife of 60 years Angela, three children: Dr. Louis (Stephanie) Brusco Jr. of Scotch Plains, NJ; Michael (Dawn) Brusco of Stamford CT; and Maria (Christopher) Jost of Hawthorne NY. He is also survived by seven grandchildren; Jennifer (Jon) Desroches, Jessica Brusco, Michael Brusco, Danielle Brusco, Matthew Brusco, Angelo Brusco Jost, and Louis Brusco Jost. He also leaves two sisters, Teresa (Michael) Downey of New Canaan, CT, Tona (Raymond) Moore of Indiana, his close friend Anthony (Maria) Giampaolo, and many nieces, nephews and godchildren. In addition to his parents, he was predeceased by his brother John (Elvira) Brusco and sister Gloria (Edward) Flanagan. Please keep Louis and the Brusco family in your prayers. | Memorial Page

Please pray for the repose of the soul of Kathleen Gould, grandmother of Julia Antignani '14, Vincent Antignani '16, and John Noble '18.

Please pray for the repose of the soul of Carmine Cerino '43, who passed away February 20, 2019.

Please remember James J. McGuire '50 in your prayers. James passed away August 13, 2019. | Memorial Page

Please pray for the repose of the soul of Angelina Tomasso, mother of John Tomasso '73.