Stanner Community Remembers Br. Bob Andrews, FMS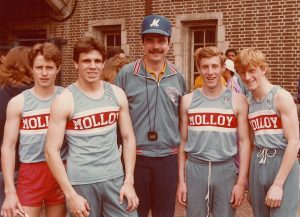 In our last Beehive, we were deeply saddened to share the passing of Br. Bob Andrews, FMS, on April 7, 2020. Br. Bob served Molloy as a dedicated teacher, counselor, and track and field coach for over 40 years.
We would like to thank the many alumni and members of our community who shared beautiful remembrances of Br. Bob on social media and by email. We have since created a memorial page on our website that includes a selection of the kind messages we received. You can access the page by clicking the button below. Updates to the page will be ongoing.
As there continue to be restrictions in place regarding public gatherings, the Marist Brothers announced that a Memorial Mass for Br. Bob will be held on a later date to be announced. We will share any news as soon as we receive it.
Two virtual memorials were held last week, which are both available for viewing below. The first video is a memorial held on Zoom by our track and field coaches and current student-athletes. Together they pay tribute to Br. Bob through vintage photos, personal testimonials, and even a song from Mr. Frank Gambino '74. The second video is a tree planting ceremony led by Vice Provincial Br. Dan O'Riordan '85 and held at the Marist Brothers' Center at Esopus. The ceremony took place on Saturday, April 11th. We encourage students and alumni who travel to Esopus in the future to visit the tree and say a prayer for Br. Bob.
If you would like to share a remembrance to be included on our memorial page, please send it to alumni@molloyhs.org.

---
Stanners & Friends Enjoy Virtual Yoga w/ Jennifer Kelleher '04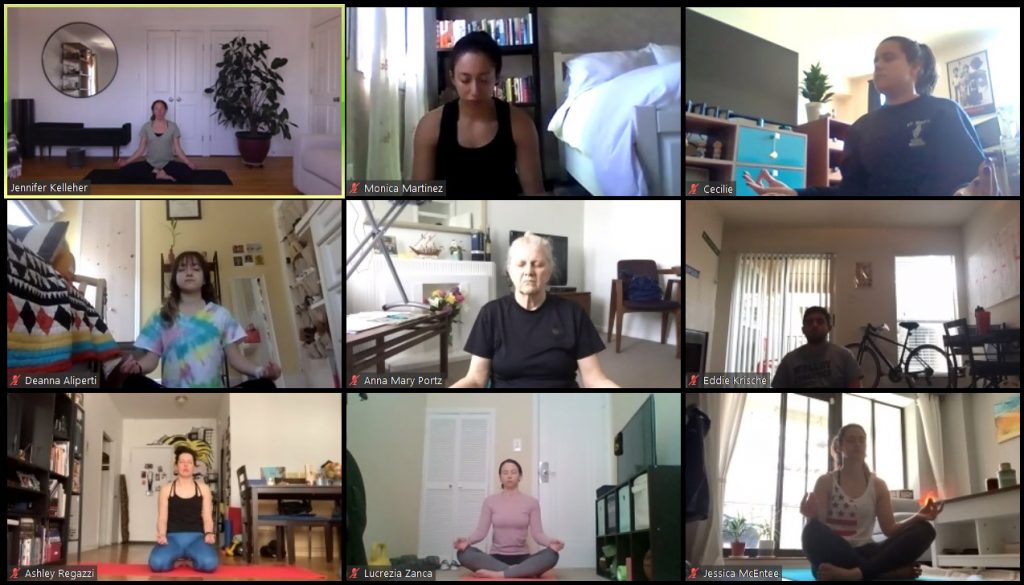 On Sunday, April 19th, alumna Jennifer Kelleher '04 led Molloy's first ever Virtual Yoga & Meditation on Zoom! Jen welcomed over 35 participants into her virtual yoga studio for approximately 80 minutes. Alumni, faculty, family members, and friends were among those who joined in from the comfort of their own homes.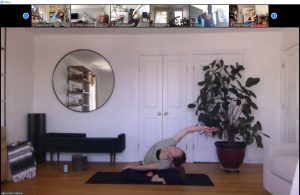 "It was such a pleasure to lead this special edition virtual gentle yoga and meditation event! I had so much fun connecting with the Molloy community and loved how the turnout included such a broad range of classes," said Jen. "Yoga and meditation have been completely life-changing for me, leading me to huge self-discoveries, transformations, and personal growth. I am honored to be doing this work and bringing these tools and teachings that have helped me so much to my beloved communities."
Participant Jessica McEntee '05 thoroughly enjoyed the experience. "Jen has a super calming presence, and she naturally exudes that during her yoga and meditation sessions. It was wonderful to have a diverse group of alumni and friends join her class. I think Jen's inclusive and inviting way of teaching made everyone feel comfortable and certainly a little more centered and relaxed, which is extra helpful especially at this time."
Jen can be booked for both individual and group sessions. She invites you to follow her Facebook or Instagram!
---

---
Molloy Streams Its First Virtual Liturgy
On April 8th, Molloy streamed its first ever virtual Liturgy. Traditionally Molloy always celebrates its Lenten Liturgy on the last day before Easter Break. Although students and faculty are currently engaged in distance learning, administrators did not want that to stop our community from joining together in prayer during Holy Week. Emails were sent, plans were made, and Molloy's first virtual Liturgy quickly took shape. The Liturgy went live at 10:00AM that morning and began with an introduction by President Richard Karsten '81. Mr. Karsten welcomed the Stanner community and introduced our celebrant, Fr. Christopher Heanue of Holy Child Jesus parish. The Liturgy also included readings from students, a message from Principal Dr. Darius Penikas, and contributions from Allison Terranova '14, Donna Kim '17, Br. Roy George '62, Ms. Mary Edward '13, and Victor Starsky '09 (San Francisco Opera). In case you missed it, you can still watch it any time in the video player below or click the buttons to visit Youtube or Facebook. Though it is no longer Holy Week, it is still a wonderful opportunity to pray in a peaceful and comforting setting with our community. To date, the virtual Liturgy has received over 4,000 views between Facebook and Youtube! Special thanks to everyone who contributed to the success of our very first virtual Liturgy.


---
Students Send Letters to Hospital Staff, Patients, Veterans
Molloy students recently volunteered to write and design letters for hospital staff, general patients, and veterans. The letters contained words of gratitude or inspiration as well as original artwork. This effort was organized by Ms. Kobinski '04, Ms. Edward '13, and Ms. Scalice. Over 80 letters were collected!
Once the letters were ready, Ms. Kobinski reached out to Dr. Sean Sullivan '02, Assistant Chief of Medicine at East Orange VA Medical Center, and to Nicole Guerrero '04, Patient Care Director at New York-Presbyterian Weill Cornell, to distribute the letters. They were excited to receive the letters, both noting that the morale boost would go a long way.
Photo One: Letters created by Molloy students; Photo Two: Nicole Guerrero '04, MSN, RN, PCCN, Patient Care Director 5 Central, and Olivia McCarthy '14, BSN, 5 Central; Photo Three: Dr. Sean Sullivan '02, Assistant Chief of Medicine, East Orange VA Medical Center.
---
STEAM Club Holds School-Wide 3D Design Contest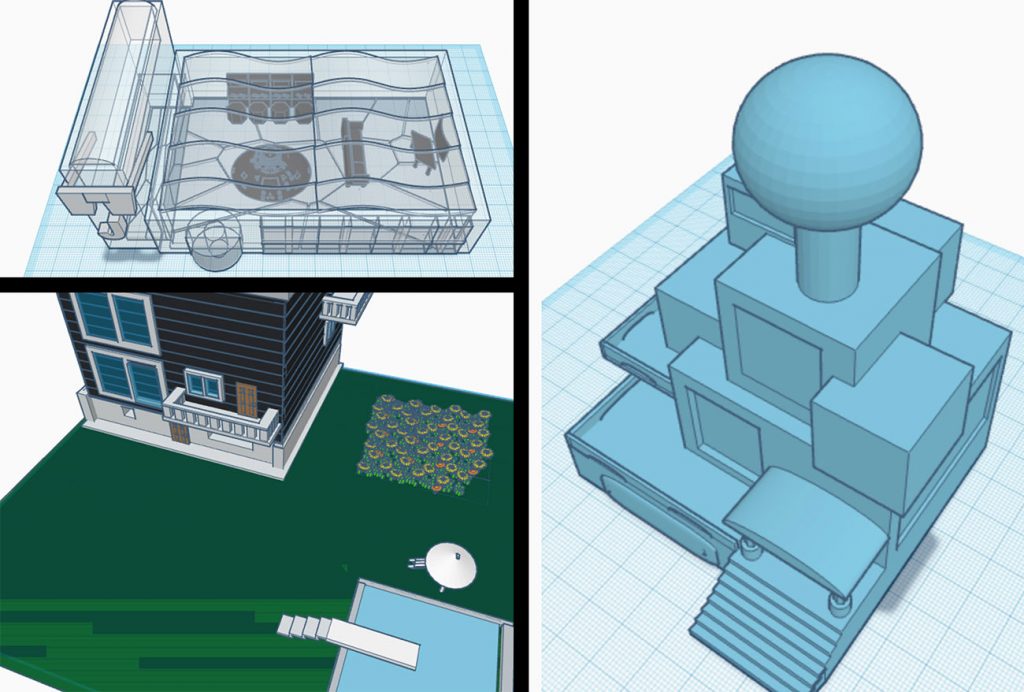 Ms. Edit Boral extends her thanks to all students who participated in the STEAM Club's school-wide 3D House Design Contest and helped make it a success. The panel of judges, which included President Richard Karsten '81, chose the winning entry based on how well it exemplified the entry requirements: model complexity, editing technique, graphics, and 3D modeling skills. Congratulations to Jayson Acas '20 on winning first place, Genevieve Puglissi '20 on winning second place, and Brandon Gauntlett '20 on winning third place. Ms. Boral also shared another excellent 3D exterior/interior house design by Daniel Ramirez-Mendez '20, which was created in her Advanced Computer Graphics class. Click the thumbnails below to enlarge the designs.
---
Senior Spotlight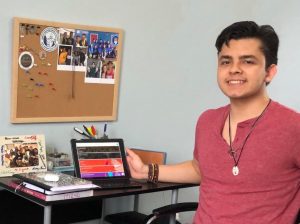 Daniel Ramirez-Mendez '20 has made the most of his time at Molloy. He has made an impact as a Campus Ministry Leader (CML), enjoyed many retreats and volunteer opportunities in Esopus, shared his creative talents in the Photography Club and Video Broadcast Club, and has even hosted Molloy's student podcast known as Lunch Table Talk. Daniel's recent work during distance learning includes drafting a term paper outline for his Intro to Film class and a lot of 3D design for his Advanced Computer Graphics class. He's been using Google Classroom and Zoom "not just for classes, but for other school activities like Guidance and CML meetings." Daniel has also been sending plenty of emails, while a lot of his downtime has been dedicated to connecting with friends. "Communication with teachers is key right now, but I also text or call my friends everyday just to check on them and have a few laughs. It's tough not seeing them in person especially being a senior, but we have to make the best of the situation." Asked to share advice with his classmates, Daniel suggested knowing when to disconnect. "Watch a movie, pray, or even listen to music. I keep recommending this song 'Maybe IDK' by Jon Bellion because to me it captures exactly what we're going through and what we have to do to make it out. Stay connected with your friends and make sure that if you know someone who could be at risk that you check in on them as well." Looking ahead, Daniel has committed to St. John's University where he plans to study advertising/communications.
---
Remembering Br. Leo & Revisiting The "SMILE Museum"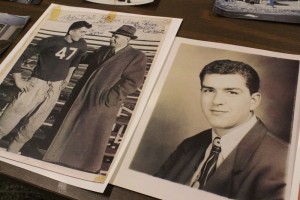 For 55 years, SMILE has been one of Molloy's most influential guidance programs. Founded by Br. Leo Richard, FMS, sometime around 1965, SMILE, also known as Something More in Life's Experience, welcomes students into a safe environment where they can talk with, listen to, and counsel each other with confidence and without judgment. Students in the SMILE program are part of a family – a family that shares a strong bond and spans generations.
May 13, 2020 will mark 25 years since the passing of Br. Leo. Alumni will remember him as "the man with the booming voice," or the Marist Brother who seemingly randomly picked them out in the hallway one day and changed their life, or the biggest (and loudest) Red Sox fan in New York City. All will remember him as a dedicated counselor and caring friend.
To celebrate the life and legacy of Br. Leo, we thought it would be a good time to look back on the SMILE 50th Anniversary celebration held on March 21, 2015. On that Saturday, hundreds of SMILE alumni, including many former counselors, attended the event to reconnect, reminisce, and celebrate this amazing program. After the event, a "SMILE Museum" was created on Molloy's website, which features archival articles, photos, videos, and cartoons that help paint a picture of what SMILE means to so many people. We invite you to click the button below to visit the SMILE Museum and look back on the history of this unique program.

---
Important Note From The Stanner Alumni Center
The Stanner Alumni Center wants to ensure that we continue to provide information that will protect our community. Please review the following link regarding online/phishing scams related to the coronavirus (COVID-19).


Recognizing Our Essential Workforce and Frontline Heroes
The Beehive would like to shine a spotlight on our essential workforce and volunteers who are serving and saving our communities. Hospital workers, EMTs, NYPD, FDNY, food service, government, citizen volunteers – we want to hear from you! If you or someone you know should be in our spotlight or has a story to share, please reach out to us at alumni@molloyhs.org.
---
Class Updates

Fred (Ric) Lorenz '64 recently organized several Zoom virtual reunions with his classmates. Pictured above is their second virtual reunion. Left to right top to bottom are: Mike Daly '64, John DiGirolamo '64, Greg Spano '64, Fred, Peter Farrell '64, Bill Nash '64, Barry Mastellone '64, Rich Brew '64, and Ken Evers '64. Fred, a professor at the University of Washington, uses Zoom frequently to conduct his classes and was happy to initiate the reunions. Zoom also proved to be the perfect venue for Barry to perform his song "Non scholae sed vitae" too! The Class of 1964 is planning more reunions on Zoom. Please contact alumni@molloyhs.org if you would like to join in!
---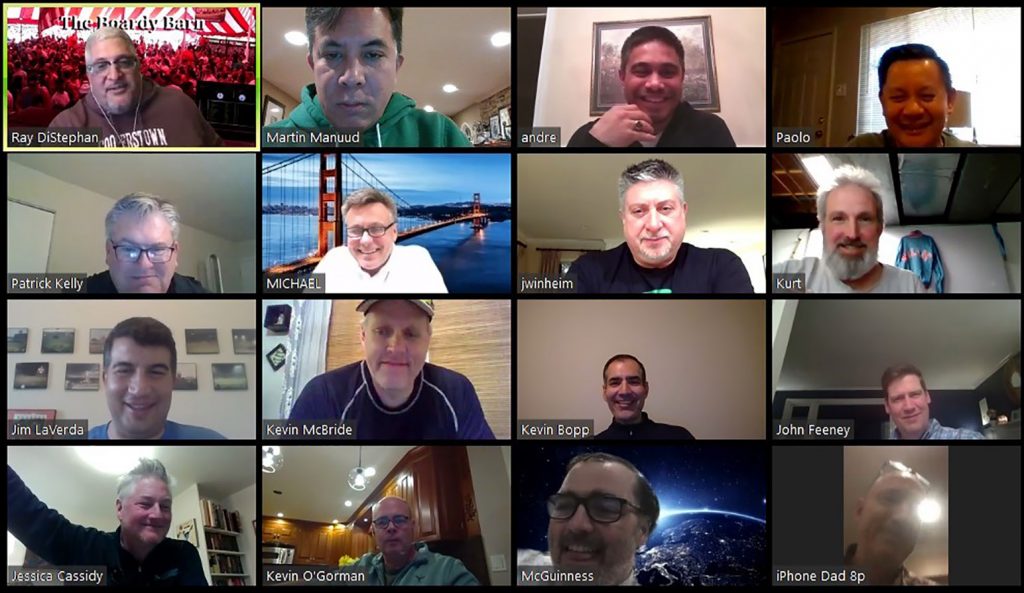 Martin (Marty) Manuud '87 have participated in numerous Zoom virtual reunions throughout March and April. "While quarantined, many members of the Class of 1987 have taken the opportunity to reconnect via social media. Stanners who haven't seen or talked to each other in decades have had a chance to reminisce, catch-up and share some laughs while reflecting on our days at the corner of Main and Manton," said Marty. Patrick Kelly '87 took things a step further by conceiving of a weekly Zoom conference call for the Class of 1987 every Saturday at 7:00pm EST. Ray DiStephan '87 plays host for the calls. "Our calls have gone as long as three to four hours. We've had as many as 25-30 classmates join," said Marty. Patrick also extends an open invitation to his classmates to join the new "Stanner Class of '87" group that was recently created on Facebook. In case you're wondering who has hopped on the '87 calls, here's a list of regular contributors: Kevin Bopp, Chris Collumb, Kevin Coyle, Ray DiStephan, Paolo Dizon, John Feeney, Neil Fenton, Mike Fichera, Andre Forte, Patrick Kelly, Jim LaVerda, Marty Manuud, Pat Manzi, Kevin McBride, John McGuinness, Matt McLaughlin, Dave McNamara, Michael Moravec, Kevin O'Gorman, John Olson, Brian Rohan, Nolasco "Nick" Stevens, Kurt Steege, Sal Ursida, and Joe Winheim.
---
Mark Boccia Sr. '82 and his son, Mark Boccia Jr., were featured in the New York Post Metro section on April 10th in recognition of their "Food for the Fearless" project. The project, sponsored by Boccia Sr.'s Bourbon Street restaurant in Bayside, has raised over $48,000 and donated over 700 meals to healthcare workers on the front lines of the coronavirus pandemic. Boccia Sr. credits his son with coming up with the project, but together they have made a difference in their community. Click here to read the full story in the New York Post.
---
Travis Kessel '09, who works as an EMT in the South Bronx, is featured in an Associated Press article titled A city under siege: 24 hours in the fight to save New York. In this sobering article, Travis shares a bit about his experience handling an increase of emergency calls during each of his shifts. Travis' words serve as a sobering reminder of the tough battle we continue to face together. Click here to read the article.
---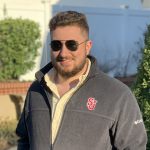 John Fenner '15 will graduate in May with an M.B.A. from St. John's University, a year after earning his B.S. in management. John was heavily involved in Fraternity and Sorority Life at St. John's, and that experience and has inspired him to pursue positions in higher education related to student affairs or Fraternity and Sorority Life. Recently, John has joined the St. John's Fraternity and Sorority Life community in raising money for NYC Health + Hospitals to support healthcare workers during the coronavirus pandemic.
---
Peter Zurlo '73 sent in the following message: "I am a proud member of the Class of 1973. I moved from New York to Dover, Tennessee about 13 years ago. Dover is a very rural community and there is not even cell phone service at my house. I am a Contracting Officer for the Army working at Ft. Campbell, KY. I work for non-appropriated funds, which means that the money I spend is from soldiers that spend on the fifteen army posts served by my office. I negotiate construction contracts for fun things such as pools, splash parks, and go kart tracks that provide soldiers and their families recreation and leisure. My years at Molloy taught me the value of community and I use those values every day in support of our soldiers and their loved ones. I am currently working from home during this crisis. I wish all Stanners to be healthy and safe during these troubling times. To quote Brother Terence, who I had the honor of knowing – 'God Bless All Stanners!'"
---
Joe Corello '52 emailed us to wish the Stanner Alumni Center and all Stanners a Happy Easter. "This year is way different than any I have seen. We are healthy and are staying as safe as one can." Thank you, Joe, and safety and good health to you and your loved ones.


Share your prayer intentions with us at alumni@molloyhs.org.
Paul Silagi '58 – My prayers are with all of my Molloy (and St. Ann's) brothers and sisters during this difficult pandemic. I was in the last class at St. Ann's Academy and in the first graduating class of Archbishop Molloy (1958). I remember so many wonderful Marist Brothers, most of whom have gone to their heavenly reward. I have the most positive memories of the wonderful Catholic education that I received — the most wonderful memories of my entire time at both schools. These memories I hold very dear to my heart. I am so proud of how the staff and students have continued to make our school better and better. We will all endure through this crisis with prayers to God and with His help. Be strong and God bless you all.
Mike Contino '68 – From the entire Contino family. A simple prayer. Dear Lord: Please bless all Stanners as you have throughout these many years and may you fill us with faith and hope that we will emerge from this trial whole, safe, and for the betterment of all. Amen
Paul Phinney '68 – Paul requests prayers that he soon finds healing in his back and hip.



Please pray for the repose of the soul of Francis P. Biscardi Jr. '70. Francis passed away on April 19, 2020 after a prolonged illness.

We are saddened to share the passing of Raymond P. Kenny III '69 on April 18, 2020. Raymond was the former acting LIRR president and recently oversaw operations for New Jersey Transit. Please keep Raymond and the Kenny family in your prayers. | Click for More Information

Please pray for the repose of the soul of Jesus H. Vega, father of Kim Vega '21. Jesus passed away on April 14, 2020. We keep Kim and the Vega family in our prayers during this difficult time.

We are saddened to share the passing of Ms. Jemele Mitrano, mother-in-law of Jim Shannon '83. Jemele passed away on April 12, 2020. Jim shared the following words of remembrance: "Easter was always 'her day' as she hosted the family event – dinner for 25 with food for 50, keeping the family together at the table, together, with love. There was always room for one more at the table to receive her generosity and kindness." Please join in prayer for the Shannon family, Jim, Anissa, J.D., Jackie, Aiden, and all who were blessed to know and love Jemele. May all the beautiful memories created with Jemele give the Shannon and Mitrano families comfort and peace.

We are saddened to share the passing of Robert C. Thoering '82 on April 12, 2020. Robert was a dedicated teacher who previously taught at Our Lady of Hope School in Middle Village and served as principal of Our Lady of Refuge in Flatbush. Most recently he had been teaching sixth grade English Language Arts at IS125 in Sunnyside. Please keep Robert and his family in your prayers. | Click for More Information

We are saddened to share the passing of Frederick J. Gallo '58 on April 10, 2020. Fred is mourned by many family and friends, the St. Ann's Academy / Molloy community, as well as the Iona Prep community, the latter where he established a legendary career as head baseball coach. Please keep Fred and the Gallo family in your prayers. Molloy's Lou Santos shared the following words about Fred: "He was a great coach and a great referee, but more importantly a great friend." | Click for More Information

We are saddened to share the passings of Victoria Friscioni, Nunzio Belluardo, and Bert Walsh. Victoria was grandmother to Anthony Auriemmo '05, Cristina Auriemmo '08, and Michael Auriemmo '11. Nunzio was grandfather to Jennifer Auriemmo (Walsh) and Grandfather-In-Law to Anthony. Bert was father to Jennifer Auriemmo and Father-In-Law to Anthony. Victoria and Nunzio passed away on Good Friday, April 10th. Victoria, described as a strong presence throughout the lives of the Auriemmo siblings, is survived by her husband, two daughters, five grandchildren and a great-granddaughter. Nunzio, described as a true family man and devoted church-goer, is survived by his two daughters, four granddaughters, and his great granddaughter. Bert passed away on Holy Saturday, April 11th. Bert, described as a kind and loving husband, father, and grandfather, is survived by his wife, two daughters and granddaughter. Please keep the families of Victoria, Nunzio, and Bert in your prayers during this difficult time.

Please pray for the repose of the souls of Tita Lely and Louis Torres '90, mother and brother of Lloyd Torres '88. Tita passed away April 7, 2020. Louis passed away April 8, 2020. We pray for Lloyd and the Torres family that they may find peace during this difficult time.

Please pray for the repose of the soul of Michael Tamburo '89, who passed away on March 4, 2020 following a prolonged illness. Michael served as a pediatric doctor at Winthrop Hospital in Mineola.