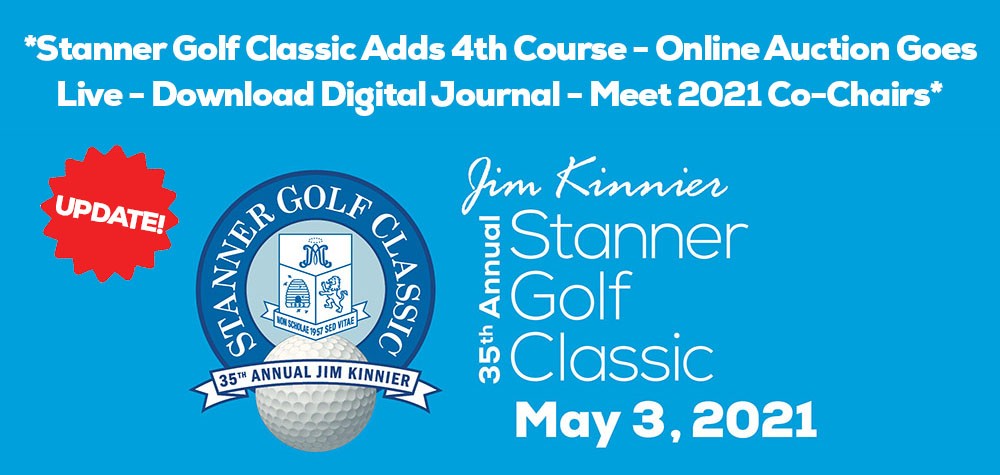 When: Monday, May 3, 2021
Where: North Hills, North Hempstead, Garden City, Plandome
Contact: Matt Rizzotti '04 |929-446-4470 | mrizzotti@molloyhs.org
The 35th Annual Jim Kinnier Stanner Golf Classic is Monday, May 3rd! Since 1987, the Classic has helped Molloy raise over $3 million benefiting amazing students through our scholarship program. This year's outing will be historic, as we have expanded to four private golf courses for the first time. The addition of a fourth course was due to popular demand, but also so Molloy can best comply with all health and safety guidelines and provide the safest experience possible.
If you are registered to play golf on May 3rd, we'll see you on the greens! If you aren't playing, you can still participate by placing a bid in our online auction or by downloading our digital journal. Links to our Online Auction and Digital Journal can be found below. You can also read more about our 2021 Co-Chairs, James Jordan '01 and Carissa Jordan '04.
If you have any questions about the outing, please contact Alumni Development Officer Matt Rizzotti '04 using the information listed above. Thank you for your support of the 35th Annual Jim Kinnier Stanner Golf Classic.
ONLINE AUCTION NOW LIVE

browse the prizes in our first ever online-only auction by clicking the button below. Prizes include a gourmet dinner prepared by Molloy President Richard Karsten '81, golf packages at private clubs, weekend getaways, sports memorabilia, gift baskets, and more! Bidding closes on 5/3 at 6:45pm.

DIGITAL GOLF JOURNAL – 2021 EDITION

Our Digital Golf Journal is now available for download! Click the button below to download the Journal in PDF format. The Journal features information about this year's outing, historical information, and ads from many Stanner-owned or Stanner-friendly businesses who have generously supported this year's outing.

MEET OUR 2021 CO-CHAIRS

Each year, Molloy honors a Chairperson or Co-Chairs at the Jim Kinnier Stanner Golf Classic. The Chairperson lends their leadership and support to the outing, helping to recruit new golfers and corporate sponsorships, and to help raise the profile of Molloy and this event. This year's Co-Chairs are James Jordan '01, Principal and Portfolio Manager at Taconic Capital, and Carissa Jordan '04, Co-Founder and Co-CEO of Benjamin Talks. Learn more about James and Carissa by clicking the button below.

VOLUNTEERS

The Jim Kinnier Stanner Golf Classic would not be possible without the hard work of dozens of volunteers each year. Volunteers help out in a variety of ways, from morning check-in, to monitoring prize holes, and much more. They do a great deal to help keep the outing running smoothly. More volunteers are always needed! If you are interested in helping out on May 3rd, please click the button below.
---
Molloy's Celebration of Women's History Month Inspires Students, Supports Girls' Leadership Scholarship Fund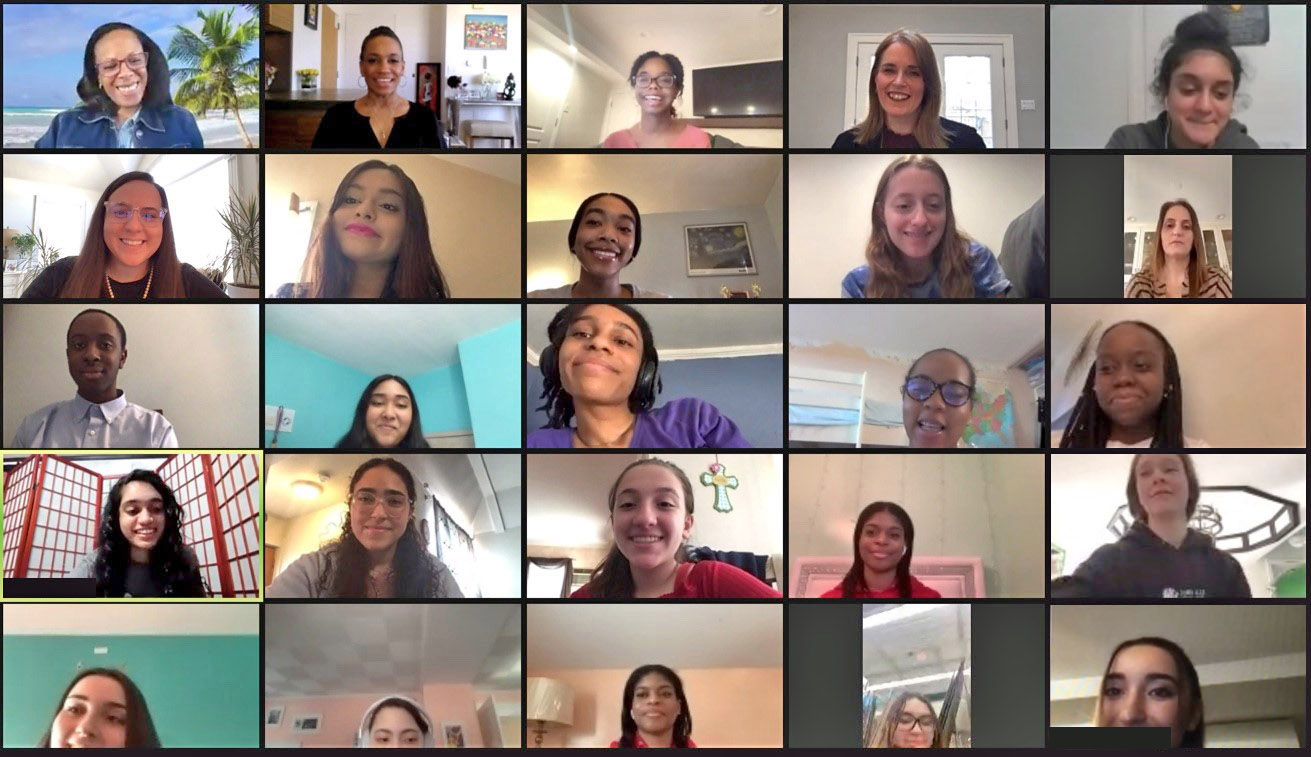 (Pictured: Women at Work Panel w/ guest speakers Dr. Rachel Villanueva & Dr. Chimene Liburd.
In March, Molloy celebrated Women's History Month through a variety of events organized by the members of GERLL Club (Girls' Empowerment for Real Life Leadership). Since its founding in 2018, GERLL Club has hosted fundraising events such as the Molloy Fashion Show and Radio Bingo, which have empowered Stanner women while raising money for the new Girls Leadership Scholarship Fund, which will benefit young women entering Molloy in the future.
Guidance Counselor Ms. Kerry Henning is honored to be the moderator of GERLL Club. "The club members and myself were determined to be very involved with Molloy's Women's History Month celebration, as well as our Girls Leadership Scholarship Fund. The activities and events that were planned really brought out the best in our school."
GERLL Club kicked off March by acknowledging all female faculty and staff with a spirited musical video. The club also sponsored an art contest, which was conducted by the Computer Science department. The contest challenged students to create graphic designs depicting women in history or causes for female empowerment (selects pictured below). GERLL Club also organized the first ever "Molloy's Got Talent", which showcased dazzling performances by students, alumni, and faculty in a virtual setting.
The month concluded with several more high-profile events. "GERLL Club sponsored a Cash Calendar Raffle fundraiser, and we ended the month with a Women At Work Medical Panel, featuring two exceptional, world-class female doctors, who met with students virtually to discuss the medical field and offer advice for their future careers," said Ms. Henning. "Our students created the event and were well prepared with many questions. Both Dr. Rachel Villanueva and Dr. Chimene Liburd, who grew up in Queens, commented on how exceptionally smart and enthusiastic our students are."
Molly McGuinness '22, a member of GERLL Club, found the month-long celebration fulfilling. "A lot of work went into these events. To see them come to life was extremely satisfying. In a school that was once completely dominated by men, it is important for women to be heard and appreciated. With these events, I feel that this mission was accomplished. GERLL Club has made me realize the impact that we can make as women in society." Keren Elmore '22 appreciated how the events instilled confidence in girls at Molloy. "Our annual panels allow students to see themselves in careers that they may be underrepresented in and feel empowered to break glass ceilings," said Keren. "More importantly, we are learning the value of mentoring and sharing our stories. It's wonderful to achieve success, but sharing your journey with others, even when it's not always pretty, is so influential. I hope the club continues to encourage girls to fulfill their potential and become leaders."
Ms. Henning is proud of what GERLL Club achieved during Women's History Month, and thankful to all who participated, as well as for the tremendous support of Principal Dr. Darius Penikas. "We've received great feedback from students, faculty, parents, and alumni," said Ms. Henning. "On a personal note, I feel that by acknowledging the importance and equality of women in our world and in our Molloy community, we continue to strengthen, empower, and uplift all of our students, faculty and staff, as we strive to continue to make Molloy an exceptional institution."
Make a gift to the Girls Leadership Scholarship Fund today. Click the button below and select "Girls Leadership Scholarship Fund" from the dropdown menu.

---
New US Provincial Council Installed at Chapter Meeting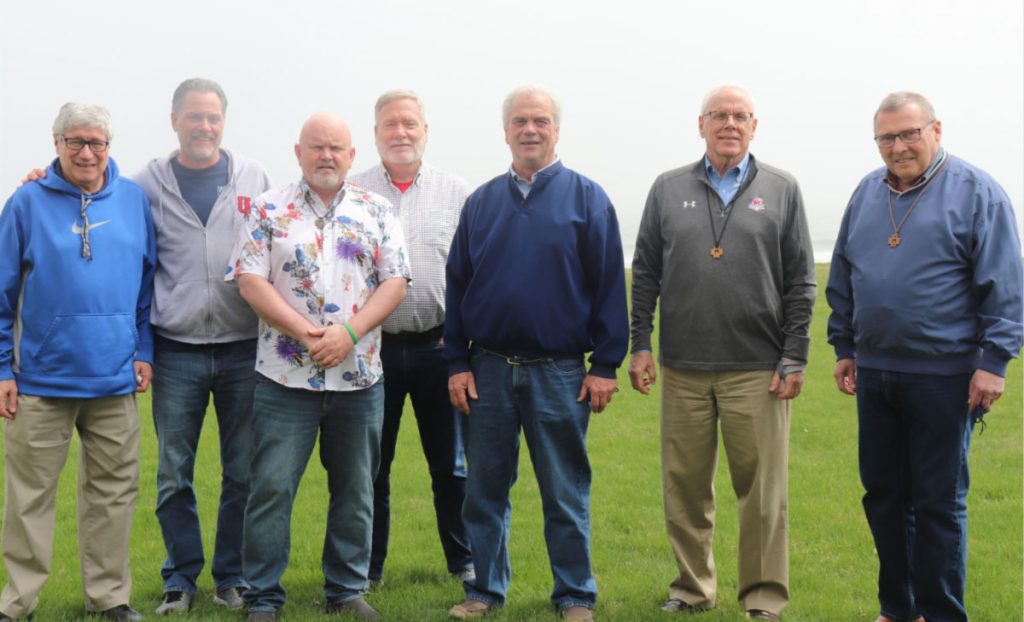 On April 8, 2021, the Marist USA Province held their triannual Chapter Meeting. This year's meeting marked the beginning of a new era for the province, as Br. Dan O'Riordan '85 was officially installed as the new US Provincial, while Br. Owen Ormsby '74 was appointed as Vice Provincial. Joining them on the new Provincial Council are Br. Hank Hammer, Br. Dominick Pujia, Br. Todd Patenaude, Br. Steve Schlitte, and Br. Sean Sammon. Br. Dan had been serving as Vice Provincial since 2015.
The administrators, faculty, staff and students at Archbishop Molloy High School congratulate and thank preceding US Provincial Br. Patrick McNamara and Provincial Council Member Br. Al Rivera for their leadership and service to the US Province for the past six years. We also congratulate Br. Dan, Br. Owen, Br. Hank, Br. Dominick, Br. Todd, Br. Steve, and Br. Sean on their new Provincial Council roles. We are especially proud that two Stanners, Br. Dan and Br. Owen, have been appointed as Provincial and Vice Provincial respectively. Our best wishes to you and the entire Provincial Council moving forward. (Pictured above L-R: Br. Dan gives his inaugural address; preceding US Provincial Br. Patrick McNamara; New US Provincial Br. Dan O'Riordan '85)
Below are more resources related to the Chapter Meeting and the changes in the USA Province:
---
Champagnat Hall Community Update
The Marist Brothers have announced that visitors are once again welcome at their Champagnat Hall residence in The Bronx. This comes after more than a year of lockdown to protect the Marist Brothers living in the community. Visitors must adhere to the following guidelines:
All visitors must have been fully vaccinated for a period of at least two weeks.
All visits must be scheduled in advance, as only a limited number of visitors will be allowed on any given day.
Please contact us at alumni@molloyhs.org for more information.
---
Admissions Hosts Inaugural Spring Welcome Event
On Saturday, April 17th, Molloy welcomed its Class of 2025 during its inaugural Spring Welcome Event. Incoming freshmen and their families had an opportunity to meet students, teachers, and staff, and learn more about Molloy. The event, organized by Molloy's Admissions team of Edwidge Turenne '98, Heather Green-Wresch, and Jonathan DiDonato '01, was held outdoors on Stanner Field with visitor arrivals staggered out over several hours. All faculty, staff, and visitors complied with health and safety guidelines, including mask-wearing and social distancing.
"Our inaugural Spring Welcome Event was a great success! It was a pleasure getting to actually see/meet our incoming freshmen and their families," said Admissions Coordinator Mr. DiDonato. "Volunteers represented several departments like Academics, Medical, Freshman Camp, S.T.E.M., Band & Chorus, Athletics, and more. The incoming freshmen and their families also got to enjoy food at our snack tables—including hot dogs, chips, cookies, and churros. It's an event we hope to host annually going forward as it was welcoming and aesthetically pleasing being outdoors. Thank you to all incoming freshmen and their families for attending, and thank you to all faculty and staff members who volunteered." (Photos by Nayasha Ramnauth '21 & Tatiana Egas '22)
---
Virtual Enterprise Update – On to the Semi-Finals!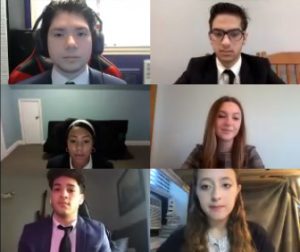 In our last Beehive, we announced that Molloy's Virtual Enterprise class had placed fourth out of hundreds of schools in the NYC Championship Round of the Virtual Enterprise National Business Plan Competition. That result qualified Molloy for the 2021 National Championship Round this month. Our seniors have since advanced to the Semi-Finals, placing them in the top 20 in the nation! Molloy is the only Catholic school to place in the top 20. The seniors have been presenting their "Teeny Opps" business plan, which is focused on turning a profit while helping teenagers find more jobs and more enriching opportunities. Molloy introduced Virtual Enterprise as a senior elective in 2018.
Congratulations once again to the entire class as well as the team's six main competition presenters: Anthony Vargas '21 (CEO), Brianna Garrison '21 (COO), Eros Georgiou '21 (CFO), Emilia Wojciechowska '21 (VP of Marketing), Amaya Williams '21 (VP of Communications), and Jordan Molina '21 (VP of Digital Media). Good luck in the Semi-Finals!
---
Student & Faculty Volunteers Clean Up Briarwood Streets
On Saturday, March 27th, student and faculty volunteers joined together to pick up and dispose of litter around Molloy and some of the surrounding streets of Briarwood. Br. Roy George '62 and Br. John Dunning also joined the group to lead them in prayer and help with the cleanup effort.


Virtual Spring Musical: Addams Family – BEGINS TONIGHT!
The Stanner Players are proud to present their spring musical: The Addams Family: Quarantined Concert Version. The cast will be physically together for two performances, which will be livestreamed to at-home audiences. Performances begin tonight Friday, April 23rd at 7:00pm and conclude with a second performance on Saturday, April 24th at 7:00pm. Tickets are $10 for an individual stream (single viewer) and $20 for a family stream (multiple viewers). Since the performances will be livestreamed, they will start at 7:00pm sharp with no pause or rewind options. *Important: Sharing a purchased livestream link is prohibited (doing so will remove you from the livestream). Thank you for supporting the Stanner Players! (Click flyer thumbnail to enlarge)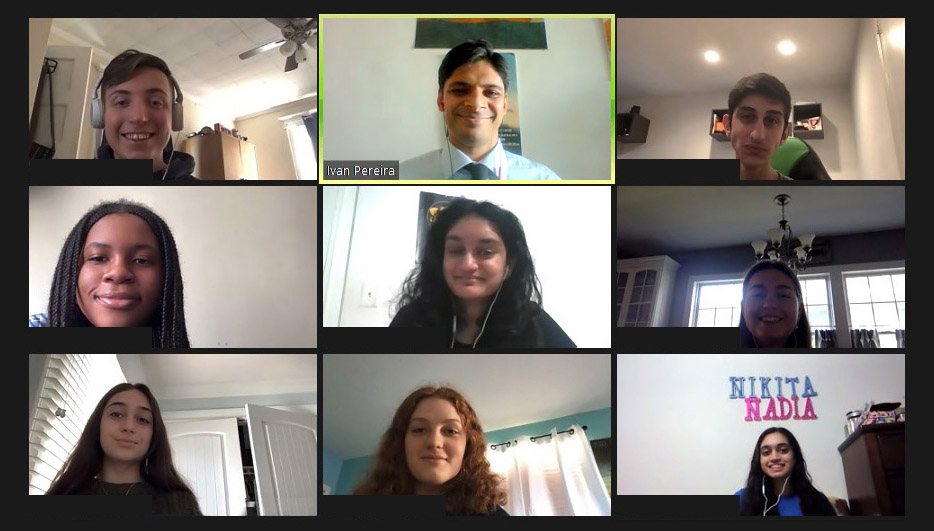 In March, Ivan Pereira '03 joined members of The Stanner newspaper via Zoom for a discussion about modern journalism. Ivan, a digital reporter with ABC News, shared his thoughts on the differences between digital and print journalism, insights into his day-to-day responsibilities, and practical advice for young journalists. Thank you, Ivan! | More about Ivan: www.ivanpereira.com
---
John C. Bonanno '83 shared the following personal and professional update: "I work for The Visiting Nurse Services of New York, the largest non-profit home and community-based healthcare organization in the US. I am an Executive Director in Corporate Services for procurement, contract management and IT. The pandemic has taken its toll, and our nurses and home health aides have been on the frontlines, caring for patients in hospital COVID-19 units, in the home and in rehab centers. I have been the driving force for providing all the PPE and supplies for all these visits, and it has been very stressful, but rewarding. By providing our frontline workers the supplies needed to care for patients, I feel indirectly responsible for their care. During these unprecedented times, the healthcare field has been vital, and I have been doing my part to help make New York better. We are literally saving lives and I am proud to be part of it. In addition, my daughter Stephanie Bonanno '13 works for the Department of Education as a licensed Speech Language Pathologist. She is a graduate from St. John's University, having received her master's degree in speech pathology in 2019. As part of her studies, she traveled to Guatemala and worked with children at a special-needs facility."
---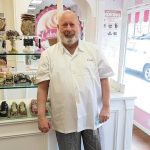 Actor Paul Galbraith '74 shared a photo from the set of The Cupcake Chronicle Series One 'The Dream'. Paul was cast as a bakery chef/owner in the series. It is not yet known which network will pick up the show, but Paul has promised to let us know when to tune in. Congrats on the new role, Paul!
---
In 2020, Travis Kessel '09 was featured in an Associated Press story highlighting the heroic efforts of first responders during the first wave of the COVID-19 pandemic in New York City. Travis, an EMT in the South Bronx, spoke of his exhaustion from brutal shifts treating countless patients. Recently, the Associated Press followed up with Travis and the other subjects featured in the original piece. In 2021, Travis is optimistic about life returning to normal, but his optimism remains tempered by what could come down the road.
Click Here to Read: For 7 New Yorkers, a pandemic year's fight for the future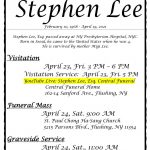 Please pray for the repose of the soul of Stephen Lee '86, who passed away on April 19, 2021. Click the following thumbnail image to the right for information regarding memorial services.
---

Please pray for the soul of Martin A. Creaven, Class of 1987, who passed away unexpectedly on March 26, 2021. Brother of Michael '84 and Patrick '85, first-cousin of Brian Kelly '94/faculty, and nephew of Charles Conneely '58. After Molloy, Marty graduated from Fordham University in 1991 and Fordham Law School in 1997. Marty believed sincerely, prayed often, read widely, and wrote beautifully. His death leaves the world diminished by his absence, and his loving family and his many, many friends deprived of his joyful company and deeply distraught by his passing. Please keep Martin and his loved ones in your prayers.