*Note: Click image below to enlarge. Reunion Weekend will serve class years ending in 0, 1, 5, and 6. This accounts for the classes that had their Reunion postponed in November 2020, as well as this year's regularly scheduled celebrating classes. More specific details will be shared soon by email and direct mail. If you have a new primary email or mailing address, please contact alumni@molloyhs.org with your updated information. Please direct questions to Alumni Development Officer Matt Rizzotti '04 at

mrizzotti@molloyhs.org

or call 929.446.4470.



Employment Opportunity: Development Officer at Molloy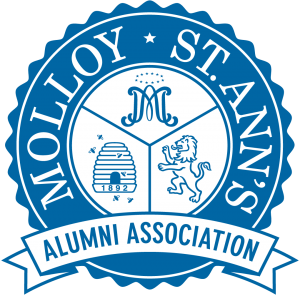 Archbishop Molloy High School's Stanner Alumni Center is seeking a talented and motivated individual for the position of Development Officer. The Development Officer supports the strategic fundraising efforts of Molloy managed by the Stanner Alumni Center with an emphasis on the school's annual giving initiatives. The Development Officer will participate in the identification, cultivation, solicitation, and stewardship of donors in accordance with performance targets set by the President and Executive Director.
Interested individuals are invited to read a more detailed description of this position and to directly apply through Indeed.com.
*Important: The deadline for applications is August 23rd. All applications must be submitted through Indeed.com to be considered. Thank you!

---
Open Coaching Position – Assistant Coach, Boys JV Soccer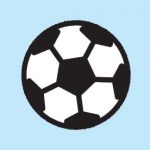 Molloy is accepting applications for the role of Assistant Coach for Boys JV Soccer. The Assistant Coach should meet the following qualifications:
Playing or Coaching experience on the H.S./College level is preferred but not required.
Willingness to work with the Principal and Athletic Director on all matters of the program
Willingness to abide by the By-laws and the Code of Conduct of the CHSAA.
Willingness to represent Archbishop Molloy H.S. athletically and follow all rules set forth in the coach's manual.
Willingness to work with the Head Coach of Boys JV Soccer and Boys Varsity Head Coach
CPR/First Aid/AED Certification and Concussion Course or the willingness to obtain it.
All interested individuals should submit their resumé and a letter of interest to Athletic Director Mike McCleary at mmccleary@molloyhs.org.

---
Freshman Camp Returns
In July, Molloy was excited to welcome its Class of 2025 to Freshman Camp at the Marist Brothers' Center at Esopus. This was Molloy's first Freshman Camp since summer 2019. For nearly 50 years, Freshman Camp has provided young Stanners with the opportunity to make new friends and learn more about the Molloy community before the start of the school year. Campers celebrate Mass together, experience personal and spiritual growth, and enjoy many fun recreational activities throughout the beautiful Esopus property. The Freshmen also get to meet volunteers representing faculty, staff, students, and alumni, reinforcing the lifelong connections in our community. Thank you to everyone who organized this amazing week, and welcome to our Class of 2025!
---
Rising Seniors Collaborate On Pop Up Brunch Spot in Sunnyside, Queens
This August, rising seniors Anik Amin '22 and Alexandra Cedrowski '22 are collaborating on a pop up brunch spot called Blvd. Brunch, which is operating out of Anik's father's Michelin Star-rated restaurant, Cardamom NYC in Sunnyside (43-45 43rd St, Queens, NY 11104). Anik and Alexandra had been planning the concept for several months and finally saw their ideas realized when the pop up opened on August 7th. It will operate 12pm to 4pm every Saturday and Sunday through August 29th. The featured appetizers and main courses are Indian American fusion, inspired by Indian street food. Click here to see the finalized menu. More details can be found on Instagram (@blvd.brunch) or at https://cardamomnyc.com/.
---
Softball Players Garner All-State Honors
Congratulations to Angelina Rama '22 and Katherine DeSarno '22, who were named 2021 All-State Softball Team members by the New York State Sportswriters and Coaches Organization for Girls Sports (NYSSCOGS). Angelina appears on the Fourth All-State Team at third base, while Katherine appears on the Seventh All-State Team at pitcher. | Click Here for Full League Lineup
---
2020-21 Yearbook Arrives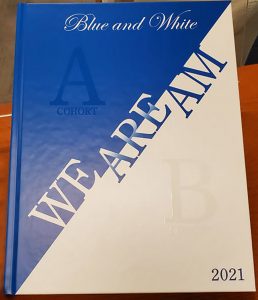 Typically, Molloy's Yearbook arrives in May, just in time for seniors to receive them after graduation. This year, due to COVID-19, production of the Yearbook was pushed back, resulting in a first-ever August arrival. The cover of the 2020-21 Yearbook references the A and B cohorts that students were split into for much of the school year. Congratulations to the Yearbook staff on the completion of an excellent edition of "Blue & White" during a most unique school year.
*Important Note: The Class of 2021 recently received a notification via email regarding Yearbook pickup. Graduates or a family member can pick up their yearbook between 8:30am and 11:30am, August 10-12 and August 16-19. Only the Class of 2021 will pick up the yearbook during August. The Class of 2022, Class of 2023, and Class of 2024 will receive their yearbook when they return in September.
---
Looking Back: Molloy's School Song – "Blue & White"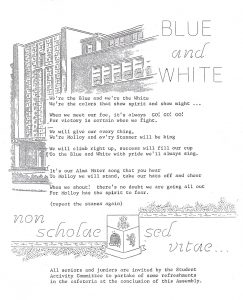 Br. Roy George '62 recently visited the Stanner Alumni Center in search of the lyrics to Molloy's school song. Although students today would have no idea there was ever a school song, Br. Roy distinctly remembers learning it back when he was a student in the early 1960s. The Stanner Alumni Center provided Br. Roy with a copy of the lyrics from an archival document. While reading the lyrics, Br. Roy was still unsure of the song's melody.
Br. Roy asked The Beehive to include the lyrics in today's issue and to ask our community at large if anyone who remembers the song would be interested in submitting a recording of themselves singing the song as they remember it. Br. Roy would appreciate any submission that would help jog his memory. You can submit a recording to alumni@molloyhs.org or share via Google Drive.
---

Champagnat Hall Update
Due to the recent rise in COVID-19 / Delta Variant cases, the Marist Brothers residence at Champagnat Hall in the Bronx, NY, has again been temporarily closed to visitors to ensure the continued health and safety of the residents. The Marist Brothers and staff at Champagnat Hall thank you for your understanding and support!
---
In Case You Missed It: Celebrating our Class of 2021
On the evening of Monday, June 21, 2021, 364 graduates participated in St. Ann's Academy's / Archbishop Molloy High School's 128th Commencement Exercises, held for the first time on the great lawn at St. John's University. After a year of hybrid learning and A/B cohorts, Molloy was excited to welcome the full graduating class in-person to participate in Commencement Exercises together. The ceremony was witnessed by administration, faculty, staff, and a limited number of family members.…

---
ICYMI: Congratulations to Our Retirees!
All of us at Archbishop Molloy High School extend our sincerest congratulations and thanks to our five 2021 retirees for their hard work, dedication, and nearly 150 collective years of service to Molloy and our students….

---
ICYMI: Computer Science & Engineering Department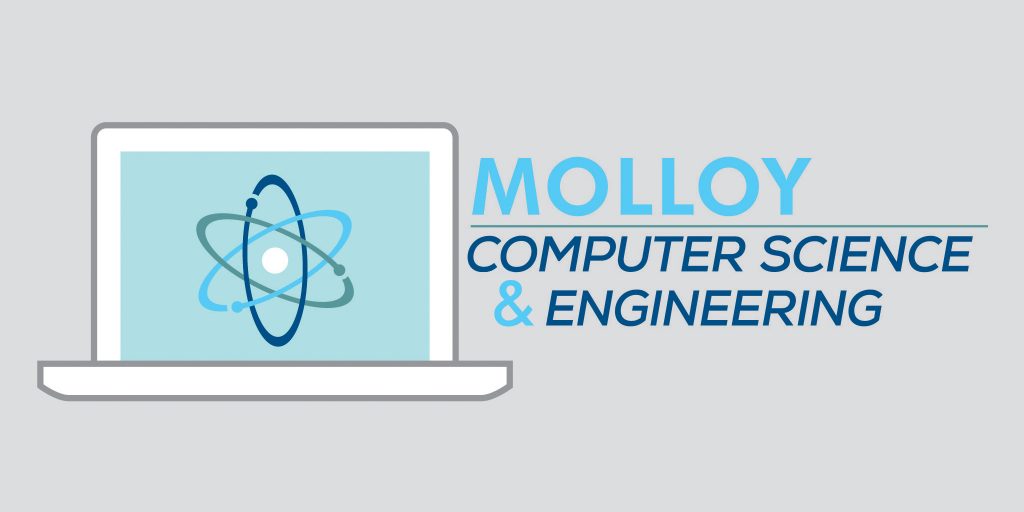 Archbishop Molloy High School is proud to announce the expansion of its Computer Science curriculum with the creation of the new Computer Science & Engineering Department. Ms. Edit Boral will serve as chairperson of the department. Ms. Janice Bonczek, Ms. Nancy Cantalino, and Mr. Larry Reilly will also serve in the department….


We ask our Stanner family to please pray for Carol Coogan, grandmother of Brian Towey '96. Carol is courageously battling cancer.


In June, experienced hiker Dr. Bill Endy '68 announced that he plans to hike the Grand Canyon rim to rim, while providing video updates on his new Youtube Channel. Bill also announced that if his Youtube Channel can reach 1,000 subscribers, it will become monetized, allowing him to donate all proceeds from his channel views to Molloy's John K. Gremse Graduation Assistance Fund. This fund, established in memory of his dear friend, helps students whose parents face an unexpected and overwhelming financial burden leading to their inability to pay for the remaining tuition in their child's senior year.
Dr. Endy's most recent updates have focused on his training and preparation for the rim-to-rim hike. The series of updates is titled Aging Ungracefully, and you can follow along with Dr. Endy as he continues to prepare for this epic hike. Please consider subscribing to Dr. Endy's channel to show your support. Contact 718.441.9210 for more information about the John K. Gremse Graduation Assistance Fund. | Visit Dr. Endy's Youtube Channel
---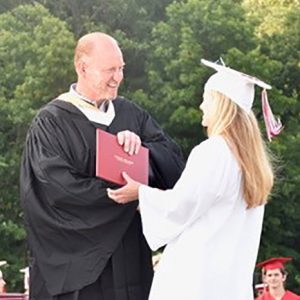 Joe Kelly '81 recently shared a photo from Greenwich High School's commencement exercises, during which he presented diplomas to graduates. Joe is a member of the Greenwich Board of Education, CEO of Uranium Markets, and President of Forest Land Development.
---
Congratulations to Michael Graffeo '99 and his wife, Lucie, on the birth of their daughter, Alessandra Carolina Graffeo! Alessandra was born on May 7, 2021 (19.75 in. and 6 lbs 14 oz). Additional congratulations to big brother, Joseph, and to Michael's family, including his brother Salvatore Graffeo '01 and Lucie's family. Best wishes from The Beehive!
---
Jonas Verdeflor '98 has completed his academics at St. John Seminary. In April 2021, he successfully defended his thesis on St. Maximilian Kolbe and completed his oral comprehensive exams. The Oblates of the Virgin Mary have assigned Br. Jonas Verdeflor, OMV, to the retreat house in Milton, Massachusetts, for his pastoral year. During that time, Br. Verdeflor will continue his formation as an Oblate through ministry work and community life with fellow Oblates. His new assignment began June 28th and his final vows will take place soon.
---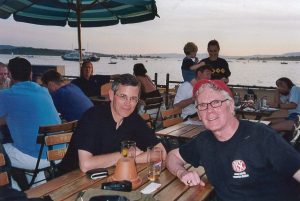 Brian Mitchell '69 recently shared a vintage photo of himself with the late Dr. Patrick Murphy, along with a story. Back in 2003, Brian was on a cruise to Scandinavia and Russia. Oslo was the last stop on the cruise. After leaving the ship, Brian recalled a note from Molloy's alumni newsletter that Dr. Murphy would spend his summers in Oslo. Brian looked up Dr. Murphy and was surprised to see he was near his location. Brian and Dr. Murphy were able to connect for a drink at the harbor before Brian was scheduled to depart for Norway. Unfortunately, this meeting would be the last time Brian would see Dr. Murphy. Thinking back further, Brian believes he was a student in Dr. Murphy's first history class back in 1965.



We are saddened to share the passing of Charles T. Papetti '65, father of Gene Papetti '92 and Todd Papetti '94, and brother of Richard Papetti. Charles passed away on July 19, 2021. He was a retired Lieutenant of the Port Authority Police at JFK Airport. Please keep Charles and his family in your prayers.

Please pray for the repose of the soul of Br. Hugh Turley, FMS.

We are saddened to share the passing of John J. Devine '70 on July 4, 2021. Please keep John and his loved ones in your prayers. | Click Here for Memorial Page

We were recently informed of the passing of Richard Catalano '83 on March 9, 2020. Please keep Richard and his loved ones in your prayers.