Navigating The Job Market – Part 2 – JOIN US!
When: Wednesday, March 2, 2022 @ 7:00 PM
Where: Zoom
Who: All are welcome!
Contact: Rebecca Wagner '14 – rwagner@molloyhs.org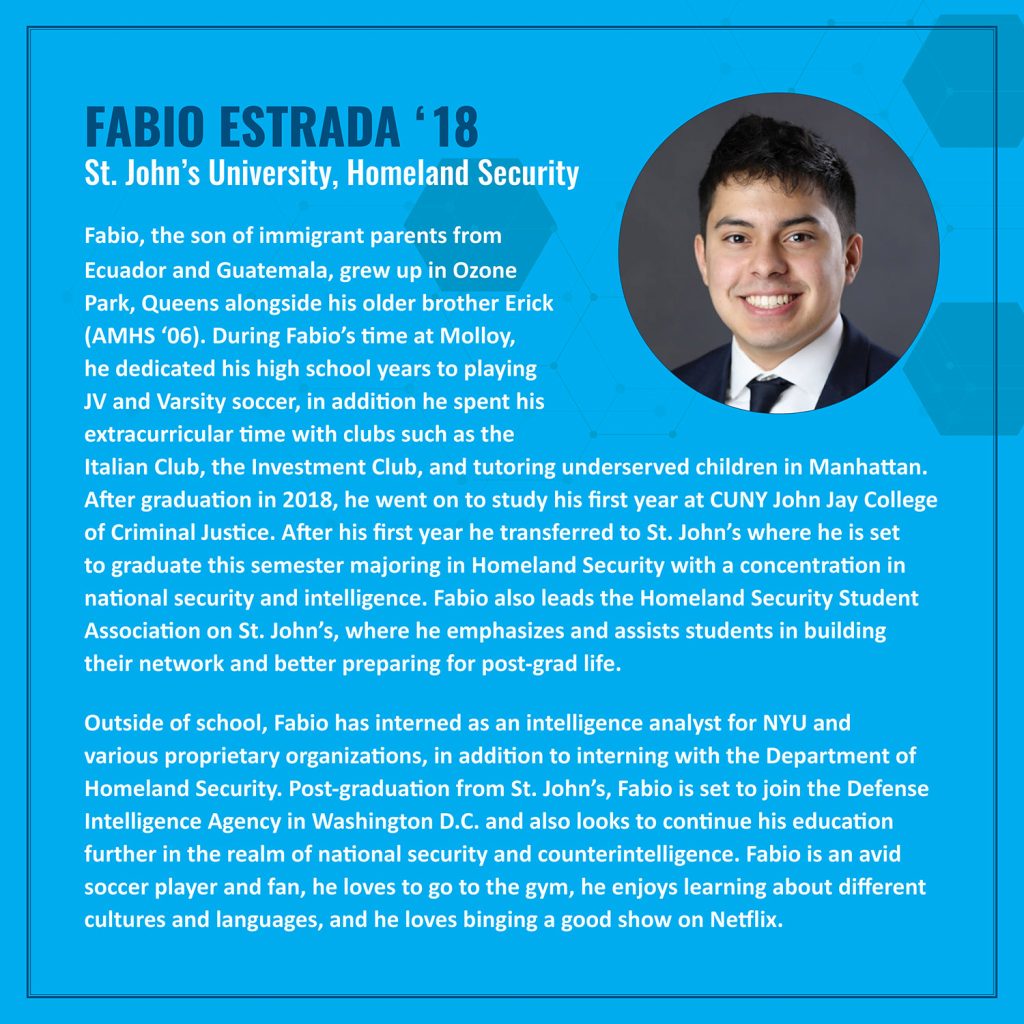 Join the Stanner Alumni Center on Zoom on 3/2/22 at 7:00pm as we discuss navigating the job market! The second installment of this panel will feature six young alumni professionals from a variety of fields. Over Zoom they will help answer questions and discuss the best ways to navigate the current job market. What's on tap? They will be covering their career fields, how they got there and what worked for them, plus offering tips for others to use. You can submit a question for the panelists when you RSVP online. All are welcome and the event is free. Make sure to mark your calendars for this great virtual event!
---
36th Annual Jim Kinnier Stanner Golf Classic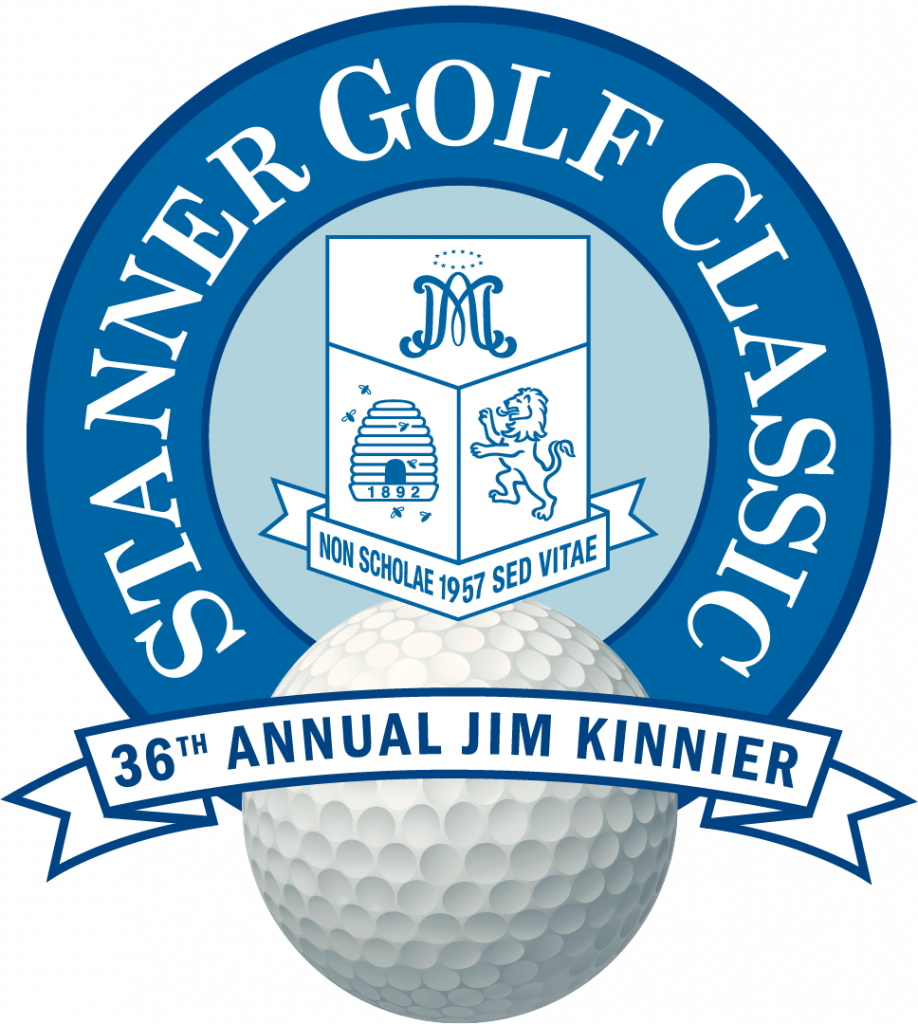 Save the Date: Monday, May 2, 2022
Where: Garden City Country Club, North Hempstead Country Club, North Hills Country Club
Who: Stanners, Corporate Sponsors, Family Members & Friends
Contact: Matt Rizzotti '04 – mrizzotti@molloyhs.org
Molloy is excited to host its 36th Annual Jim Kinnier Stanner Golf Classic on Monday, May 2, 2022. Since 1987, the Stanner Golf Classic has raised over $3 Million dollars in support of Molloy's scholarship program. These scholarships have impacted many academically gifted students who may be facing financial need. Whether signing up as an individual golfer or a foursome, reserving a sponsorship package, purchasing a journal ad or raffle tickets, volunteering, or making a tax-deductible donation, you can help make a difference in the lives of our students.
Please save the date! More information will be shared and invitations will be mailed soon. Contact Matt Rizzotti '04 (email above) for more details.


Take Our "Stanners In The Workforce" Survey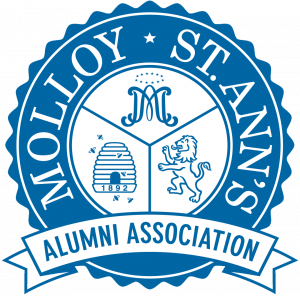 As graduates of Molloy, you've set out to make an impact on our world. Whether you've been gone for one year or 20 years, you're still family, and we are always excited to hear what you've been up to. We also hope this can be a way for you to connect with what's going on at Molloy and how you can get involved in the future!

We are sharing this survey with our alumni across the globe to learn more about Stanners in the workforce. The results of this survey will help the Stanner Alumni Center to create events, programming, and opportunities for networking, professional growth, student empowerment, and more. Not for school but for life isn't just a motto we say, but something we strive to live by. You'll get the opportunity to stay in touch with old friends as well as develop yourself professionally.
 
The survey will only take a few minutes, please respond by March 8th, 2022. Your responses are confidential. Thank you!
---
Happy Black History Month!
On February 1st, Molloy began its celebration of Black History Month, a time to reflect on the inspiring and impactful work of many historical and contemporary leaders. Seniors Ava Aimable '22, Autumn Hill '22, and Loyca Jean '22, members of Molloy's Afro-Caribbean Club, have taken charge this month, overseeing and planning several initiatives to create a special celebration.
Kicking off the month, they edited and narrated an introductory video that was played during the morning homeroom broadcast and shared on Molloy's social media (see video above). Each week of February, Ava, Autumn, and Loyca have presented Black History Month trivia, and they have also launched a series of biographical videos highlighting inspiring Black leaders including doctors, writers, poets, and more. The Afro-Caribbean Club has decorated Molloy's first-floor hallway with signage and photos of more prominent Black leaders (pictured in the gallery below). The Molloy community can join in the celebration via the school's Instagram page (@molloyhs), where more trivia and the biographical videos created by our students will be shared in the Instagram Stories throughout the rest of the month. To round out February, the Afro-Caribbean Club is planning one or two movie nights, as well as a school-wide fundraiser supporting a cause yet to be determined.
Special thanks to Ava, Autumn, Loyca, the Afro-Caribbean Club, and moderator Mr. Edwidge Turenne '98 for their hard work and dedication!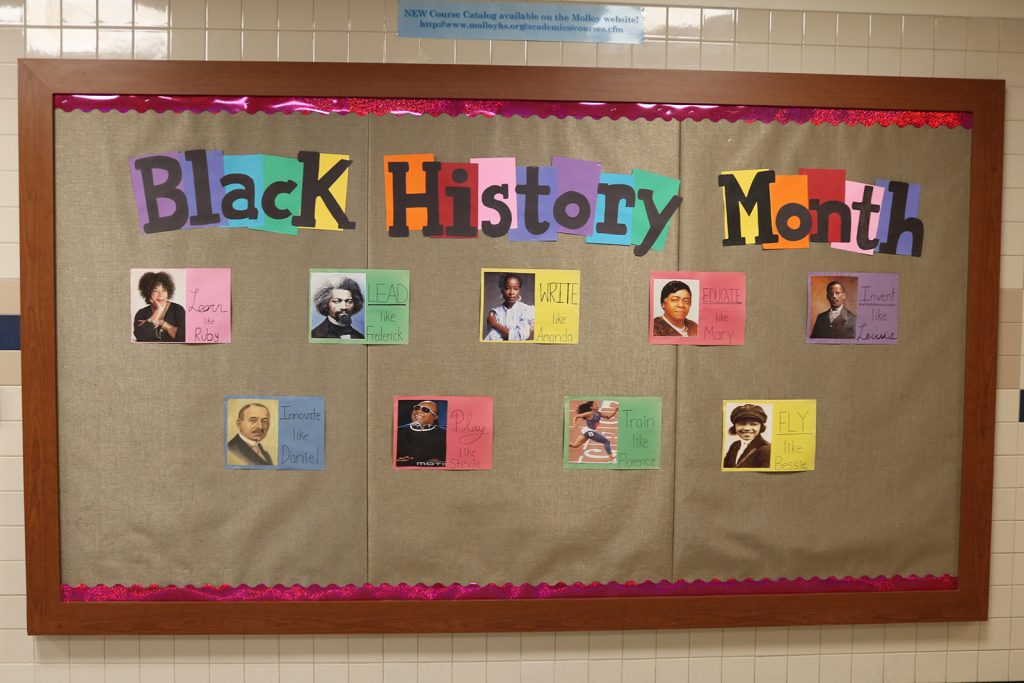 ---
Molloy's First Freshman Day Retreat Week is the Beginning of a New Tradition
Freshman Retreat Week was the first time an entire class was supported during a retreat.
by Bianca Basone '15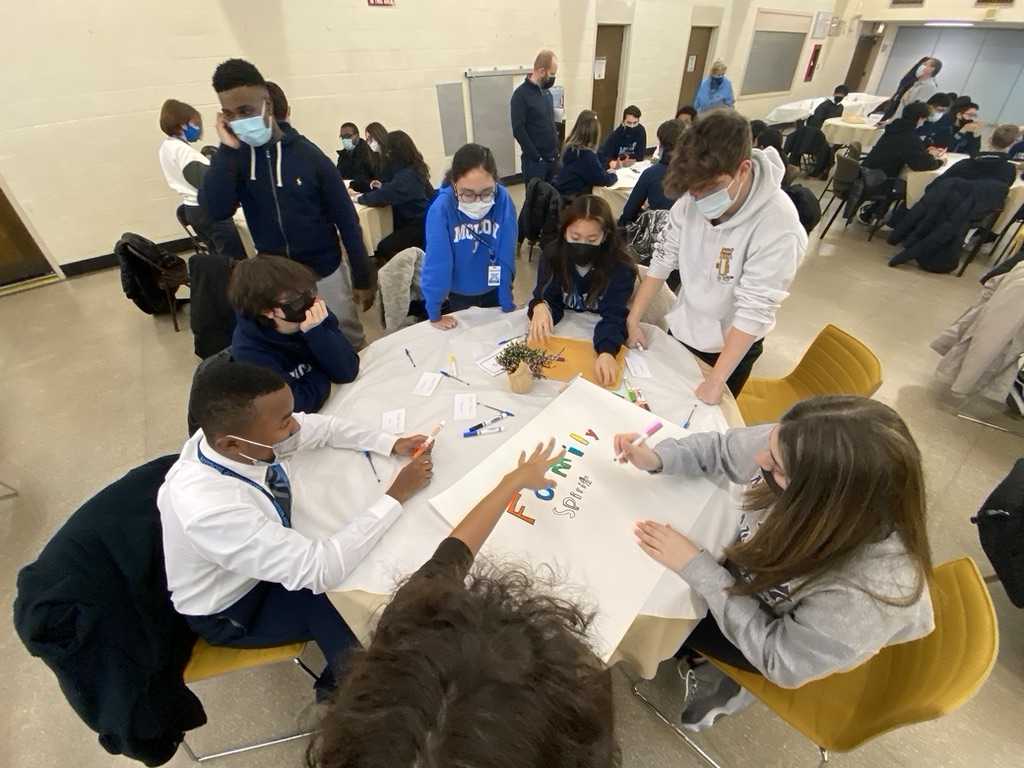 During the week of January 24th, Molloy introduced its first ever "Freshman Retreat Week." The brainchild of Dr. Penikas and the result of many faculty members' hard work, the week turned out to be a memorable, inspiring event for the Class of 2025. Unlike the well-known weekends spent at the Marist Brothers Center at Esopus a few hours away, freshmen were split up into four groups and spent four different days at Thomas Berry Place, formerly known as Bishop Molloy, in Jamaica, Queens. When asked about the outcome, Campus Ministry Director Lori Wilson stated, "it was a historic event for Molloy, the first time we were able to support an entire class during a retreat."
The intention of the retreats was to help freshmen understand what it truly means to be a Marist student. Stanners learned the five pillars of Marist teaching, which include Presence, Simplicity, Family Spirit, Love of Work, and In the Way of Mary. Activities such as poster making and listening to student talks gave the freshmen the opportunity to bond with one another, and become more accustomed to openly communicating with each other. Molloy is a mission-based school, teaching young people about service, self-worth, and Christian values, and the retreats were a unique way to make sure all faculty and students are on the same page regarding this mission.
The amount of resources it took to greenlight the retreat – whether those be financial, personnel, or time – were abundant, but worth it when the outcome was one of love and community. While retreats to Esopus usually take place over the weekend, the Freshman Retreats took place during the school day. Administration, staff, and student leaders left Molloy to make sure that the day retreats were just as special, fitting three days' worth of spirituality and unity in just a few hours. Ms. Dorothy DeNoto, Molloy's Director of Library Services and a vital member of Campus Ministry, thanked everyone involved, stating, "The support of the faculty members, school Administrators and Marist leaders who came to participate was priceless." Ms. DeNoto drew inspiration from a Marist Youth Leadership Camp that took place during the summer of 2021, as well as her experience being a volunteer at hundreds of other retreats and encounters. As Ms. DeNoto shares, "The idea was to use that leadership camp as a template for a one-day local freshmen retreat for the entire class of freshmen. The goal is to educate the students about the Marist pillars in a way that will resonate with them."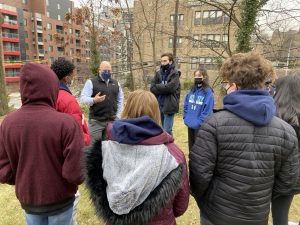 ---
Archbishop Molloy Hosts The Pink Games
The event was a fundraiser to raise money and awareness for breast cancer.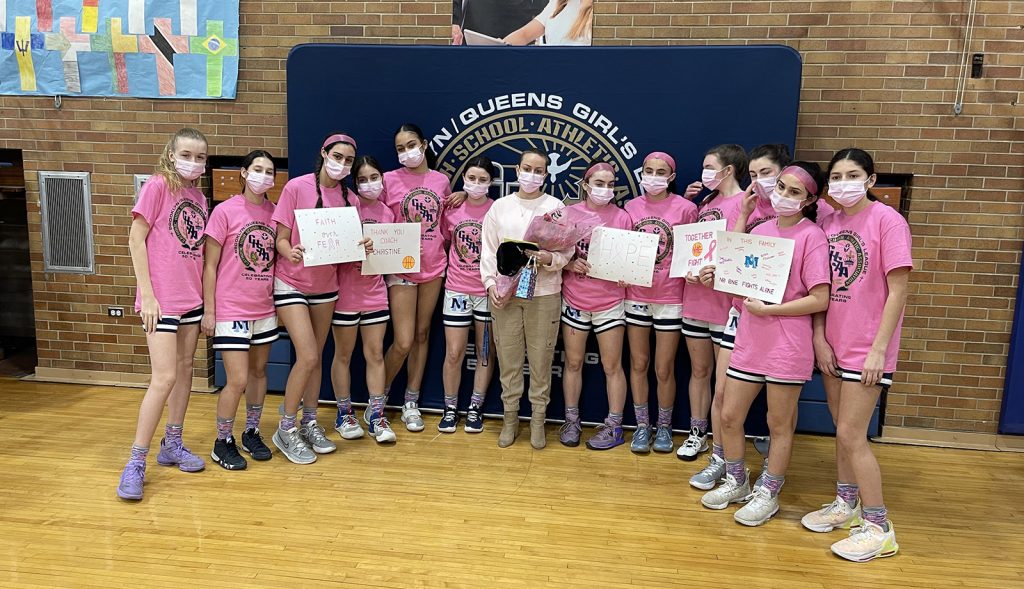 On Saturday, February 5th, Molloy hosted the Pink Games. Initiated by the GCHSAA, the Pink Games featured six Girls JV basketball games including Catholic schools from throughout New York City and Long Island for the purpose of raising money and awareness for breast cancer organizations. Throughout the day, alumni of the CHSAA Girls Basketball League came to speak to the teams about playing in the CHSAA and in college. The day was highlighted by the game between the Molloy Girls JV Team and the team from Notre Dame Academy of Staten Island, two top teams in the city.
Prior to the aforementioned game, Molloy's coach, Christine Harnischfeger '07 – who has recently gone through treatments for breast cancer – spoke to everyone in the crowd and on the teams. In a moving speech, Christine related her discovery of a mass, how her mother was diagnosed with breast cancer at the same time, their journey together, and how looking forward to coaching her team kept her going throughout the treatment. At the end of the speech, Christine named 5 Under 40 as the organization receiving the donations collected from the event. The mission of the organization is to provide "funded medical, wellness, educational, and beauty services to women under the age of 40 who have been diagnosed with breast cancer or have a BRCA mutation.
Family, friends, and players from Molloy's varsity team showed Christine an abundance of support. Past team members and coaches from over the years also supported Christine, and overall the day was extremely special and a huge success.
In a hard-fought game, Notre Dame won the tournament in what might be a prequel to the City Championship.
Thank you to all involved!
---
Stanner Sports Updates
Varsity Bowling Team Wins City Championship!
Congratulations to Molloy's Varsity Bowling team for winning the City Championship! Molloy defeated La Salle Academy 3 – 2 in the championship. Senior Dan Hickey '22 shot a 224 in game 1 and a 206 in game 2. In game 3, the stars were Freshman Nico Tolentino '25 with 240, sophomore Dan McLean '24 with 193, and Dan Hickey with 193. Additionally, the city high game winner was Nico Tolentino with his score of 240, and the high average winner was Dan Hickey with a 200 average score. Congratulations to the entire squad, including Coach Vinny Leonardo!
Molloy Represented at New Balance Grand Prix Meet
Congratulations to Kendall Franklin '23, Eva Gonzales '24, Grace Murphy '23, and Brianna Rucker '24, who took second place as a team in the CHSAA Spring Medley Relay at the Ocean Breeze New Balance Grand Prix. This Meet combines some of the top professionals in the world with the top student-athletes in the CHSAA. Eva, Brianna, Kendall, and Grace set the fourth-fastest time in Molloy history at 4:25.08.
Kendal Franklin – 29.17
Eva Gonzales – 61.09
Grace Murphy – 2:26.99
Brianna Rucker – 27.87
Girls Varsity Swimming Places 2nd in Finals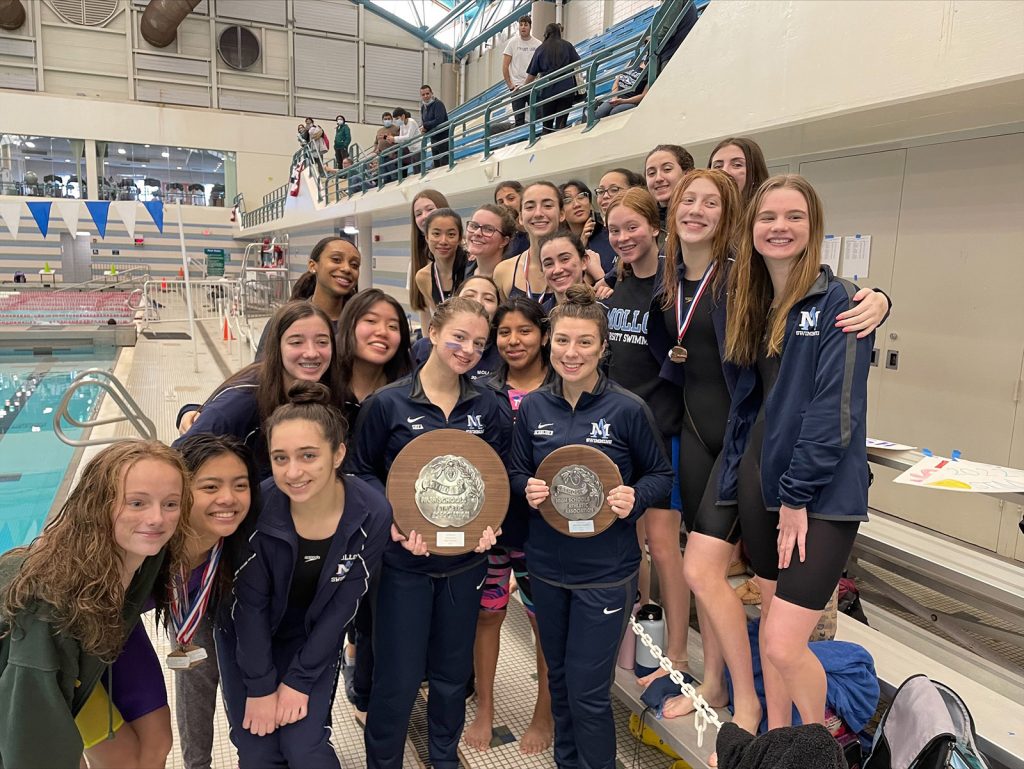 Congratulations to our Girls Varsity Swimming team, who finished in 2nd place in the swim finals at Eisenhower Park earlier this week. The entire team put forth a strong effort while several swimmers earned medals. Congratulations to the team and Coach Heather Green-Wresch!
---
A Little Fun on a Snowy Stanner Field
After last week's snowstorm, World Language teacher Señor Bronsen (pictured in first photo) decided to have a little fun, inviting students out to Stanner Field to build an igloo. Students who went out to join the activity found a series of recycling bins, which they were instructed to fill with snow to make molds for the igloo. When asked about the activity, Señor Bronsen said he just wanted to help lift spirits. "In these times, it's important to have fun whenever we can. Also, we're promoting recycling too, which is why we're using these bins to build our igloo!" The igloo ended up getting pretty tall, but the rain over the next few days has since washed it away. Thank you, Señor Bronsen, for always making us smile!


Submit Your Update for Stanner Life Magazine

Have you enjoyed any special individual or collaborative accomplishments? Started a new job, business, or career? Worked on the frontlines of the pandemic? Recently connected with old friends from Molloy? We would love to highlight your accomplishments and Stanner friendships in the upcoming edition of Stanner Life, Molloy's annual magazine!
Submit your information along with a high-resolution photo (if available) to beehive@molloyhs.org. You can also nominate a fellow classmate or Stanner family member! Just send us the details and we will follow up as needed. We look forward to highlighting our community in Stanner Life!
UPDATE YOUR MAILING ADDRESS: If you have recently moved, or your child or children have moved, please consider updating your/their mailing address in Molloy's records. Contact us at beehive@molloyhs.org to update address and or email information.
---
Job Opportunity at ALOHA – Associate, Finance
A Stanner has shared a job opening at ALOHA. This organization is on a mission to make healthy living simple and accessible to everyone through clean, organic, plant-based food. With a focus on Protein Bars, Protein-Ready-to-Drink, and Protein Powder categories, ALOHA creates organic products meant to be savored and enjoyed without sacrificing taste or nutrition. The position available is Associate, Finance – reporting to the Head of Finance. Location is flexible in the NY-Metro area. Please click the button below to download the full job description as a PDF.
---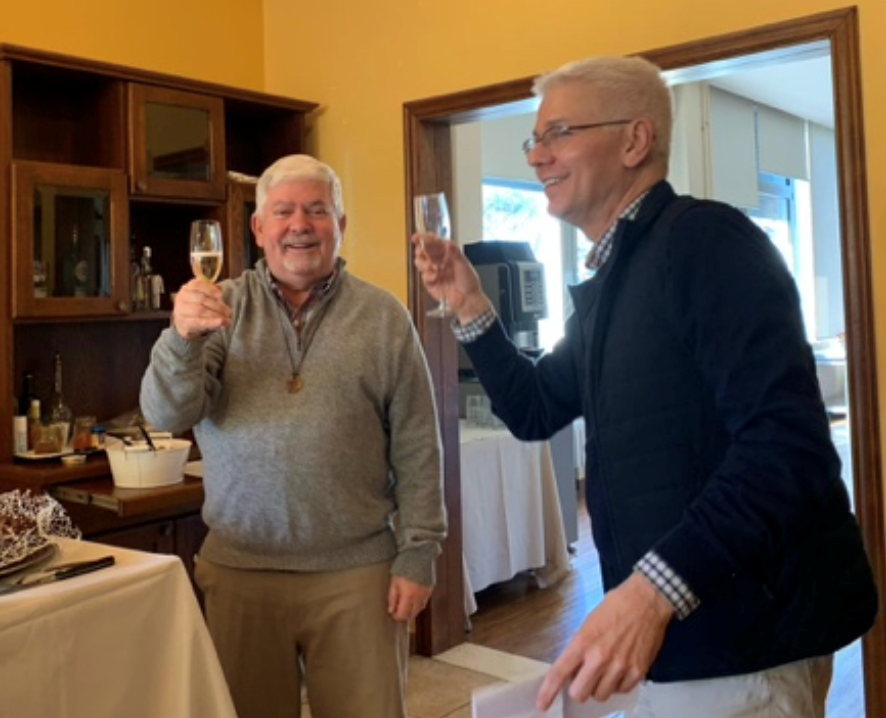 Br. Ben Consigli '80 recently helped celebrate the birthday of Br. Patrick McNamara, the newest resident of the Marist Brothers' General House community. Br. Patrick McNamara finished his term as US Provincial in 2021.
---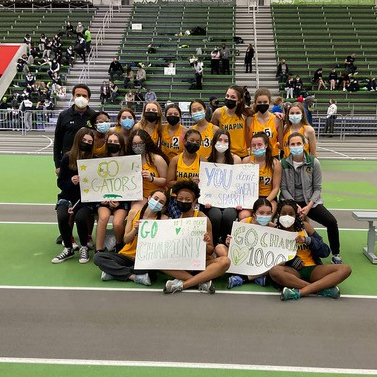 Congratulations to Coach Rob Pasqual '77 and The Chapin School Varsity track team, who placed third in the AAIS Indoor Championship. This is Rob's first season as coach at The Chapin School.


Archbishop Molloy High School is saddened to share the passing of Linda A. Mango McEntee, mother of alumna and former School Board member Jessica McEntee '05. Linda passed away on February 6, 2022. Please keep the McEntee family in your prayers during this difficult time. | Click Here for Memorial Page
Please pray for the repose of the soul of Robert H. Engbers '83, who passed away on January 24, 2022.
We were recently informed of the passing of Thomas F. Russo '66 on June 5, 2021. Please keep Thomas and his loved ones in your prayers. | Click Here for Memorial Page
We were recently informed of the passing of Michael Lambe '68 on October 24, 2020. Please keep Michael and his loved ones in your prayers. | Click Here for Memorial Page