Employment Opportunity: Math Teacher (2023-24)
ABOUT THE POSITION: We are seeking a highly qualified candidate for a tenure track Math teaching position for the 2023-24 school year. The position's responsibilities include teaching courses in Algebra I, Geometry, and/or Algebra II. Candidates with experience teaching higher level courses such as Pre-Calculus, Calculus and AP level courses are strongly encouraged to apply. The ideal candidate will have an earned Master's Degree in Mathematics or Secondary Education, the ability and willingness to teach across the Mathematics curriculum, a valid NYS Teaching Certificate in Math 7-12, and high school teaching experience.


Jim Kinnier Stanner Golf Classic – THANK YOU!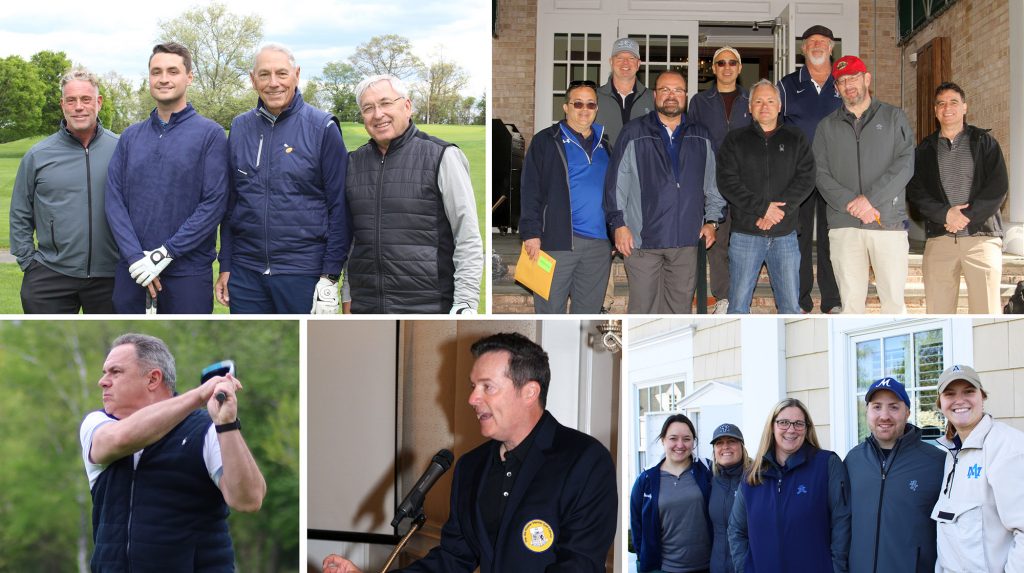 On behalf of all of us at Molloy, thank you to everyone who supported this year's Jim Kinnier Stanner Golf Classic. The skies cleared after a very rainy weekend, and our over 300 golfers had the opportunity to play a full round and have a great day on Monday, May 1st. The day also included a tennis tournament, delicious meals, outstanding prizes, and much more.
Thank you to this year's chairperson, Mr. Ken Meier, for his support and all his efforts to make this year's outing a success. Thank you to everyone who supported the outing, whether by participating as a golfer or sponsor, purchasing a raffle ticket, placing a bid, or making a donation. Thank you to our volunteers, who filled a variety of important roles throughout the day. Thank you to the Gibbons family, and thank you to the Kinnier family, who joined us throughout the day as we remembered our friend and the event co-founder, Mr. Jim Kinnier, who passed away in June 2022. Molloy is proud to carry on Jim's legacy through this golf outing, raising money for our scholarship program and helping outstanding students in need. You can watch a video tribute that was played at our evening reception using the player below.
We will have more coverage of the Jim Kinnier Stanner Golf Classic in an upcoming Beehive, including photo galleries and total money raised. Once again, thank you for your support!
*NOTE: Raffle winners have already been notified.
---
Summer Enrichment Camps – Now Enrolling!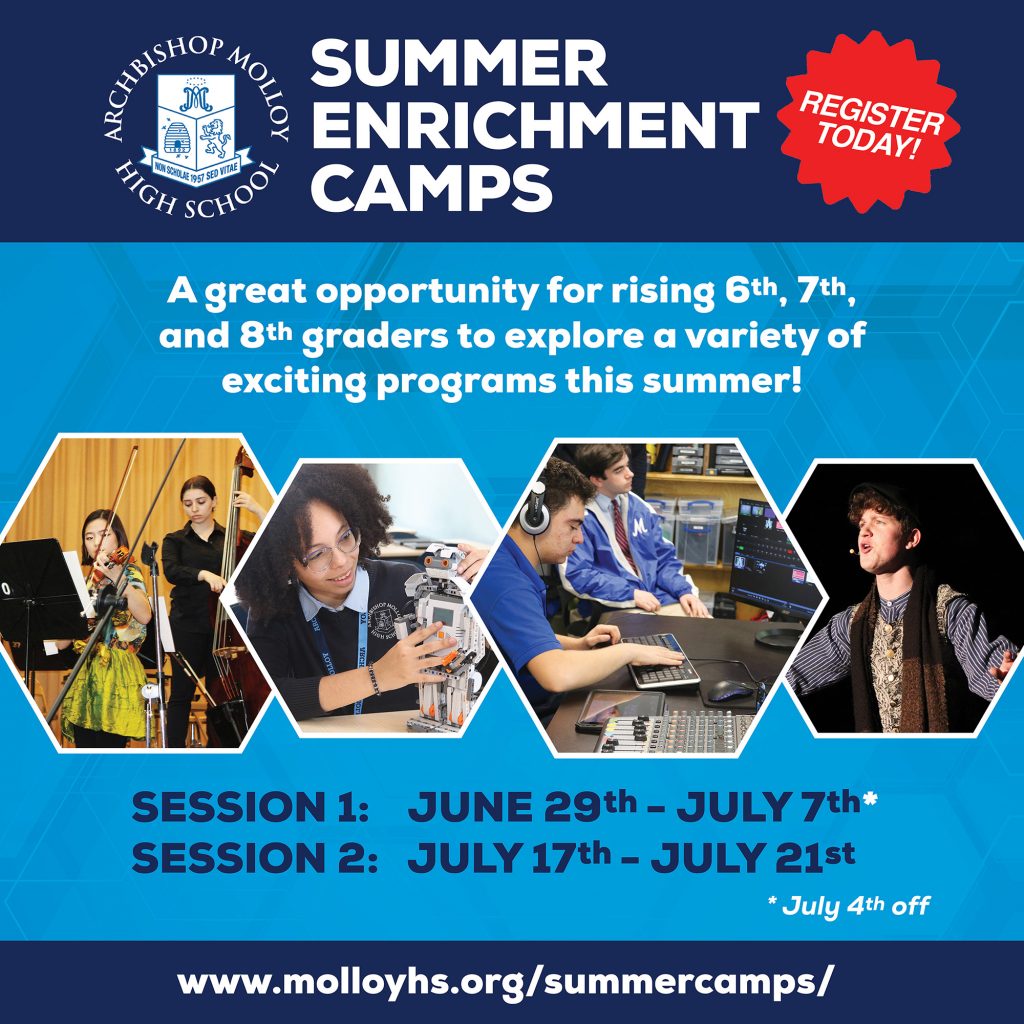 Register Your Child by June 2nd!
Molloy is now enrolling for our Summer Enrichment Camps, held during two week-long sessions this summer! The camps will provide an exciting opportunity for rising 6th, 7th, and 8th graders to enjoy fun summer activities while learning about topics and areas in which they are interested. Students can choose from a variety of Majors and Minors in which they will learn about dynamic concepts and engage in interactive and hands-on activities and daily challenges. Each Major and Minor will be taught by a member of Molloy's outstanding faculty. Campers will enjoy group and individualized instruction.
---
Senior Wins Scholarship & Internship from Amazon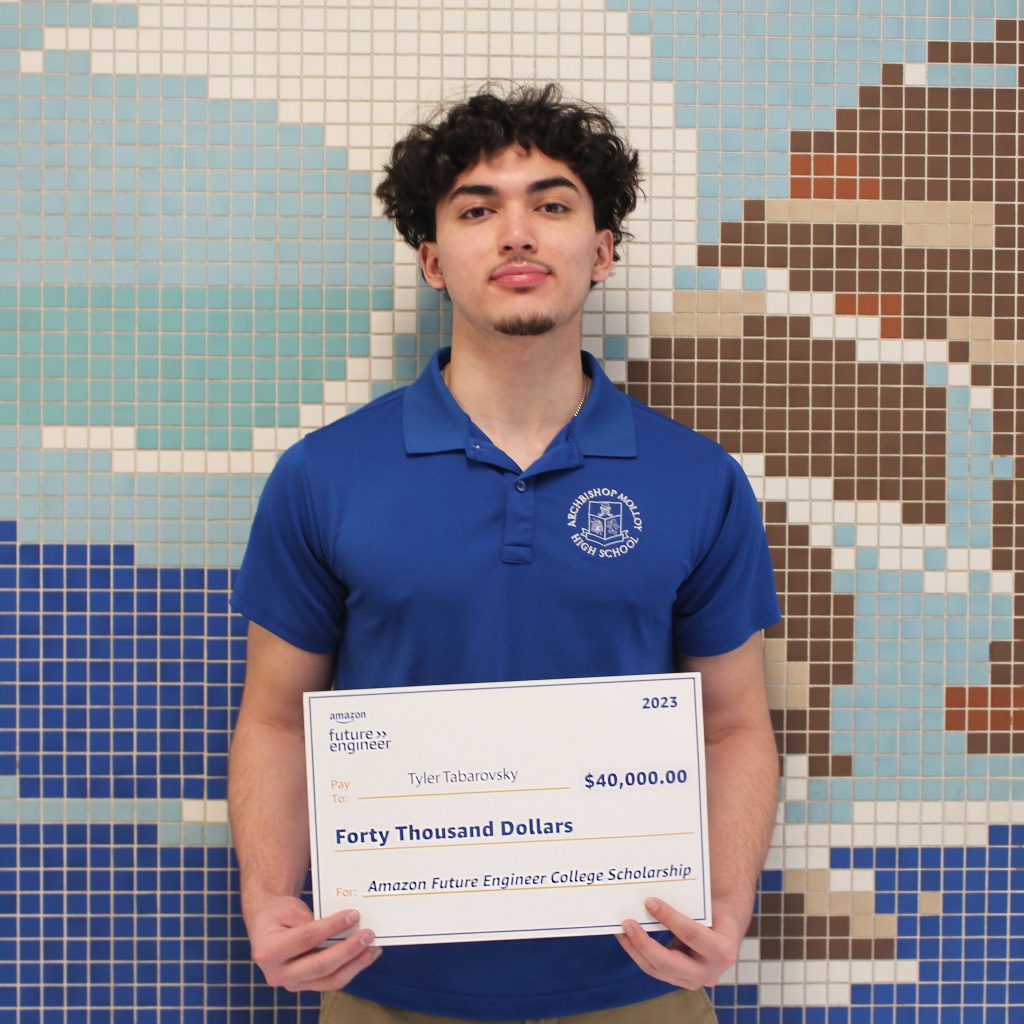 Molloy congratulates Tyler Tabarovsky '23, an extraordinary Stanner that has won a paid internship position at Amazon, as well as a $40,000 Amazon Future Engineer Scholarship! The scholarship is awarded to a select number of high school seniors across the country, and we are proud of Tyler for his accomplishment.
Tyler's Computer Science journey began in his first year at Molloy. As a freshman, he took Intro to Computer Science, a course that teaches students about the Python programming language. The class piqued his interest, as it "gave him the ability to create." He added, "I've always been interested in technology, and I decided to take CS110 my sophomore year to continue CS at Molloy." That year, Tyler entered a competition hosted by Amazon and GOAT entitled "GOAT: Decoding a Successful App," and he placed in the top 70 winners nationwide.
---
Happy AAPI Heritage Month!
Molloy and our Asian Club wish our community a happy AAPI Heritage Month! The club has been very active lately, including their recent field trip to Witch Topokki in Flushing (pictured). Club members got to make their own hot pot and eat a delicious meal while celebrating their culture together. In addition, the club is preparing for the AAPI Alumni Panel on May 15th. The event will be held at Molloy at 2:30pm and will welcome panelists Edwin Wong '90, Elyssa Noblesala '08, Lauren Kim '09, Valerie Villanueva '09, and Clifford Robbin Temprosa '18. The topic will be "Being AAPI, Careers and Advancement, AAPI Challenges and Advocacy." All are welcome!
---
Kicking Off Their Sunday Shoes – Footloose!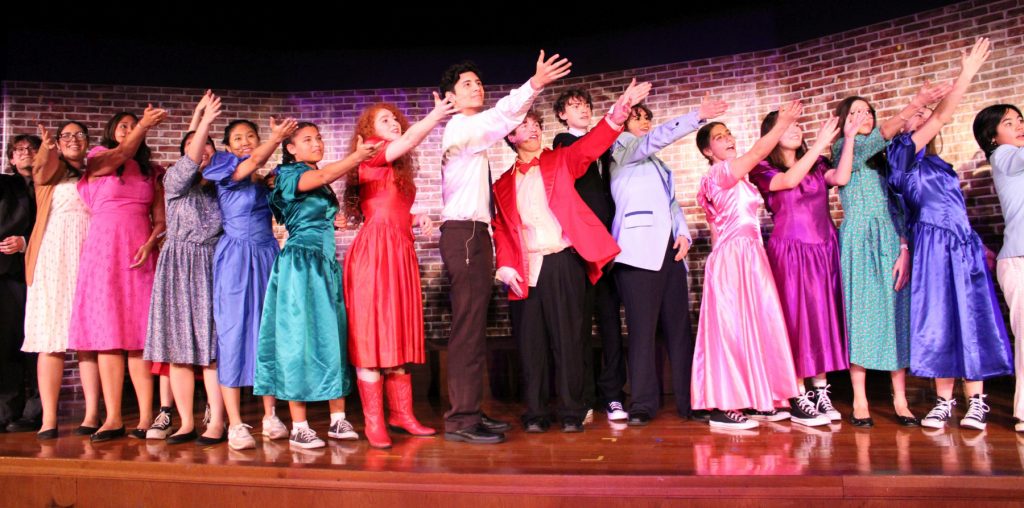 Congratulations to the Stanner Players cast and crew, who recently wrapped up their spring musical! This year, the Players presented the popular Footloose, adapted for stage by Dean Pitchford and Walter Bobbie. Ms. Winters, Director of the Stanner Players, describes Footloose as "a show that celebrates the joy of expressing oneself through dance." The Players did a wonderful job bringing the show to life, from its colorful cast of characters, to the retro costumes, to the elaborate song and dance numbers, to all the behind the scenes magic. You can read additional comments from Ms. Winters and learn more about the show by downloading the program below. You can also scroll down to The Beehive's Alumni Updates to read about the Stanner Players Alumni Reception held on April 29th!
Photos by Krystal Valentin '25 and Camila Cabrales '25.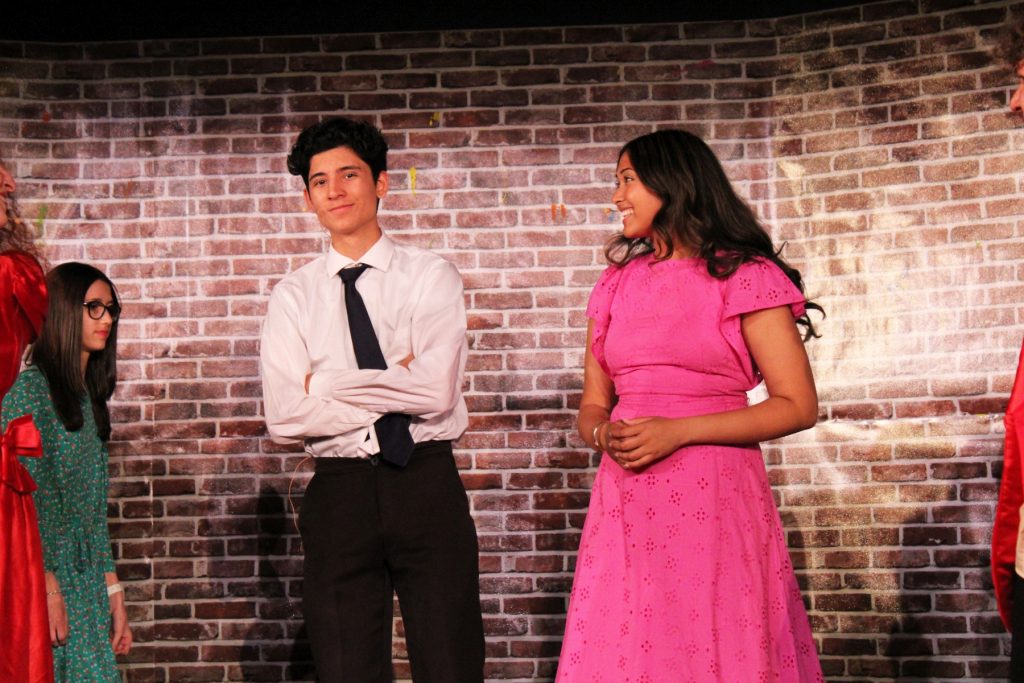 ---
Junior Performs in All Eastern Symphony Orchestra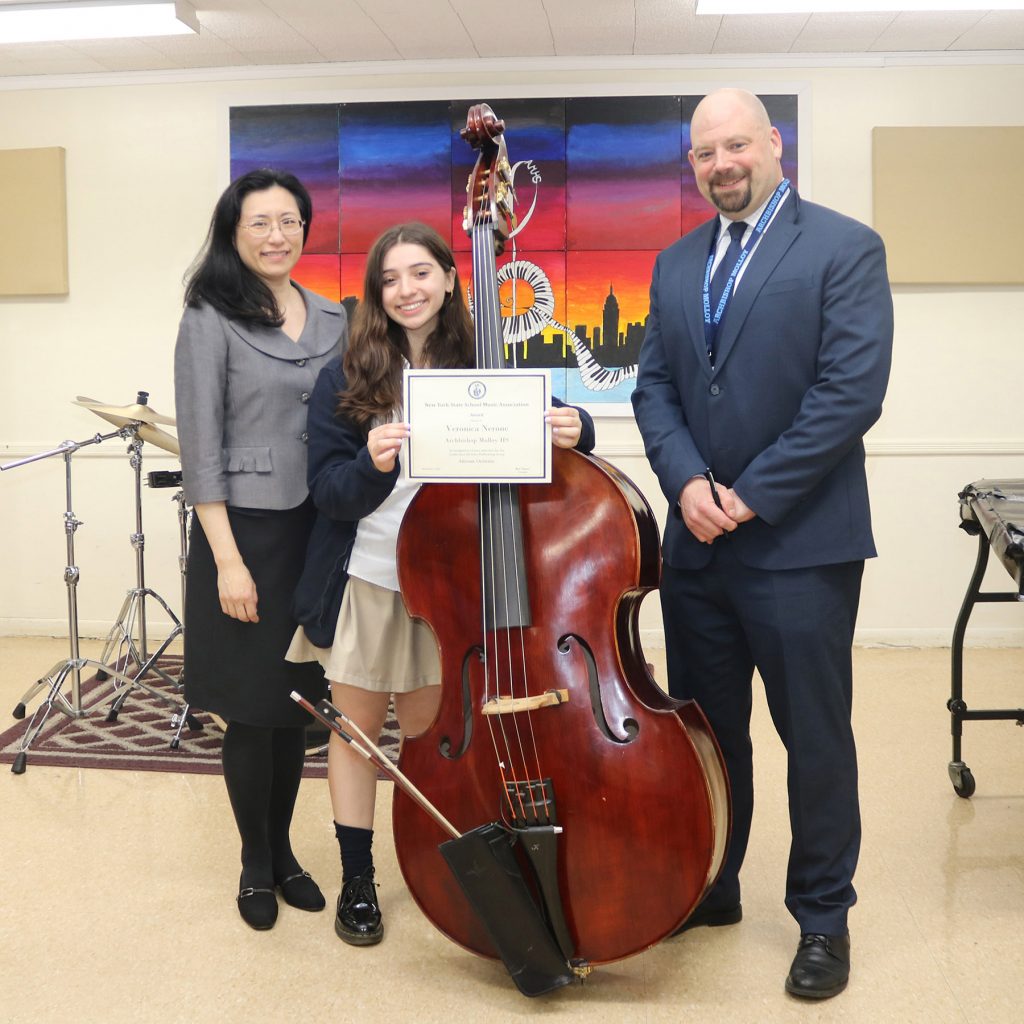 On Sunday, April 16th, Veronica Nerone '24 performed in the highly prestigious All Eastern Symphony Orchestra at Kodak Hall-Eastman Theater hosted by the New York State School Music Association (NYSSMA). NYSSMA is the New York branch of the National Association for Music Education, evaluating student musicians in NY and awarding them based on a score out of 100. This year, Veronica scored a 99 and was invited to perform at the All Eastern Symphony!
Veronica has been a NYSSMA participant since the third grade, playing the bass, jazz bass, piano, and vocals. "I've actually been playing instruments since I was four," shared Veronica, "and I've been playing for NYSSMA for a long time, too." For years she has scored high enough to participate in the All County performances, but junior year of high school is the first year students are eligible to audition for All State, the statewide performance. "It was so fun, and I saw some of my music classmates from Juilliard there," said Veronica. She continued, "Before the show, we practiced seven hours a day for four days straight." Her hard work and dedication paid off, because the performance was fantastic! Congratulations on your amazing accomplishment, Veronica!
Pictured left to right: Music teacher Ms. Ya-Ting Yang, Veronica, and Principal Dr. Darius Penikas.
---
Marists Embrace Caring for our Planet
On May 2nd, Campus Ministry held an Earth Day Prayer Service in the Ralph DeChiaro Theater. Several students presented during the service, encouraging their classmates and faculty to care for our common home, Mother Earth. We were reminded that our planet is sacred, and that we are stewards of the Earth!
In addition, over a recent weekend, students and faculty chaperones participated in a Marist ecology conference at Esopus. The group celebrated Earth Day by learning about the state of the planet and what can be done to help the environment. Stanners also assisted in planting new trees on the property.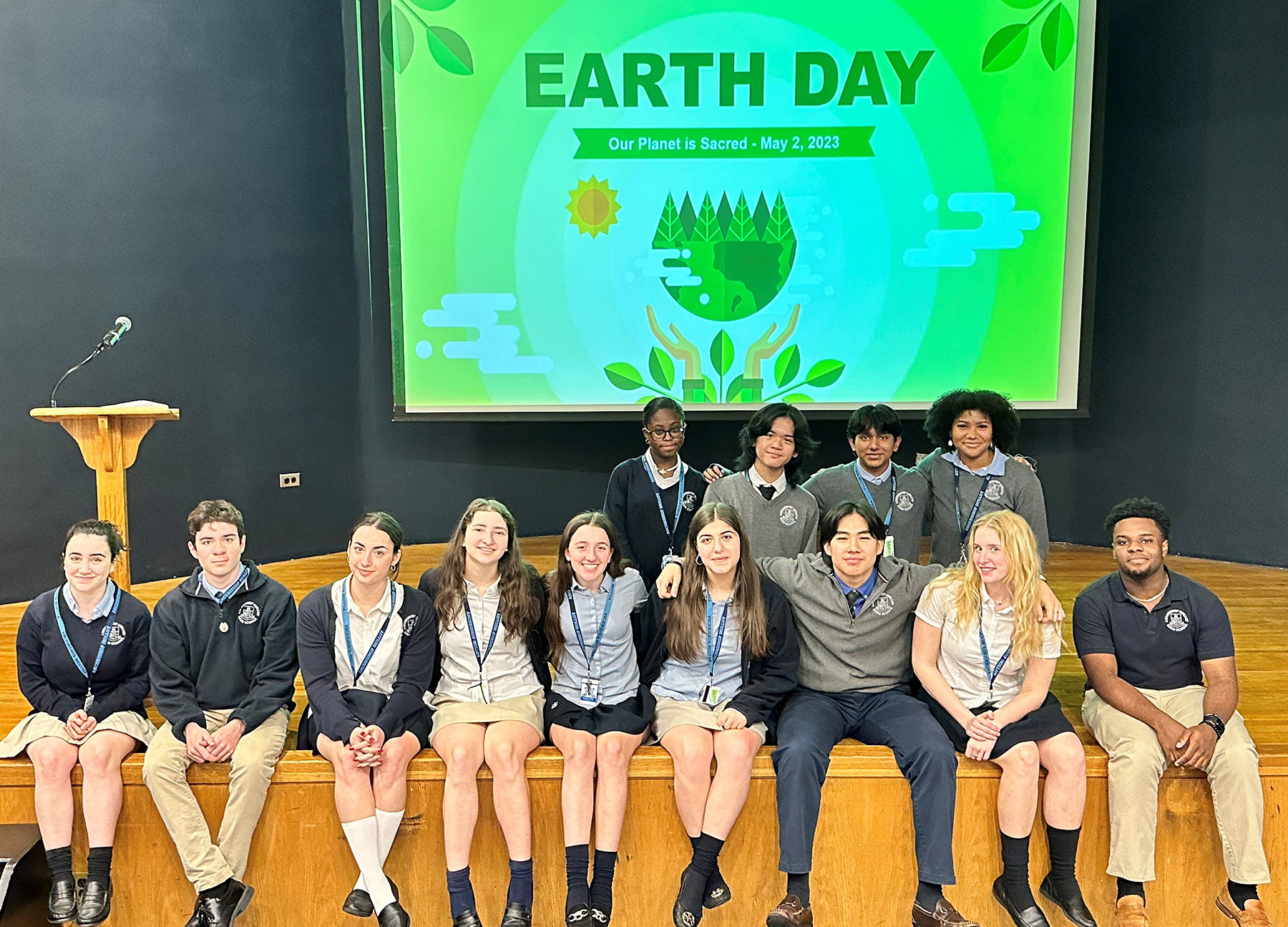 ---
Molloy's Annual Spring Concert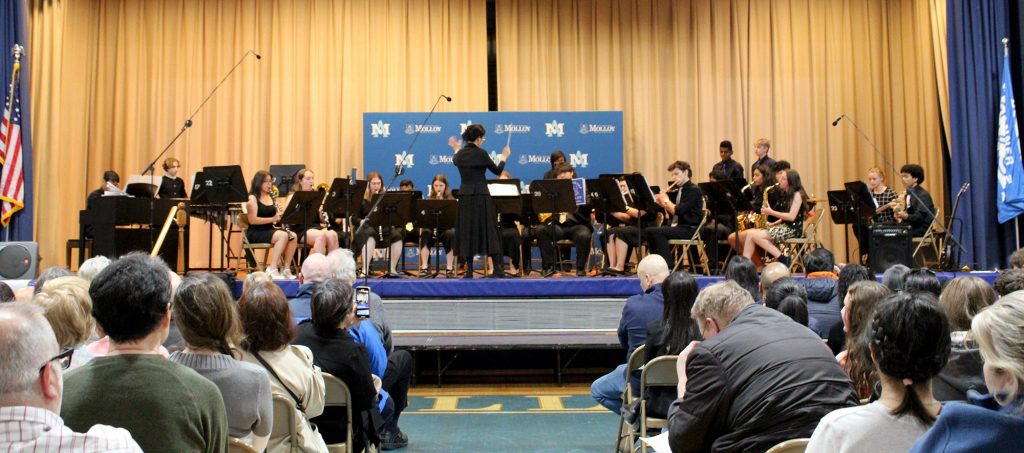 Congratulations to our Freshman Chorus, Concert Band, and String Ensemble, who delighted an audience of students, families, and friends on April 20th. The theme of Molloy's 2023 spring concert was Brand New Day, which served as a celebration of new beginnings through a variety of classic and contemporary pieces. Performances ranged from Bach and Gershwin, to the popular anime Howl's Moving Castle (J. Hisaishi). The evening was a wonderful showcase of many talented students! Special thanks to Music Director Ms. Ya-Ting Yang and Piano Accompanist Mr. Kenneth Farnum. Photos by Antonia Dey '24 and Camila Cabrales '25.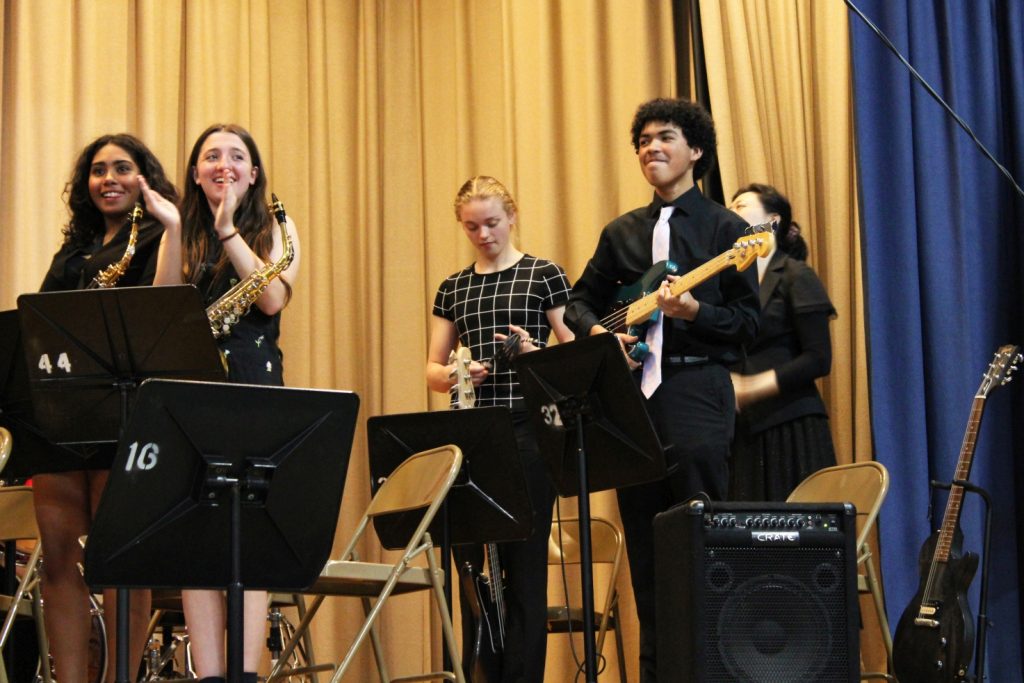 ---
Model UN Club Visits United Nations
Earlier this spring, thirteen members of Molloy's Model UN Club had the opportunity to visit the United Nations Headquarters in Manhattan. Along with moderator Ms. Hipkin, the group took a tour of the facility, viewing a variety of art and exhibits. Stanners even toured several council chambers!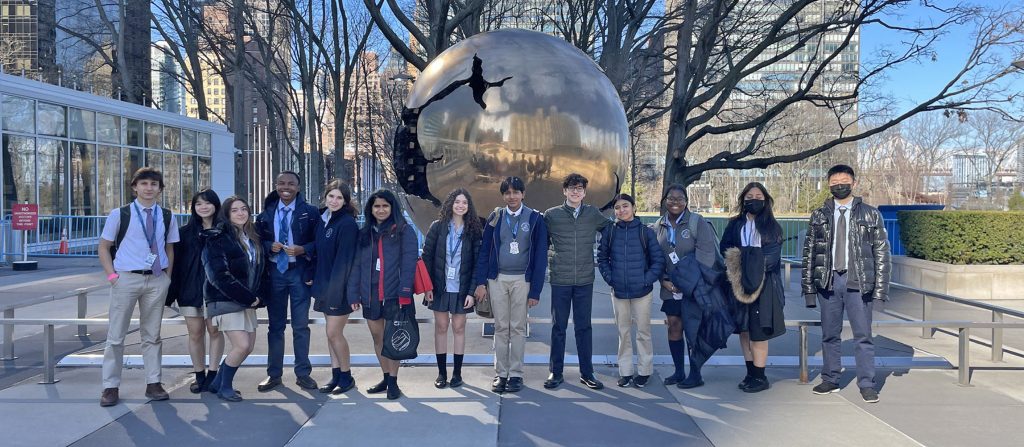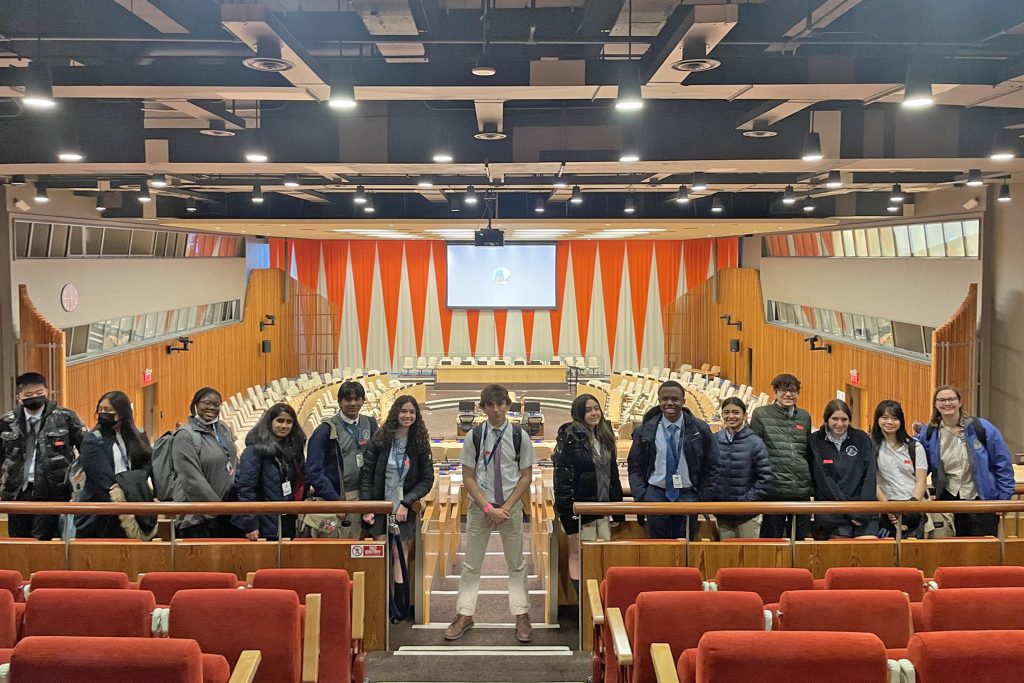 ---
Introducing the Pre-Med Careers Club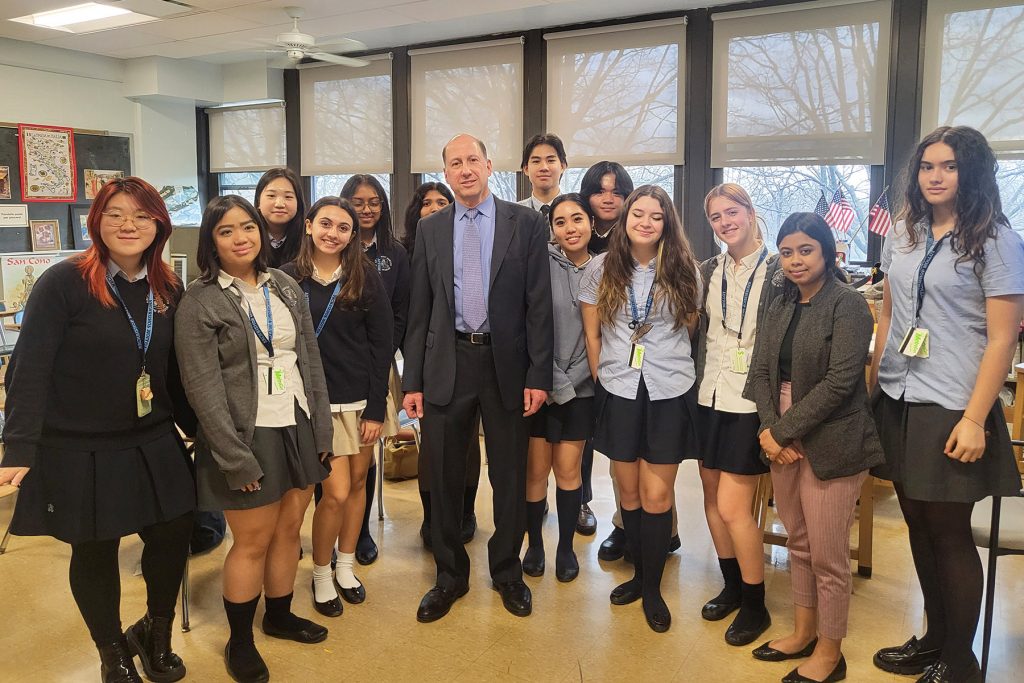 This school year, Molloy introduced its new Pre-Med Careers Club! Moderated by Mrs. Tamanna Akter, the club was created by Carly Meier '24 to introduce students to the idea of following a pre-med track in college. Ms. Akter shares, "My biggest goal is to provide students with the resources they need to learn about being pre-med, and the understanding of the different areas they could pursue. The club is not to exactly encourage students to follow a pre-med track, but rather see if it's something they would want to do in the first place."
According to Mrs. Akter, the Pre-Med Career Club teaches Stanners networking skills. Inviting professionals to come present to the club allows students to make connections, gain insight into the day-to-day life of someone in the medical field, and establish contacts that can offer guidance and advice. The first professionals who visited the club were Ms. Maria Gallagher, Molloy's School Nurse, and Dr. Fidel Valea '77, an Obstetrician and Gynecologist at Northwell Health.
More recently, the Pre-Med Career Club welcomed two guests on separate occasions: Dr. Paul Gerardi '77, a Cardiologist at Montefiore and professor at Albert Einstein College of Medicine, and Dr. Kathleen Karsten, Director of Nursing at LaGuardia Community College and a Registered Nurse with a PhD! Dr. Gerardi, who specializes in general and nuclear cardiology, talked about his experience treating and caring for patients, and working hard to help people with all types of conditions. Dr. Gerardi shared that part of being a doctor is to help each other, so that even when things seem uncertain, we can work together to find solutions. Dr. Karsten informed Stanners about the different paths to becoming a nurse, as well as all of the other job opportunities available to those with nursing degrees.
---
Linguistics Class Welcomes Guest Speaker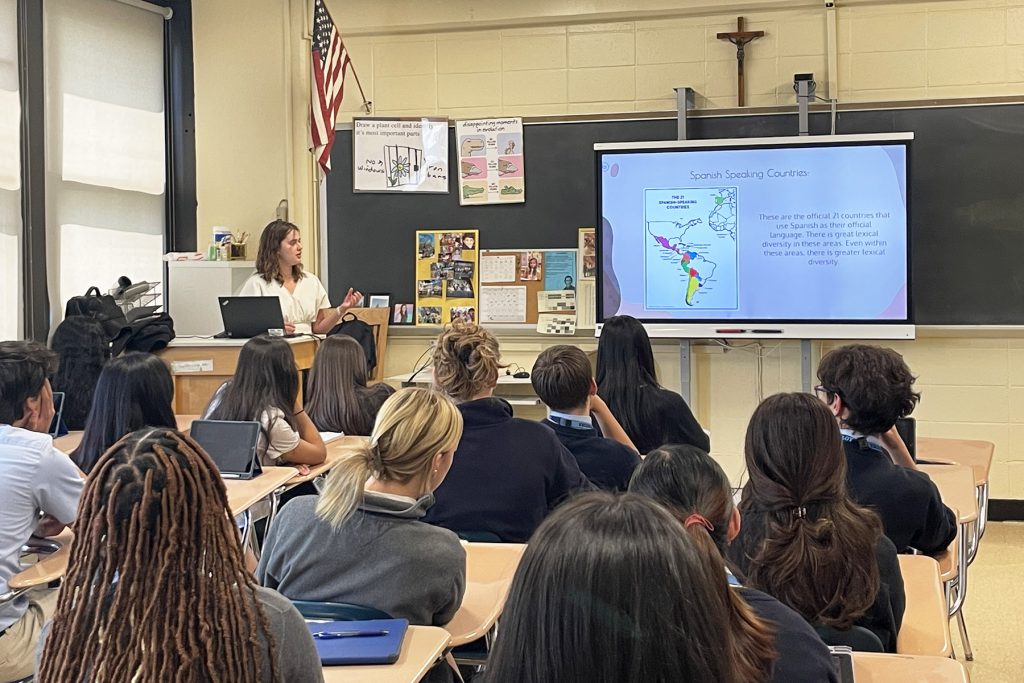 On April 24th, Dr. Mangar's Spanish 3H classes welcomed Ms. Aspen Abner, who gave the class a lesson on dialectology! Aspen is a student at Harvard that studies Linguistics and Comparative Literature with a minor in Education, cross-learning at MIT.
Aspen spoke about dialects and how they form and change. She explained how different regions and social groups use multiple words to mean the same thing, and then shared examples in Spanish. She utilized group work and class discussion, encouraging students to research the history of certain words. Thank you, Aspen, for visiting our students!
---
Stanners Win 3rd Place at SJU Hackathon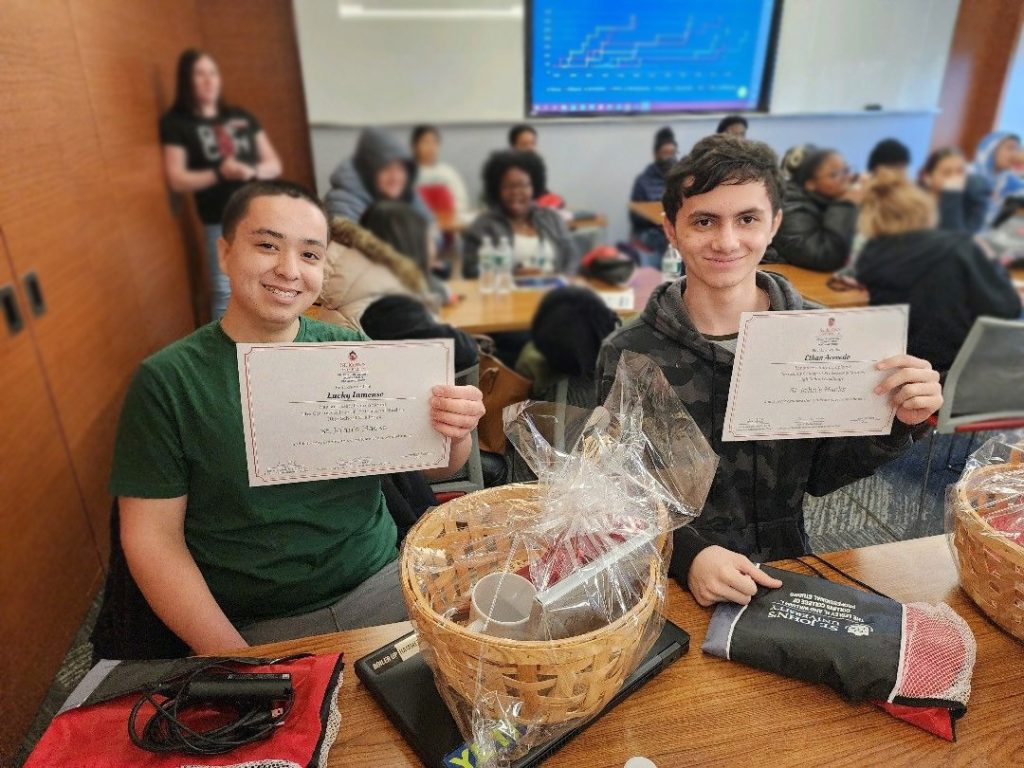 On April 28th, Lucky Inmenso '23, and Ethan Acevedo '25 placed 3rd in St. John's University's Capture the Flag Hackathon for high school students! At the event, Lucky and Ethan worked with a team of coaches that included students from SJU. They learned new skills and had fun while competing for prizes and expanding their knowledge in the tech world. Ethan shared, "I enjoyed the hackathon a lot, and learned so much about cybersecurity."
Mr. Alex Van Winkel, member of Molloy's Computer Science & Engineering Department, shared, "I was proud to witness two of our Stanners grabbing 3rd place in the Annual St. John's Hackathon. A phenomenal result, considering it was their first hackathon, and many other contestants were St. John's students playing a home match!" Mr. Van Winkel created a short, fun video of the event, that you can watch here: Click Here for Video
---
New Outdoor Relay School Record!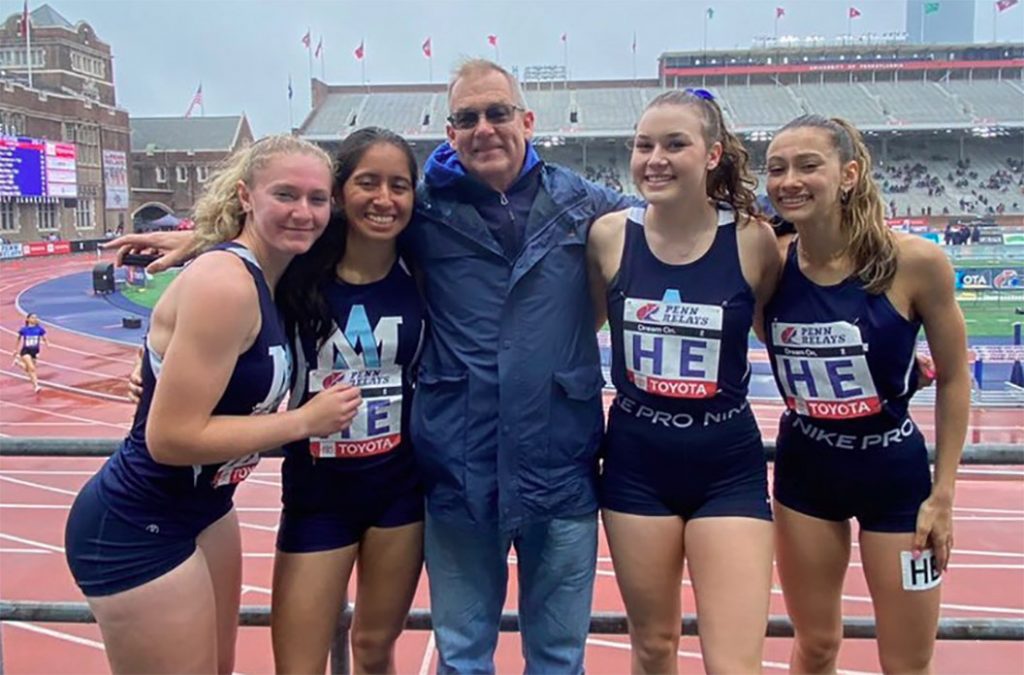 Congratulations to Molloy's Penn Relays team of Eva Gonzalez '24, Grace Murphy '23, Erica Strumpf '23, and Camille Munoz '25, who broke Molloy's school record of 4:10.53 for the 1600 Meter Relay with a time of 4:09.93!


*Baseball Reunion: No registration online. No RSVP. All welcome!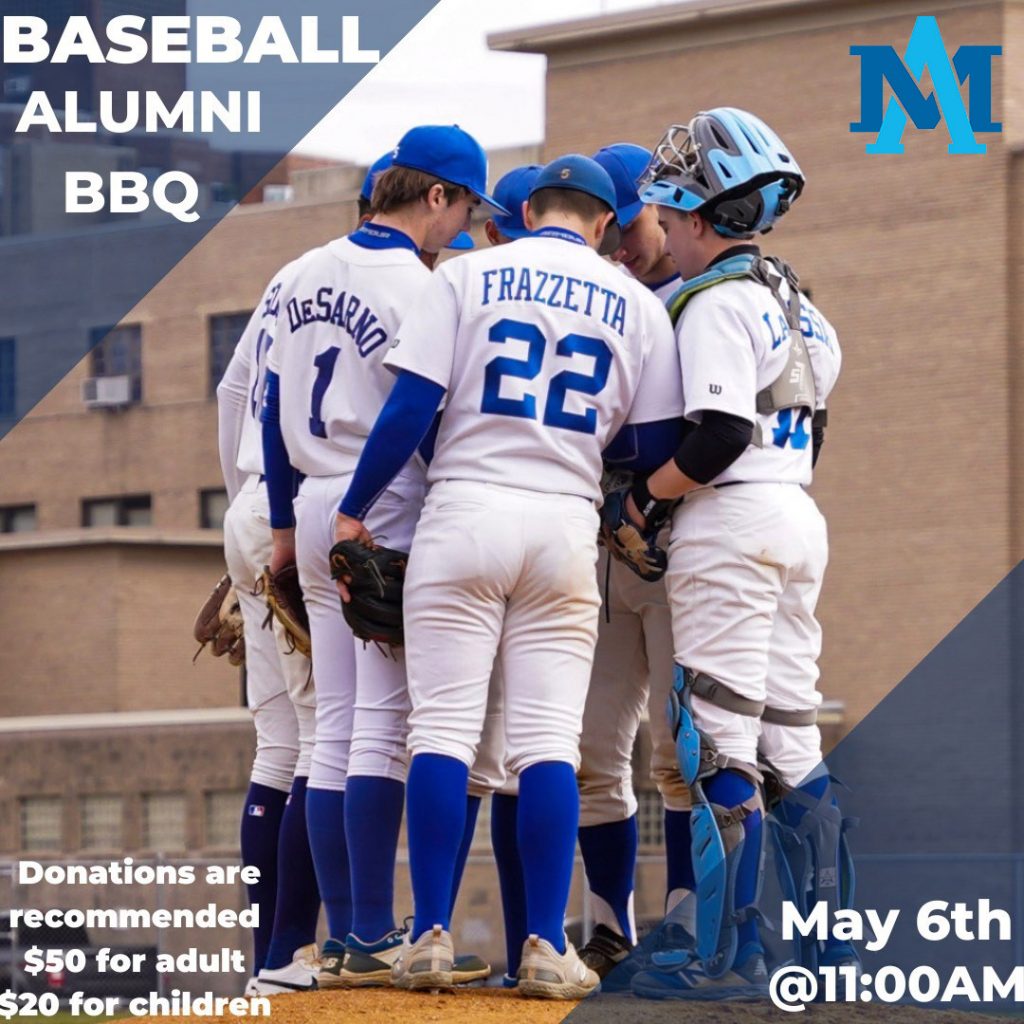 ---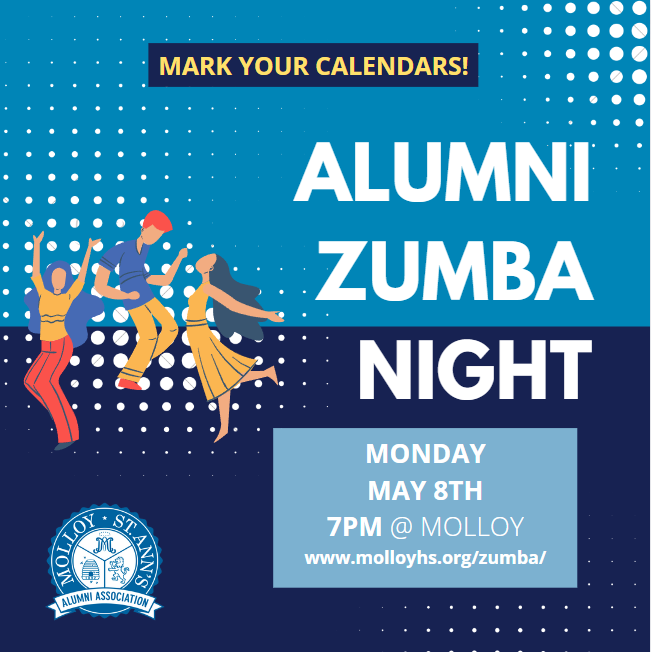 ---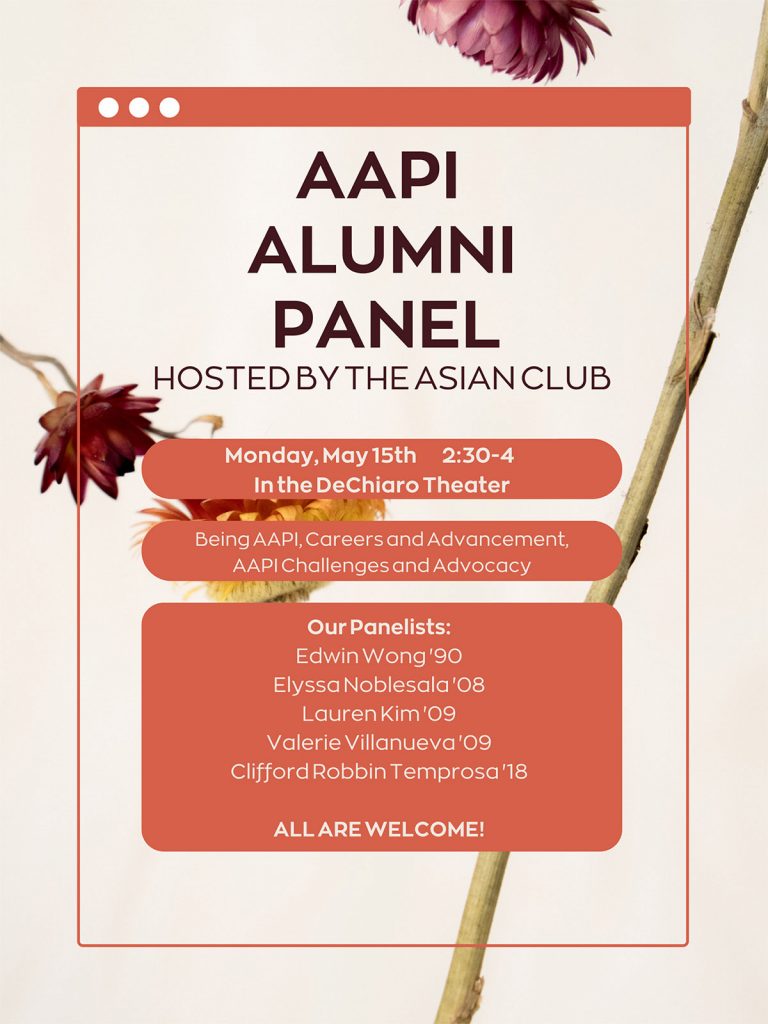 Stanners Gather for Professional Networking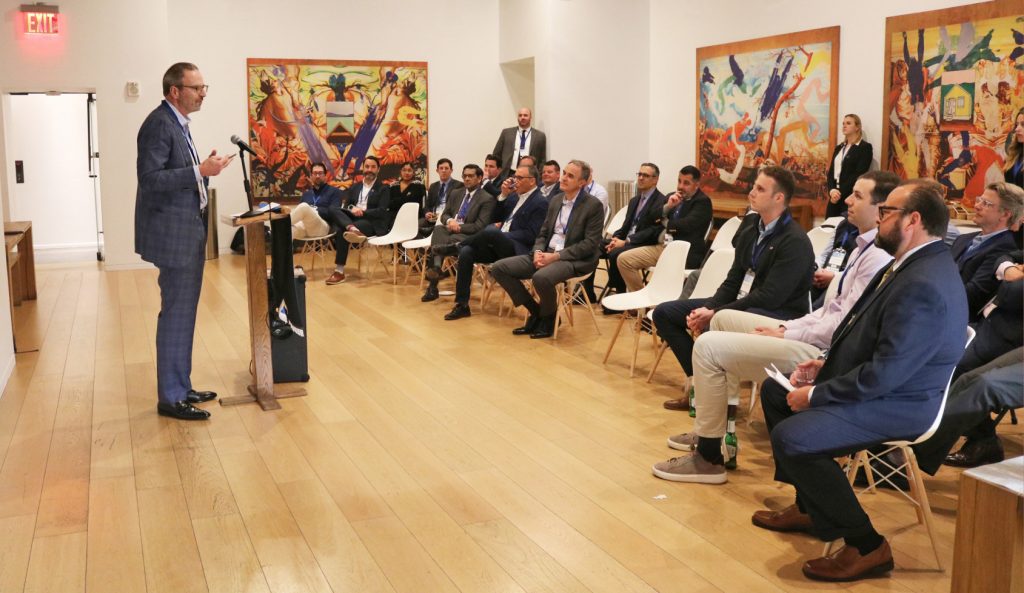 On Thursday, April 20th, over 50 Stanners gathered at RFR Realty LLC in Manhattan for Molloy's first Alumni Professional Networking Event in nearly four years. The evening served as a reminder of the strong bond Molloy alumni share across generations and a spectrum of professional fields, and how important our bonds can be in the workforce. President Richard Karsten '81 opened the program by reflecting on these bonds, referring to them as "Molloyalty." He expressed his gratitude to all in attendance, noting that we reunite as alumni because of our lifelong connections and loyalty to our school and one another. President Karsten challenged everyone, and challenges our Beehive readers, to consider what "Molloyalty" means to them.
Our keynote speaker was Mr. James Shannon '83. Mr. Shannon, who previously served on Molloy's School Board, is Founding Senior Partner and Chief Executive Officer of Indus Capital Partners. His presentation focused on Interest Rate Cycles and Global Markets and concluded with a brief Q&A. Afterward, those in attendance had the opportunity to network with one another over delicious food and beverages. Special thanks to RFR Realty LLC for donating use of their space for this event, and thank you to our young alumni volunteers!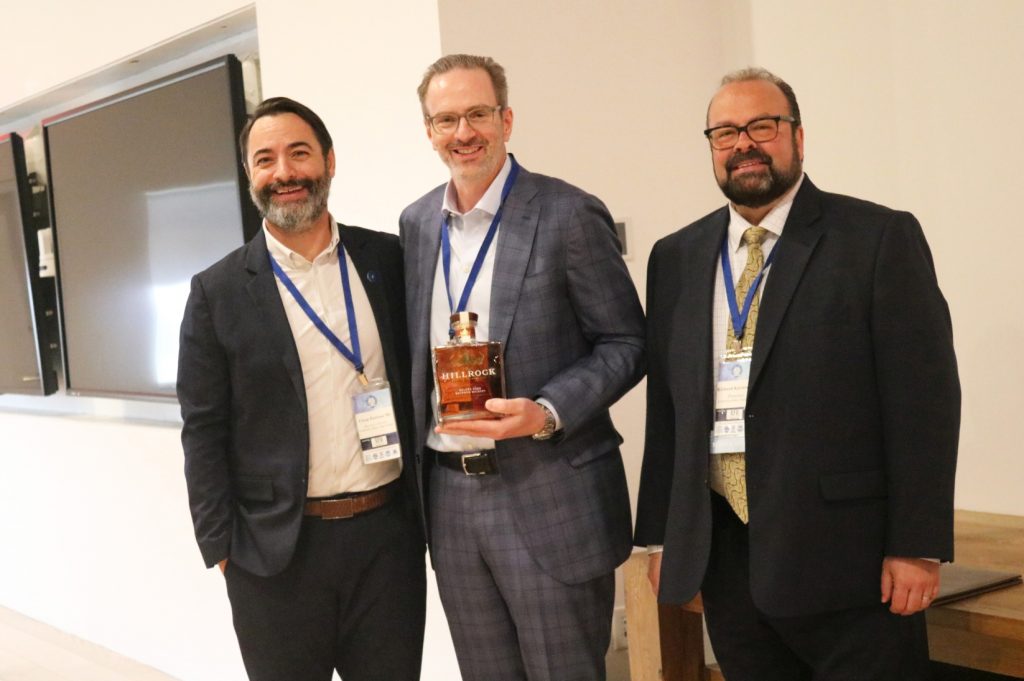 ---
2nd Annual Stanner Players Alumni Reception
Story & Photos by Rebecca Wagner '14
On Saturday, April 29th, theater alumni gathered for the 2nd Annual Stanner Players Alumni Reception! Those in attendance enjoyed an evening of food, drinks, and time spent catching up with friends and former castmates. The musical this year: Footloose! Over 25 alumni filled in the front rows of the Ralph DeChiaro Theater in VIP seating to watch the show and cheer on the current Players. Shannon Winters '06, the director of the Stanner Players, was delighted to see so many alumni come back to show their support. Don't worry if you couldn't make it, the Stanner Players Alumni Reception will be back next year for the spring musical!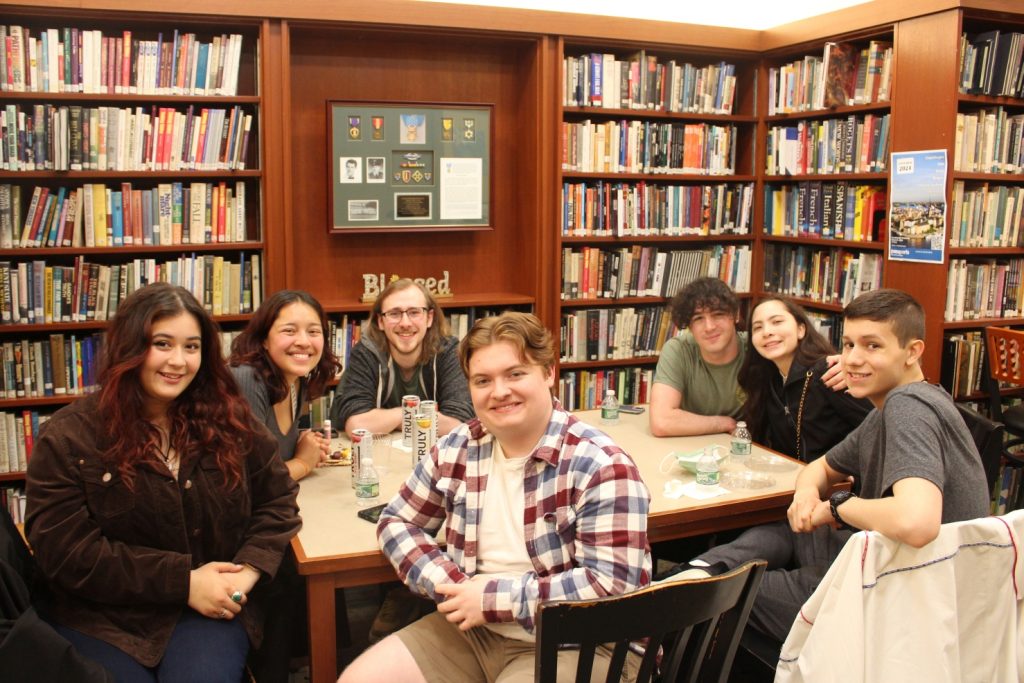 ---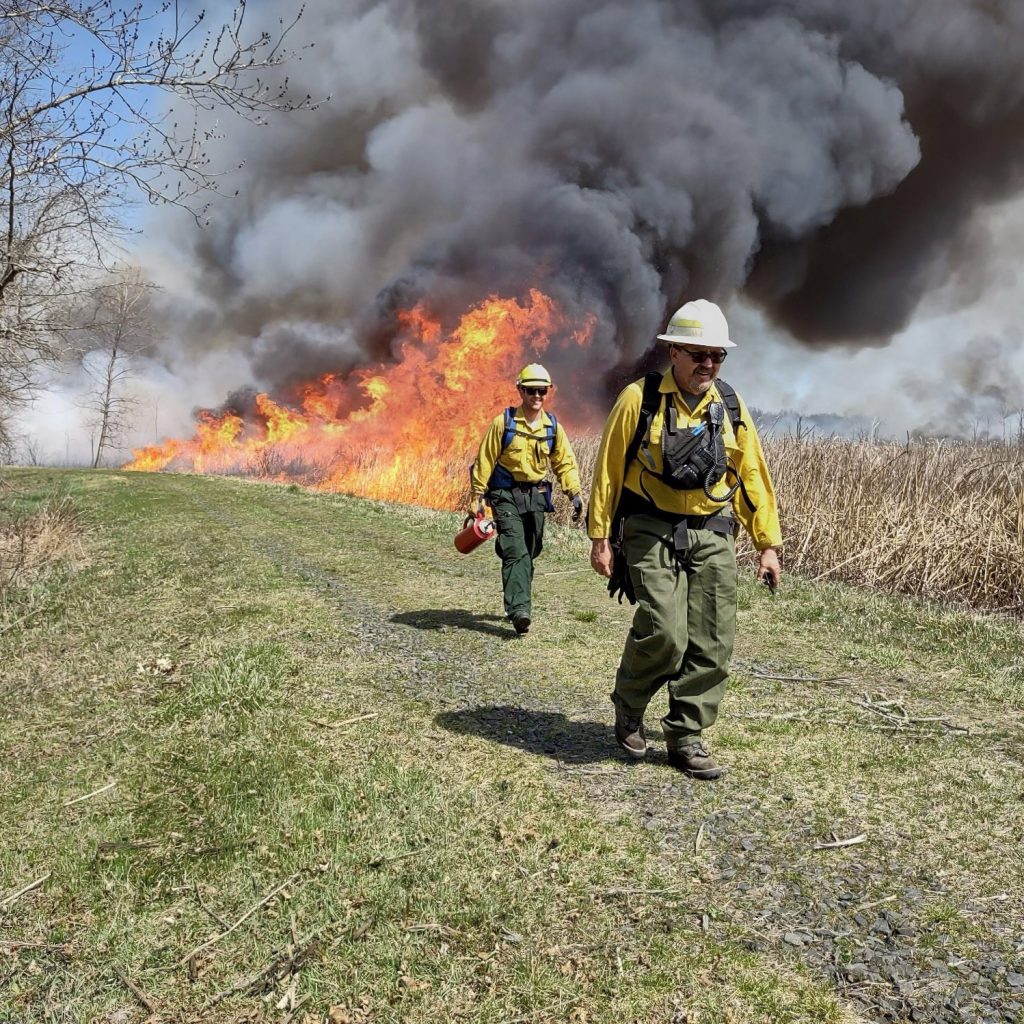 After nearly 20 years with the National Park Service, at the end of 2020, Tomas Liogys '91 transferred to the U.S. Fish & Wildlife Service, but still continues working in wildland fire management now based out of the Great Swamp National Wildlife Refuge in Basking Ridge, NJ. "I never in my wildest imagination pictured myself in this career, one that has taken me all over the country, from Florida to Alaska, and even to Australia on fire assignments, for almost 30 years," said Tomas. Pictured right: Tomas working on a prescribed fire, which is a controlled fire meant for hazard reduction and forest management.
---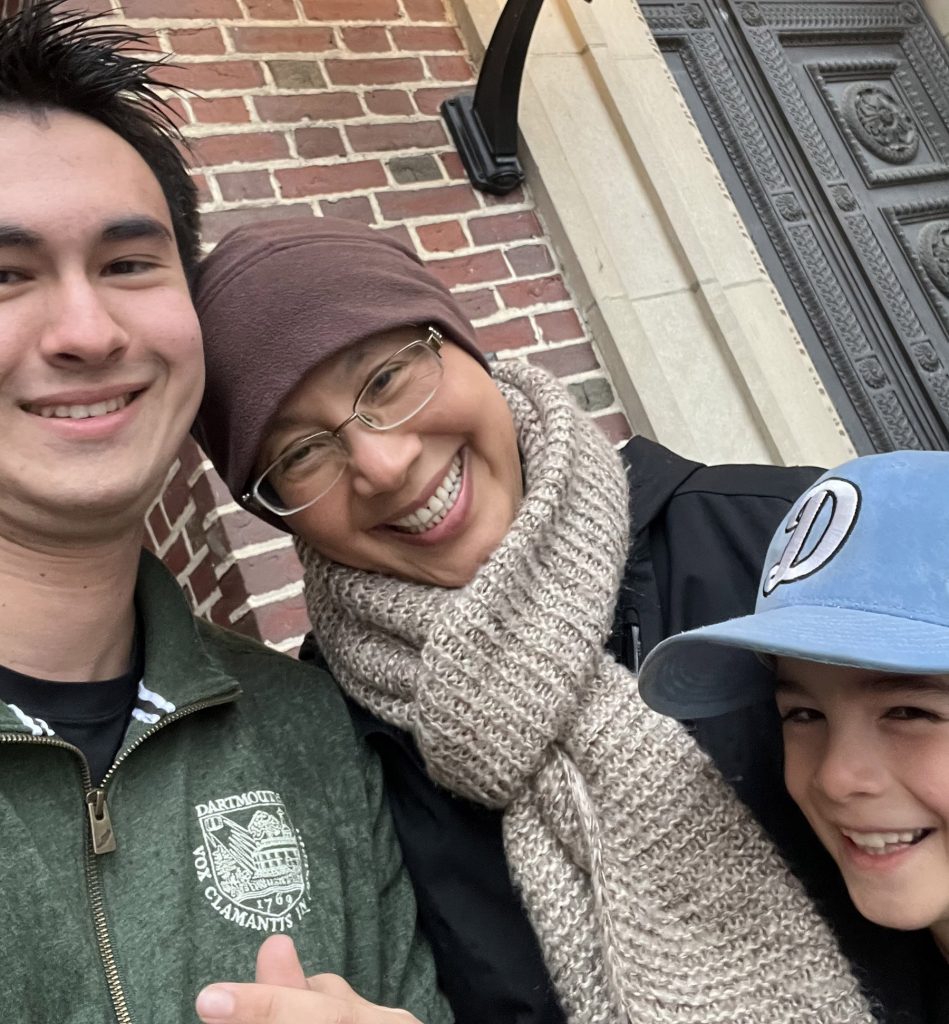 Gerard Casey '21, a student at Dartmouth, recently met with Plum Village monks and nuns who were visiting his campus. They led Gerard and other students through guided breathing, singing meditation, and a four hour retreat in his Mindful Physiology class. The experience reminded him of the Ms. Madelyn Dupre's Mindfulness and Meditation class, which Gerard took during his senior year at Molloy. "It was a great opportunity to slow down, act with intention, and develop more compassion for myself," Gerard shared. Pictured: Gerard Casey with Sister Dang Nghiem.
---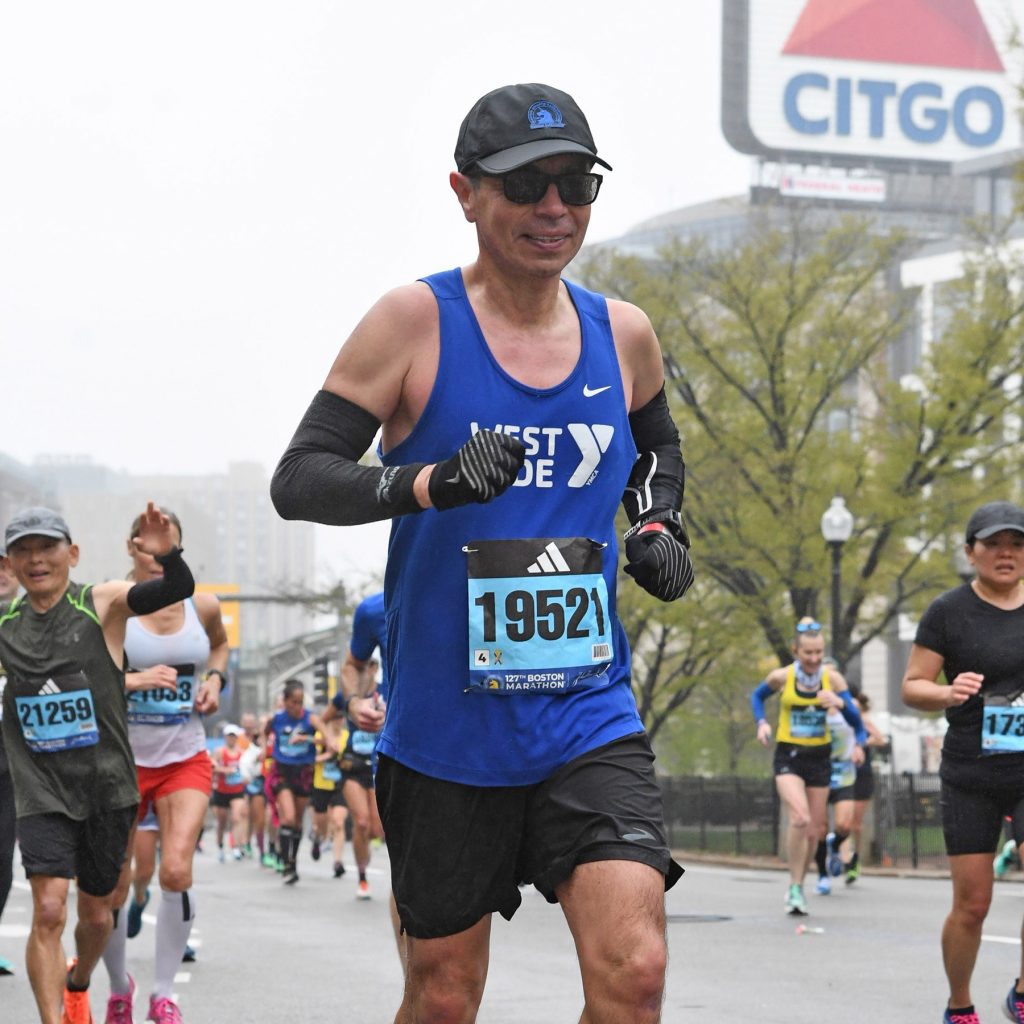 Congratulations to Rob Ledesma '83, who completed the Boston Marathon on April 17th with a time of 3:39:24!


Please pray for the repose of the soul of David M. Aylmer '72, who passed away on September 23, 2022.