Introducing Molloy's New Giving Day: October 28th
Archbishop Molloy High School is excited to announce its new Giving Day on October 28th, known in the Marist community as Montagne Day. The significance of this date and the importance of our new Giving Day is revealed by President Richard Karsten '81 and Br. Luis Ramos in the video above. We encourage you to watch this informational video and mark your calendars for October 28th! Your support on our new Giving Day will help Molloy continue to stay accessible and affordable for amazing students and families across New York City and Long Island.
Please contact alumni@molloyhs.org or 718-441-9210 for more information.
---
Join Us! Molloy's Open House on October 15th
All are welcome to join Archbishop Molloy High School for our annual Open House on October 15, 2023! Come meet our esteemed faculty, staff, and students, learn about our programs, and witness first-hand the family spirit that flows through our campus.
Attention Alumni: If you plan to attend our Open House, be sure to say hello to our team in the Stanner Alumni Center! Contact alumni@molloyhs.org in advance to let us know you'll be attending.
Click the flyer above or the button below to register now and reserve your timeslot!
---
Molloy Earns Gold Recognition on the 2023 AP School Honor Roll
Molloy is excited to announce that we have earned Gold recognition on the 2023 AP School Honor Roll! According to the College Board, "The AP School Honor Roll recognizes schools that have done outstanding work to welcome more students into AP courses and support them on the path to college success." Additionally, Molloy received Platinum recognition for College Credit, meaning over half our graduating class received college credits through AP courses!
The AP Scholar award is a certificate given to students who score 3 or higher on three or more AP exams. In 2019, Molloy offered 14 AP courses and proudly recognized 81 AP Scholars. Now, in 2023, Molloy offers 20 AP courses and is excited to announce that we have 105 AP scholars! With a 29.6% increase in the number of scholars in just a few years, we cannot wait to see what can be accomplished in the future.
In addition to our AP courses, Molloy boasts an award-winning Virtual Enterprise business course, and a leading Computer Science & Engineering program, which affords students the opportunity to learn about Artificial Intelligence and Quantum Computing on the collegiate level. This serves as another avenue for Stanners to receive college credit before ever stepping foot on a campus.
We are incredibly proud of all our Stanners' dedication to academic excellence. Congratulations!
---
The 24 Hour Run for 2 Causes Raises Over $17,500!
by Bianca Basone '15
After an exciting, rewarding, rain soaked day, social studies teacher Mr. Joe Beaudet completed his 24 hour Run for 2 Causes! From 3pm on Friday, September 22nd to 3pm on Saturday, September 23rd, Mr. Beaudet ran the track around Stanner Field, raising awareness for runner safety in memory of Karina Vetrano '04, as well as increasing knowledge of pediatric cancer in memory of Kaitlyn Mendoza '22. Throughout the 24 hours, members of the Molloy community walked or ran alongside Mr. Beaudet, or cheered him on from the sidelines, as he maintained constant, perpetual forward motion!
At the start of the event, over one hundred students, faculty, family, and friends lined the track to watch as Mr. Beaudet ran the first lap with Karina's parents. Phil Vetrano '74 held Karina's running shoes in his hand, bringing her with him on his run. After the first lap, students rushed the track to run alongside Mr. Beaudet, showing a massive wave of support.
For the first few hours, members of both Kaitlyn's and Karina's families walked the track while talking to students and faculty. Katlyn's mother, Liz Hunter, spoke to Alumni Development Officer Rebecca Wagner '14, saying that although it was hard to be back at Molloy without her daughter, seeing the community come out to support her scholarship and honor her memory meant the world. "Kaitlyn was a fighter who through it all always had a smile on her face," Liz commented. In memory of Kaitlyn being a star athlete, Molloy's tennis team accompanied the Mendoza family for a portion of the run, walking in solidarity to show their support. Liz was beyond grateful to Mr. Beaudet for doing the run, fondly reminiscing about not only the impact Kaitlyn had on him, but also the impact Mr. Beaudet had on Kaitlyn, especially throughout her treatment. In an effort to raise money for Molloy's Kaitlyn Mendoza Fund, the tennis team also hosted a bake sale while putting 100% of their profits into the scholarship fund. Mr. Beaudet is incredibly grateful to Kaitlyn's family for coming to the event, acknowledging how hard the process of returning to Molloy must have been, but he is glad that he could share these moments with them.
Even though it began to rain around 3am on Saturday, Mr. Beaudet was not deterred. "It was just something I had to deal with, something that became a part of the event. There was not a moment where I considered stopping." The rain did not deter support, either! Many members of Molloy's faculty, as well as family and friends, joined Joe on the track through the rain.
The 24 Hour Run for 2 Causes raised over $17,500 in total for the Karina and Kaitlyn's scholarships! Mr. Beaudet ran a total of 440 laps around Stanner Field, totaling 88 miles. Out of all those miles, Mr. Beaudet never went a moment without someone running at his side. "I anticipated the monotony of running the track would be difficult, but I quickly realized that wouldn't be the case," shared Joe. "I was always supported, always with someone." He said that the fundraiser brought out the best of Molloy and its family spirit, and even though his feet and legs started to feel sore during hour eight, the sense of camaraderie and respect kept him going!
---
Bridget Jiang '24 Invited to Conference in Oxford, England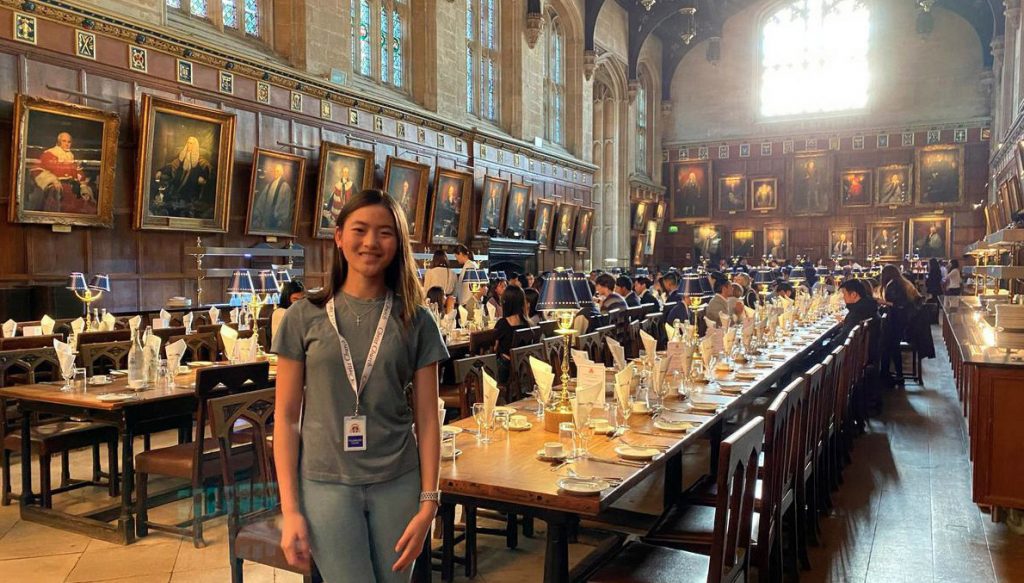 The John Locke Institute holds an annual essay competition that encourages students from all over the globe to write critical, thought-provoking essays. Out of 19,000 candidates, only a small number are shortlisted and asked to visit a conference in Oxford, England. The competition asks students to choose from a wide variety of essay topics, ranging from economics to theology. The essays are judged by a panel of senior academics from Oxford and Princeton, who then choose the shortlisted entrees. This year, Molloy senior Bridget Jiang '24 was one of those students!
Bridget has been writing for years, submitting work to be featured in different publications since her freshman year at Molloy. Her interest in submitting to the John Locke Global Essay Contest piqued when she read prompt number two for the Theology category, If you cannot persuade your intelligent, sympathetic friends to embrace your religious belief system, do you have enough reason to believe what you believe? Feeling inspired, Bridget wrote about "the challenges for the persuader to post an argument and challenges imposed by the audience," and that "persuasion is insufficient in determining the validity of a religion." She concludes, "The validity of one's own religious beliefs rests on internal coherence and personal conviction."
As a writer whose essay was shortlisted, Bridget was invited to attend the award ceremony at the University of Oxford's Sheldonian Theatre, a gala reception at the Ashmolean Museum, and an invite-only academic conference led by academics from Oxford and Cambridge! Because of Bridget's essay topic, she was invited to lectures on the philosopher Hume and his argument for miracles, as well as seminars in theology. She also had the opportunity to debate students from around the world, defending her essay argument and countering the arguments of others. At the ceremony, she was awarded a Commendation.
Bridget said she was grateful for the contest and the opportunities it afforded. "It was a really interesting experience, and I couldn't believe that I was shortlisted for something so prestigious!" She continued, "The contest also really helped strengthen my persuasive writing skills and helped prepare me for the writing I'll be doing in college." Congratulations on your achievements, Bridget!
---
Molloy Celebrates Class Liturgies
During the week of September 25th, Molloy celebrated a Liturgy of the Holy Spirit with each of its freshman, sophomore, and junior classes. The celebration of the Liturgy of the Holy Spirit with each grade is an annual tradition to begin each new school year. It is an opportunity to take a break from the routine school day, to gather as a community, and to be reminded that each student is supported throughout the year as Jesus walks with them.
This year's liturgies featured a live-action interpretation of the Gospel. Students acted out the events of Mark 4:37-39 as they were read aloud by Deacon McCarthy or Deacon Kramer. In the Gospel, Jesus instantly calms a storm that is rocking the boat he and His disciples are riding on. After their initial fear of the storm subsides, Jesus reminds His disciples to have faith even in difficult circumstances. These events serve to remind us all that when things seem difficult, or we lose our confidence, we must have faith and persist. Each celebrant encouraged students to continue to have faith and to not be discouraged when faced with adversity.
During the freshman Liturgy of the Holy Spirit, Br. Luis Ramos, a religion and world language teacher at Molloy, renewed his Marist vows at the altar thereby reaffirming his commitment to the Marist mission. Congratulations to Br. Luis on the renewal of his vows, and thank you for being such a wonderful addition to our faculty!
The Class of 2024 celebrated their Liturgy of the Holy Spirit on September 22nd with the Most Reverend Bishop Robert J. Brennan serving as celebrant. Read more about the Bishop's visit here.
---
New Girls' High Jump Record at Freshman Field Day!
Pictured above: Juliette Locurto '27 jumps 4 feet 9 inches during Freshman Field Day, setting a new girls high jump record for the event! | Mr. Joe Touzin and his Homeroom 1D: Field Day Champions!
Molloy held its annual Freshman Field Day on Friday, September 29th! Each member of the Class of 2027 participated in various events, competing for the title of Homeroom Champion! Events ranged from classics such as the soccer shootout, long jump, and history competition, to the brand new balloon pop. Despite the rain, Stanners had the opportunity to bond with their classmates and create new friendships.
Excitingly, the girls high jump record of 4 feet 6 inches was broken by Juliette Locurto '27, who managed to not only surpass the existing record, but extend it all the way to 4 feet 9 inches! It was a memorable moment that brought the entire freshman class together in support of their classmate. Visit our Instagram page to see her historic jump! Congratulations, Juliette!
For the first time, after the day's events Mr. Brian Klimas '98 and Mr. Brian Kelly '94 held an award ceremony for the day's winners. The ceremony led up to the announcement of Freshman Field Day's overall winner, Homeroom 1D! Congratulations to Mr. Joe Touzin and Homeroom 1D!
---
Recent Campus Ministry Service Projects
October 4th marked the launch of the service project Cards Making Connections, created by Sofia Morales '24. The ongoing project aims to brighten the days of men and women in nursing homes as well as children in hospitals by making uplifting holiday cards, as they may feel lonely on the holidays. Sofia stated that her aim "is to bring joy and comfort to their faces when reading the cards from my fellow peers at Molloy!"
Over 70 students from all four grades met after school to make Halloween-themed cards. Thanks to everyone's creativity and kindness, over 100 cards were made! Sofia stated she felt "a genuine happiness that all these students had the same interest that I have in caring for others."
Cards Making Connections is a wonderful and simple way to make a difference in people's lives. Thank you to Sofia and all who made cards for showing how one idea can make an impact and form a strong community that gives back to others. Cards Making Connections will have a second installment in early November to create Thanksgiving cards.
In September, Approximately 30 students gathered to make sandwiches for the Harding Ford Vision. This organization serves people who are challenged with economic inequity. Bringing their own supplies and making approximately 300 sandwiches to be distributed at the food pantry, students worked together as a team. Ms. Rose Haslbauer, Campus Minister for Service, said, "Seeing so many students enthusiastically give back to the community shows Molloy is all about living out our Marist mission of giving to others in most need." Students were asked why they chose to participate in this service project. Sydney Pullo '26 said, "Because I love helping those in need, and it's a simple way to give back to others." Caterina Romano '26 shared, "Whenever I go to the city or see someone in need, I want to do something to help provide, and this was a great way to do that."

---
---
---
---

Please keep John Murray '77 in your prayers as he undergoes medical treatment at Weill Cornell Medicine.

Support The Curran Fund Gift Challenge Through Nov 1st / Jack Curran Gala Photo Gallery Available
Back on September 20th, Molloy celebrated the Jack Curran Gala, honoring the legacy of the late Coach Jack Curran in several ways. Molloy unveiled new plaques in the Jack Curran Gymnasium, representing the retirement of Curran's iconic #5 jersey and memorializing his basketball win total of 972. In addition, all proceeds from the event supported the recently created Curran Fund, which will benefit future students entering Molloy. Special guest Coach Jim Larrañaga '67 served as MC throughout the evening, sharing stories about Coach Curran and the impact he had on his life. Thanks to the generosity of Coach Larrañaga and his family, Stanners and friends are invited to support a Gift Challenge that will see all gifts made to The Curran Fund matched 2:1 up to $75,000 through November 1st. Please consider making a gift during the Gift Challenge to further increase the impact of your generosity. Molloy is deeply appreciative to Coach Larrañaga and for your support.
We are also happy to share that a full photo gallery from the evening is now available. Please click the button below to access the gallery on our Flickr page. Special thanks to photographer Frank Bailey '75.
---
First Alumni Zumba Night of the New Year!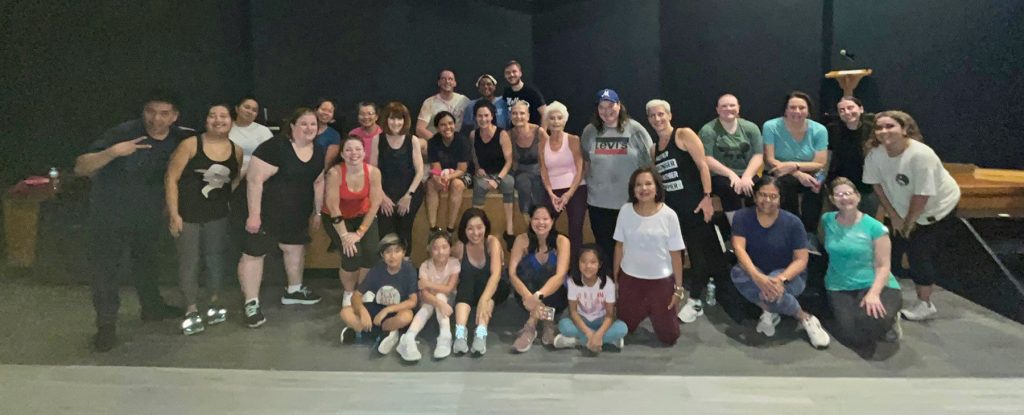 Thank you to the over 30 alumni, parents, and friends who attended our first Alumni Zumba Night of the new school year! Participants enjoyed a fun workout led by faculty members Ms. Liz Murdocca and Mr. Chris Autera '16. Alumni Zumba Night is a great way to exercise in a fun and comfortable environment, and all are welcome! If interested in a future Zumba event, please contact Rebecca Wagner '14 at rwagner@molloyhs.org.
---
"Buzz Words" Alumni Book Club
Thank you to our alumni, past faculty, parents, and friends who participated in our first "Buzz Words" Alumni Book Club meeting of the year on October 4th. Our Alumni Book Club meets once a month from September through June. Each meeting is facilitated by a different member of the club, and all members are welcome to attend meetings in-person or virtually to discuss the book of the month. Meetings have been facilitated by beloved past faculty members including Ms. Mary Pat Gannon, Mr. Dennis Vellucci, and Ms. MaryAnn Safrey! For more information about our Alumni Book Club, contact Rebecca Wagner '14 at rwagner@molloyhs.org or visit www.molloyhs.org/bookclub/.
---
Congratulations to Joseph Kenny '83, who was recently appointed Chief of Detectives by the NYPD. According to a press release, Chief Kenny is a 31-year veteran of the NYPD and will bring "extensive investigative experience and the knowledge needed to lead the world's greatest detectives" to his new role. | Click Here for More Information (via Instagram)
---
Save the Date — The band AFTER DARK, featuring Stanners Kevin Dunn '78, Gary Colter '76, and John Holland '77, will be performing Grateful Dead tunes and other classics at BB's in Flushing (171-57 46th Ave) on Saturday, October 14th at 8:00pm. We're sure they'd love to see fellow Stanners come out to show their support!
---

Archbishop Molloy High School is saddened to share the passing of Mr. Richard N. Whelan on September 25, 2023. Mr. Whelan was a graduate of Bishop Loughlin Memorial High School, later earning a Bachelor's Degree in physics from St. John's University and a Master's Degree from New York University. Mr. Whelan served as a member of Molloy's Science Department from 1969 – 2011. He is remembered by colleagues and alumni as a dedicated and passionate science teacher – most notably as a physics teacher – who had an impeccable sense of humor and loved engaging in spirited conversation. Personally, Mr. Whelan loved music and playing his Gretsch Anniversary guitar. He also loved to travel, having visited Barbados, London, Germany, and Switzerland with his wife, Anita, many times. It was wonderful to see the outpouring of support from alumni and friends on social media when Mr. Whelan's passing was first announced. Many remembered specific moments from his classes and other humorous or joyful anecdotes, all of which underlined the kind of beloved teacher Mr. Whelan always was. Please continue to join us in praying for Mr. Whelan, his loved ones, and all his former students and colleagues.
---
Please pray for the repose of the soul of Mary Margaret Ryan (October 3, 2023), mother of Devin Ryan '93. | Click Here for Memorial Page
---
Please pray for the repose of the soul of Br. Vincent Jerome, FMS, who passed away on September 22, 2023. Br. Vincent was an avid reader of The Beehive.
---
We were recently informed of the passing of Louis F. Campione '50 on May 2, 2021. Lou was a proud track athlete and graduate of St. Ann's Academy and St. John's University. He served in an executive position with Orange & Rockland Utilities for 25 years, retiring in 1995. Please keep Lou and his loved ones in your prayers. | Click Here for Memorial Page

---
---