Molloy's Open House Sells Out, Welcomes Nearly 3,000 Visitors
Molloy is extremely grateful to the nearly 3,000 visitors that attended our 2023 Open House on October 15th! The event, which filled all available reservations over a week prior, welcomed prospective families to our 6 acre campus to meet our students, faculty, and staff. After arriving at Molloy, visitors heard speeches from Principal Dr. Darius Penikas, and outstanding seniors Bailey Meier '24, Kumi Afful '24, and Joseph Castano '24. Each student spoke about their own individual Molloy experiences, and how these experiences have helped them build confidence and grow as leaders. All three shared their love for Molloy and their hope that the rising 6th, 7th, and 8th graders in attendance would soon become a part of the Molloy family.
After the speeches, visitors were taken on a student-guided tour through the building, stopping at various displays that highlighted our science labs, Campus Ministry Department, academic departments, our Global Educational Adventures, and much more. Throughout the day, student volunteers were eager to share their high school experiences with future Stanners, in particular the family spirit that flows through Molloy. At the end of the tour, families visited the Capt. Anthony Marsloe Gymnasium to learn more about our 44 athletic teams and over 60 clubs and activities.
Director of Admissions Mr. Jonathan DiDonato '01 shares, "Sunday's Open House was a great success! Many families commented on how smooth the event was, and spoke highly of our student tour guides. One gentleman remarked that Molloy's students 'sold the school,' and are its truest and best asset. Excitedly, the attendance was back to pre-pandemic numbers!" We can't wait to welcome back our guests as official Stanners next school year!
Weren't able to make the Open House? Don't worry! A virtual tour was shared on social media, with Charlize Collado '24 guiding a virtual audience through our campus. Check it out in our Instagram highlights at: www.instagram.com/molloyhs/
For more information about Molloy, or to schedule a private tour, please contact our Admissions Department at admissions@molloyhs.org.
Thank you to Photography Club members Noris Salomon '24, Serena Shao '24, Ashley Tiwari '25, & Krystal Valentin '25
---
Dr. Penikas Shares Special "Giving Day" Reminder
Principal Dr. Darius Penikas shares a special video reminder about Molloy's new Giving Day! In the video above, Dr. Penikas explains why the Fund for Molloy is critical to the success of our Stanners. As mentioned in our previous video, Molloy has announced its new Giving Day as October 28th, also known as Montagne Day in the greater Marist world. Just as Dr. Penikas says in the video, your support is so important to keeping Molloy accessible and affordable to present and future Stanners. Thank you for your support!
Contact alumni@molloyhs.org or 718-441-9210 for more information.
---
Students Close Hispanic Heritage Month With Parade of Flags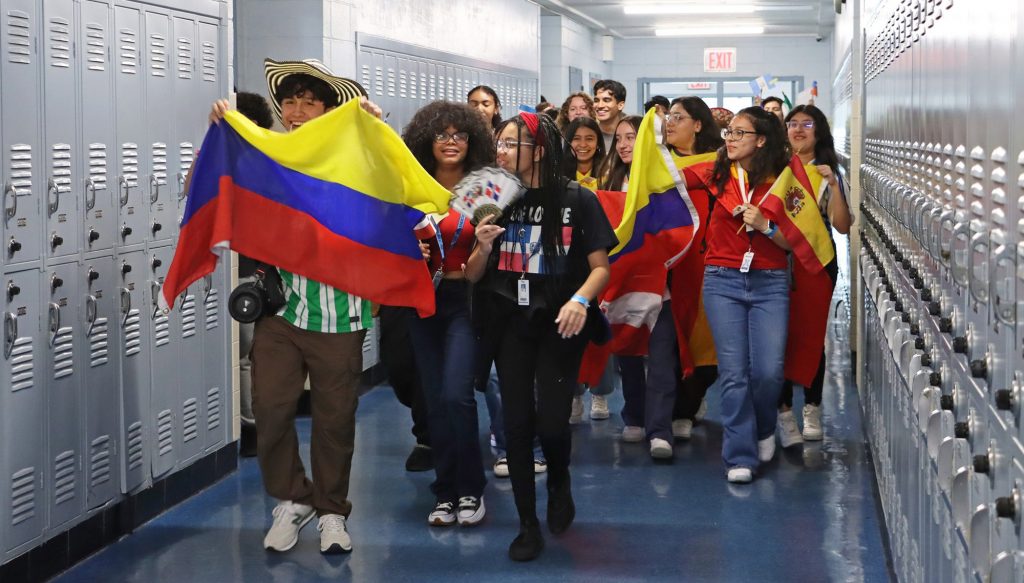 To celebrate Hispanic Heritage Month, Molloy's Spanish Club held its annual Hallway Parade! Students from all grades walked the halls singing and showcasing flags and t-shirts representing their various Hispanic cultural backgrounds.
The hallway parade was held on the same day as a dress down day. The funds generated from the dress down fundraiser will help fellow Marist school communities in Venezuela. Thank you to all who participated!
---
Marists of Champagnat – You're Invited to Be a Part of Cohort #4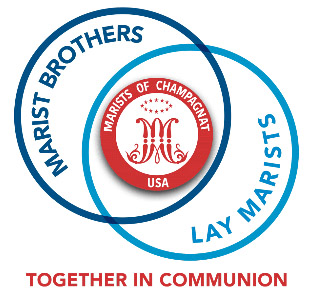 Are you interested in reconnecting with your Marist roots on a more spiritual level? You may want to explore the idea of becoming a Marist of Champagnat, someone who wants to live out their Christian / spiritual life in a Marist way. The 150 people who have gone through the program in the last 3 years have made the commitment to live the mission of Champagnat to make Jesus known and loved.
"Marists of Champagnat USA is a community of lay women and men and consecrated religious brothers who together are living out the Marist spirituality inherited from St. Marcellin Champagnat. All Marists of Champagnat seek to grow in communion, following Mary's example of making Jesus known and loved in our world. We support each other through continual formation experiences that allow anyone who wishes to be 'Gathered Around the Same Table' to find a place."
A formation program takes place from January – June, with an opening and closing prayer, and five webinars in between – all virtually on Zoom (approximately 7-8 hours total). This is a time of discernment – the commitment isn't made until June, if you have come to that decision.
If you are interested and would like more information, please contact Maureen Hagan, Director of Lay Marists, at mhagan8486@gmail.com or Lindsay Irwin, Membership Chair, at lindsayrirwin@gmail.com.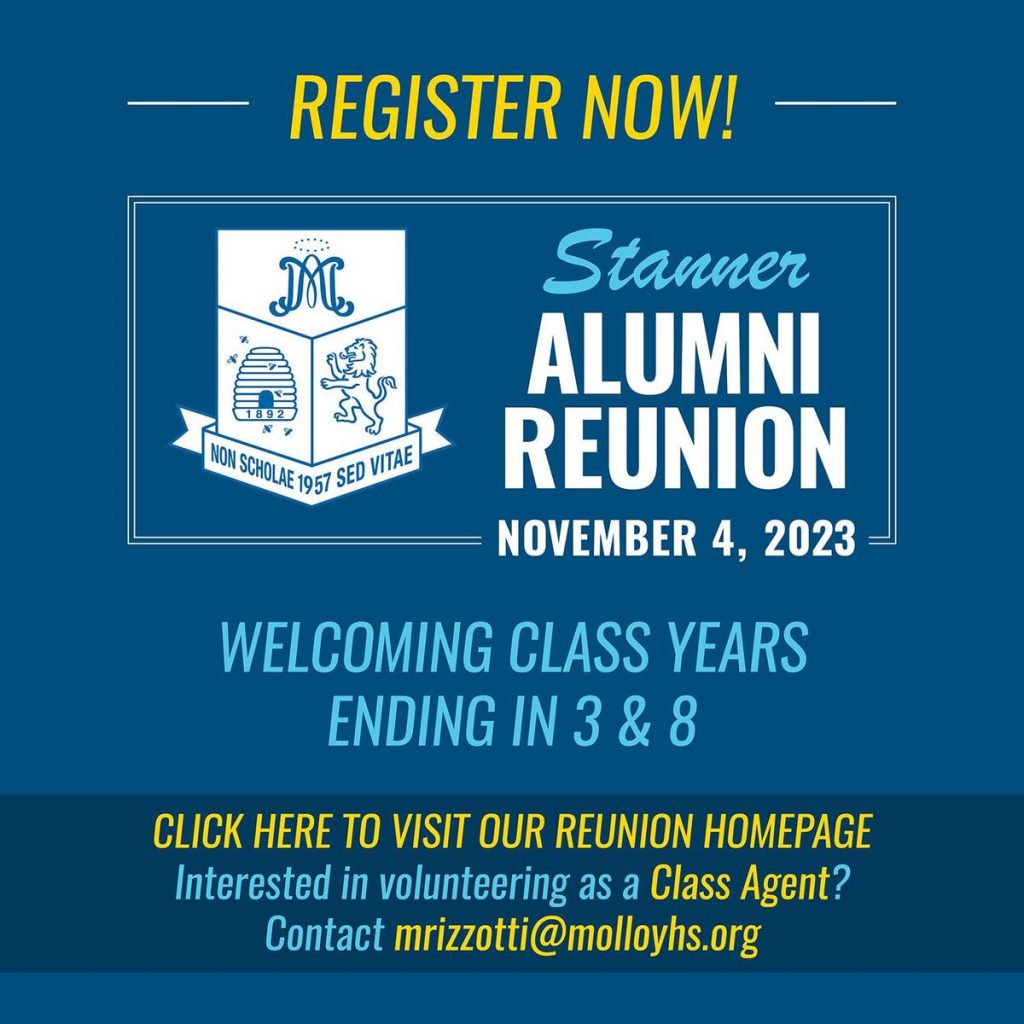 ---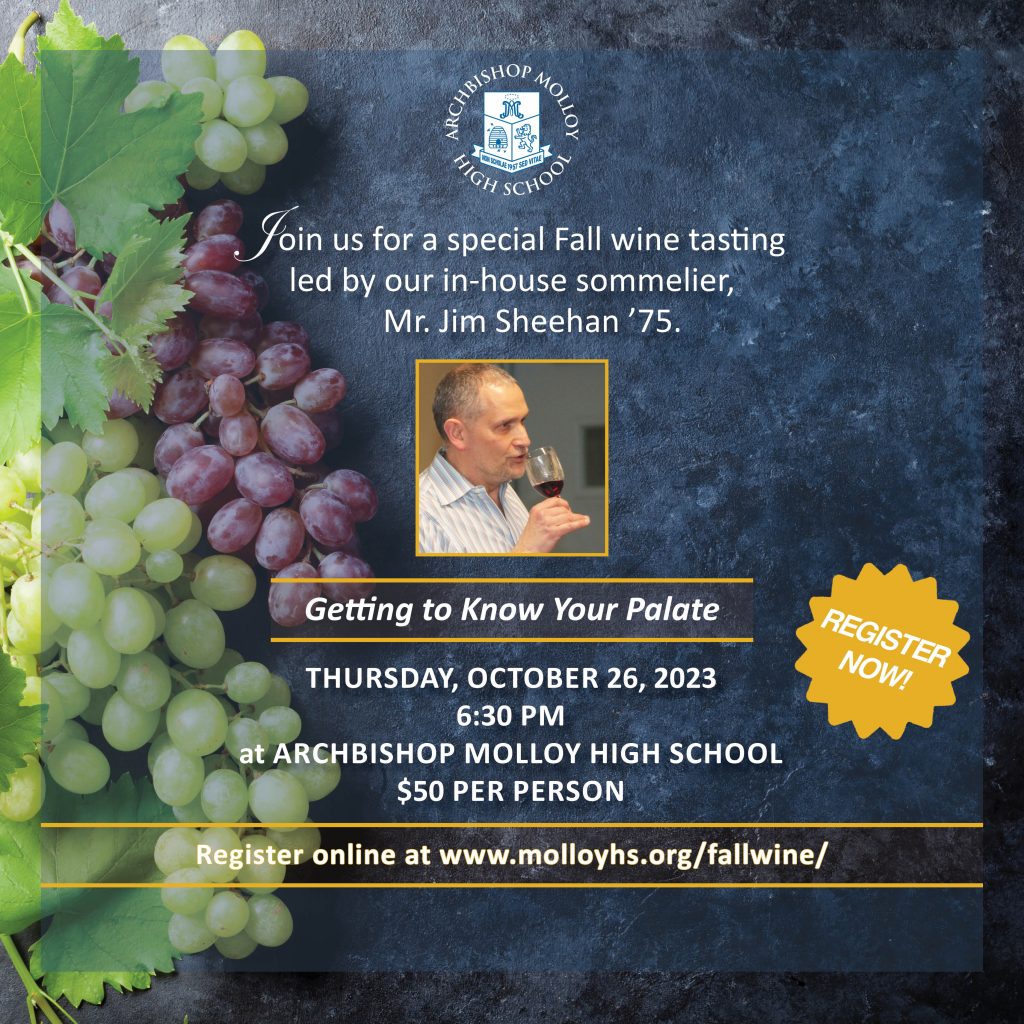 ---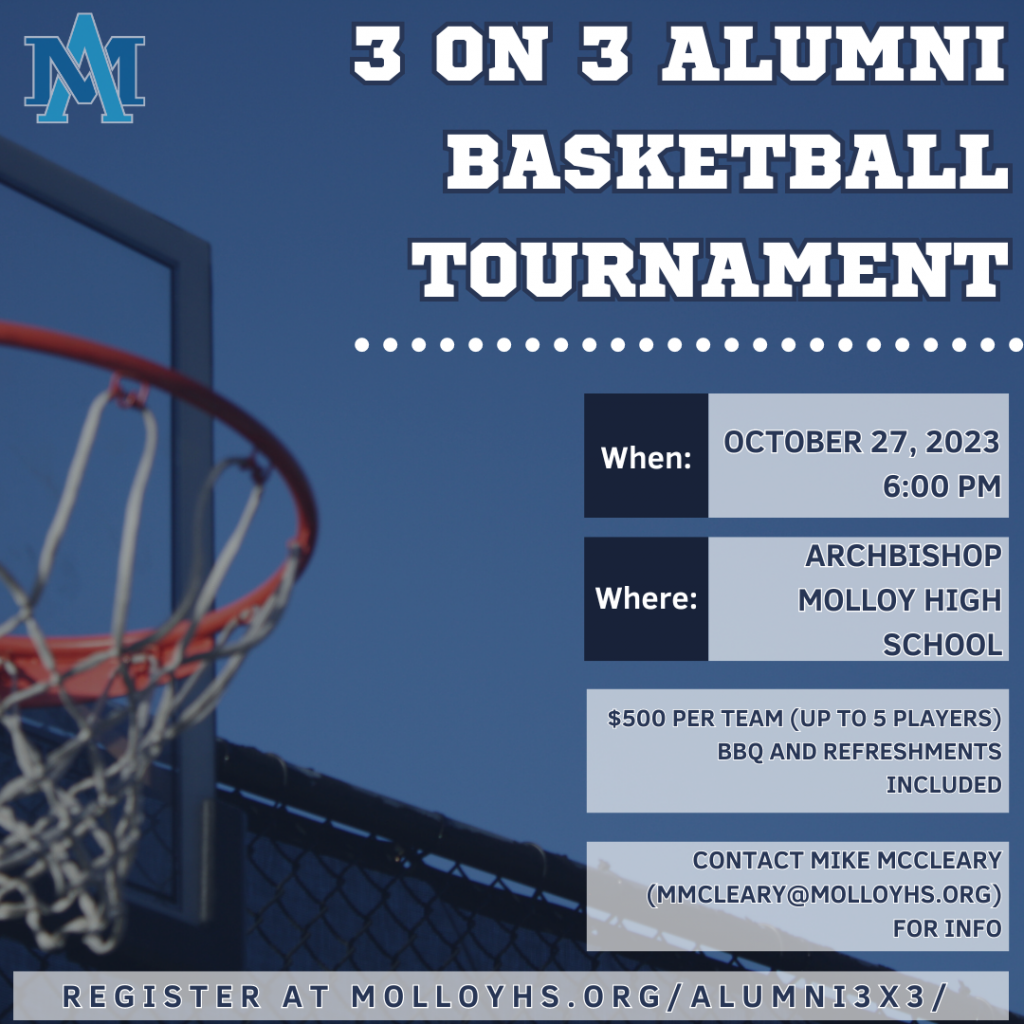 ---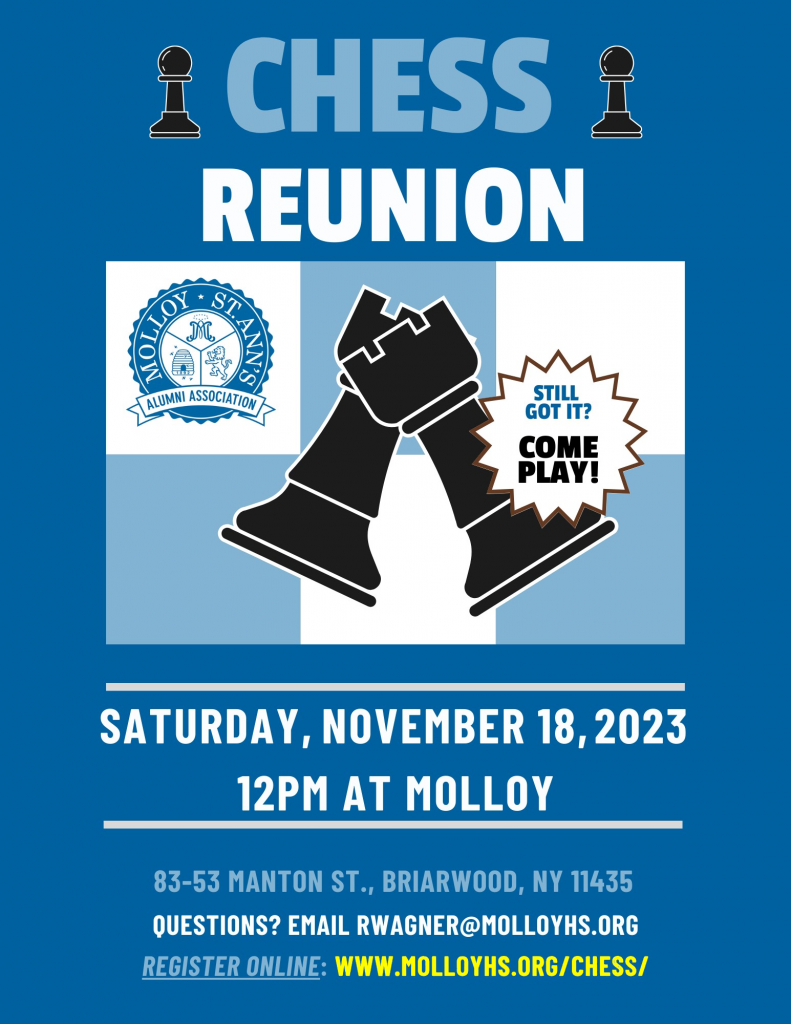 Class of 1981 Gathers for Special Birthday Celebration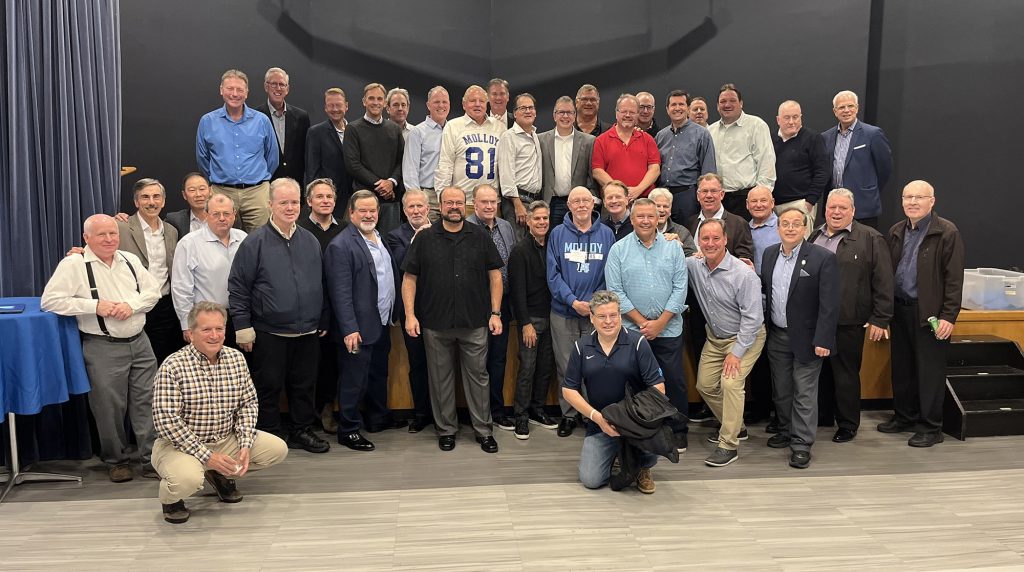 On Saturday, October 14th, over 40 members of the Class of 1981 gathered at Molloy for a special celebration: their collective 60th birthdays! The Class of 1981, a very spirited and close-knit class, were eager to bring their milestone birthday celebration to Molloy, where they could walk the hallowed halls and reminisce about "the good old days."
President Richard Karsten '81 shares, "the Class of 1981 is of course near and dear to my heart, and it is a very special class for countless reasons. Many of my classmates have been involved in our alumni community in a variety of ways over the years, from serving as School Board members, to Golf Board members, and even as longtime Esopus volunteers. Our bonds with Molloy are strong, and we really are like a family."
Thank you to the Class of 1981 for celebrating at Molloy! The Stanner Alumni Center invites alumni of all years to consider hosting special class celebrations here at their alma mater. If interested, please contact alumni@molloyhs.org or 718-441-9210.
---
Chris Waters '05 Serves as Guest Speaker
Chris Waters '05 recently served as a guest speaker in Ms. Vicari's English classes. Chris has been visiting Ms. Vicari's classes for several years to help supplement her course unit on 9/11. The students' assignment is to analyze different witness accounts of the events of 9/11.
One witness account that students studied is written by Chris, a Senior Federal Air Marshal. Chris's essay is featured in the book We Will Never Forget: The Stories of Children of 9/11 First Responders. His essay tells the story of his second day of freshman year of high school, and the day that his father, Capt. Patrick Waters '74, FDNY, bravely entered the World Trade Center to help save lives. That day, Capt. Waters did not evacuate the north tower even when faced with the greatest danger. Instead, he stayed and continued to do all he could to help others. Chris reflected on losing his dad, and the grieving and struggles that followed him for many years. In time, Chris came to accept his father's actions, recognizing that he made a brave and selfless choice because that is who he was. The events of 9/11 set Chris on a path that saw him make similar choices as his father in his own life, including pursuing a career that allows him to "step in and help others." After reading his essay aloud, Chris fielded questions from numerous students, who were eager to learn more about his story.
Thank you, Chris, for visiting Molloy and sharing your experiences with our students.
---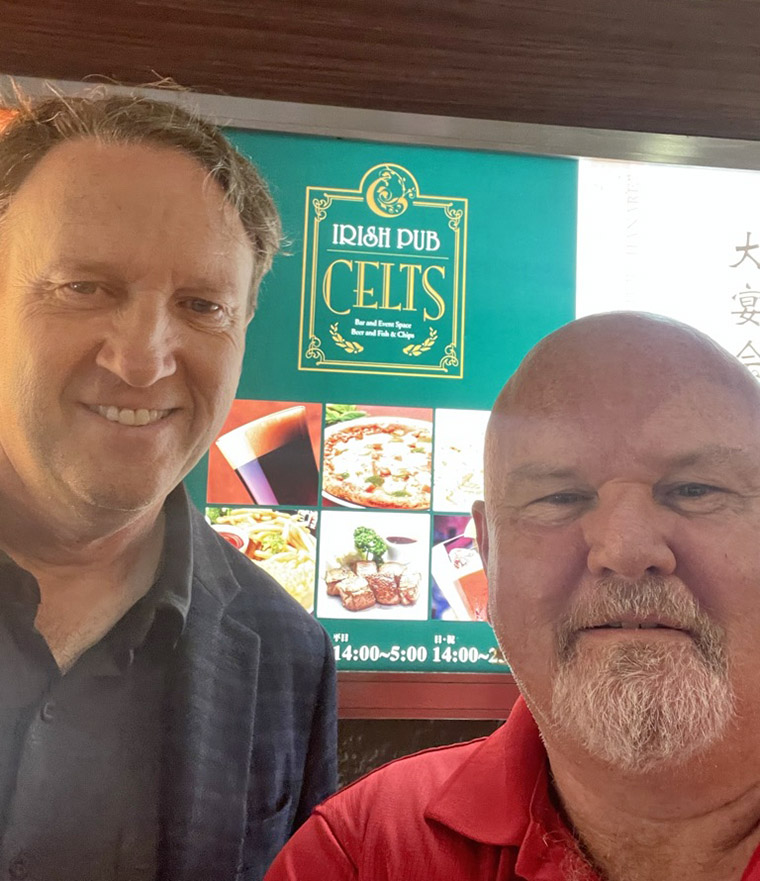 Br. Dan O'Riordan '85, US Provincial, recently connected with classmate Matt Abrusci '85 in Tokyo, Japan as they happened to both be in the same city at the same time. Br. Dan and Matt enjoyed their evening at a local Irish pub!
---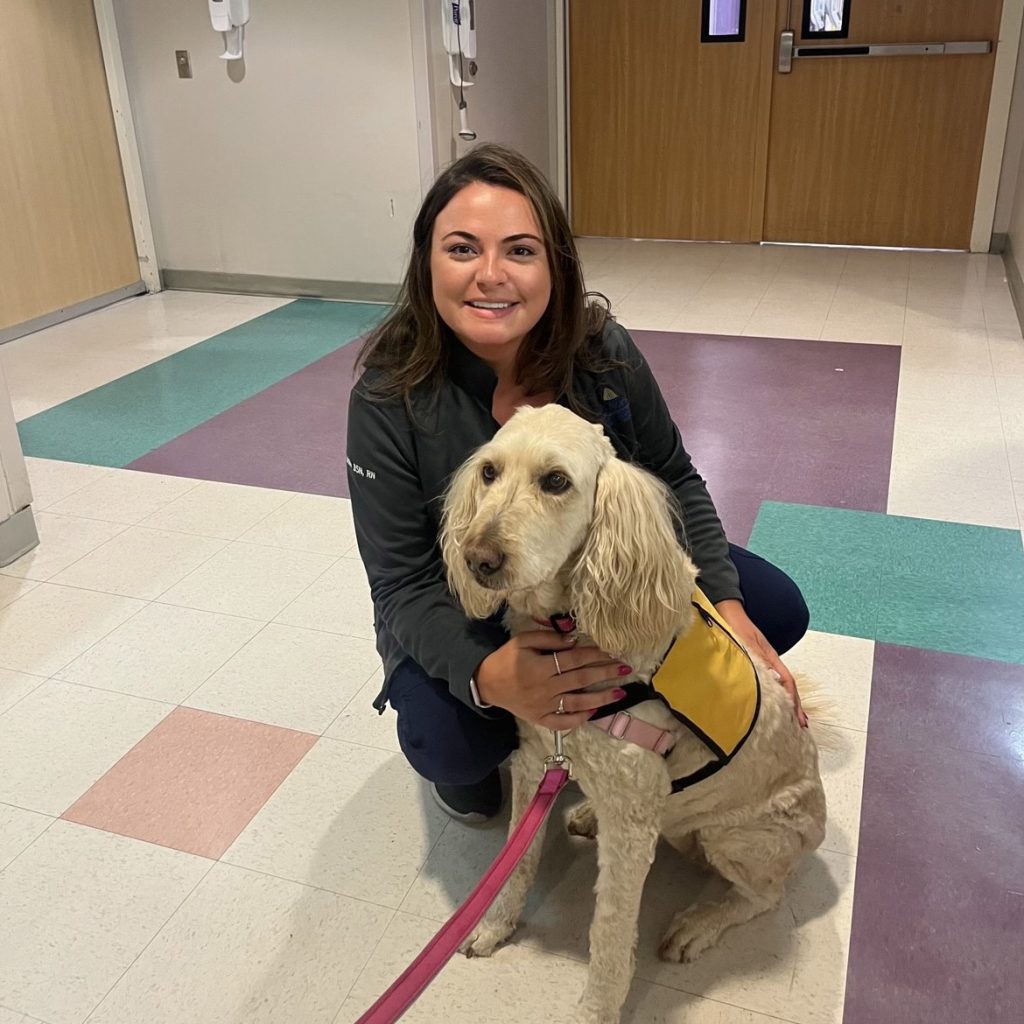 In November, Kendall McNee '13 will travel to Oraifite, Nigeria to participate in an open-heart medical mission with the VOOM Foundation. Kendall and her team will utilize their expertise to train and educate the local cardiac staff at the Dame Irene Okwuosa Memorial Hospital, with a focus on underserved patients and those who cannot afford the high cost of open-heart surgery. "I am really looking forward to serving in this capacity, sharing a smile, building connections, and leaving a sustainable impact," said Kendall in an online posting. Good luck, Kendall!
---
Manny Velez '79 shares a networking opportunity for Stanners with finance or accounting experience. The Long Island Chapter of Financial Executives International (FEI) presents Charting 2024: Finance Trends – Survey Findings and Salary Guide Insights. The event will take place on Thursday, October 26, 2023 from 8:30am to 10:00am at Robert Half/Protiviti Offices (58 South Service Road, Melville, NY 11747). | Click Here to Learn More | Contact Manny at manuel.velez173@gmail.com for additional info.
---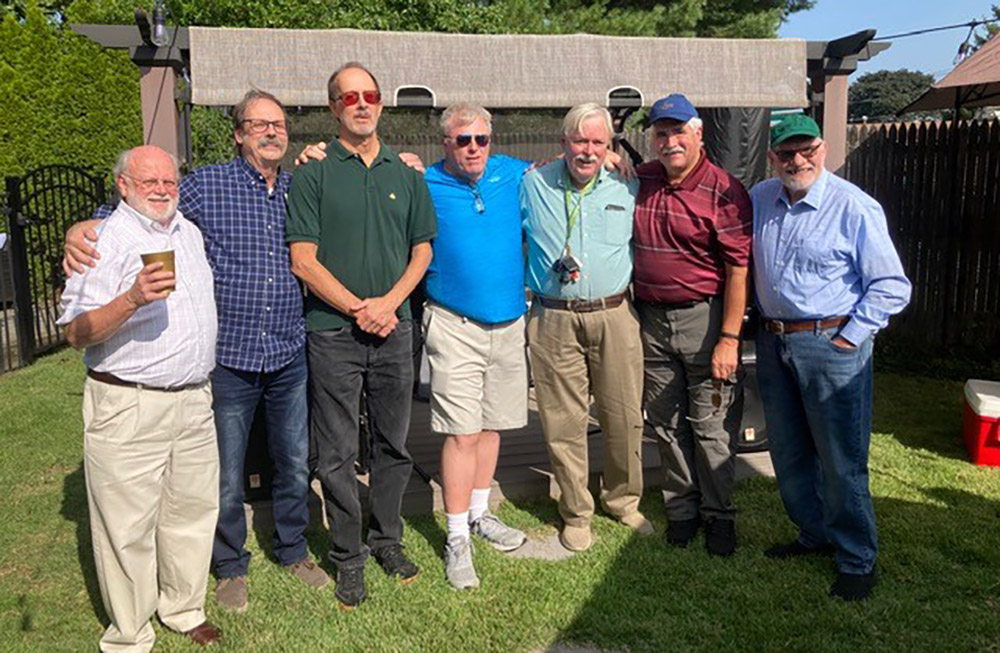 Bob Capuder '71 shares a photo from a recent gathering including himself and six other alumni who were celebrating their 70th birthdays. "We have kept in touch for 52 years now. We are grateful for the common bonds we forged at Molloy," said Bob. Pictured left to right: Dr. Tom Reilly '71, Rich Schneider '71, George Mlicko '71, Bob Capuder '71, Jerry Stanick '71, Brian Lowery '71, and Ed Carroll '71.
---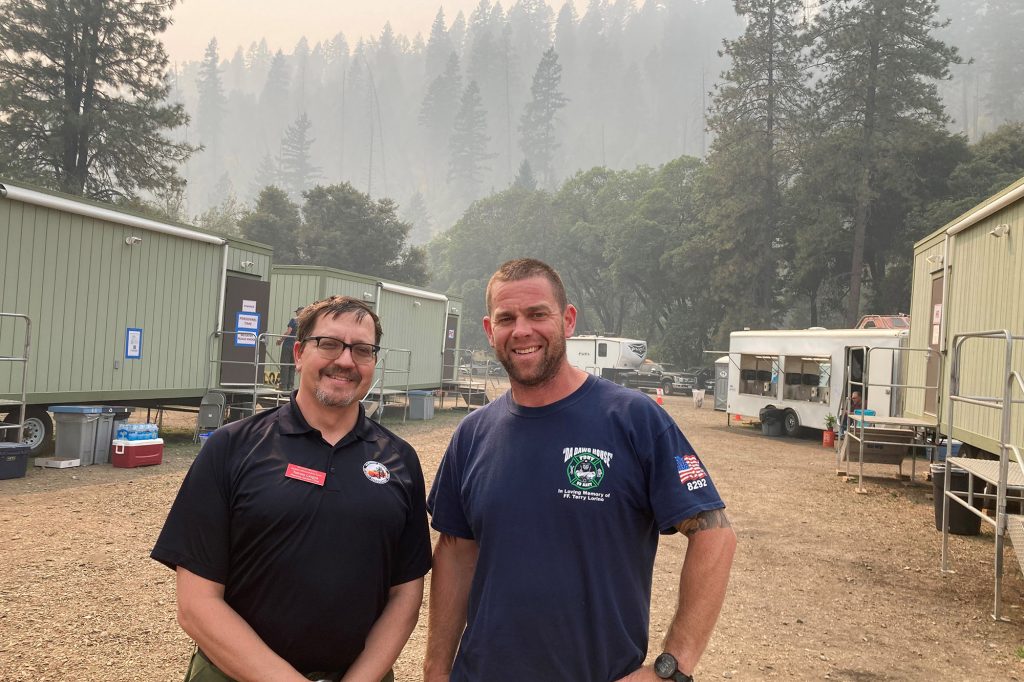 Tomas Liogys '91 recently shared the following: "It's no surprise that the FDNY ranks are full of Stanners, and FDNY is known to support wildland fire incidents across the country every year. I am shocked it took almost my entire career to bump into an FDNY Stanner on a fire assignment. Kyle DeMasters '00 was working in the Logistics Section and I was working as Planning Section Chief with the Eastern Area Gold Incident Management Team (IMT) on the 2023 SRF Lightning Complex on the Six Rivers National Forest in Orleans, CA. Our efforts helped support over 1100 personnel managing the now 47,000+ acre complex of a dozen fires, which as of this writing is only 8% contained. This was my third back to back assignment of the year which started with supporting firefighting efforts in Alberta, Canada in July. I look forward to finally being back home in early October. The attached photo was taken at the incident command post with Kyle on the the right and me on the left."

---
---