---
The Stanner Players Present:
---
---
Garden City Turkey Trot
ABOUT: On Thanksgiving Day, November 23rd, rain or shine, hundreds of people enjoy the Garden City Turkey Trot, including the 5-miler and the 1.4-mile Fun Run. This year we would like to create an opportunity for our community to connect and run with fellow Stanners before heading home to celebrate Thanksgiving. Frank Gambino '74 has created a Team – "Stanners" – for all alumni, family, and friends to join. If you are planning to run either the 1.4-mile Fun Run or the 5-mile Turkey Trot in Garden City, please join our team!
HOW TO REGISTER: Go to http://www.gcturkeytrot.com/index.html and click Register Online. In the registration section select either the 1.4-mile run or 5-mile run. Fill out all the required information to register. In the "Join or Create a Team" section on the registration page, please select "Join a team." Scroll down the team names in alphabetical order and select Stanners – Frank Gambino. Lastly, be sure to wear Stanner gear!
CONTACT: To let us know you are on Team Stanner and to coordinate a group photo after the race, please email Craig Katinas at ckatinas@molloyhs.org. Craig will let everyone know where we will meet after the race the night before.
---
---

Thanksgiving Food Drive – "Livin' for the Givin'"
November allows us to reflect on what blessings we are grateful for. More than that, it calls us to action – how can we give our time, resources, and efforts to benefit others in need?
In the spirit of Livin' for the Givin', our Campus Ministry theme for November, Molloy kicked off our Thanksgiving Food Drive on November 13th (first announced on social media). We are collecting donations through Monday, November 20th, so there is still time to donate to this important cause. We will accept non-perishable items such as canned fruits and vegetables, beans, rice, pasta, and other similar items. Donations can be dropped off at Molloy's security desk, located in the main lobby. All donations will be helping our local community in Queens, being distributed at The Harding Ford Vision food pantry in Jamaica. Please consider donating to help feed families in need this Thanksgiving.
To start the season right, this past weekend, Molloy paired up with fellow Marists from Mount St. Michael Academy to volunteer at The Harding Ford Vision to distribute food to families in need. It was a wonderful opportunity for students from both schools to form connections, all while making a positive impact on the community. Thank you to the Mount for making the trip from the Bronx, enabling our students to be Marists on a Mission together!
---
Senior Receives Competitive Air Force ROTC Scholarship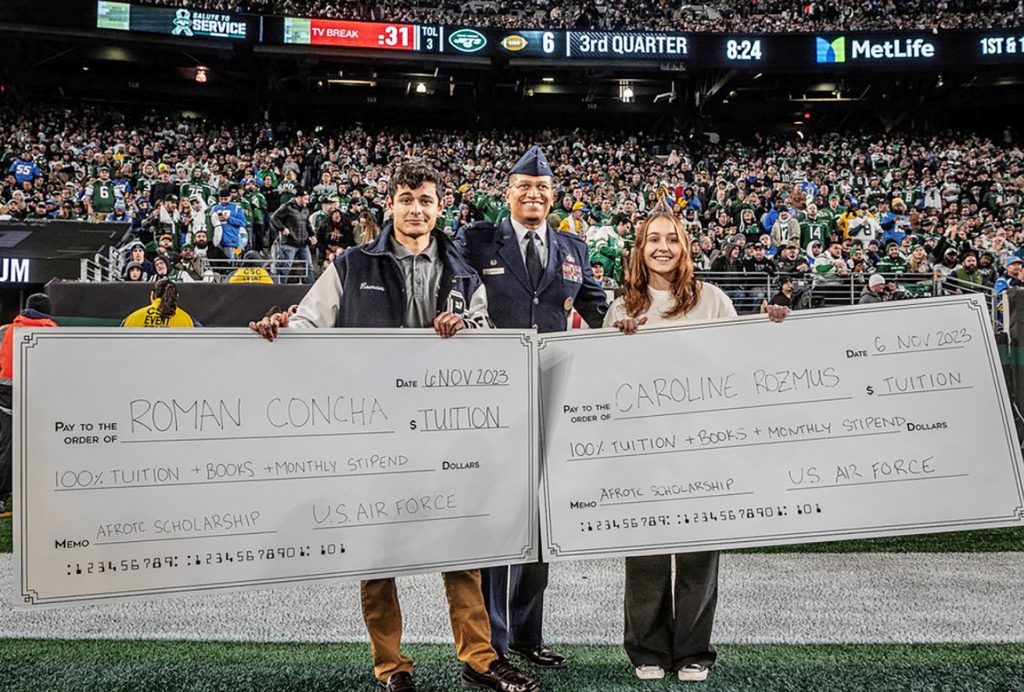 Congratulations to senior Caroline Rozmus '24, who was recently awarded a Type 1 HSSP Air Force ROTC Scholarship! Caroline and another recipient were presented with the scholarship during a ceremony on the field at the NY Jets vs. LA Chargers game on Monday, November 6th.
This competitive Type 1 scholarship covers full college tuition and authorized fees at any public or private institution with an Air Force ROTC detachment. Type 1 scholarship selectees also receive a monthly stipend for living expenses and an annual book stipend. Caroline was selected based on her excellent application which included her top SAT score, a physical fitness test, and an in-person interview.
"I was very excited when I found out I received the scholarship, and accepting it at the Jets game while on the jumbotron was also pretty cool," said Caroline. While at the game, she got to meet other recent scholarship recipients. "They were very nice and told me about their experiences, which made me even more excited."
---
Campus Ministry is Now on Instagram!
We invite our community to follow Campus Ministry on Instagram! They will be sharing plenty of photos and updates about service, retreats, events, and much more. Follow @molloyhs_campusministry
---
Softball Teams Raise $1,000 for Breast Cancer Research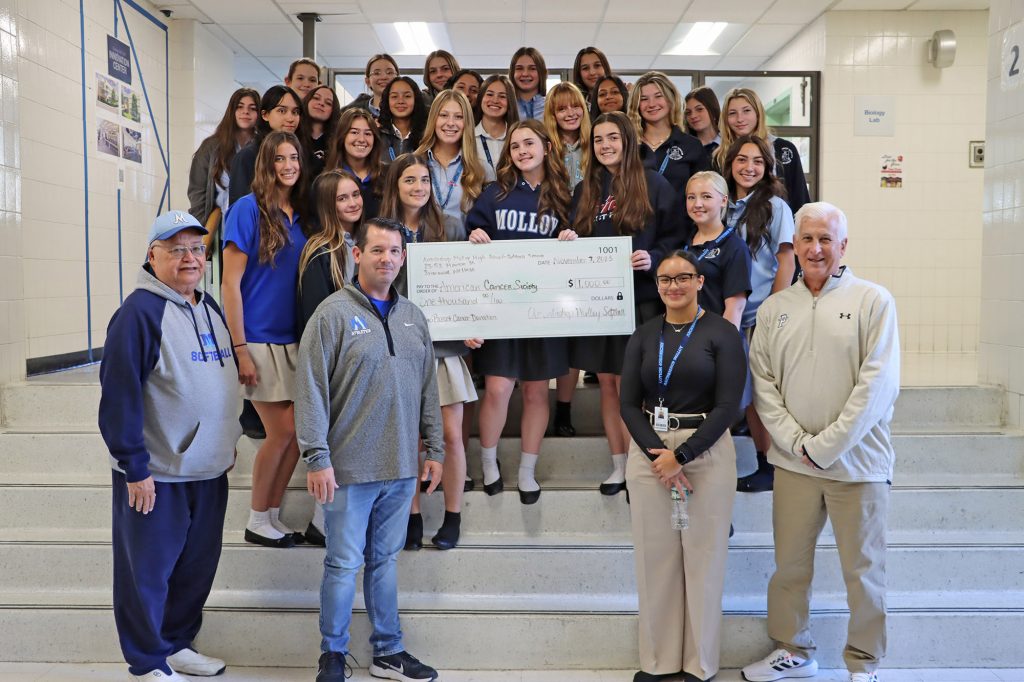 Molloy's Varsity and JV softball teams recently worked together to raise money for the American Cancer Society for Breast Cancer. The teams reached their fundraising goal of $1,000! Pictured with the players are Varsity Head Coach Lou Santos, Varsity Assistant Coach Samantha Estupinian, Head JV Coach Chris Chelius, and Assistant JV Coach Charlie Harms '73.
---

Congratulations to Molloy's freshman/sophomore Girls Cross Country team, who placed 1st in Brooklyn/Queens and in the City earlier this month! This was the team's first CHSAA Championship since fall 2000. | Full Meet Results
On Saturday, November 11th, the JV Girls scored 3rd place at the CHSAA Intersectional Championship. Individual Federation State Qualifiers will represent Molloy on Saturday, November 18th at the NYS Federation Champs in Wappingers Falls, including sophomore Landon Recio '26, juniors Sean Garvey '25, Camille Munoz '25, and Aoife Garvey '25, and seniors Chris Dalton '24 and Eva Gonzalez '24.
SWIMMING UPDATE by Student Reporter Brendan Twomey '25: The Boys Freshman swim team placed 4th in their championships this past weekend! All the boys performed well in their individual events, especially Michael Gierucki '27, who placed 1st in the 50 Butterfly and 100 Individual Medley. Because of this, he received the Joseph Stetz MVP of the Meet award, because he was the only swimmer at the meet to take first in both his individual events. In addition to this, Michael Gierucki, Kevin McGovern '27, Danny O'Donohue '27, and Declan Twomey '27 placed 2nd overall in the 200 Freestyle Relay. Great job, boys!
---
Sports Schedules
Schedules for winter sports including basketball and swimming have been added to Molloy's website. We invite our community to come out and show their support for our teams this winter season!

500 Alumni & Guests Attend the Stanner Alumni Reunion!
On Saturday, November 4th, Molloy welcomed 500 alumni and guests in celebration of the Stanner Alumni Reunion! This year's reunion invited Stanners from class years ending in 3 and 8. Molloy celebrates its reunion annually, with each class celebrating their anniversary once every five years.
This year marked a golden anniversary for the Class of 1973, who celebrated 50 years since graduating from Molloy! For many in the class, it was their first time walking the halls of Molloy in many years – and for some their first time since graduating. The 50th anniversary class was treated to a private cocktail hour in the William J. Murphy Library, and later they were highlighted on stage in the Jack Curran Gym, receiving cheers and applause from all in attendance shortly before taking their class photo. All 50th anniversary class members in attendance received gold medals commemorating their special night.
Joe Williams '73, who served on Class of 1973's Reunion Planning Committee, shares, "Our small team of volunteers immediately met and got reacquainted after 50 years. We then got down to business, searching for and contacting members of the Class of '73 who are all over the globe. Through diligent, and at times frustrating efforts, we were able to connect with well over 100 from our class. Our efforts were well rewarded, with nearly 80 classmates from all over the country in attendance. All agreed it was a fantastic evening, providing for many an opportunity to meet and catch up for the first time after 50 years. A truly milestone event!"
The reunion also marked significant milestones for several other classes. The Class of 1998 celebrated their silver 25th anniversary, with class members receiving silver medals as they took their class photo. The Class of 2018 saw over 100 members return for their 5th anniversary, which is a great showing! Not to be outdone, the 40th anniversary Class of 1983 deserves a big shoutout for assembling over 100 members of their class to celebrate the occasion. Their class displayed a ton of energy throughout the evening!
Before the festivities began, the Reunion paid tribute to the memory of all lost Stanners through the Mass of Remembrance. Celebrant Fr. John Serio '71 led returning alumni and friends in prayer for the deceased, especially alumni from the reuniting classes, alumni who have passed away within the past year, and beloved past faculty and staff including Br. Jogues Cormier, Kerry Hughes, Jim Kinnier, CJ Mallia, Anthony Nicolini, and Richard Whalen. Celebrating Mass to begin the evening provides an opportunity to come together in the Marist spirit that Molloy instilled in us all, whether 50 years ago or 5 years ago. Special thanks to Deacon John Kramer, Mr. Jim Sheehan '75, and our Chorus for their contributions to our Mass.
President Richard Karsten '81 shares, "It was a great night, highlighted by countless Molloy memories being shared. It was also wonderful to welcome Mr. John McConville, from the St. Ann's Class of 1948, and his wife Ella. The presence of an original Stanner served as a great example for all of us, to continue to uphold the bonds we all share as graduates of St. Ann's and Molloy. With eight decades of Stanners represented, the reunion was truly a historic night to remember. Thank you to all who attended."
Next up: class years ending in 4 and 9 will reunite in November 2024! Exact date to be determined. Please stay tuned for future announcement, or contact mrizzotti@molloyhs.org to start planning!
---
Alumni, Parents, and Friends Enjoy Wine Tasting with Mr. Sheehan
On October 26th, Molloy welcomed over 60 alumni, parents, and friends to a special Wine Tasting event led by English Department Chairperson and sommelier Mr. Jim Sheehan '75. For over 11 years, Mr. Sheehan's wine tastings have been among the most popular events offered by the Stanner Alumni Center. Mr. Sheehan's warm demeanor and knowledge about all things wine blend together to create an inviting, friendly atmosphere and an informative experience.
This fall, Mr. Sheehan crafted more of an introductory program he called "Getting to Know your Palate." Wines he selected for the tasting included KONO (Sauvignon Blanc, New Zealand), Macon-Villages Chameroy (France), Novelty Hill (Cabernet Sauvignon, Columbia Valley), Cerro Anon Rioja (Spain), Ken Wright Cellars (Pinot Noir, Willamette Valley), and Zenato Pinot Grigio delle Venezie (Italy). These wines were presented in a specific order to allow participants to compare a variety of tastes, aromas, textures, and other characteristics. The evening concluded with some light-hearted trivia that won a few participants some great parting gifts.
"It was a wonderful night, a friendly, robust gathering where we came together to share a variety of lovely, distinctive wines, friendly conversation and much-needed relaxation," said Mr. Sheehan. "Thanks to all who attended. Thanks especially to the members of the parents' committee who worked so cheerfully and efficiently to help make the event a success. Cheers!"
Don't worry if you missed out! Mr. Sheehan and the Stanner Alumni Center are planning to offer another Wine Tasting later this year. The theme has yet to be determined, but it may focus on wines from a specific region or country of origin. Be sure to read The Beehive for future announcements. Special thanks to Mr. Sheehan and Molloy's Parents Guild volunteers, who helped with setup, pouring, and cleanup.
---
Congratulations to Our Stanner NYC Marathon Finishers!
The Beehive is always excited to hear about alumni who participate in the New York City Marathon! We are keeping a running list (no pun intended) of Stanners who have completed the race along with their personal best time. To date, we have over 70 alumni listed. You can access the list by clicking the blue button below. If you would like to share your time from this year's race, or your best past time, please submit your info to beehive@molloyhs.org.
Congratulations to probationary police officer John Loeffel '19, who was the first NYPD officer to cross the New York City Marathon finish line. John clocked in at an incredible 2:33:13, placing him 75th in the overall men's race! Considering his running career at Molloy, we're not surprised!
Congratulations to Nelson Lee '23, who completed the New York City Marathon on November 5th with a time of 5:24:51! Nelson shares, "It was such an amazing experience despite it being so challenging and painful! I ended up having cramps before the finish, but I never quit myself. I am so beyond proud of myself for finishing!"
---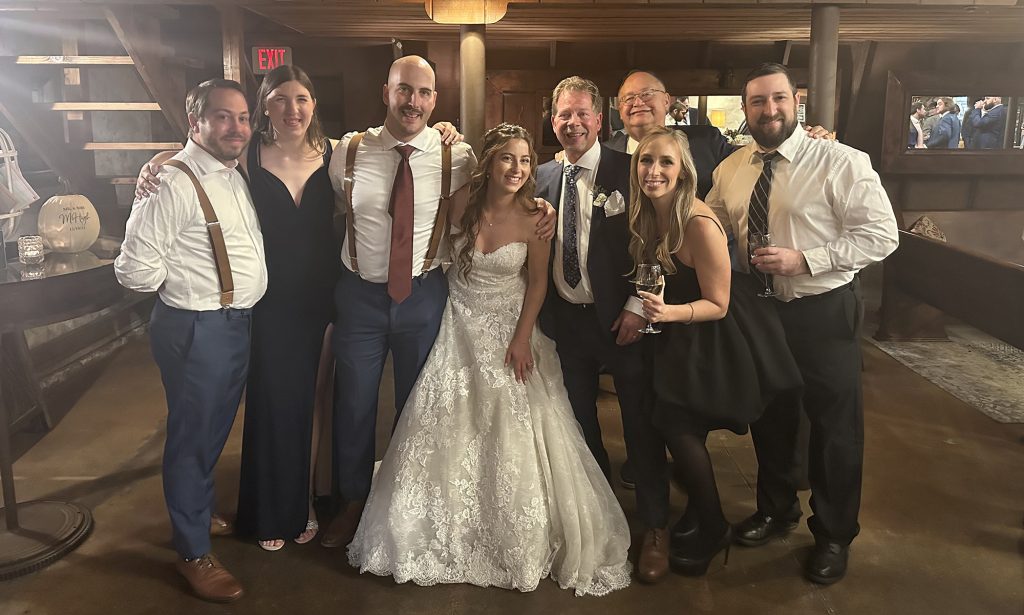 Stanners abounded at the celebration of the wedding of JV Soccer Coach Nicole Weber '14 and Liam McHugh earlier this month! Pictured at the reception at Red Maple Vineyard in West Park, NY: Jenna Ames '18, Chris Weber '06, Mike Weber '09, Frank Weber '80, Gustav Sebo '06, and Stephanie Sebo '08. Congratulations to the happy couple!

It is with great sadness that Molloy shares the recent sudden passing of Jordan Li Kenna '23. Jordan was a beloved Stanner who was involved in many activities and clubs at Molloy, and who made a great impact on all who knew her. She was also a talented softball player. She was studying at SUNY Oneonta this fall. Please join us in praying for Jordan and her loved ones during this very difficult time, especially her parents, Frank '82 and Stacey, her brother, Connor '18, and her many aunts, uncles, cousins, and friends. | Click Here for Memorial Page
---
Please pray for the repose of the soul of Patrick J. Carroll '81, who passed away on November 13, 2023 after a battle with cancer. Patrick was a beloved member of the Class of 1981 and the greater Molloy and Marist communities. He served as a long-time volunteer for the Mid-Hudson Valley Camps dating back to his high school years, and volunteered for Molloy events including the Jim Kinnier Stanner Golf Classic. His presence was a blessing for all who knew him. Please join us in prayer for Patrick, his wife, Liz, the Carroll family, and all who mourn his loss. | Click Here for Memorial Page
---
Please pray for the repose of the soul of Major General Dr. Robert J. Kasulke, M.D., '67, who passed away unexpectedly on November 13, 2023. At the time of his passing, Dr. Kasulke was serving as medical director of Hospice of Jefferson County, NY, medical director of Jefferson County Public Health Service, and Jefferson County Deputy Medical Examiner. He served the United States Army Reserve for over 30 years in roles as a general surgeon and chief of surgery. During his career, he commanded detachments 1, 2, and 3 of the 310th Field Hospital and the 865th Combat Support Hospital. | Click Here for More Information
---
The Stanner Alumni Center was recently informed of the passing of Peter H. Dreiss '60 on June 23, 2023. Please keep Peter and his loved ones in your prayers.

---
---