#MaristDayofService is the Latest Trend!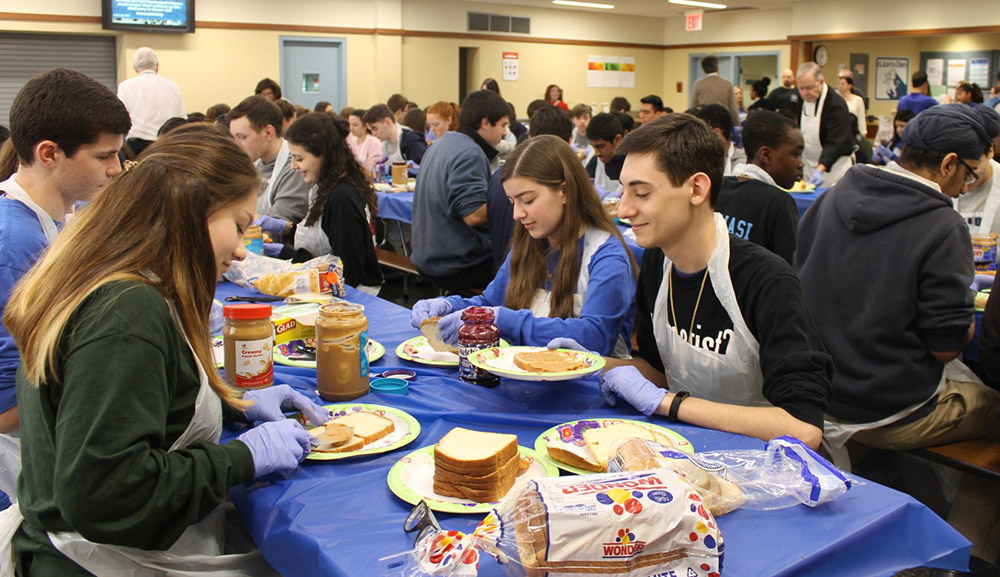 On Wednesday, March 29th, #MaristDayofService became a nationally trending topic on multiple social media platforms. Molloy and other Marist schools across the country supported the campaign by engaging in a variety of service projects while posting photos to Facebook, Twitter, and Instagram using the hashtag to raise awareness. Hundreds of Molloy students and many faculty members got involved throughout the day by donating and sorting clothing, toiletries and food, tutoring in East Harlem and at Briarwood Shelter, cleaning up Queens and Bronx parks, spending time with special needs adults, and assembling care packages for organizations who benefit those in need. In addition, 100 students made over 1,250 peanut butter and jelly sandwiches to be donated to shelters and pantries. In addition, Mr. Santos and the JV softball team have collected 315 pairs of athletic shoes and sneakers to be donated to the HHS Foundation in the Dominican Republic. Children and teens in local DR communities will benefit from this donation, which according to Mr. Santos is the largest that HHS has ever received.
It was a busy day, but the overarching theme was ever present: service. Humility, hard work, putting the needs of others first; these are among the marks of a Marist student. We are proud to say our students and faculty embraced this campaign wholeheartedly! We will have a full recap of the day and tally up all the donation numbers in our next Beehive on April 14th. In the meantime, search #MaristDayofService and look for Molloy!
Molloy Celebrates Diversity With International Day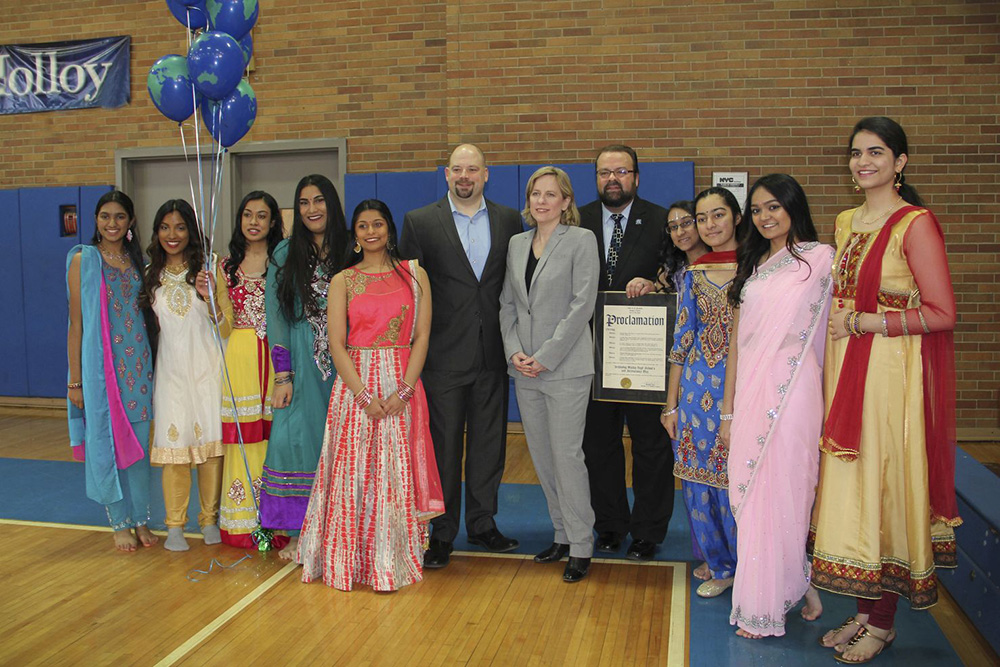 PRESS RELEASE — Queens, NY – Students, families, and alumni gathered at Archbishop Molloy High School in Briarwood, Queens, on March 11th to celebrate the school's 36th annual International Day. The long-running event is inspired by the wide range of ethnicities inherent in the students and families of Molloy and throughout New York City. (Pictured above: Queens Borough President Melinda Katz, Principal Darius Penikas, and President Richard Karsten '81 with the Indian Club)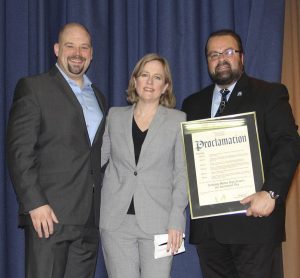 Queens Borough President Melinda Katz was in attendance for the festivities and presented President Richard Karsten and Principal Darius Penikas with a Proclamation acknowledging that International Day "gives the community the opportunity to celebrate the diversity of the Borough of Queens, 'The World's Borough,' which is home to residents from over 120 countries." Borough President Katz also congratulated Molloy on 125 years of excellence in education. "It is a privilege to celebrate our diversity with the Molloy community, which mirrors that of Queens. Molloy is and will continue to be an important foundation in our borough." (Borough President Katz presents Principal Penikas and President Karsten with a Proclamation.)
The day's program featured a series of performances presented by Molloy students. The junior and senior chorus opened up the show with a spirited Ragtime set. The Indian, Spanish, Asian, and Dance clubs then provided culturally-themed music and dance routines, while the Dance Team and boys and girls Step Teams added a bit of American flare.
The program continued as students and their families served homemade dishes representing authentic global cuisine. Hungry visitors could sample small bites of open faced Czech sandwiches, Greek koulourakia, smoked cheeses from Holland, Dominican fried sweet potatoes, Japanese sushi, and Italian meatballs, or indulge in larger entrees such as Latin American inspired empanadas, Spanish arroz con pollo, or French crepes. The Filipino food table was arguably the most popular during the event. This is where alumnus Herbert Leona, Class of 2011, and his family carved and served up healthy portions of their whole coal fire cooked pig.
President Karsten applauded the enthusiasm shown by the school community in support of International Day. "It is wonderful to have our students and their families proudly participate and share their cultures and traditions. Clearly, Molloy is a place where everyone is welcome."
Photos by Katie Giustiniani '12

---
LaValla Weekend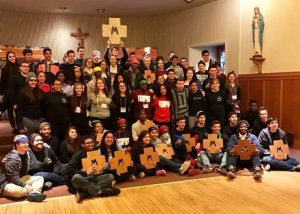 Congratulations to the Marist Brothers, who recently hosted LaValla Weekend at Esopus in continuing with their 200th anniversary celebration of the Marist Institute's founding. The event was sponsored by the combined efforts of the Office of Marist Youth, the Office for the Promotion of New Members, the Marist Brothers Center at Esopus, as well as this year's Bicentennial Committee. Participating students represented Molloy, Central Catholic, Christopher Columbus High School, Marist Bayonne, Marist Chicago, Mount St. Michael Academy, St. Mary's, St. Joseph Academy, St. Joseph Montvale, Roselle Catholic, and the East Harlem Youth Group. Activities included a variety of prayer services, group discussions, and reflections. During the closing ceremony, each school was presented with a handmade Marist Cross to serve as a symbol during their Marist National Day of Service festivities (which took place March 29th).
---
Around the School
Stanners Present Research at NYC Science & Engineering Fair

Seven students represented Molloy at the preliminary round of the 2017 NYC Science & Engineering Fair (NYCSEF). The fair, sponsored by the NYC DOE and The City College of New York, took place at the latter's campus and showcased the scientific research of 597 approved students. The NYCSEF is the city's largest high school research competition. It provides a supportive, academic venue for students to present their research, network with other high school students, and meet leading STEM professionals from around the metropolitan area. Molloy's participating students included: Berenice Dupiton '17 & Stephanie Lechki '17 (The Good, The Bad and the Linguistics) | Hobie Legaspi '17, Julio Ruiz-Diaz '17, & Calista Requijo '17 (The Sound of Chess) | Esmeralda Montas '17 & Enrique Montas '18 (The Effect of an External Wind Diverter on a Wind Turbine). Learn more at http://nycsef.cuny.edu/.
---
Students Participate in Part 2 of Special Workshop

Back in November, Molloy's band students participated in a special workshop about the Alexander Technique, a sophisticated conditioning method for performers involving a realigning of one's posture to relieve muscular and mental tension. This is said to improve playing and performing ability. Our chorus and theater students have since been treated to part two of this workshop, through which they learned the breathing, posture, and muscular movements associated with the technique. Special thanks to guest speaker Ms. Nadia Banna and to Ms. MaryAnn Safrey, Ms. Ya-Ting Yang, and Ms. Shannon Winters '06 for their support!
---
Molloy Marches in St. Patrick's Day Parade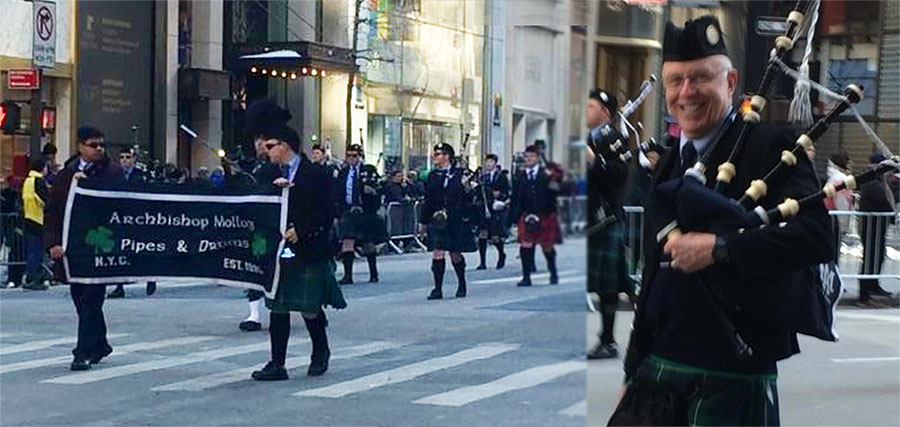 Congratulations to our Pipes & Drums Band as well as our Alumni Band, who represented Molloy by marching in the St. Patrick's Day Parade on March 17th. Molloy stepped off at 2:40pm at West 47th Street and 5th Avenue. The popular viewing spot for Stanner spectators is 58th and 5th, where the band is known to turn and salute. If you didn't get a chance to attend this year, be sure to mark down 58th and 5th and plan for 2018! (Pictured right: Br. James Norton '63)
---
Blood Drive – Rescheduled
When: Tuesday, April 11th, 2017 | 8am-2pm
Where: Capt. Marsloe Gymnasium (Molloy HS)
Who: Students, Faculty, Alumni & Parents
Molloy's annual Blood Drive, sponsored by the New York Blood Center (NYBC), has been rescheduled for Tuesday, April 11th from 8:00am – 2:00pm in our Capt. Anthony Marsloe Gymnasium. Alumni and parents are invited to join our students and faculty in giving the gift of life. Click on the flyer to the right for more information on eligibility criteria or for contact information.
---
Upcoming Events
Wine Tasting – Deadline April 3rd!
Where: Archbishop Molloy High School
Who: Alumni, Parents & Friends (Ages 21+)
Admission: $50 per person | Young Alum Discount $30 (Classes 2010 – 2014)
Contact: Joe Sommo '03
Alumni, parents, and friends (ages 21+) are invited to join us on Thursday, April 6th for Mr. Jim Sheehan's latest wine tasting class. Limited seating is available so sign up before the April 3rd deadline! Please also note there is a discount for young alumni, Classes 2010 – 2014, of $30 per person. Click the flyer to the right for more details.
---
Alumnae Paint & Sip –

Supporting the Karina Vetrano Scholarship
Where: Archbishop Molloy High School
Who: Alumnae (Ages 21+)
Admission: $50 per person
Contact: Matt Rizzotti '04
Alumnae (ages 21+) are invited to join us on Saturday, April 22nd for Molloy's first Paint & Sip Night. Led by a professional artist, participants will paint their interpretation of a selected piece, which has been inspired by Karina Vetrano '04. Her creativity and love of butterflies will be honored as we come together to design a canvas painting. Admission includes all supplies, drinks, and light appetizers.
Proceeds from the event will go toward the establishment of the Karina Vetrano Memorial Scholarship. Click the flyer above for more details.
---
Jim Kinnier Stanner Golf Classic – 

Congratulating Our Honorees

Each year, the Jim Kinnier Stanner Golf Classic benefits from the dedication of alumni, parents, and friends who volunteer their time and efforts. The Stanner Alumni Center is often asked the question, "How can I get involved at Molloy?" Sometimes the answer is as simple as volunteering at the Stanner Golf Classic. Not only do our volunteers help make each outing a historic day, but the money we raise each year goes directly to students in need. It is work that supports a great cause.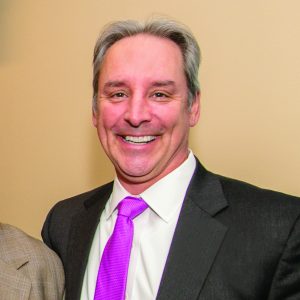 When thinking of volunteers, we think of this year's Golf Chairman, Paul Krische '81. A senior VP at Capital One Bank, Paul has supported and participated in our outing consecutively for many years. Paul brings a fresh new perspective to the Chairman role as an alumnus, a member of both our School Board and Golf Board, and as a parent to two Molloy students. As Chair, Paul is working hard to create a buzz about the outing as well as form relationships with new sponsors.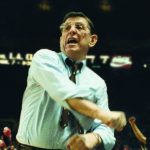 This year's Honorary Chairman is none other than the iconic Coach Lou Carnesecca '43. Throughout our school's history, Mr. Carnesecca has made a great impact on as an outstanding coach, mentor, and friend. He also authored a storied career at St. John's University, including three Big East Coach of the Year awards and induction into the Basketball Hall of Fame. As we prepare to celebrate the 125th anniversary of our school, we can think of no better representative of our Catholic Marist values worth of this honor.
Congratulate Paul Krische and Coach Carnesecca with a golf journal ad in their honor! Journal ads must be submitted by Friday, April 7th. Ads should be submitted in PDF format and sized 8.5″ x 11″. Half page ads should be horizontal in shape. Contact alumni@molloyhs.org if interested or for more information.
---
FF Michael J. Cawley Memorial Foundation Benefit
Click flyer below for more details:
aaaaaaaaaaaaaaaaaaaaaaa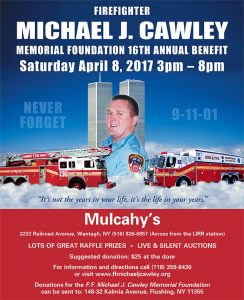 ---
The Stanner Players Present: The Pajama Game
When: 4/6 @ 2:30PM (Students & Faculty Only) | 4/7 & 4/8 @ 7PM | 4/9 @ 2PM
Where: Molloy's Ralph DeChiaro Theater
Admission: $5 Students & Children Under 12 | $10 Adults
Purchase Tickets: Search "Archbishop Molloy" on www.Eventbrite.com
More Info: stannerplayers@gmail.com
Alumni, parents, and friends are invited to come out and support the Stanner Players as they perform their spring musical: The Pajama Game. This year's musical is based on the novel "7 ½ Cents" by Richard Bissell and the book by the aforementioned Bissell and George Abbott. All music and lyrics are by Richard Adler and Jerry Ross. We'll see you at the show!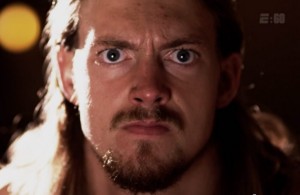 In what may be a Stanner first, Bill Morrissey '05, otherwise known as Colin "Big Cass" Cassady, will appear on WWE's Wrestlemania Pay-Per-View in a tag-team match on Sunday, April 2nd. Morrissey's rise to fame and path through Molloy and NYU to the squared-circle has been widely publicized over the past year (Times Ledger, USA Today, FOXSports) with a new article from Yahoo.com published on March 30th now adding to the narrative. Morrissey has spoken highly of Molloy in his interviews, in particular in an August 2016 Times Ledger article saying, "Molloy was awesome. I was in Catholic school my entire life up until college and that's a blessing – it taught me a lot of life lessons that I carry with me to this day." The Beehive wishes Bill all the best and continued success. (Photo courtesy of World Wrestling Entertainment, Inc. / ESPN)
---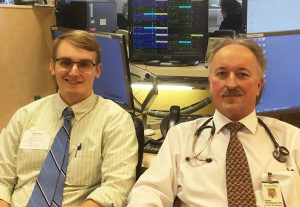 Matthew Zwolak '16 recently shadowed Dr. Peter Dicpinigaitis '79 for two days at the MICU at Montefiore. He shared his thoughts with The Beehive: "We had a busy and very productive time. I had a great experience, and was able to see many different procedures and functions of the unit. The experiences I had and the lessons I learned have truly made an impact on my pre-med career. Dr. Dicpinigaitis made sure that I was integrated into his team, and even his team members went above and beyond to help me make the most out of my time spent shadowing. I also look forward to future opportunities with Dr. Dicpinigaitis as my career in medicine develops. Dr. Dicpinigaitis represents a great physician in the ranks of Molloy alumni!" (Pictured: Matthew Zwolak and Dr. Dicpinigaitis in the ICU)
---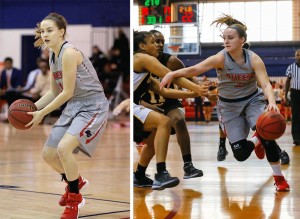 Sophomores Kaitlyn Mahon '15 and teammate Emer Moloney '15 were big contributors during what was a historic season for Queens College Women's Basketball. The QC Knights finished their regular season with a program-record 27 wins (27-5 overall) and captured their first ever NCAA East Regional Championship. 2017 also marked the program's first appearance in the NCAA Division II Elite Eight. Unfortunately, the fifth-seeded Knights fell to the fourth-seeded Harding University Lady Bisons (31-3 season record) by a score of 73-69. Despite the tough loss, it was undeniably a season to be proud of. Click the links above for Mahon's and Moloney's season stats and player bios.
---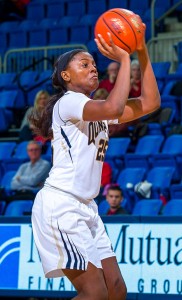 Aryn McClure '15 followed up her legendary rookie season for the Quinnipiac Bobcats with an outstanding sophomore campaign that helped lift the team to an impressive 29-7 record. In 36 games, the 5'11" guard/forward averaged 25.8 minutes, 9.1 points, 5.8 rebounds, and 2.9 assists per game with a .410 field goal percentage and a .730 free throw percentage. McClure and the Bobcats carried their momentum into the NCAA Division I Tournament, where they beat fifth-seeded Marquette 68-65 and fourth-seeded Miami 85-78 to advance to the Sweet 16. It was there that the Bobcats ran into South Carolina. The Bobcats fell 100-58 to the top seed. McClure still turned in a strong performance in the game with 9 points and a team-high five assists. We have no doubt that McClure will grow even more as a player and a leader heading into her junior season. This isn't the last you've heard of McClure's Bobcats!
---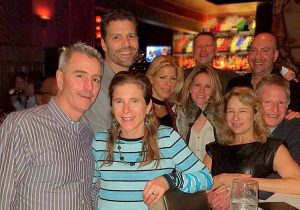 Kevin Dehler '82 shared the following note: "Stanners from the Class of 1982 had dinner in NYC in early March to discuss 'world peace and the New York Mets'. Significant others in attendance joined together in a collective roll of their eyes at the endless stories of how good we really thought we were back in our high school days. Pictured: John Mangan, Brian O'Connor, Paul Foschi, Kevin Dehler and JC Coffey. Looking forward to the Jim Kinnier Stanner Golf Classic on May 1st!"


We are saddened to share the passing of Richard Shortall '77, who passed away on February 19th. He is survived by his wife, Deliana; his sister, Laura; his children, Andrew, Thomas, Caitlin, and Michael; and his grandson, Forrest. He is also survived by many aunts and uncles, a niece, and nephews. Please keep Richard and the Shortall family in your prayers.

We are saddened by the sudden passing of Frank (Chip) Krumenaker '64 on March 20th. According to his friend and classmate, Gerald Vecchio '64, "Frank's outstanding academic record at Molloy enabled him to graduate with the second highest GPA, for which he received a well-deserved award since the Class of 1964 was Molloy's largest in the 1960's." According to Gerald, a memorial honoring Frank is planned for April 10th in California. Email alumni@molloyhs.org for more information.

Please pray for the repose of the soul of Eugene Hummel, father of Michael Hummel '79, Scott Hummel '81, and Robert Hummel '87. Mr. Hummel passed away on March 16th.

We were recently informed that Joseph Mahon '53 passed away roughly ten years ago. Mr. Mahon's passing had not previously been reported to Molloy or to our community. Joseph attended St. Ann's grammar school and high school. He later served in the US Air Force as an aerial photographer and as a NYC Police Officer. We ask that you please keep Joseph Mahon in your prayers this week.
---
UPDATED: April 22nd Memorial Service to Honor Mr. Salmon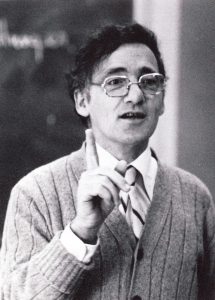 Archbishop Molloy High School was deeply saddened by the passing of Mr. Richard Salmon on February 8th. We would like to remind the Molloy community that Mr. Salmon's family has planned an east coast memorial service in his honor to take place on Saturday, April 22nd at 11:00am at St. Kilian's RC Church (485 Conklin St, Farmingdale, NY 11735, 516.249.0127). The Salmon family has asked that those planning to attend should email ortfish6@gmail.com with the number of people in their party. The Salmon family also encourages former students to continue visiting a memorial page dedicated to Mr. Salmon, where new pictures have recently been added and many stories have been shared.