Upcoming Events
Walk/Run Relay & Vigil for Karina Vetrano

–

2 Weeks Away
When: Friday, June 23rd & Saturday, June 24th| Times: See Flyer
Where: Archbishop Molloy High School
Who: All members of the community
REGISTRATION NOW CLOSED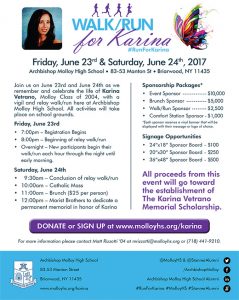 Please join us on June 23rd and June 24th as we celebrate the life of Karina Vetrano '04, a member of Molloy's first coed graduating class who was tragically killed in August 2016 while jogging in Howard Beach, Queens. Molloy, with the support of the Vetrano family and friends of Karina, will remember her with a vigil and relay walk/run event. Those in attendance can participate in the walk/run vigil Friday evening, overnight, or early Saturday morning. Catholic Mass will be held at 10:00am on Saturday with brunch to follow at 11:00am ($25 per person). After brunch, the Marist Brothers will dedicate a permanent memorial for Karina. All activities will take place on school grounds.
We are also raising money to establish a scholarship in Karina's memory. Download the flyer to the right for information about signage and sponsorship opportunities. All proceeds from this event will support The Karina Vetrano Memorial Scholarship.
We are approaching 200 people registered for this event! If you plan on participating please sign up as soon as possible. When you sign up, more information including a pledge form will be sent to your email address. Your generosity will help Molloy honor Karina through her scholarship for years to come.
Please share and read the flyer, or visit www.molloyhs.org/karina to sign up for the event or donate to the Karina Vetrano Memorial Scholarship. If you would like to volunteer, or if you have any questions, please contact the Stanner Alumni Center at (718) 441-9210 or alumni@molloyhs.org.
---
Fundraiser for Sean Harrison '11 – THIS WEEKEND
When: Saturday, June 10, 2017 @ 12PM
Where: Woodhaven House (63-98 Woodhaven Blvd, Queens, NY 11374)
Program: Live Music, Raffles, Food, 50/50, Cash Bar
More information: Facebook Event Page
Please join alumni and friends on Saturday, June 10th as we come together to help a Stanner in need. Sean Harrison '11 was seriously injured in a car accident in July 2016. As a result of the accident, Sean remains paralyzed and in need of continued rehabilitation. The event at Woodhaven House will help raise funds for the Harrison family's ongoing medical expenses as they help Sean through this challenge. As a young alum, Sean had been a frequent volunteer at Esopus and in the Stanner Alumni Center. He selflessly gave up his time on many occasions to help his alma mater, and is considered to be a wonderful and caring friend by many in our community. Join us in giving back to Sean now. Visit the Facebook Event Page (link above) for more information or download and share the flyer to the right.

New Record! Over $185,000 Raised at 31st Annual Jim Kinnier Stanner Golf Classic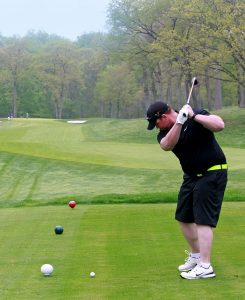 May 1, 2017, proved to be a banner day for the Jim Kinnier Stanner Golf Classic. We've tallied up the final numbers from the 31st installment of Molloy's largest all class reunion, and the results are incredible! Together, with the support of alumni, family members, friends, and corporate sponsors, Molloy raised over $185,000 for its scholarship program. This sum marks a new record for the Stanner Golf Classic, and over $35,000 more than last year's total. "This was a collaborative success," said President Richard Karsten '81. "Our community has stepped up every year to help our outing prosper and our scholarships grow, but this year everyone went above and beyond to make a difference the lives of our students. Words can't express how grateful we are for everyone's generosity."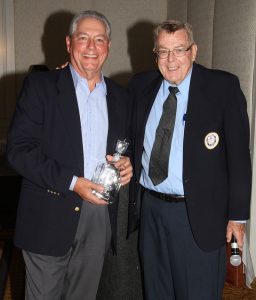 (Pictured left: Jerry Schumm and Jim Kinnier) It was a beautiful day at North Hills and Plandome Country Clubs, with over 300 golfers teeing up. Each golfer received complimentary tees, ball markers, golf balls, and a new Dri-Fit quarter-zip shirt. Prize holes, food, and beverages throughout the courses enhanced the experience, while a cocktail reception with an oyster bar and delicious hors d'oeuvres welcomed golfers back to North Hills clubhouse after their games. Dinner included a full buffet with lobster, hot dishes, pasta and carving stations. The dinner portion of the program also included silent and live auctions, which saw every item claimed. Live auction prizes included golf at Fishers Island Club, a week at Mount Snow, VT, and a five-star gourmet dinner prepared by Molloy's on President Karsten. Silent auction prizes included concert, sports, and Broadway tickets, salon treatments, golf at private courses on Long Island, baskets of cheer, a Molloy gift basket, and much more. After the live auction, winning raffle tickets were drawn. The winning tickets are as follows: 1st Prize (Super Bowl): Ticket #000541 | 2nd Prize (Las Vegas): Ticket #035708 | 3rd Prize (55" TV): Ticket #013207.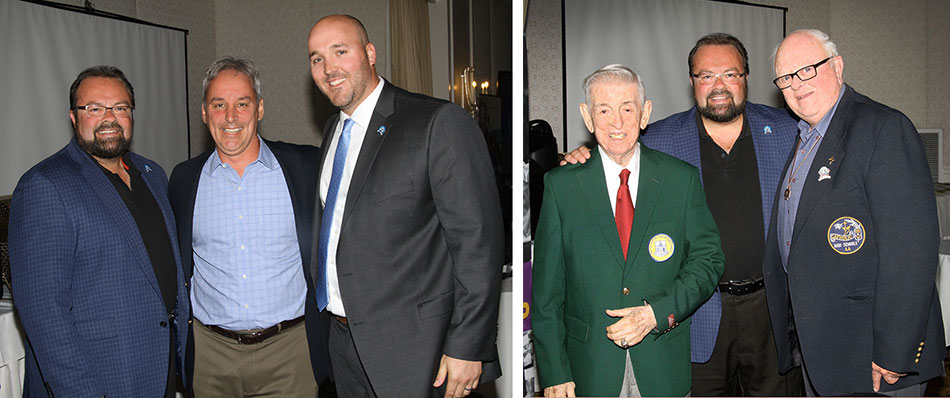 Highlights of the dinner program featured remarks by our 2017 Golf Chairman, Paul Krische '81, and Honorary Chair, Mr. Lou Carnesecca '43. Paul expressed his deep appreciation for his alma mater. A Senior VP at Capital One Bank, Paul has always found time in his busy schedule to volunteer at Molloy or Esopus and participate in alumni events. He ended his speech on an emotional note, reminding everyone that the Stanner Golf Classic is about "helping more kids attend this great school." Paul was right on the money, as two eighth grade students who will attend Molloy this fall and be awarded scholarships thanks to the Stanner Golf Classic were in attendance at this year's golf dinner. Mr. Carnesecca spoke off the cuff and attributed much of his success in life to the Marist Brothers. "They gave me my first shot. Without them, where would I be? They are tremendous people, and it was and is a tremendous school."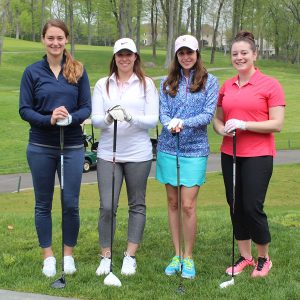 Also of note, this year's event hosted the first alumnae foursome in Stanner Golf Classic history. Congratulations to Jessica McEntee '05, Christina Rizzotti '04, Carissa Jordan '04, and Keri Jetter '04, on this amazing milestone (pictured left to right)!
Molloy would like to thank all of our golfers and corporate sponsors for their participation and charity. Thank you to our Golf Board for your tireless efforts to address all the fine details and recruit our sponsors. Many thanks and congratulations are also due to Alumni Development Officer Matt Rizzotti '04 for his impeccable planning in support of this year's event. Special thanks are extended to this year's Chairman, Paul Krische, and Honorary Chairman, Mr. Carnesecca. It is no coincidence that the Stanner Golf Classic enjoyed a record day under your leadership. We would also like to thank the many volunteers who gave of their time to ensure that each course was adequately staffed. Your contributions were crucial to the success of the event, and we can't thank you enough for spending your "May Day" with us.
We leave you now with a few important items. First, if you haven't already, please consider downloading this year's digital Golf Journal (button below), which contains information about the history of the Stanner Golf Classic as well as this year's outing. The Journal also contains many ads from Stanner-owned or Stanner-friendly businesses that we encourage you to explore and work with. Second, please take a few moments to view the video tributes dedicated to our Chairman and Honorary Chairman. The videos are embedded below. Special thanks to St. John's University and the Krische family for their contributions to these productions (Videos produced & edited by Joe Sommo). Third, be sure to check out a full photo gallery on Facebook (with small sampling below).
Once again, thank you to all who helped make the 31st Annual Jim Kinnier Stanner Golf Classic a record-breaking day. We look forward to another wonderful day for our school on Monday, May 7, 2018.


---
Memorial Day: Class of '63 Honors PFC Willett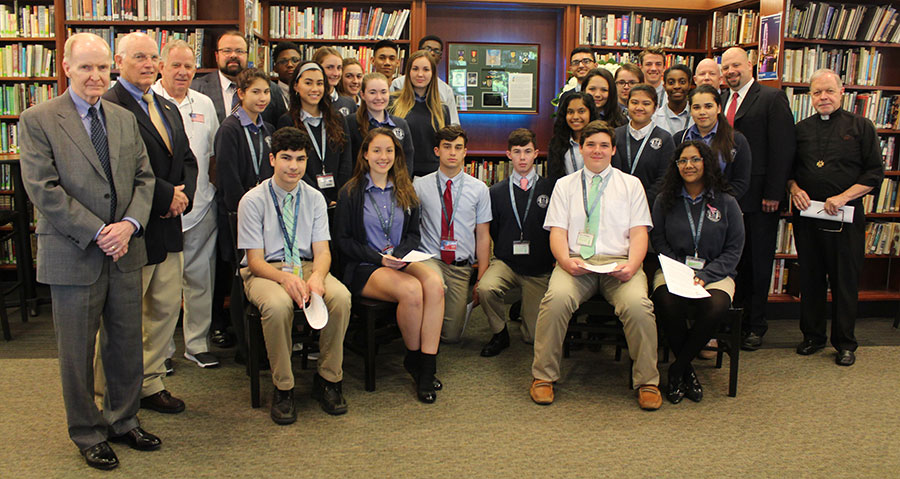 Earlier this year, Molloy recognized the 50th anniversary of the passing of PFC Louis Willett '63. On February 15, 1967, PFC Willett was killed in action during a gun battle in Vietnam. There is more to the story, however, as PFC Willett's fatal wounds came only after his actions on the battlefield allowed his platoon to safely withdraw from their once compromised position. PFC Willett's bravery saved many lives that day, and his sacrifice was ultimately posthumously rewarded with the military's highest respect: the Medal of Honor. He is the only Stanner to hold this distinction.
PFC Willett's legacy has continued in the hearts of many, including his family, those he served with, his classmates, and with the students at Molloy. That's because many from the Class of 1963, and one dedicated social studies teacher, have made it a point to celebrate PFC Willett's bravery and teach our students the importance of his place in history. Each year, in recognition of Memorial Day, Mr. Jeff Gallagher '88 instructs his students to leave their classroom and head down to Molloy's Stanner Hall of Fame. There, Mr. Gallagher reads PFC Willett's official Medal of Honor citation next to his Hall of Fame sketch. This year, members of the Class of 1963 joined Mr. Gallagher's class for the reading in their continued observation of the 50th anniversary of their classmate's passing. Retired US Navy Capt. Larry Seible '63, Bob Corrigan '63, and Jim Corcoran '63 represented their class, while Capt. Seible opened the brief ceremony with a few words of inspiration. He expressed his deep admiration for PFC Willett, and urged each student to read the Medal of Honor citation more carefully, and even share it with their families. Capt. Seible then presented Mr. Gallagher with a beautiful copy of The History of the Medal of Honor for use in his class and in the school's library. Later on, the Class of '63 traveled to St. John's Cemetery in Middle Village to pay their respects at PFC Willett's burial site.
Also of note, the ceremony took place in the library this year rather than the Stanner Hall of Fame. This is because Molloy has installed a shadow box of military artifacts, previously donated by Capt. Seible, which represent PFC Willett's career in the army. The shadow box resides among the bookshelves of the William J. Murphy Library, backlit in Molloy blue, and serves as a focal point for students and visitors to forever admire. The installation will help keep PFC Willett's legacy as strong as ever here at Molloy, and we can't thank the Class of 1963 enough for their continued efforts to remember this great American hero. We will have more coverage of this installation in the coming months, as another exciting announcement is on the horizon. Stay tuned.
---
Around the School
Congrats Grads!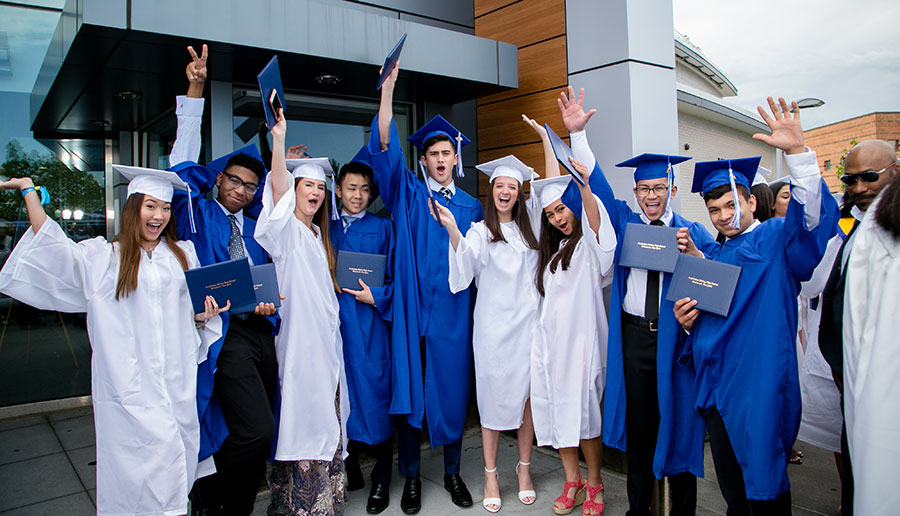 Congratulations to the Class of 2017, who made history at Molloy's 125th commencement ceremony at the Colden Auditorium at Queens College on Saturday, June 3rd. We will have full coverage of all graduation related events in the next issue of The Beehive, but for now, join us in congratulating our newest alumni!
Student-Athletes Receive End of Year Honors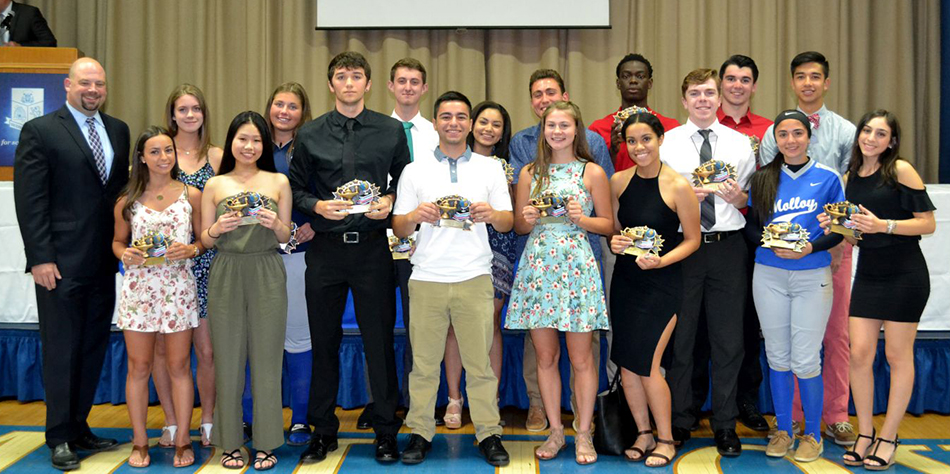 On May 23rd, Molloy's coaching staff and faculty celebrated Athletic Awards Night with students and their families. This annual school event honors the hard work and outstanding achievements of Molloy's many talented student-athletes. Coach's Awards and MVP Awards were presented to the top athletes on each team, while Scholar Athletes were awarded for their balanced performance in the classroom and on the field of play. Click the button below for a full list of this year's winners. Playoff results for our championship teams are also included.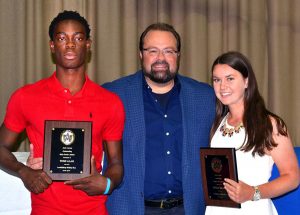 The Jack Curran Award Outstanding Senior Athlete Award is presented annually to the overall best male and female athletes in the graduating class. This year's recipients are Oluwatomide Alao and Sinead Brady. Oluwatomide, known to many of his classmates as Tomi, was team captain of the varsity Track & Field team. He owns two Molloy records and is a CHSAA record holder. He is a six-time meet champion holding records in three events. He is a three-time sectional and city champion holding a meet record and MVP. He is a four-time state champion and holds a meet record and MVP. Tomi is the reigning New York State champion and CHSAA record holder in the 55 meter high hurdles. He is also a two-time All-American with the Shuttle Hurdle Relay Team. He will attend the University of Connecticut this fall. Sinead is a two-sport athlete. She has competed and started on one of those varsity teams for four years. She was captain of both of her teams as a junior and a senior. She was named to the All-League Team two times in her career. She holds the school record for most career goals and ranks 6th in the Long Island Private Schools for goals in a season. She will attend Fordham University this fall.
---
Molloy Presents: An Evening of Music, Art & Science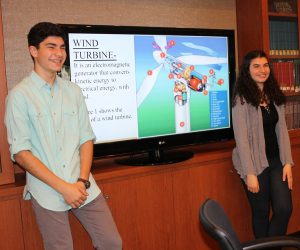 On May 16th and May 17th, Stanner families were treated to two nights of scientific research and artistic showmanship as Molloy's scientists, choruses, bands, and artists came together to host "An Evening of Music, Art & Science". On night one, the festivities kicked off with a Science Symposium. Students presented their research projects and explained their work to their inquisitive peers. In addition, the Symposium was scheduled later than in previous years in order to allow for parents and alumni to attend. "The Symposium benefited from the changing the start time and combining it with what used to be the Music and Art Festival," said program director Ms. Mary Mallia. "We were very pleased with the turnout. In general the Symposium is a great way to gain more exposure for Molloy's Science Research Program."
Program Downloads: Science Symposium | Concert Night 1 | Concert Night 2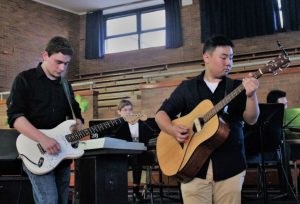 After the Symposium wrapped up, the musical portion of the evening began with the freshman/sophomore chorus. Led by director Ms. Ya-Ting Yang, the chorus performed a variety of pieces ranging from Mozart (Friends, forget the cares), to American Folk Music (Shenandoah), to Broadway (Babe in Arms, Westside Story). The second half of the program featured Molloy's Concert Band, which performed Tchaikovsky (1812 Overture), Leonard Bernstein (One Hand, One Heart), and themes from Pirates of the Caribbean among other selections. On night two, the Guitar & String Ensemble opened up the show with a diverse setlist featuring Led Zeppelin (Immigrant Song), the Beatles (While My Guitar Gently Weeps), Heart (Barracuda), and other classic and contemporary rock songs. The second portion of the program put the spotlight on the junior/senior chorus, directed by Mr. Jim Sheehan '75. The chorus performed selections from Westside Story, Ragtime the Musical, and more. Both evenings also featured a collection of student artwork, including paper and canvas paintings as well as 3D computer-generated art.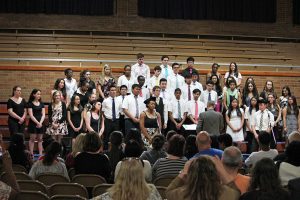 "Our music and arts programs are growing, so reformatting what was our Music and Arts Festival into this year's event, which also included science, was beneficial to our students," said Assistant Principal Ms. MaryAnn Safrey. "Splitting the even into two nights allowed the students and program directors to expand their repertoires and perform a wider variety of songs. The music was diverse, and the directors rearranged some pieces to make them more unique to our concerts. The students definitely took on some difficult music, but I feel these were our best school concerts ever." Molloy invites all alumni and parents to future showcases of science, music, and art at the school, and encourage all to keep reading The Beehive or visiting www.molloyhs.org for announcements about event and concert dates.
---
Varsity Softball Wins B/Q & City Titles!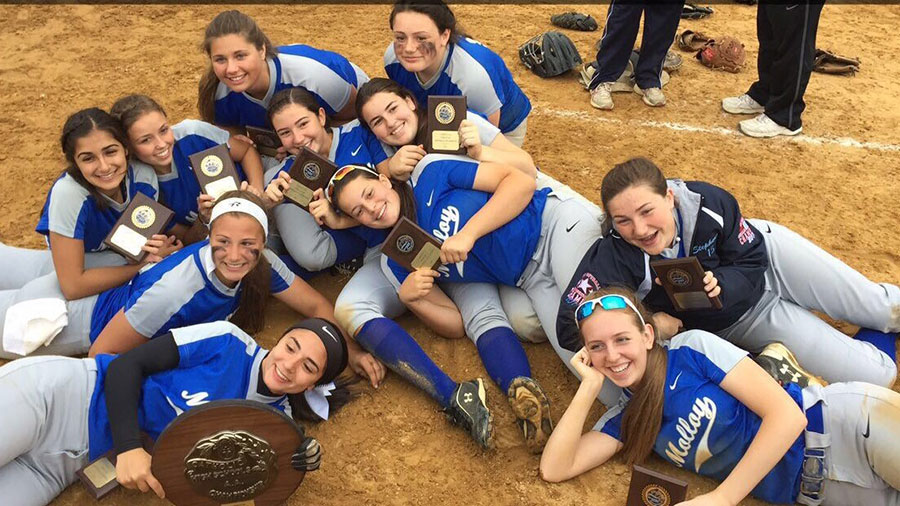 Congratulations to the girls varsity softball team! They won the Brooklyn Queens championship against TMLA after winning two games in a row in a 3 game series. The girls then topped that impressive feat by winning the City Championship 4-0 against Moore Catholic! The team came up just a bit short during the State Championship playoffs, but they still made their coaches, Maureen Rosenbaum and Catie Massowd, very proud! Read about varsity softball's impressive season in the Times Ledger. | Read Times Ledger Article
---
Stanners Win at Mobile App Expo

On May 17th, eight AP Computer Science Principles students participated in Trinity College's 4th Annual Mobile App Expo, organized for the first time in the NY Metro Area by NSHA High School. As part of the expo, students submitted original apps developed with MIT's App Inventor for Android devices. The head judge and guest speaker of the event was Dr. Ralph Walde, Computer Science and Math Professor Emeritus at Trinity College. Four of Molloy's participating students brought home awards from the competition: Leelan Carbonell received the "Crowd's Favorite" award for his BrickBreaker video game, while Ian Chan was the Runner-Up with his TicTacToe app. Malik Maitland received the "Design Award" for his PiDay app, and Spencer Szeto received the "Functionality Award" for his Super Pong game.

Send Your "Alumni Update" for Stanner Life Magazine

There's still time to submit your "Alumni Update" for this summer's issue of Stanner Life Magazine, our annual printed newsletter serving the St. Ann's / Molloy community. Have you recently gotten engaged? Married? Graduated from college? Have you earned a new degree, reconnected with old friends, gotten a new job, or traveled to a distant land? Has your family gotten larger? We'd love to hear about it. In addition, we are looking for volunteer writers and other story contributions. Your work could be prominently featured in our publication.
If you would like to be included in Alumni Updates in the next Stanner Life Magazine, please submit a one paragraph update along with a relevant, high resolution photo to alumni@molloyhs.org. DEADLINE FOR SUBMISSIONS IS FRIDAY JUNE 16.
---
Alumni Panel Shares College Experiences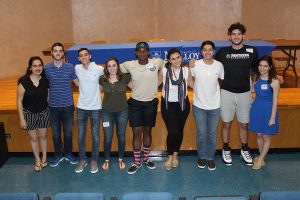 On May 16th, a group of nine alumni from the Classes of 2014 and 2016 visited Molloy to participate in a college panel discussion with this year's graduating seniors and any other interested students. The alumni shared their experiences as college freshmen and provided helpful information about what to expect in college, how to prepare for life on campus, how to schedule classes, establishing a good working relationship with professors, and many other topics. The alumni also participated in a Q&A, answering a wide range of questions from students. "Having alumni willingly return to take part in a panel discussion on college life is a testament to the type of formative experience students undergo at Molloy, said Mr. Gus Esgro, a College Guidance Counselor at Stanner High. "The college guidance department is truly grateful to have students return and share their stories with our current student body, and we look forward to running this event for years to come." Thank you to Julia Antignani '14, Charlie Maisano '16, Peter Maisano '16, Rose Maisano '16, Dylan Haynes '16, Konstantina Raptis '16, Stephen Velez '16, and Evan Georgio '16, and Stacy Kanellopoulos '16 for participating in the panel!