The Lt. John K. Gremse Graduation Assistance Fund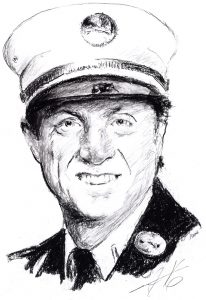 Archbishop Molloy High School is proud to announce the establishment of The Lt. John K. Gremse Graduation Assistance Fund. This new, critical fund will help students whose parents face unexpected and overwhelming financial difficulties leading to their inability to pay for the remaining tuition in their son's or daughter's senior year. Please continue reading for more information about the inspiration for this fund in memory of Lt. John "Jack" Gremse '68.
John "Jack" Gremse was beloved in many circles of his life. He was a family man, a loyal friend, and a dedicated member of the FDNY. He was humble, never taking credit for saving lives or property. "I was only doing my job," he would always say. Some of Jack's happiest memories were with his Molloy classmates from the Class of 1968. He and his fellow Stanners would gather for mini-reunions at the Gremse family home every other summer, a tradition that has carried on for over 20 years.
On September 11, 2001, and in the months that followed, Jack, alongside many other first responders, took on the onerous task of what at first was hoped to be a rescue mission, but sadly turned into a recovery mission. Just five days after the attacks, Jack was promoted to Lieutenant, an achievement he took great pride in and a role he served in with dignity. Unfortunately, Jack's work at the World Trade Center would eventually result in 9/11 related cancer. He passed away in September 2014. In memory of Jack, the Class of 1968 continues to reunite at the Gremse family home each summer.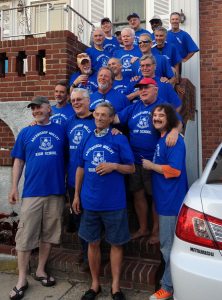 Pictured Right: John K. Gremse (front row center) and Molloy's Class of 1968 during one of their bi-annual summer reunions at the Gremse family home. These reunions have been organized for over 20 years. Pictured above: John K. Gremse Stanner Hall of Fame sketch by artist Paul Gatto.
Jack's leadership, courage, dedication to his family and friends, and loyalty to his alma mater earned him posthumous induction into Archbishop Molloy High School's Stanner Hall of Fame on March 23, 2019. Jack's wife, Kathy, accepted the honor on his behalf. In her remarks, Kathy proudly announced the establishment of The Lt. John K. Gremse Graduation Assistance Fund. Kathy shared a personal story about Jack to illustrate why this fund helps seniors experiencing tuition difficulties.
"During the trying times of 1968, as the Vietnam War was raging and civil unrest was unfolding, Jack walked across the stage, a proud graduate of Archbishop Molloy High School. After the ceremony, when he went to look at what would have been his diploma, he instead was holding a blank piece of paper. What he didn't know then was that his last tuition payment wasn't yet made, and a student did not get their diploma unless tuition was paid in full. Of course, parents always attempt to shield their children from the sometimes awkward financial facts of life. Jack's family was no different; being the oldest of nine children, his father worked numerous jobs to ensure that each child received a solid education."
As stated in our introduction, Jack's story has inspired the creation of this critical fund that will help students like Jack, whose parents face unexpected and overwhelming financial difficulties leading to their inability to pay for the remaining tuition in their son's or daughter's senior year. We invite our community to honor John K. Gremse by making a gift to this fund today.
Thank you to Kathy, the Class of 1968, the FDNY, and all who inspired the creation of this fund and who continue to keep Jack's memory alive.
Gifts to the Lt. John K. Gremse Graduation Assistance Fund can be made by direct mail, over the phone, or online. Call 718.441.9210 to speak with a member of the Stanner Alumni Center. Click the button below to visit our online donation page. Checks can be made payable to Archbishop Molloy High School with the memo reading "Gremse Scholarship". Mail to: Archbishop Molloy High School, ATTN: Stanner Alumni Center, 83-53 Manton Street, Briarwood, NY 11435.

---
33rd Annual Jim Kinnier Stanner Golf Classic – SOLD OUT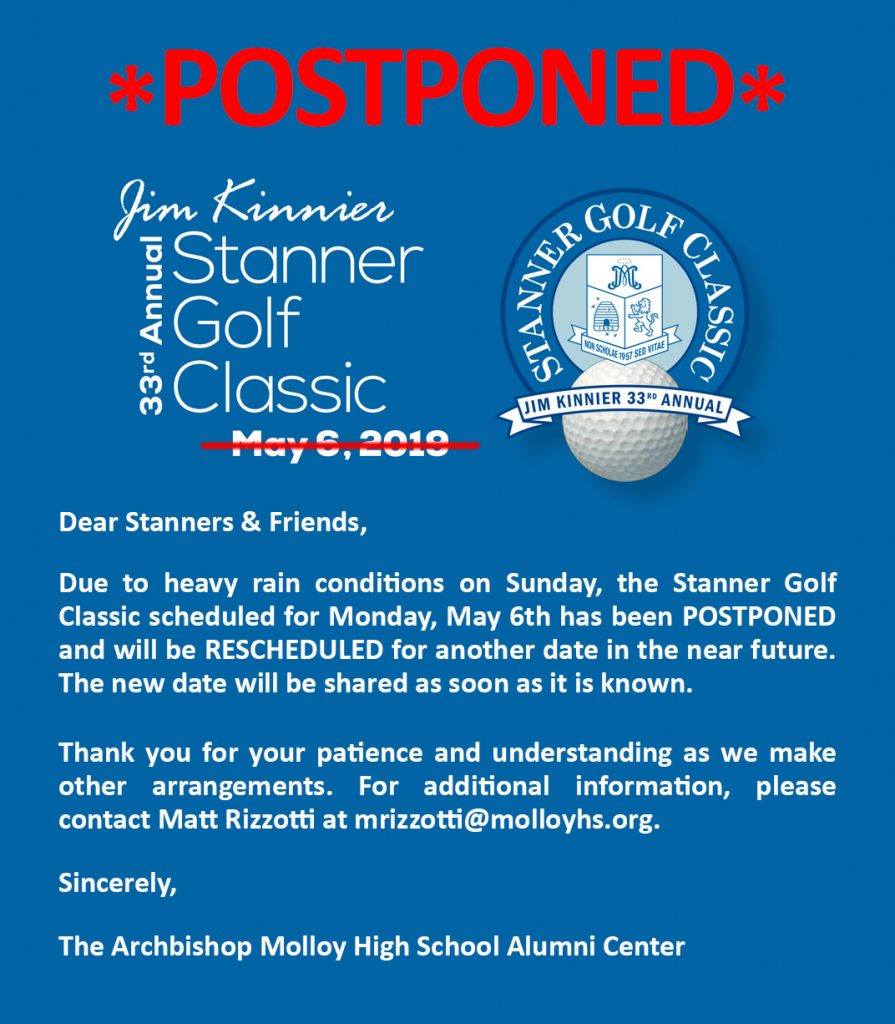 ---
Four More Student-Athletes Sign Letters of Intent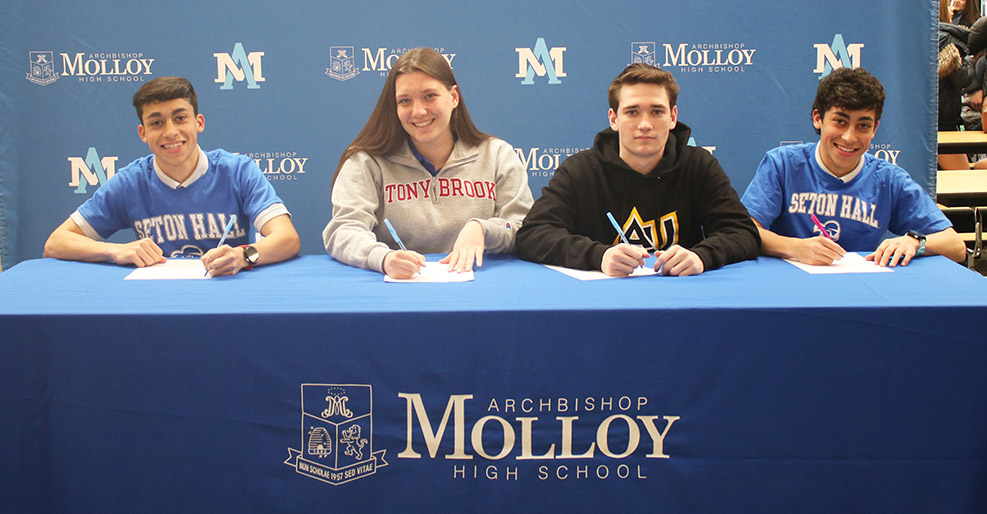 Earlier this spring, four more Stanners committed to playing their sport at the college level by signing national letters of intent. Congratulations to:
James Loeffel '19 – Cross Country & Track – Seton Hall University
John Loeffel '19 – Cross Country & Track – Seton Hall University
Declan Murphy '19 – Swimming & Diving – Adelphi University
Bridget Montgomery '19 – Swimming & Diving – Stony Brook University
James, John, Declan, and Bridget join their six classmates who signed national letters of intent back in November (Read More).
---
Molloy Recognized for Diversity in Computer Science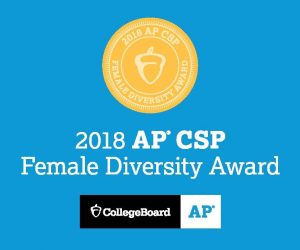 The College Board announced that Archbishop Molloy High School has been awarded with its AP® Computer Science Female Diversity Award for attaining female student representation in AP Computer Science Principles for 2018. Among the more than 18,000 secondary schools worldwide that offer AP courses, Molloy is one of just 685 schools that has achieved this important milestone. The College Board recognizes the importance of diversity in computer science and has commended Molloy's leadership in computer science and commitment to preparing its young women for the in-demand tech jobs of the future.
---
Fast-A-Thon Fundraiser, Sacrament of Reconciliation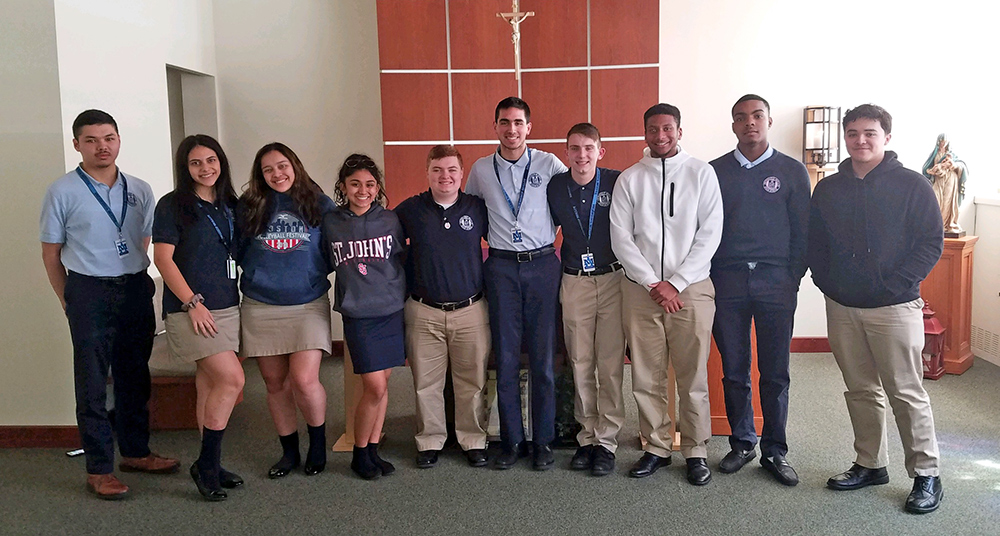 Earlier this spring, Molloy students participated in a seven hour Fast-A-Thon organized by Campus Ministry. Students skipped their normal lunch period and instead spent time together in our chapel. "The Fast-A-Thon is a powerful and spiritual experience that teaches our students to understand what it means to sacrifice, when in reality there are millions of people who sacrifice their meals unwillingly," said Campus Ministry Director Mike Germano '93. The students who participated were sponsored by family and friends, and together they raised $3,200 for Magnificat Farm in Kentucky. This project, started by a graduate of fellow Marist school Roselle Catholic, serves the needs of the local community by sharing a wide expanse of farmland that includes a new chapel. The farm also provides physical and spiritual sustenance for people in need.
The same week, students and faculty received the sacrament of reconciliation. Special thanks to the priests who visited Molloy for this occasion: Fr. Tom Pettei (Queen of Angels, Sunnyside), Fr. Peter Purpura '99 (St. James Cathedral, Brooklyn), Fr. John Francis (St. Nicholas of Tolentine, Jamaica), Fr. Antonin Kocurek (Our Lady Queen of Martyrs, Forest Hills), Fr. Christopher Heanue (Holy Child Jesus, Richmond Hill), Fr. Christopher O'Conner (SMHC, Woodside), Fr. Anthony Rosado (St. Fidelis, College Point), and Fr. Bill Sweeney (St. Francis DeSales, Belle Harbor).
---
Students Celebrate Junior Leadership Liturgy & Easter Liturgy
In April, over 350 juniors and their families attended our annual Junior Leadership Liturgy, celebrated by Fr. Peter Purpura '99. The Liturgy recognizes our juniors and their growth as they prepare to accept the baton from our graduating seniors and become role models for the underclassmen. The Liturgy is a reminder that they have more one year to be leaders among their peers, and to get involved around school by taking advantage of everything Molloy has to offer. Becoming a senior also means setting the example for what it means to be a Stanner through service, participation, and leadership.
On April 17th, Molloy celebrated its Easter Liturgy, which included students acting out the Gospel of the Day – the Betrayal of Judas. The presentation was organized by junior Daniel Ramirez '20 and the Liturgy Committee. Check out photos from Easter Liturgy below.
---
Molloy College Business Boot Camp Recruits Stanners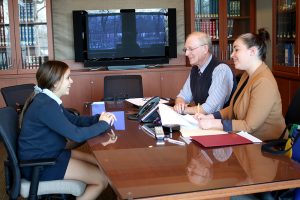 Earlier this spring, Dr. Stephen J. Bier, Associate Dean of the Business School at Molloy College, and Ms. Casey Mann, Coordinator for Strategic Business Initiatives, visited Archbishop Molloy High School to interview student candidates for the college's Business Boot Camp. The camp, which will take place from June 27th – July 2nd, offers interactive seminars and learning opportunities including "Shark Tank", trading simulations, business presentations, and marketing competitions. The camp also gives high school students the opportunity to spend time on a college campus and learn from Molloy College's student ambassadors, who have real-world experience through their own internships. Several Stanners had positive experiences in the Business Boot Camp last year. Thank you to Mr. Bier and Ms. Mann for meeting with our students, and to our College Guidance Department for coordinating this opportunity.
---
I AM Green Club Promotes Composting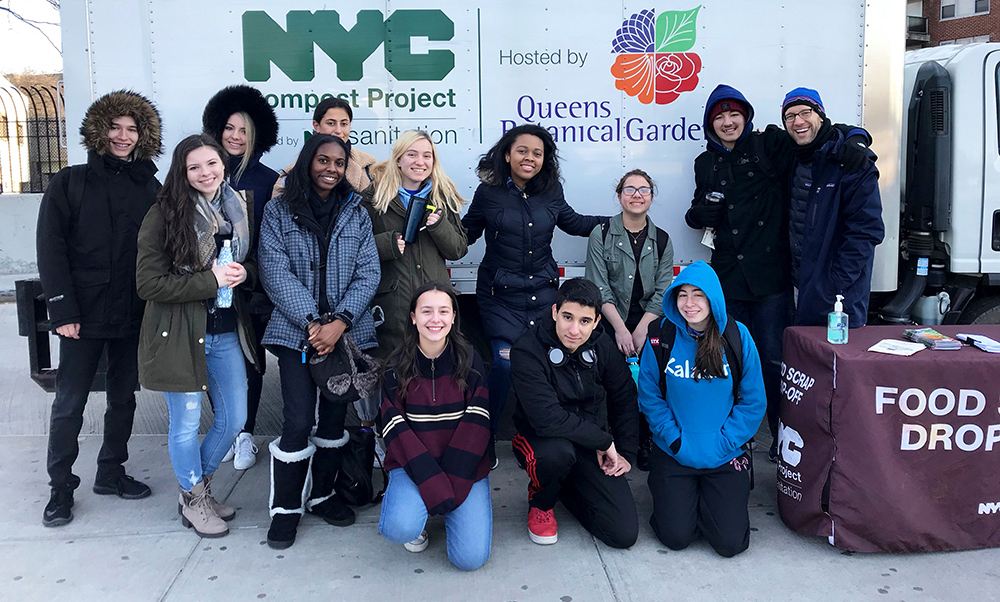 Earlier this spring, Mr. Chris Dougherty '91, Mr. Gus Esgro, and students in their I AM Green Club took a quick trip down to Queens Boulevard to drop off their compost food waste. The Queens Botanical Garden sets up a compost drop-off location just outside the Briarwood F train station every Tuesday from 7:30am to 9:30am. They accept fruit and vegetable scraps, coffee grounds/filters and tea bags, stale/moldy bread and grains, egg shells, nutshells, food-soiled paper towels, flowers, and other items. Composting is important because this type of waste can be "recycled" into soil rich in nutrients. Learn more about composting and other drop-off locations in Queens at: queensbotanical.org/farmandcompost/foodscrapdropoffs/
---
Congratulations to Br. Eugene Birmingham
Congratulations to guidance counselor Br. Eugene Birmingham, who has received a grant through The Gilder Lehrman Institute of American History to study The Story of World War II this summer at The National World War II Museum in New Orleans, Louisiana. The course will examine the American perspective of soldiers, sailors, airmen, nurses, doctors, reporters, and civilians to answer why the war was fought and how it shaped the world we live in today.


Inaugural Molloy Alumni Education Network Event
When: Wednesday, June 5, 2019 | 5:00pm-8:00pm
Where: Archbishop Molloy High School
Who: Stanners in the fields of Education, Mental Health, Occupational & Physical Therapy
Contact: Joe Sommo '03 | jsommo@molloyhs.org
Admission: Free!
Archbishop Molloy High School is proud to announce its inaugural Alumni Education Network Event on Wednesday, June 5th, 2019, sponsored by the office of President Richard Karsten '81 and the Stanner Alumni Center. Stanners in the fields of Education, Mental Health, Occupational & Physical Therapy are invited to join us at Molloy for a social reception featuring light refreshments and adult beverages. This is a great opportunity to network with other Stanners in your field! Please join us as we establish this new network and work to expand its membership in the coming months.
---
St. Ann's Communion Breakfast

–

RSVP Now!
When: Sunday, June 2, 2019 | 10:30AM
Where: Archbishop Molloy High School
Who: St. Ann's & Molloy Alumni, Family & Friends
RSVP to: Merl Doyle | mdoyle@molloyhs.org | 718.441.9210
The Stanner Alumni Center welcomes St. Ann's Academy alumni, Molloy Grads from the Classes of 1960-1968, family and friends to join us on Sunday, June 2nd for our St. Ann's Communion Breakfast. This event is an annual celebration of our roots at St. Ann's, which opened its doors at Lexington Avenue and 76th Street in 1892. Our program includes Mass celebrated here at Molloy, followed by a buffet breakfast. RSVP via phone or email to Merl Doyle (see information above) or online at www.molloyhs.org/events/.
---
Walk/Run For Karina

–

Save the Date!
When: Saturday, June 22, 2019
Where: Archbishop Molloy High School
Who: Everyone!
Admission: $25 donation per person | Kids 12 & Under Free
Contact: Matt Rizzotti '04 | mrizzotti@molloyhs.org | 718.441.9210
Save the Date! Registration Opening Soon.
We invite the Molloy community to join us on Saturday, June 22nd for our third annual Walk/Run for Karina. Together we will honor the memory of Karina Vetrano '04 with a spirited Walk/Run and 5K Race. The event schedule is as follows:
9:00am – Mass | 10:00am – Light Breakfast | 10:30am – 5K Race (pizza to follow) | 11-11:15am – Kids Race | 11:30am – Yoga Session
Save the Date! Online registration will open soon. Family and friends are welcome. If you have any questions please contact Matt Rizzotti '04 (info above). We look forward to sharing this special day with our community.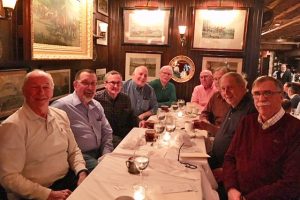 Jerry Hollmann '67 shared a recent mini-reunion featuring members of the Class of 1967. Jerry and his classmates caught session two of the quarter-finals of this year's Big East Basketball Tournament. Following that afternoon's doubleheader at MSG, the Stanners adjourned to nearby Keens Steakhouse for dinner. "The late Mr. Frank Rienzo was remembered fondly by our group, which included five of his track team members, for his contributions to Molloy and the Big East," said Jerry. Pictured left to right: Jim Galvin, Steve Doran, Bruce Ungar, Bill Carey, Dan O'Connor, Harry Mulligan, John Molloy, Jerry Hollmann, and Bob Hogg. | If you're interested in contacting Jerry or joining the Class of 1967 for a future gathering (including a baseball game this summer), please contact alumni@molloyhs.org.
---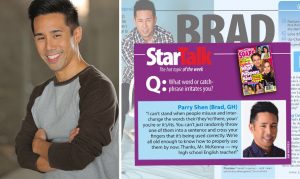 Parry Shen '91 is an actor and producer best known for his role as Brad Cooper on the long-running American soap opera General Hospital. Parry has also appeared on screen in a wide range of other roles and has lent his voice to several animated series and video games. In a recent interview with ABC Soaps magazine, Parry discussed how irritated he gets by poor grammar. He also mentioned Mr. Charley McKenna, his high school English teacher! Click the image to the left to read his full comments. | Parry Shen on IMDB.com | Parry Shen Official Website | Photo Credit: Dennis Kwan
---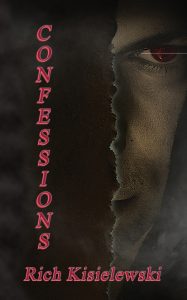 After having five private detective mysteries published, Rich Kisielewski '70 is proud to present his first psychological thriller, Confessions, published on April 30th. Follow police detective Maeve Brennan as he leads a multi-agency task force to investigate a string of violent crimes across multiple states. Bill McGoldrick '70, an attorney and retired sergeant with the NY State Police Major Case Squad, shared his review of the book: "Confessions is a crime novel with an engagingly unique plot line. The surprise twists that develop as the story unfolds really hold the reader's attention. For someone without a cop background, Rich really captures the interplay between local cops and the "feds". The plot develops at a nice pace, leaving the reader hopeful that this is the first in a series." Learn more about this and previous books at Rich's website: http://richkisielewski.com/
---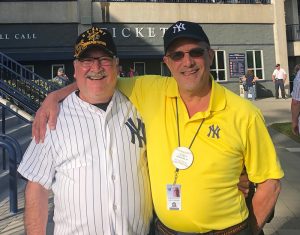 Earlier this spring, Mike Morra '68 and Lenny DiSanza '70 bumped into each other during a Yankee spring training game in Tampa, Florida. "We did not know each other in school," explained Mike. "I ran into a Yankee greeter whose nametag said 'Lenny, Woodhaven, NY' We started talking and reminiscing since I'm from South Ozone Park. I asked him where he went to school, and he says Molloy. Next thing I said was hello fellow Stanner!" Mike and Lenny shook hands and became instant friends.



We are saddened to share the passing of Mrs. Jane Serio, mother of Fr. John '71, Dr. Frank '72, Robert '76, aunt of Dr. Steven Quevedo '70, Mark Trolio '70 and Paul Trolio '72, and the mother-in-law of James Napolitano '72. "She loved Molloy because we loved it," said Fr. John Serio. "She also was friendly with Richard Salmon and Ray Egan over the years. She spent many years at the Town of Hempstead's Department of Senior Enrichment as a field representative and directed the ministry of consolation at St. Frances de Chantal, Wantagh." A Mass of Christian Burial was celebrated on Monday April 29 at St. Frances de Chantal.

Please pray for the repose of the soul of George DeNoto, father of Ms. Dorothy DeNoto.

Please pray for the repose of the soul of Mary Harkins Caslin, mother of Edward Caslin '81.

Please pray for the victims of the recent attacks in Sri Lanka, including those associated with the Marist-founded Maris Stella College in Negombo.