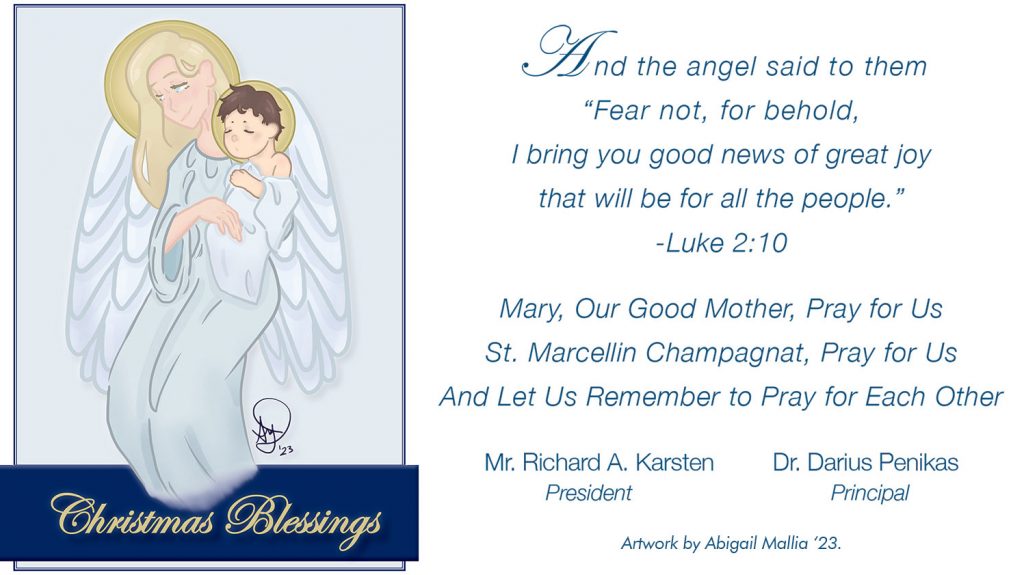 The Fund For Molloy – Retreats & Encounters

In our last Beehive, we shared a story about Curriculum Innovation and how your gifts to The Fund For Molloy impact our ability to emphasize excellence in academics and present our students with endless opportunities. In this week's Beehive, our focus is on Retreats and Encounters. Your gifts to The Fund For Molloy help minimize the financial burdens or extraordinary circumstances experienced by our students and their families that might otherwise hinder their ability to participate in these important programs. Below are thoughts from Daniel Ramirez-Mendez '20, a Molloy senior who has taken full advantage of the retreat and encounter programs at the Marist Brothers' Center at Esopus.
"Molloy wasn't really my first option when I was in eighth grade, but it turned out to be the most affordable. So I wasn't sure what to expect when I got here. I remember the weekend of my birthday in freshman year Molloy was having a retreat at Esopus. My friends said they were going and that I should go. When I made it to Esopus I thought 'This place is kinda cool. It has a family vibe.' I went back a second time that spring and that's when I began to meet some of my best friends. I wasn't able to go back in sophomore year due to some personal reasons, but I vowed to return in junior year. When I made it back to Esopus, that was when some of the personal things I was dealing with were coming to a close, and going to Esopus helped me get closure as well. There's always people fighting silent battles, and at Esopus whatever you say stays there. There's a support system that you and your peers have. Everyone has their own struggles, but you're not alone even when you think you might be."

"After my positive retreat experiences, I thought about how I could keep getting involved with Esopus while helping other kids understand that they're never alone or abandoned. So I entered the world of Campus Ministry and started going to different events. I attended the next junior retreat and then applied to be a Campus Ministry Leader (CML). We went to a Marist Youth Encounter and that event reiterated everything from the junior retreats and more. It showed all of us once again that we're not alone. I realized that someone might put on a face saying everything is ok until they really do need the help. Through the Marist Youth Encounter and all the retreats I went to, the idea was put into my mind that you always need to help somebody no matter what, because in the end it's not going to hurt them. From that point on I knew I had to keep the momentum going."

"I applied to work Freshman Camp as a CML. At camp I met some younger students that were eventually going to go through the same stuff as me, but I could be the one that helps and supports them. Being an upperclassmen I'm in that position. After that I went in full force. I led the November junior retreat and did a group talk. One of the kids in my group came to me after the talk to say, "Hey Dan, I know we just met, but what you said really inspired me because I went through the same thing." I was once that kid looking for help and now I was the one helping someone like that. It was like things came full circle. I made a difference for that kid even if for only a split second, just like someone made a difference for me when I was a freshman."

"I also worked kitchen crew for the Senior Encounter in December. I saw the affect the Encounter had on my classmates. I know a lot of people needed it. Whether they had relationship problems or stress, or something in life they weren't happy about, the Encounter pushed the idea that there's never a reason to put yourself down. You have to pick yourself back up, but you have to remember that there are people who will help. You just can't be afraid to look around and say you need help. Your friends care. That's what makes a good friendship, and that's what everyone learns at Esopus through the retreats and encounters."

"My personal philosophy is I don't do something unless it doesn't make me or someone else happy. I hope the things I've done, especially at Esopus, have helped make a difference for others. And I hope those kids will continue that and inspire others to go on retreats and encounters. The power of the retreats and encounters is that we bring what we learned back to Queens. Once you come back to school, it's easier to open up about a lot of things. You always want that Esopus high to keep going." — Daniel Ramirez-Mendez '20

---
Five Student-Athletes Sign National Letter of Intent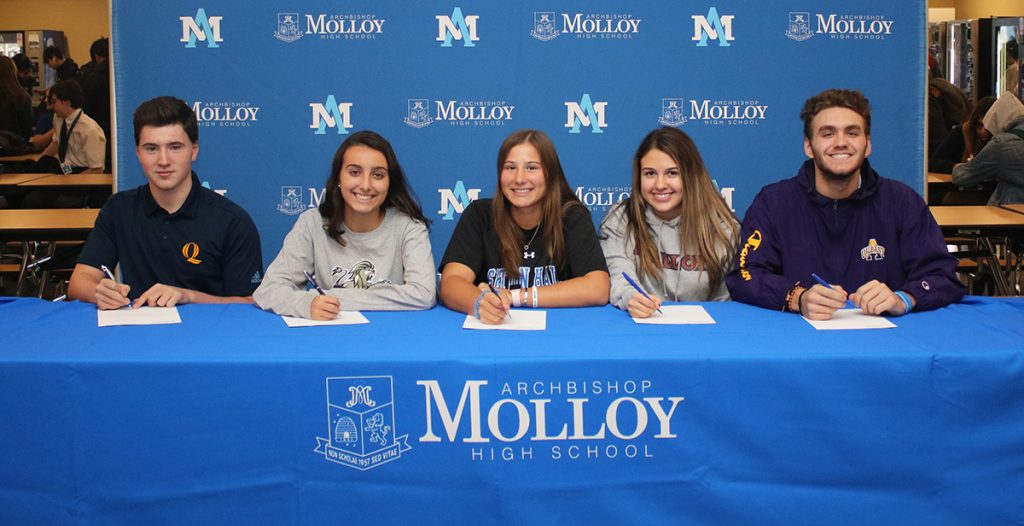 Molloy recently celebrated five outstanding student-athletes who signed national letters of intent to play their sport at college next fall. Congratulations to Kelsey Carr '20 (Softball, Seton Hall University), Danielle Malench '20 (Soccer, Molloy College), Christopher Mazza '20 (Baseball, Quinnipiac University), Peter Meehan '20 (Track & Field, University at Albany), and Natalia Piotrowski '20 (Soccer, Molloy College). For additional coverage on Danielle and Natalia, check out this great article from The Tablet: Molloy Stanner Soccer Teammates To Reunite In College
---
Molloy Choruses and Band Spread Christmas Cheer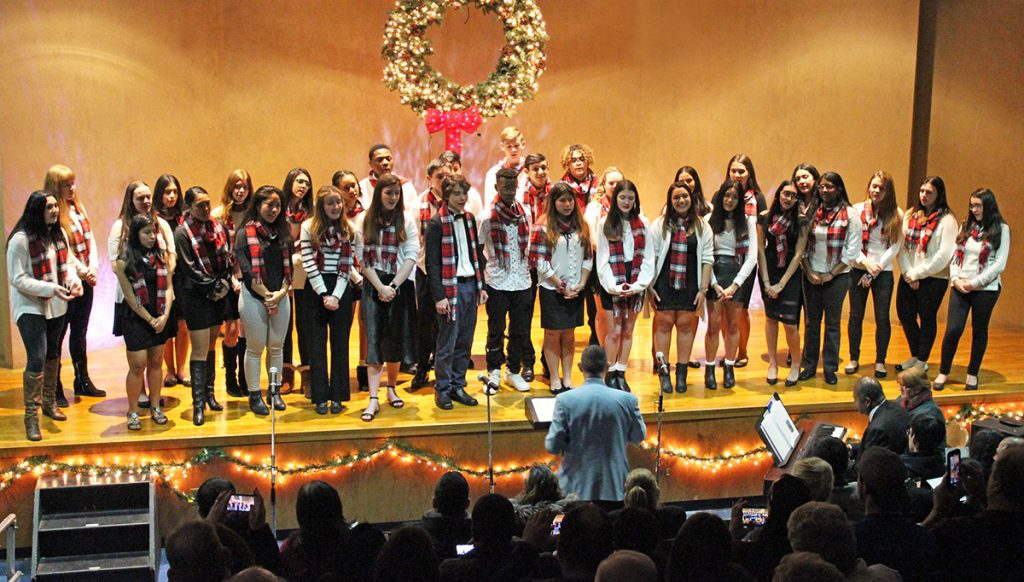 Pictured: The Junior/Senior Chorus Performs. Photo by Daniel Ramirez-Mendez '20
On December 16th and 18th, students spread Christmas cheer during Molloy's annual Christmas Concerts. On Monday, our Junior/Senior chorus performed a variety of classic Christmas songs. Selections included Bring a Torch, Jeannette, Isabella, O Come All Ye Faithful, Silent Night, Let It Snow, Jingle-Bell Rock, Winter Wonderland, Have Yourself A Merry Little Christmas, and more. Numerous students also performed stirring solos throughout the concert. Molloy was also joined that evening by special guests The Triple Choir, which included singers from Aquinas High School, St. Catherine Academy, and Fordham Prep. Special thanks to chorus director Mr. Jim Sheehan '75 and accompanist Mr. Kenneth A. Farnum Jr. | Download event program for full credits
On Wednesday, Molloy's Freshman/Sophomore Chorus performed selections including Winter's Waking, Shenandoah, For Unto Us A Child is Born, Mary Did You Know?, and Laudamus Te among others. The Concert Band performed Carol of the Bells, Blue and Blue, Fantasia on We Three Kings, Away in the Manger, and more. Molloy was also pleased to feature special guests The Clarinet Trio. Special thanks to Chorus/Band director Ms. Ya-Ting Yang and accompanist Ms. Shufen Huang. | Download event program for full credits
In case you missed the concerts, we captured two songs performed by our Junior/Senior Chorus during an in-school concert on Wednesday. Enjoy the video below!


Alumnae Yoga & Meditation –

REGISTER NOW!
When: Sunday, Jan 12, 2020 | 11:00am
Where: Archbishop Molloy High School
Who: Alumnae, Family & Friends
Admission: $20 Donation to Karina Vetrano Memorial Scholarship
Contact: alumni@molloyhs.org
We are excited to host our third Alumnae Yoga & Meditation event on Sunday, January 12, 2020 at 11:00am. Join Jennifer Kelleher '04, a professional instructor at Body Love by Jen, for a renewing yoga and meditation session. Jen's class is suitable for both new and experienced yogis.
Participants are encouraged to bring their own yoga mat and a water bottle to stay hydrated (water will also be provided). Light refreshments will be provided after the conclusion of the session.
All proceeds will support the Karina Vetrano Memorial Scholarship.
---
Safety Awareness Event
When: Friday, January 24, 2020 | 6:00-9:00pm
Where: Archbishop Molloy High School
Who: Molloy & Queens Communities
Admission: Free
Contact: alumni@molloyhs.org
In its efforts to help educate and empower the community we live in and serve, Archbishop Molloy High School has partnered with several organizations during Runner Safety Awareness Week (January 22-25). Whether you're a runner, avid athlete or just enjoy a walk in the park, come out and learn valuable insight and tactics on how we can all be safer. Listen to experts give their advice as well as a few personal stories that will help us all be more safe and learn about additional resources available. This event is free to all in the Molloy and greater Queens communities. Activities include presentations by the NYPD, Boston-Based Self-Defense Group Train Your Roar, national speaker Kelly Herron, a Q&A, and more. Drinks and snacks will be provided. Please share our flyer with family and friends. We look forward to seeing you.
---
Alumni Night / Boys Varsity Basketball Vs. SFP
*SPONSORED BY OUR BADGES NETWORK*
When: Friday, January 31, 2020 | 6:00pm
Where: Archbishop Molloy High School
Who: Badges Alumni (and all Alums!) Family & Friends
Admission: $40 Per Adult | $10 Per Child 12 & Under
Contact: alumni@molloyhs.org
All members of our community are welcome to join us for Alumni Night, sponsored by our Badges Network! Join us for an evening reception beginning at 6:00 PM on January 31, 2020. Cost of a standard adult admission includes food, soft drinks, and adult beverages (ages 21+) as well as entry into the Game of the Night in the Jack Curran Gymnasium. Catch tipoff at 7:30PM from VIP seats as Molloy's boys varsity basketball team faces off against St. Francis Prep. Our Badges Network will also honor beloved longtime teacher and Stanner Hall of Famer (and now retiree) Mr. John Diorio during a special presentation at 6:30pm. Mr. Diorio was one of the founders of the Badges Network. Please join us as we celebrate our Stanner Alumni, our Badges Network, the beginning of a new year, and the legacy of Mr. Diorio.
---
Molloy Wine Tasting – REGISTER NOW!
When: Thursday, February 6, 2020 | 6:30pm
Where: Archbishop Molloy High School
Who: Parents, Alumni, Family & Friends (Ages 21+)
Contact: hgreen-wresch@molloyhs.org | 718.441.2100 x155
Admission: See Registration Page.
Join us on February 6, 2020 for a unique wine tasting experience led by Molloy's in-house wine expert Mr. Jim Sheehan '75. Participants will enjoy small bites and sample six different wines from the Pacific Northwest United States chosen by Jim. You will learn how to evaluate each wine based on appearance, taste, smell, and other defining characteristics. Here are few thoughts about the theme from Jim himself:
"Although the wines of the Pacific Northwest United States don't carry the immediate cache of those from California, there are many splendid wines from Oregon and Washington State, many of which are more affordable than their California cousins. The climate and terroir of a number of appelations in the Willamette Valley, Oregon, share strikingly close characteristics with those of Burgundy, the region which sports the most dynamic and expressive Pinot Noirs in the world. And in Washington, Cabernet Sauvignon, Merlot, Syrah and a diversity of red blends lead the way with quite a few stunning, unexpectedly expressive stars. Please join us for an exploration of six of these exciting wines."
We welcome parents, alumni, family members and friends (ages 21+) to this special evening. Online registration will open soon. We also welcome members of our Parents Guild. Contact Ms. Heather Green-Wresch for more information about this event or our Parents Guild.


We're Seeking Volunteer Writers!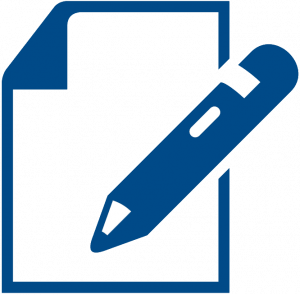 The Stanner Alumni Center is seeking volunteer writers from the Molloy community! We have many stories to tell here at Molloy, but sometimes we can't quite cover them all. By featuring community writers, we hope to showcase new perspectives and an even wider range of content. Your writing could appear in The Beehive, on www.molloyhs.org, or in our annual magazine Stanner Life.
Writers should:
Have an interest in learning about and sharing Molloy/Alumni news.
Have prior experience in writing, journalism, communications, or related fields.
Be willing to contact and interview story subjects and conduct additional research as necessary.
Meet deadlines as indicated by the Stanner Alumni Center.
If you are interested in writing a future piece for our publications, please contact Alumni Communications Director Joe Sommo '03 at jsommo@molloyhs.org.
---
Class Updates
Christy Dey '16 recently served as a guest speaker after school during a meeting of Molloy's G.E.R.L.L. Club (Girls Empowerment for Real Life Leadership). Christy first shared a bit about her background. She is currently studying economics and environment at Barnard College and is an intern at J.P. Morgan. Christy shared tips and advice to our students on how to manage their time and juggle their many responsibilities. She urged them to prioritize time management, and to always be aware of how much time there is to complete a task, whether it is a single exam or a paper with a longer deadline. Christy recommended volunteering often and recording these experiences in their portfolios. "Schools and future employers love to hear about your volunteer work," she said. "It's a great talking point in interviews. What did you offer as a volunteer and what did you learn from it?" Christy then shared several interview tips including: 1. Research the school/company you are meeting with. "The moer you know, the better." 2. Schools/Companies want to see that you are passionate about their mission, or how your passion aligns with theirs. 3. Be kind and authentic. 4. Talk confidently about what you can bring to their school/company. Christy closed by circling back to their current experience at Molloy. "It is important and rewarding to genuinely strive to learn and absorb. Don't only focus on the numbers or the grades." Thank you, Christy, for meeting with our students! (Read an alumni update about Christy from 6/17/18). (Special thanks to Brianna Garrison '21 for providing information for this story)
---
Khalid Moore '18 and Georgia Tech will face off against Cole Anthony and the Tar Heels at the University of North Carolina at Chapel Hill on Saturday, January 4th at 6:00pm The game is scheduled to be televised on the ACC Network. Check your local listings for channel information.
---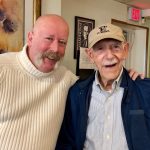 Paul Galbraith '74 was visiting some friends at the Marist Brothers residence at Mount St. Michael's Academy when he ran into Br. Jogues Cormier. Paul enjoyed catching up with Br. Jogues, who sends out a friendly hello to all Stanners.



Please pray for the repose of the soul of Gerard P. Hourihan '68. Gerard passed away on December 1, 2019.

Please pray for the repose of the soul of Louis Cole '57. Louis passed away on November 30, 2019.

Please pray for the repose of the soul of Brian J. O'Connell '60. Brian passed away on September 14, 2019.

We are saddened to share the passing of Patricia Q. Reilly, wife of Stephen Mayer '70. Please keep Patricia and her family in your prayers.

Thank you for reading The Beehive in 2019! We will take a brief break and return with a new issue on January 10th.
If you haven't sent in an alumni update in a while, now would be a great time to submit one! Consider reflecting on milestones from the past year or let us know your plans for 2020.
Merry Christmas and Happy New Year!

— Joe Sommo '03 | Alumni Communications Director | Beehive Editor