---
Alumni Track & Field Events in November
Event #1: Alumni Race at Van Cortlandt Park
WHAT: Alumni Race at CHSAA Intersectional Championships
WHERE: Van Cortlandt Park (Bronx, NY)
WHEN: Saturday, November 11, 2023 @ 9:15am
ABOUT: Alumni are invited to participate in this special annual CHSAA XC Alumni Race at Van Cortlandt Park! Please note this year there is an earlier start time than previous years. More information is available by clicking the button below.
REGISTER: Online registration ends at 6:00pm on Fri 11/10, but you can still register at the park. Pick up your bibs at the finish line from 8:00am to 9:00am.
Event #2: Garden City Turkey Trot on Thanksgiving
WHEN: Thursday, November 23, 2023
ABOUT: On Thanksgiving Day, rain or shine, hundreds of people enjoy the Garden City Turkey Trot, including the 5-miler and the 1.4-mile Fun Run. This year we would like to create an opportunity for our community to connect and run with fellow Stanners before heading home to celebrate Thanksgiving. Frank Gambino '74 has created a Team – "Stanners" – for all alumni, family, and friends to join. If you are planning to run either the 1.4-mile Fun Run or the 5-mile Turkey Trot in Garden City, please join our team!
HOW TO REGISTER: Go to http://www.gcturkeytrot.com/index.html and click Register Online. In the registration section select either the 1.4-mile run or 5-mile run. Fill out all the required information to register. In the "Join or Create a Team" section on the registration page, please select "Join a team." Scroll down the team names in alphabetical order and select Stanners – Frank Gambino. Lastly, be sure to wear Stanner gear!
CONTACT: To let us know you are on Team Stanner and to coordinate a group photo after the race, please email Craig Katinas at ckatinas@molloyhs.org. Craig will let everyone know where we will meet after the race the night before.
---
---
The Stanner Players Present:

Molloy's New Giving Day – THANK YOU!
Molloy is truly grateful to everyone who supported our school's new Giving Day, October 28th – also known in the wider Marist world as Montagne Day. Thank you for your generosity, which allows Molloy to continue its mission of fostering an exemplary education in mind, body and spirit!
Money raised on Giving Day will support Named Scholarships, Needs Assistance, and updating and maintaining our 6-acre campus. This provides our students with an amazing opportunity to enjoy an exceptional learning environment, helps many students to remain enrolled at Molloy, and gives our faculty and staff the resources they need to educate, innovate, and inspire every day.
You can make a gift any time to the Fund For Molloy or a Named Scholarship. Click the button below or contact the Stanner Alumni Center for more info at 718-441-9210 or alumni@molloyhs.org.
THANK YOU for your continued support and stewardship of Archbishop Molloy High School. Save the date for our next Giving Day: October 28, 2024!
---
Students Raise Money for Breast Cancer Research
On October 27th, Activities Director Ms. Murdocca, along with Spirit Leaders, the Social Justice Club, and GERLL Club, hosted a Pink Day in honor of Breast Cancer Awareness Month. Students, faculty, and staff came to school wearing pink socks, ties, headbands, sweaters, and more, all to show their support for those who are fighting a battle with the disease. Donations raised in support of Pink Day went to Memorial Sloan Kettering Cancer Center.
---
School Board Participates in Marist Retreat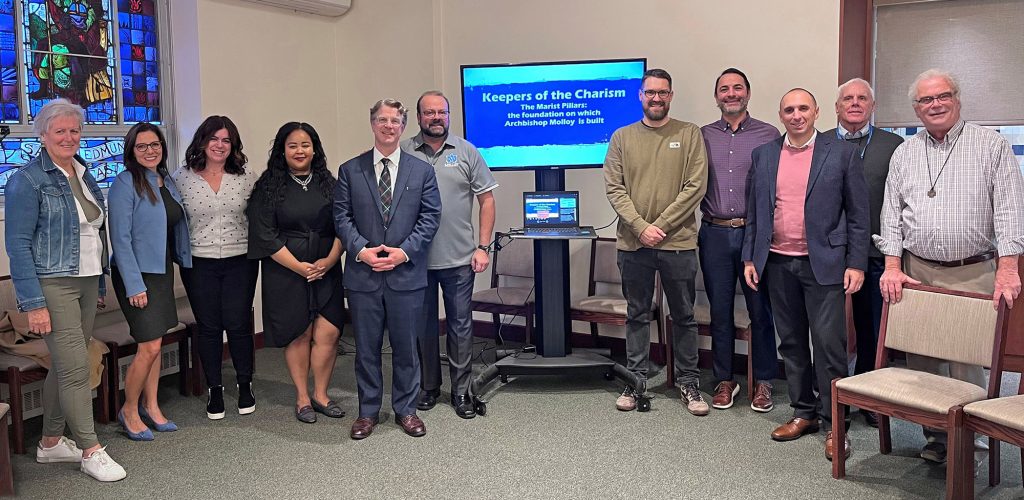 Pictured Left to Right: Nan Doherty, Theresa Foy, Valerie Savino, Tenisha McDonald '07, Matt McLaughlin '87, Richard Karsten '81, Brendan Cloonan '01, Craig Katinas '93, Nick Trotta '95, Br. Hank Hammer, and Br. Owen Ormsby '74.
On October 19th, members of Molloy's School Board experienced the "Keepers of the Charism" retreat. Mission and Academic Committee member Nan Dougherty remarked, "It's a tremendous value to learn about the Marist story and charism in order to understand the origin, traditions, and core beliefs that inform the direction and decisions we make for the future of Molloy and all Marist schools."
Board Chairperson, Matt McLaughlin '87 said, "It was an enriching experience that really helps to focus on the 'why' we do what we do. The Marist Charism and students' well-being are at the center of the decisions we make."
Thank you to Br. Hank Hammer and Vice Provincial Br. Owen Ormsby '74 for leading the discussion and reflections.
---
Molloy Holds Día de los Muertos Prayer Service
On Thursday, November 2nd, Molloy held a prayer service in honor of Día de los Muertos, or All Souls Day. Ms. Nashali Laureano began the service, explaining, "This holiday is about celebrating, not mourning. It is about reuniting with those who have passed, and honoring them by celebrating their memory." The service was bilingual, with all readings presented in both English and Spanish by Ms. Laureano and Dr. Jonathan Mangar '09.
Deacon John Kramer reflected on the readings, and the holiday itself. He spoke about his father, sharing, "My comfort is he is not gone. Our loved ones still live." He continued, "We know that a story of a life does not end in physical death, but turns a page and begins a new chapter. On this holiday, we pray because we believe in love."
Mr. Matthew Kilkelly, along with students from the Catholic Culture Club, recited names of lost faculty, family, and friends of the Molloy community, honoring them and their memory. Mrs. Maria Cuomo then led the group in reciting a decade of the Rosary. Thank you to all who put this prayer service together, and thank you to all who participated.
---
News From Campus Ministry
Sophomore enjoyed a day retreat at Molloy in October! The Class of 2026 focused on the Five Marks of a Marist Student. The retreat included many activities and reflections that shed more light on each of the Marks, which are Faith-Filled Disciples, Empowered Witnesses, Agents of Justice and Service, Servant Leaders, and Spirit-Filled Members of Family & Community. Also, the retreat provided an opportunity for sophomores to bring in baby supplies (formula, clothes, etc.) to be donated to people in need. (Pictures 1 and 2)
This past weekend, a full house of 80 freshmen attended their first weekend retreat of the year at Esopus! Focusing on the Marist Pillars, the Class of 2027 were able to make new connections and dive deeper into the Marist charism. Campus Ministry extends their thanks to everyone who helped carry on this important tradition and make this such a special retreat. (Picture 3)
From Molloy to the community! Students recently made sandwiches that have since been donated, along with other food and baby items, to benefit our Queens neighbors. These donations were made through the Harding Ford Foundation, where Molloy students provide service to the community regularly. (Picture 4)
---
I AM Green Club Cleans Up Rockaway Beach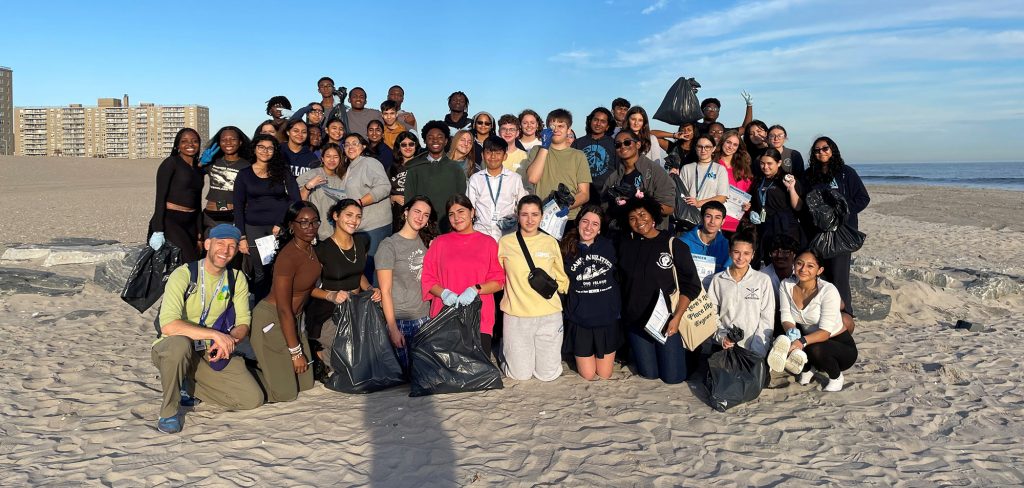 Thank you to Molloy's Environmental Club, better known as I AM Green, for their recent cleanup field trip to Rockaway Beach! Moderator Mr. Dougherty '91 and other chaperones accompanied over 50 students to an area near Beach 106th Street, where they combed the sand while picking up trash. The group later enjoyed ice cream at Mara's to end their day. We are thankful for I AM Green's service to the community, including raising awareness among their peers about keeping our planet clean!

by Mellanie Benitez '25 — Congratulations to the Girls Varsity Tennis team, which recently defeated Xaverian 3-2 to take home the Brooklyn/Queens Championship for the 5th year in a row! Oliwia Grabowski '24 won her first singles match with an outstanding score of 6-1, 6-3. Kelly McGowan '25 and Bella Mrvica '24 teamed up for a 6-4, 6-4 victory in doubles, while Lauren Solorzano '24 and Angie Vereshchagina '24 split sets with their opponents before taking home the victory in a 10-4 tiebreaker. The team ended their season as State Finalists! Congrats to all, including our All-League players Christina Kyrou '26, Oliwia Grabowski '24 and Nicole Jurski '24!
Congratulations to our Cross Country team, who had a great day at the NYCHSAA/BQNY meet this past weekend. The Varsity Girls Team came in 2nd Brooklyn/Queens and 3rd in NYC, while JV came 1st in B/Q and Cities! Congratulations to our outstanding performers: Varsity – Aoife Garvey 1st BQ 16:50; Eva Gonzalez 7th BQ 17:52; Camille Munoz 8th BQ 18:01; Elizabeth Canty 31st 19:14 — JV: Jillian 1st BQ 19:31; Claudia Whitmore 3rd 20:22; Maria Badalamenti 4th 20:23; Kendall Kelly 6th 21:06; Grace Gilroy 8th 21:32.
---
Faculty Defeats Seniors in Annual Softball Showdown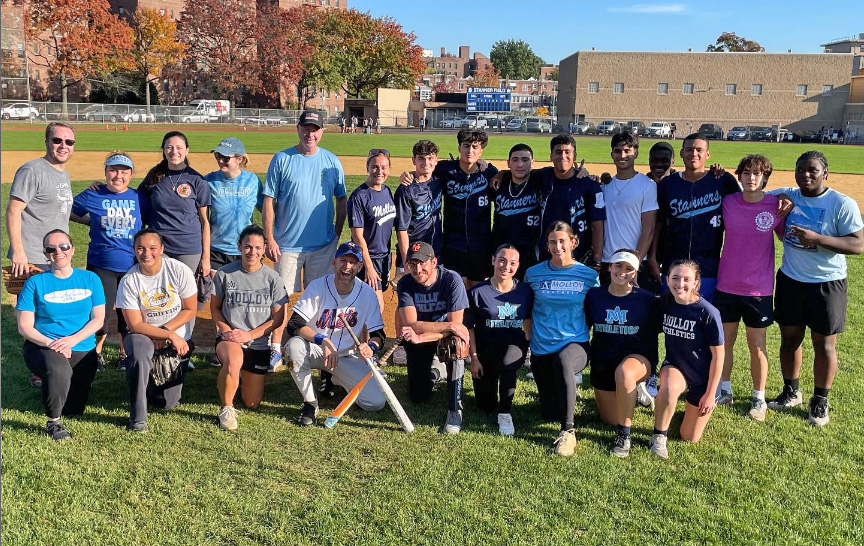 Stanner Field recently hosted a beloved annual tradition: the Seniors vs. Faculty Softball Game! After a hard-fought 7 innings, the faculty lined up for high-fives after a narrow 6-4 victory. Congratulations to all seniors and faculty on a great game! Next up: the Seniors vs Faculty Football Game in November. Stay tuned….

Molloy Oktoberfest Welcomes Over 275 Alumni & Friends!
Prost! A great time was had by all at Molloy Oktoberfest on Friday, October 20, 2023. Over 275 members of our community enjoyed live music, dance performances, German beer on tap, stein holding, and more. The band, Die Spitzbuam, kept the evening lively and the crowd cheerful, while the dancers, Die Erste Gottscheer Tanzgruppe, provided several performances and even pulled a few revelers onto the dancefloor at the end of the night! It was a fantastic Friday night that truly brought the spirit of Oktoberfest right here to Manton Street.
The Beehive congratulates the two Stein Holding competition winners: Taylor Moss '14 for the women, and Pete Stamm '07 for the men. We had a great turnout for Stein Holding this year, with new records set for both rounds. Start training now for next year and you could take home the prize and Oktoberfest glory!
Guests also had the opportunity to purchase Oktoberfest t-shirts as well as raffle tickets! Raffle prizes included a 50/50 cash prize and Oktoberfest-themed baskets.
Thank you once again to all who attended, and special thanks to all our sponsors – especially Robert Schemitsch and Hofbräu! We hope to see everyone again next year. Please spread the word: Molloy Oktoberfest is bigger and better than ever!
Click the button below to check out the full photo gallery from the event.
---
3-on-3 Alumni Basketball Tournament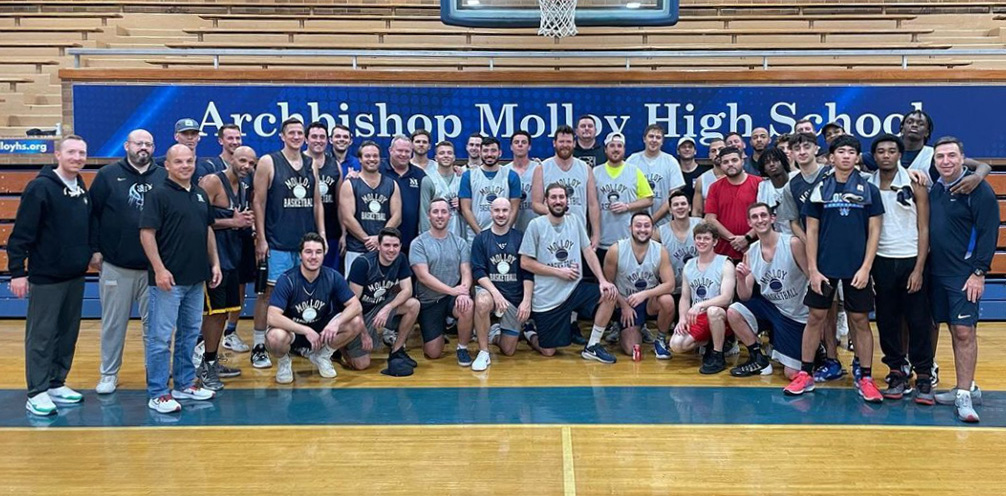 Thank you to our alumni who participated in the return of the 3-vs-3 Alumni Basketball Tournament on October 27th! All money raised through this event supported The Curran Fund, which will benefit future students entering Molloy. The Stanner Alumni Center and Athletics Department extend our sincerest thanks for your support of the event and The Curran Fund. Congratulations to the winning team: Team Camus! We look forward to see you all next year.
Questions about the 3-vs-3 Alumni Basketball Tournament? Contact mmccleary@molloyhs.org.
---
Upcoming Film Project About Fallen Stanner Firefighter
Katreana Bellew, daughter of late firefighter and Stanner Hall of Famer John Bellew '85, is raising awareness about her upcoming film project titled Black Sunday. The film is based on the true story of her father, who passed away on January 23, 2005 after succumbing to injuries he suffered while battling a fire in the Bronx. The film deals with the long-lasting ramifications of this event and also follows Firefighter Brendan Cawley '92, who survived the same fire. According to Katreana, "The story of my father's death, and the subsequent years that followed, is a representation of the bravery of our nation's first responders, the brotherhood of the FDNY, as well as a tale of grief and how people must move on with their lives, even when the worst thing imaginable happened. Black Sunday will bring you into a world you never want to experience for yourself, but it unfortunately was the reality for my family. In this feature film, important lives had to be lost in order for future lives to be saved."
---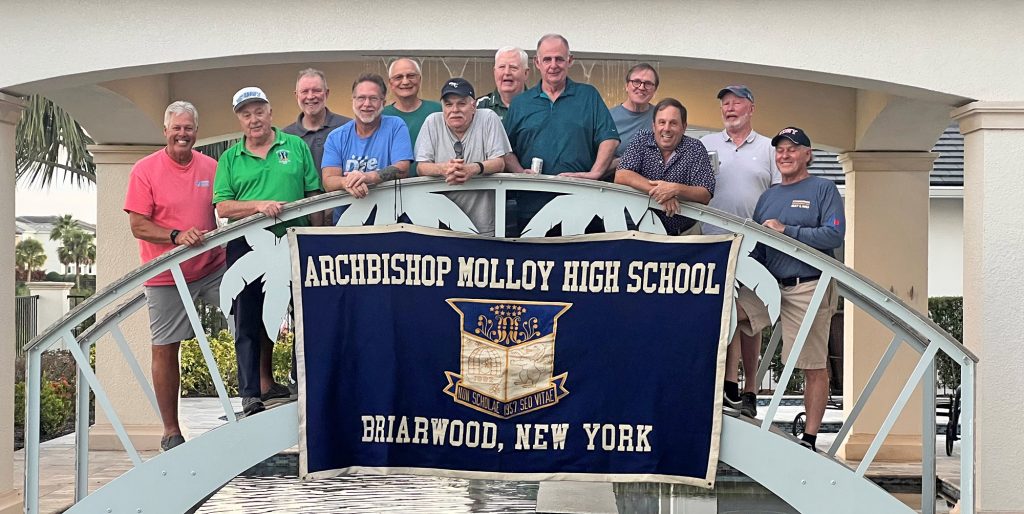 Ed Kurpiel '71 recently shared a great group photo from his 24th Annual Fast Eddie Open golf outing for ALS, which took place in Ocean City, Maryland. Pictured left to right: Ed Kurpiel '71, Bill McGoldrick '70, Carl Czurda '70, Rich Nicolosi, Joe Gallo '70, Gary Kenney '70, Vinny Clausen '70, Steve Bianco '70, Kevin Raftery '70, Ed Torriero '71, Kevin Rice '97, and Tom McGoldrick.
---
Joe Forgione '00, Vice President at Cord Meyer Development, is serving as the lead of the upcoming redevelopment project at Bay Terrace Shopping Center. The "Moving Forward" project will see the 60-year old retail property receive modern upgrades including architectural improvements, new signage, new features for pedestrians, and new event space. Joe participated in a ribbon-cutting ceremony kicking off the project, which was covered by QNS.com. Click the button below to read the full article. Congrats, Joe!

Please pray for the repose of the soul of Manuela D. Hickey, grandmother of Jessica Hickey '17.

---
---