Jack Curran Gala Welcomes Decades of Players – Molloy Retires #5, Memorializes Basketball Win Total, Launches The Curran Fund (Gift Challenge Extended!)
Pictured Left: Two new plaques are unveiled, retiring Jack Curran's iconic #5 and memorializing his basketball win total of 972. | Right: Special guest Coach Jim Larrañaga '67 and Molloy President Richard Karsten '81.
2023 marked the 10 year anniversary of the passing of Coach Jack Curran, the winningest coach in New York State history. For nearly 60 years, Mr. Curran served as an outstanding coach, a role model to countless athletes, an inspiring man of faith, and a friend to many at Molloy and beyond. To honor his ongoing legacy, Molloy held the Jack Curran Gala on September 20, 2023, using the event to retire Mr. Curran's iconic #5 jersey as well as memorialize his basketball win total of 972.
The Gala welcomed back Molloy athletes spanning many decades, as well as other alumni, family, and friends to celebrate Mr. Curran's lasting footprint on Molloy athletics. He was a unifying, inspiring force for Molloy and throughout the larger sports world, and his wide-reaching impact and influence has inspired the creation of The Curran Fund. The Curran Fund's goal is to provide a deserving student with a four-year scholarship to attend Molloy, and support for the fund began in earnest leading up to the Gala. In addition to the launch of the new fund, current Molloy basketball and baseball players unveiled large plaques highlighting Mr. Curran's #5 jersey number and basketball win total of 972, which will now permanently reside on the walls of the Jack Curran Gymnasium. The gym also features new decals and signage further celebrating Mr. Curran and Stanner teams.
Mr. Mike McCleary, welcoming those in attendance, said, "I believe the people in this room often think about how [Coach Curran] made us feel. He made us feel great. Maybe it was for a moment or maybe a lifetime, but he brought greatness out in all of us. Through his guidance, we learned to perform at our best."
Mr. Jim Larrañaga '67, Head Coach of men's basketball at the University of Miami, was Molloy's special guest and the evening's MC. Coach Larrañaga graciously took time out of his very busy schedule to help pay tribute to his coach, mentor, and friend, Jack Curran. Coach Larrañaga first chatted and took photos with many in attendance. He later delivered a keynote speech, sharing several personal stories about Mr. Curran, all illustrating the type of man he was. Coach Larrañaga spoke of Mr. Curran's strategic mind, always thinking about players and lineups for games — even in casual conversation. Coach Larrañaga recalled his many conversations with Mr. Curran during his attempted recruitment of Kenny Smith '83, who eventually ended up going to North Carolina. He also shared a story about how Mr. Curran helped Larrañaga's ill father get admitted into a top hospital where he would be cared for by the best doctors. "That was the kind of man he was," said Coach Larrañaga. He also emphasized that he never uses vulgarity in his own coaching style, and that is because Mr. Curran never did so. He concluded by saying, "I love Molloy, I love Mr. Curran. He was my role model, and everything I've done in coaching…I hope he'd be proud. [Coach Curran] was always there to encourage you, motivate you, and lead you in the right direction. To me, he's not only a hall of fame coach, a legend, an icon – the winning he did in baseball and basketball, nobody is ever going to match that combination. He was truly, truly one of a kind."
Having such prominent figures from across the sports world return to Molloy on a Wednesday night was "inspiring," noted President Richard Karsten '81, who said the presence of so many of Coach Curran's players, colleagues, and friends was a "reminder of how Coach Curran, the Marist Brothers, and all our teachers and mentors at Molloy have made such a remarkable impact on our lives." All in attendance shared an unmatched admiration for Coach Curran, and felt grateful to be celebrating such a prominent figure in their lives.
Click the buttons below to read the full story with quotes from athletes and coaches in attendance, to download our event journal, or to make a gift to The Curran Fund!
During the event, it was announced that the Gift Challenge in support of The Curran Fund has been extended through November 1st. Two amazing donors will be matching all gifts made to The Curran Fund 2 : 1 up to $75,000. That means any gift to the fund can have double even more impact. Click the button below to visit our donate page and make a gift by 11/1/23.
---
Bishop Brennan Celebrates Mass with Class of 2024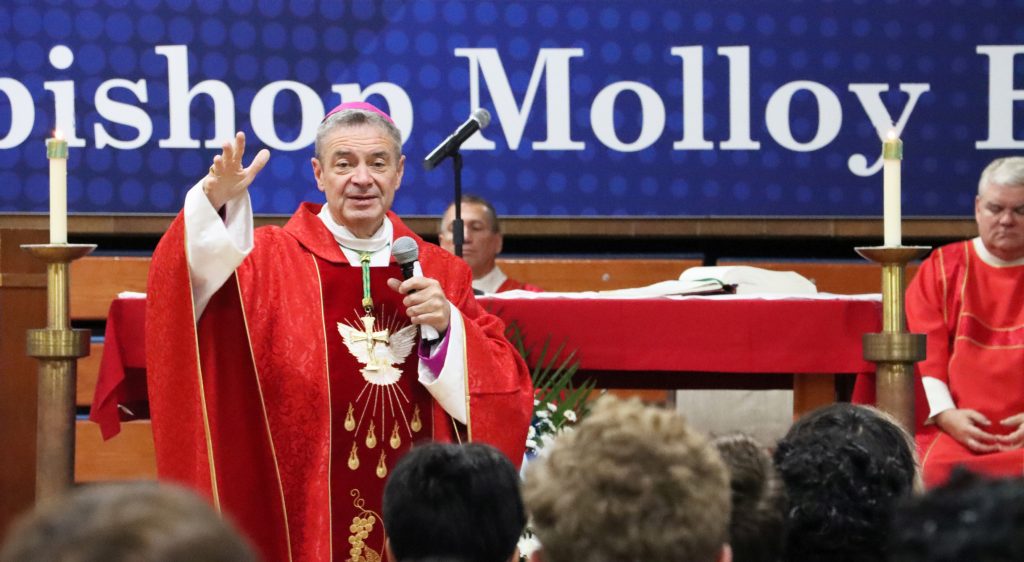 At the beginning of the new school year, Molloy celebrates a Liturgy of the Holy Spirit with each grade. On Friday, September 22nd, Molloy and the Class of 2024 celebrated a special senior Liturgy, welcoming the Most Reverend Bishop Robert J. Brennan as celebrant.

Bishop Brennan began his visit meeting with a few Campus Ministry volunteers for breakfast. Later, during Mass, Bishop Brennan reminded the seniors that though sometimes things may seem tough, and they may experience many challenges, they are seen and supported by Jesus. As the seniors experience their last year of high school, Bishop Brennan encouraged them to continue to walk the path with Jesus, and to let their talents shine through.
Bishop Brennan also read a quote from Pope Francis, spoken at World Youth Day this past summer, to further encourage the seniors to never give up. "As young people, you are to change the world, and that's very good, it's very good that you want to work for justice and for peace. You devote all your life's energy and creativity to this, but it still seems insufficient. Yet the Church and the world need you, the young, just as much as the Earth needs the rain. All you young people, you who are present, the future, yes to all of you, Jesus now says, have no fear."
Thank you, Bishop Brennan, for celebrating Mass with our Class of 2024!
---
Welcome Back, Mr. Gallagher!
We are incredibly blessed to welcome back Mr. Jeff Gallagher '88 as teacher and coach here at Molloy!
Due to a medical emergency that took place in February 2023, Mr. Gallagher spent several months in physical therapy, healing and working toward a return to the classroom. Mr. Gallagher's absence from the school was palpable, and after a challenging few months, he has returned to work, bringing his passion for teaching and dedication back with him.
Mr. Gallagher shares, "I'm so excited to be back! I want to say thank you to all the faculty and students that either sent me videos, letters, or cards. Molloy is the family that I missed and I am thrilled to be back!"
The Molloy community couldn't be happier, and we've all got Big Smiles on! Welcome home, Mr. Gallagher!
---
Students Recognized by College Board
Molloy is proud to announce that 37 students earned academic honors from the College Board National Recognition Programs! These programs celebrate students' hard work and showcase their strong academic performance. The academic honors are an opportunity for students to share their strong academic achievements with colleges and scholarship programs that are seeking to recruit diverse talent.
"It's becoming increasingly hard for students to be 'seen' during the college recruitment process. We're exceptionally proud of the National Recognition Programs for celebrating students who are at times overlooked but have shown their outstanding academic abilities," said Tarlin Ray, senior vice president of BigFuture® at College Board. "This is a benefit not only for students but also for colleges and universities committed to recruiting diverse and talented students."
"Congratulations to our award recipients!" shares Mrs. Maria Cuomo, Assistant Principal at Molloy. She continues, "This recognition affirms the hard work and dedication of our students and faculty. We are blessed at Molloy by our diverse student population and take this opportunity to celebrate their remarkable talents and effort. This is just one reminder of how special our students are and that there are no limits to what they can and continue to achieve."
Click the button below to see the full list of awardees and read the full article.
---
Student Spotlight: Giselle Habibulla '25
While Stanners are constantly thriving within the classroom, many are using their talents outside as well! One such student, Gisele Habibulla '25, brought her Computer Science knowledge to The Coding School, where she participated in the 2023 Columbia Data Science Research Program.
During the program, Gisele created her own research project entitled "Price Wars: A Comparative Analysis of Apartment Rental Sites," which acts as an approach to investigating and understanding the dynamics of apartment rental pricing across various online platforms. Regarding her project, Gisele highlights, "It involved creating a comprehensive slideshow presentation that documented every step of my research, including data cleaning, the development of a well-defined research question, the implementation of machine learning algorithms for data analysis and visualization, as well as conducting a t-test to compare means of data."
Molloy is continuously proud of the accomplishments earned by Stanners. Gisele took initiative, finding a summer program that was rigorous, intensive, and aligned with her interests, and she received a quality mentorship in the process!
Click the button below to read the full story on our website.
---
NHS Helps Promote Backpack Drive
This past week, Molloy's National Honor Society organized a backpack drive! NHS and Molloy encouraged all students and members of our community to donate new or gently used backpacks for all ages. The backpacks will be donated to Queens Borough Hall, who will then distribute them as a part of Project: Back to School! Bags were collected through September 22nd.

Seniors promoted the event by wearing kid school bags on Thursday, September 21st. However, some students started promoting the drive early! Lucas Tsang '24 and Ariel Gajraj '24, President and Vice President of NHS, proudly walked the halls with Minion and Disney backpacks to kick off the week, motivating their classmates to participate in the drive. Lucas shares, "We asked everyone to bring as many bags as they can, so that children in need can start their school year off on a positive note. Such a small act of kindness can mean so much for someone else."
---
Thank You, Kweller Prep!
Archbishop Molloy High School extends sincere thanks to Kweller Prep for recently making a donation in support of a current student attending Molloy.
Kweller Prep is a 15-year, established, accelerated supplemental educational program with a time-tested record of success. This program helps students get to the next level of their academic careers. Class sizes are limited to 10-12 students and are offered through Zoom online and in-person. Kweller Prep is dedicated to guiding students to advance to higher education, including placing them in highly competitive environments. Kweller Prep is a certified WBE (100% woman owned) and NYC MTAC DOE contracted vendor.

---
---
---
---
---
---
---

Members of Molloy's Class of 1970 Track Team recently gathered at the home of Bob Volk '70 for a mini-reunion co-hosted by Jim Freel '70 and Bob. Pictured standing left to right: Jim Freel '70, Mickey Ferguson '70, Jim Gay '70, Tom Galvin '70, Jim Ruger '70, Bob Volk '70, Mark Fitzgibbon '70, Jack Mead '70, Bob Lang '70, Phil Porrini '70, and Steve Milmoe '70.
Seated left to right: Pat Woods '70, Tom Martin '70, Peter Petrucello '70, Bill Weaver '70, and Chris Powderly '70.
---
Congratulations to Christian Kane '90, who was a recipient of the 27th Annual Russ Berrie Making a Difference Award. Christian is the founder of RWJBarnabas Health Field of Dreams, the country's only special needs complex. According his award profile, "A car accident left Christian's son Gavin with traumatic brain injuries and unable to walk or speak. After struggling to access recreational spaces with his son, he decided to build a comprehensive recreational facility where children of all abilities, and their caretakers, would feel at home. Christian, a high school math teacher, spearheaded a 7-year campaign to raise funds and build the RWJ Barnabas Health Field of Dreams in Toms River, New Jersey, which opened in 2022." In addition to the award, Christian also recently received a grant from Ocean County Health Services to construct the very first Grow Space in Ocean County, NJ. The grow space is an enclosed hydro and aquaponic system in which fish fescue assist in growing produce 4 times faster than basic soil planting. The Grow Space will create jobs for adults living with a special need and create thousands of pounds of fresh produce for local food banks.
---
Fr. Jonas Verdeflor, OVM, '98 was ordained to the Order of Priesthood, becoming an Oblate of the Virgin Mary, on June 16, 2023. Fr. Jonas was ordained by the Most Reverend Bishop Robert J. Brennan at St. Teresa of Avila Church in South Ozone Park. This happened to be the same church where Fr. Jonas was baptized. He celebrated his first Mass as a priest on June 17th at St. Anthony of Padua Church, also in South Ozone Park. Fr. Jonas visited Molloy shortly before his ordination, sharing that he recalls the SMILE program and its counselors having a great impact on him. He also feels as though his life has come full circle since the Catholic education he enjoyed at Molloy. "Marist Brothers like Br. Stephen Urban set an example and were a positive influence for me," he said.

Please pray for the repose of the soul of Deborah Szymanski, wife of Richard Szymanski '69. Deborah passed away on August 22, 2023.
---
We are saddened to share the passing of Patricia O'Keeffe (August 2023), mother of Thomas O'Keeffe '93 and Matthew O'Keeffe '96; grandmother of Juliana O'Keeffe '26; aunt of Michael '90, Dennis '94, and Kevin '97 O'Keeffe. Please keep the O'Keeffe family in your prayers.
---
Please pray for the repose of the soul of John F. McNicholas '48 (July 30, 2023), uncle and godfather of Joseph Tully '78. Joseph shares, "He was a wonderful father, grandfather, uncle, and godfather, a retired NYC First Grade Detective, and always a proud Stanner." | Click Here for Memorial Page
---
We were recently informed of the passing of Joseph Van Nostrand '67 on May 17, 2023. His career saw him employed as an archivist with the New York County Clerk for many years. He was remembered this week during a special service conducted at the NY County Surrogates Court by the NY Catholic Court Attaches Guild. Please keep Joseph and his loved ones in your prayers.

---