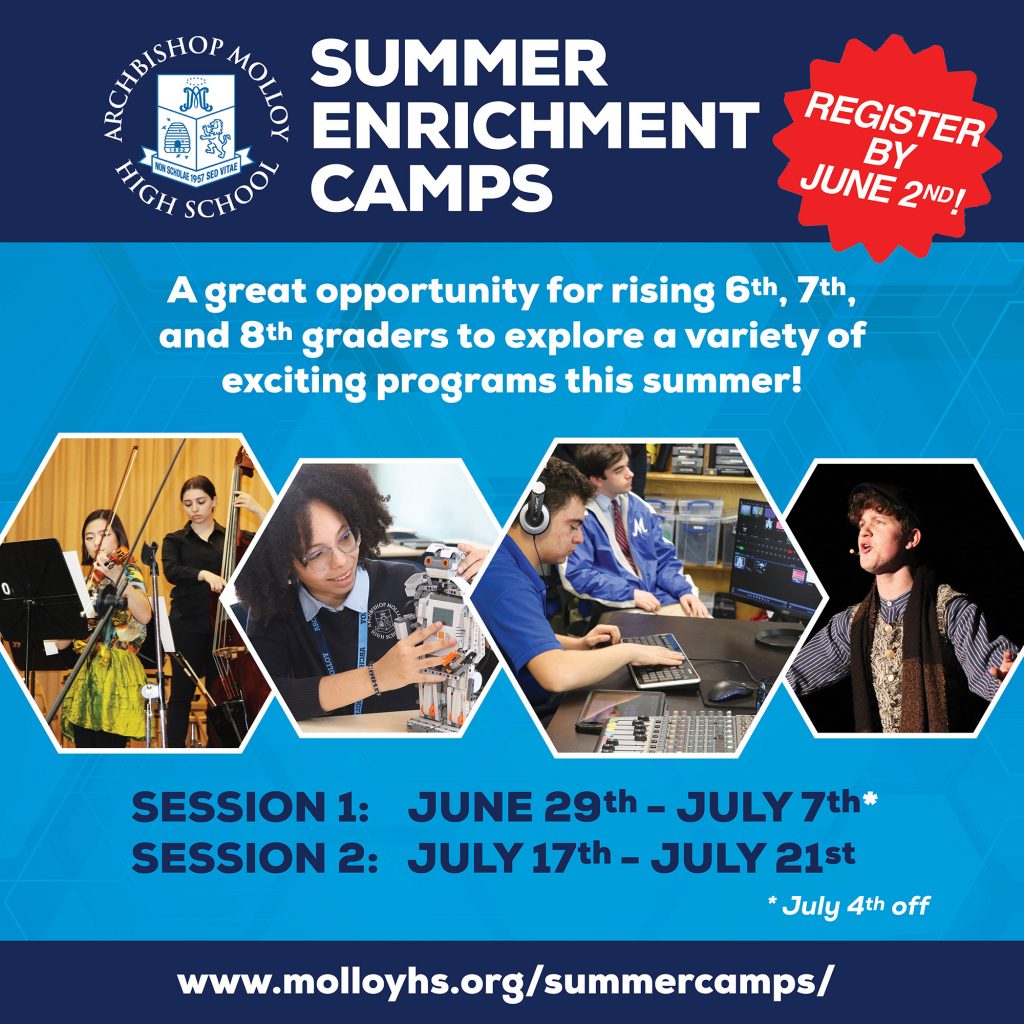 ---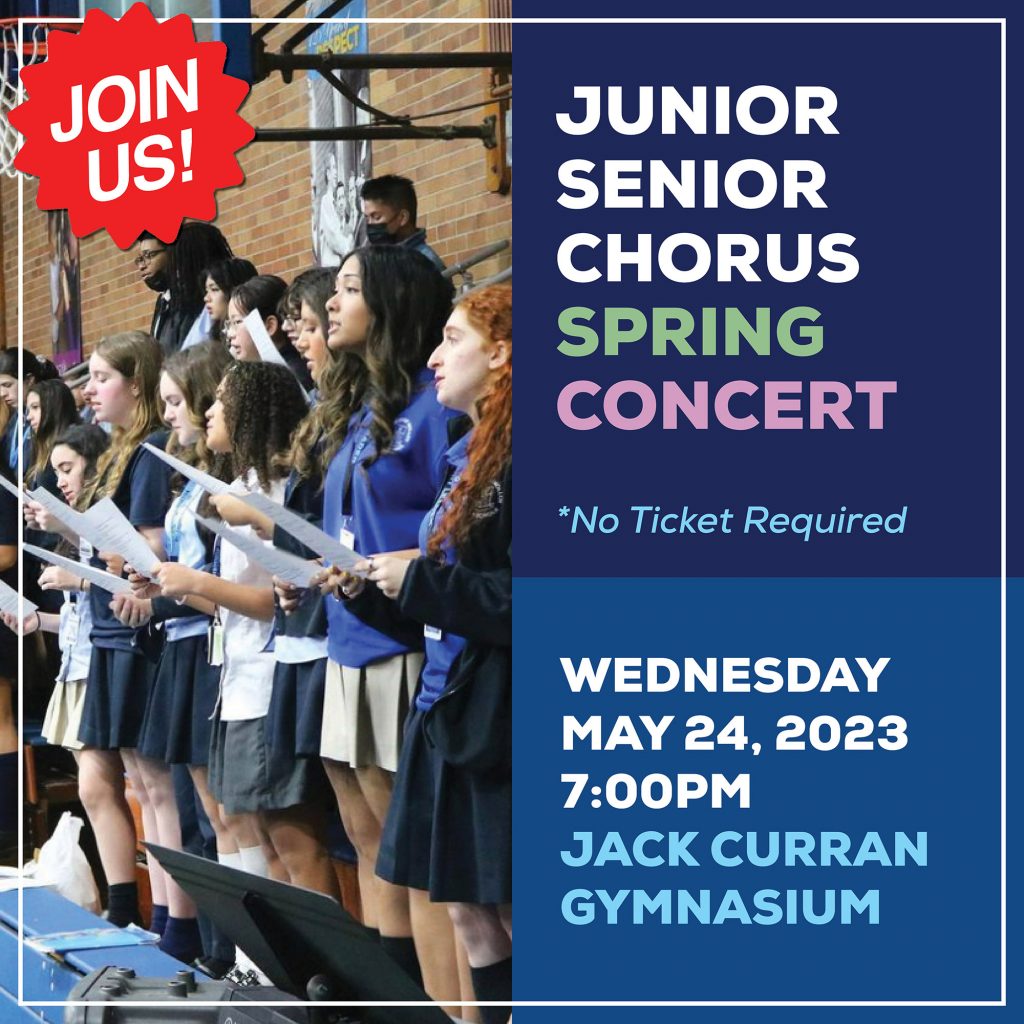 Congratulations, Class of 2023!
Congratulations to the Class of 2023, who had their last day of classes on May 16th! The following night, they celebrated their Senior Prom at Leonard's Palazzo of Great Neck! The Class of 2023 has several more important dates to look forward to before summer begins, including:
May 23rd @ 7pm – Athletic Awards
May 24th @ 7pm – Junior/Senior Chorus Spring Concert
June 1st @ 7pm – Graduation Liturgy at St. Nicholas of Tolentine RC Church
June 4th @ 9am – Commencement Exercises at St. John's University
June 5th @ 11:30am – Graduation BBQ
Earlier this month, on May 5th, the seniors attended school donning their college sweatshirts! The Class of 2023 proudly walked the halls wearing t-shirts, sweaters, or sweatshirts representing the colleges and universities they will attend in the fall. Some schools highlighted were the University of Scranton, New York University, the United States Air Force Academy, St. John's University, Columbia University, and Stanford University! Check out the photo gallery in The Beehive to find out where more of our soon-to-be grads are headed this fall. We will provide more coverage and photos from senior events in our next Beehive.
---
Annual Giving Report Available for Download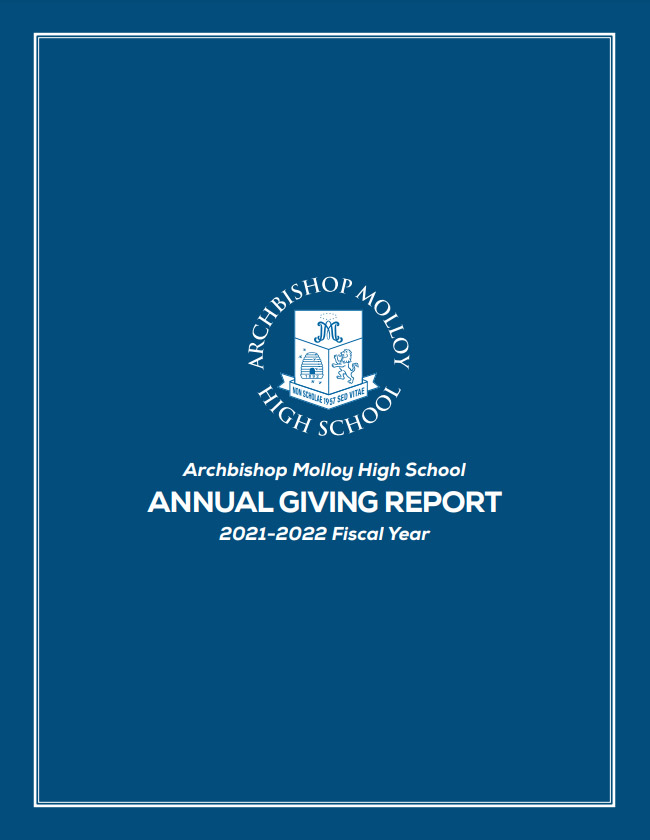 The Stanner Alumni Center invites our community to download Molloy's latest Annual Giving Report. This report highlights the generosity of our benefactors during the 2021-22 school year. Molloy's fiscal year runs from September 1st through August 31st of the following year.
Your generosity supports a wide range of scholarships, technology and facility upgrades, and Molloy's ability to secure the resources necessary to provide a quality Catholic education in the Marist tradition. Thank you for your support!
Depending on the amount or designation of your gifts, we are pleased to induct our benefactors into the giving societies within this report. Past reports are available on our website. For more information, contact the Stanner Alumni Center at 718-441-9210 or email alumni@molloyhs.org.
---
Asian Club Organizes AAPI Alumni Panel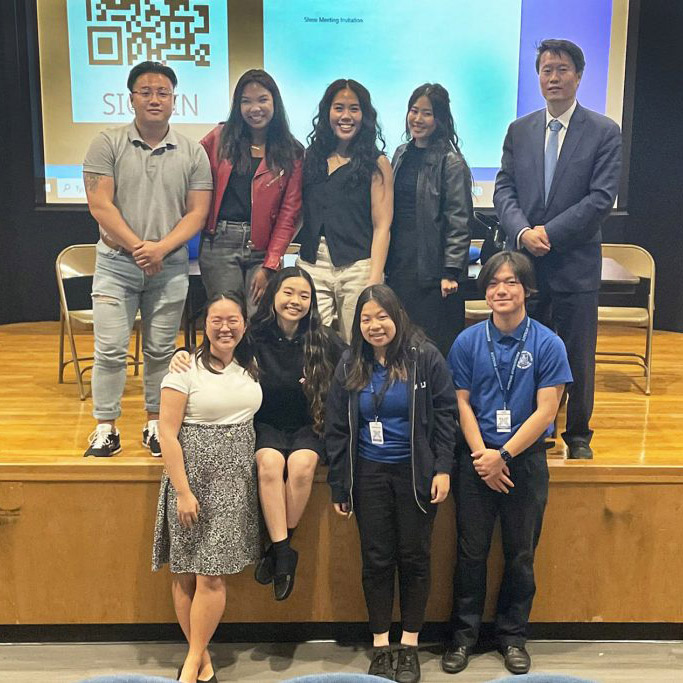 In honor of AAPI Heritage Month, Molloy's Asian Club hosted an AAPI Alumni Panel on May 15th! Organized by Ms. Haslbauer and moderated by Nancy Zilz '23, the panel consisted of five Molloy alumni ranging from class years 1990-2018 who took the time to speak to Stanners about being an Asian American in the professional world.
The highlighted panelists were: Edwin Wong '90, a banker and commercial lender, as well as the NY Democratic State Committeeman for Assembly District 28, and one of the original founders of the Asian Club at Molloy; Elyssa Noblesala '08, a global marketing strategist; Lauren Kim '09, an artist and textile designer; Valerie Villanueva '09, a marketing professional and health enthusiast based in London; and Clifford Robin Temprosa '18, a Budget Policy Coordinator at the Coalition for Asian-American Children and Families, and the Founder and Chair of the AAPI Caucus in the Queens Young Democrats.
Panelists answered questions such as, "How has your heritage shaped who you are today?" and, "What are some of your favorite traditions?" Valerie made it known that as a Filipina American, she sees the world through a specific lens, and Clifford added that his cultural identity reflects his life decisions. Edwin says he always shares his experiences so he can educate the people around him, and Elyssa said although things aren't perfect, she is happy that there is more AAPI representation in media, as more voices are being added to the conversation.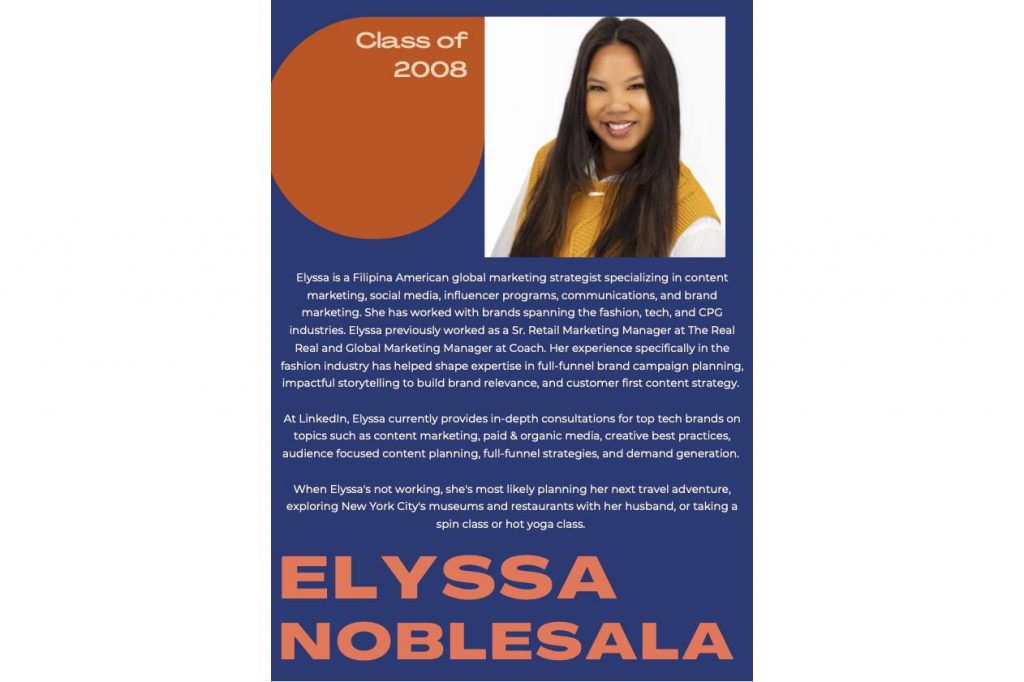 ---
NCAA Signing Day Includes 25 College-Bound Athletes
On May 9th, Molloy celebrated its biggest NCAA Signing Day in recent memory! 25 seniors signed a national letter of intent to continue playing their sport at their college or university. It was an exciting day for our seniors and their families, many of whom were in attendance to cheer on our student-athletes! College Counselor Mr. Gus Esgro organized the signing day. "Having been fortunate enough to be a part of this process for several years now, it was really exciting to see so many students choosing to continue their athletic careers across all three divisions of the NCAA," said Mr. Esgro. According to Mr. Esgro, rather than solely recognizing seniors who earn athletic scholarships from their college or university, Molloy's Athletic Department recently moved to include all college-bound athletes on signing day, making for an even greater celebration of athletic achievement.
Congratulations to all our outstanding college-bound athletes:
Christian Audrin – Track – Iona College
Grace Bekios – Soccer – Queens College
Kuba Cwalina – Basketball – Middlebury College
Hunter Daab – Baseball – Lycoming College
Sofia De La Rosa – Softball – Wheaton College
Jordan Farrandino – Softball – Prairie View A&M
Joseph Foye – Soccer – SUNY Maritime
Joe Frazzetta – Baseball – New Haven
Rowan Hayes – Swimming – SUNY Maritime
Mark Haynes – Swimming – Manhattan College
Leilani Jimenez – Softball – Rutgers-Newark
Devlin Kenny – Soccer – SUNY Maritime
Jacob Kline – Baseball – Clark University
Anthony LaRussa – Baseball – John Jay
Jaileen Martinez-Gomez – Basketball – SUNY Purchase
Kevin McManus – Soccer – SUNY Maritime
Joseph Meglio – Baseball – St. Joseph's College (BK)
Alexander Morichini – Soccer – SUNY Maritime
Alexia Mousouroulis – Basketball – NYU
Grace Murphy – Track – Marist College
Jaclyn Piazza – Softball – University of New Haven
Stephanie Stimpfl – Lacrosse – Salve Regina
Keanu Stingone – Soccer – Manhattanville College
Matthew Tucker – Basketball – College of Mount Saint Vincent
Stefano Yozzo – Baseball – Middlebury College
---
Students Present Research at Science Symposium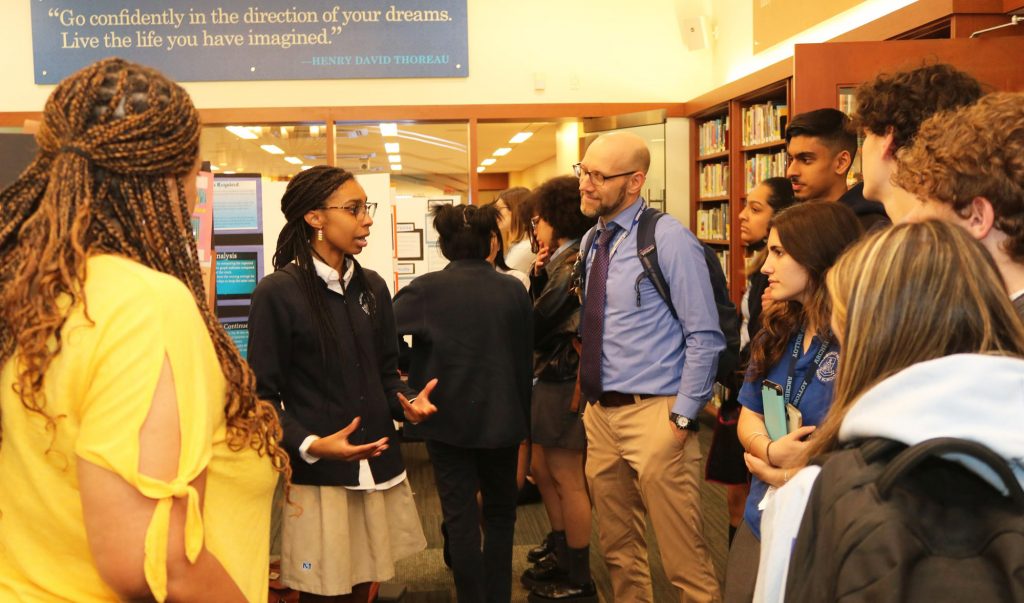 On May 15th, Molloy hosted the annual Science Symposium in the William J. Murphy Library. Students presented their Science Research projects, which covered a spectrum of fascinating topics. These include a study on using Python to discriminate between music and speech (Abigail Mallia '23), a potential link between fast-food and commercial baked goods consumption and risk of depression (Joshua Jarrett '25), the effects of service animals on patients in medical facilities (Emily Kitson '24), what makes certain songs bring out our emotions (Veronica Nerone '24), and many more. Some projects saw Molloy students conduct their research with experienced mentors. Daniella Rupert-Gopalsami '23 worked with a mentor to compare ginger and Neosporin in treating E.coli bacteria.
The research conducted by our students was thorough and the range of their interests and findings was truly impressive! Thank you to Ms. Mary Mallia for working with our students and organizing the Science Symposium, and thank you to all who attended and supported our Science Research program. You can download the event program below to learn more.
---
Stanners Participate in International Drone Day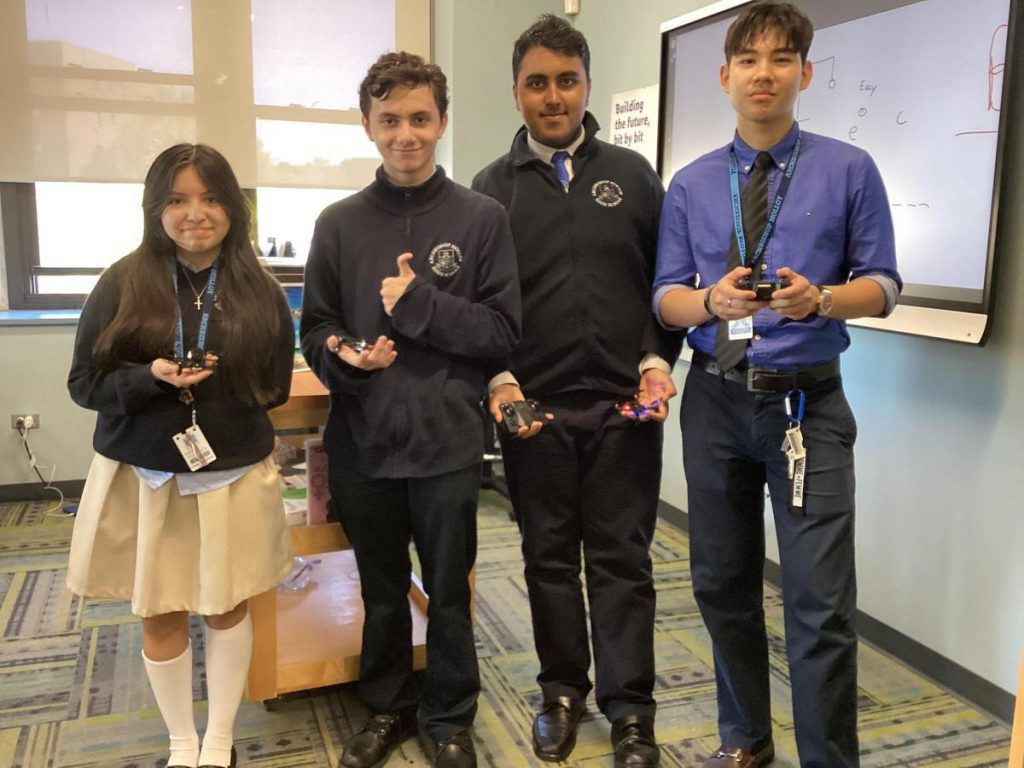 On May 6th, Molloy's drone flying team joined in the global celebration of International Drone Day at Vaughn College. The annual event seeks to raise awareness of drones' versatility and positive impact in a variety of fields. Better known as The Bees, the team consists of Ethan Acevedo '25, Tiffany Esquen '25, Gurpreet Heir '25, and Inom Mamadjonov '25. The Bees participated in a series of workshops that taught them the latest in drone technology, how to master the art of drone flight, and how to navigate through challenging obstacles. At the end of the event, each member of the team received a drone!
As a member of The Bees, Tiffany was recognized as one of the grand prize winners in the drone flying video competition organized during the event! Congratulations, Tiffany, and congratulations to all of The Bees on being a part of International Drone Day!
---
Campus Ministry Organizes Family Service Day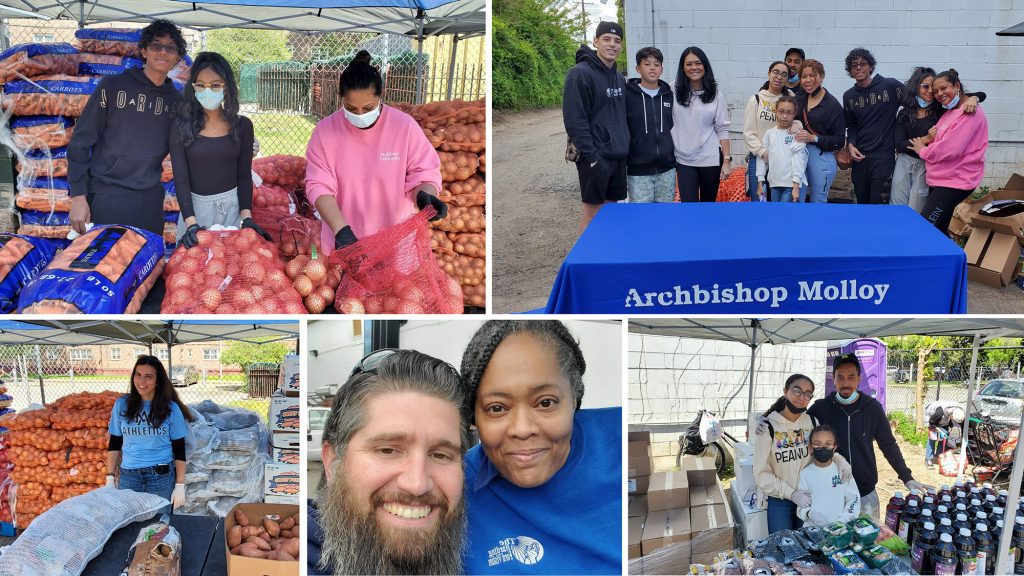 On Saturday, May 6th, students and family members spent the afternoon serving at the Harding Ford Vision Food Pantry in Jamaica, NY. They helped to distribute food and serve over 500 people. Donations recently collected at Molloy in the form of feminine hygiene products were also distributed to patrons.
When asked about the day, Mr. Corrado said, "To see Stanner parents, siblings, and current Molloy students coming together to serve others in need is yet another shining example of how we live our mission at Molloy. Our pillars were on full display today as our Stanner families took joyful and hopeful action to address food insecurities right in our own backyard. I continue to be inspired by our students and their willingness to embrace their roles as servant leaders."
Eloradana Francisco '25 shared, "It was great serving on Saturday. I feel like I have been changed because I definitely loved giving people food and seeing the smile on their faces. I would definitely do it again. I created change by feeding families that needed help and created happiness in those moments and it was a very enjoyable experience." Adam Baksch '25 felt similarly. He shared, "I have been changed by this experience because it made me feel like a better person. It makes me want to volunteer again in the future and my family and I had a great time. I know my family changed for the better by this act of kindness and it made us see things from a different point of view. I hope other families could go out and do the same from this."
---
Stanner Sports Updates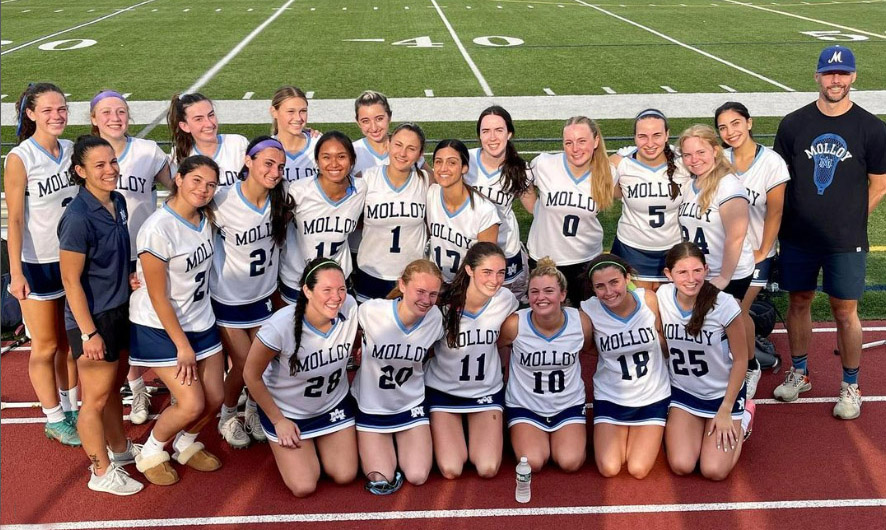 Congratulations to the 6400M Relay Team of Eva Gonzalez '24 (5:34.9), Aoife Garvey '25 (5:43.7), Erika Strumpf '23 (5:43.3), and Grace Murphy '23 (5:47.1), who broke yet another Molloy record with a total time of 22:50.2 Their team time bested Molloy's previous record in this event by four seconds. The race took place at the Saint Anthony Invitational.
Congratulations to the Varsity Lacrosse team, who defeated Holy Trinity in the NSCHSAA "A" Division Semi-Final game to advance to the Championship Game. The team competed well in the final, but Our Lady of Mercy came out on top. Congrats to our squad on a great season!
The JV Softball team recently captured their 10th straight division title and are headed to the Semi-Finals! Recently, Coach Lou Santos and the JV Softball team also held an open workout for incoming freshmen and friends of Molloy. The workout welcomed 34 families and served as a great introduction to our Stanner family!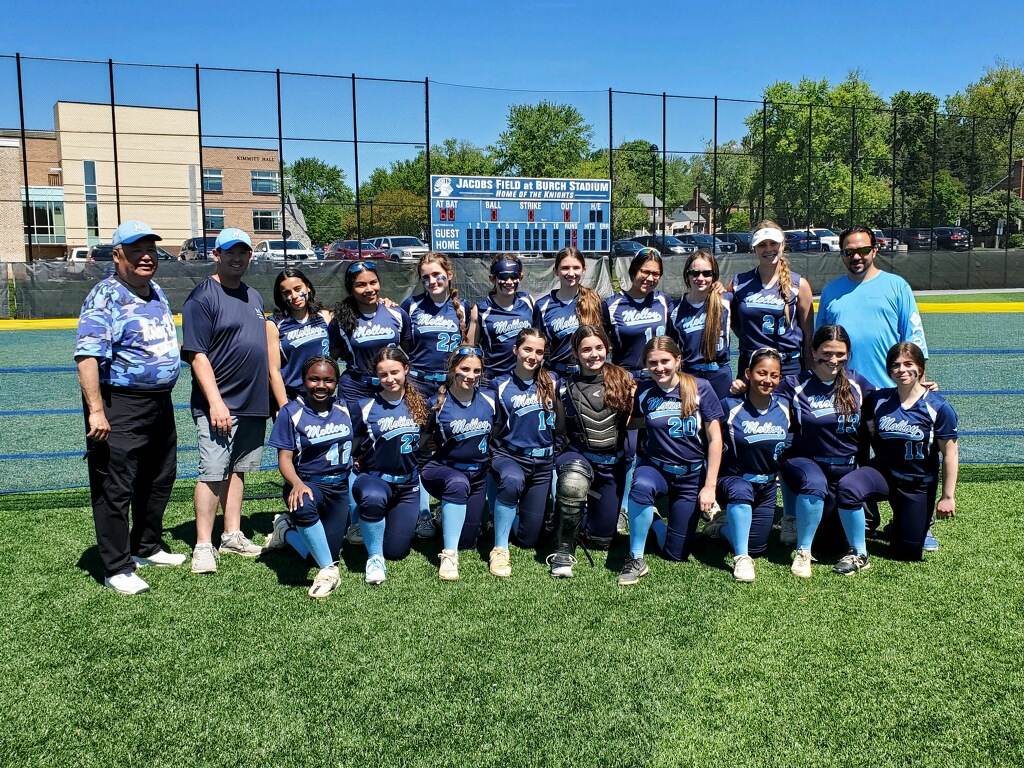 More from JV Softball: a sincere thank you to baseball alumni Don Erickson '90, Andre Forte '87, and TJ O'Leary '02, who met up with the team and Coach Lou during their recent trip to Washington DC. The JV Softball team played against Bishop O'Connell High School in Arlington (pictured), and later joined the alumni for dinner. "These alums were instrumental to the success of our DC trip and gave us great input on activities. That's the power of the Stanner network," said Lou.
---
Download The Stanner Newspaper!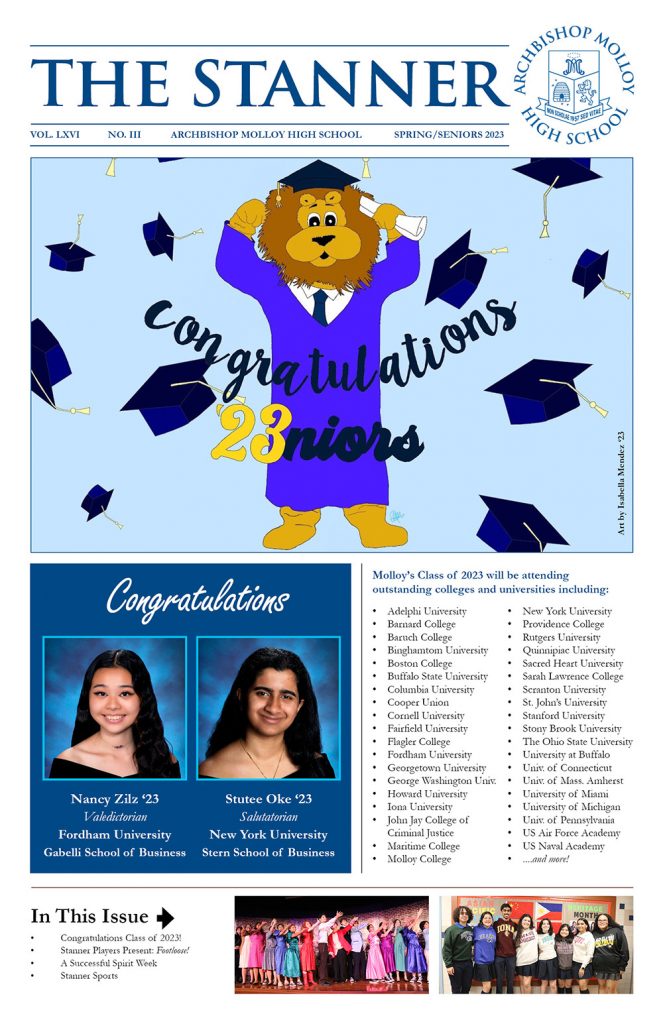 We invite our community to download the latest edition of The Stanner newspaper. In addition to school news, our spring issue also pays tribute to our seniors, including this year's Valedictorian Nancy Zilz '23 and Salutatorian Stutee Oke '23.The front page also includes a list of just some of the colleges and universities that the Class of 2023 will be attending this fall.
Click the thumbnail or button below to download The Stanner in PDF format. You can access select archives at www.molloyhs.org/stannernewspaper/
---
Molloy Celebrates Teacher Appreciation Week
Last week, Molloy celebrated Teacher Appreciation Week! Our sincerest thanks to all our faculty and staff, who are appreciated each and every day! During the week, students wrote notes to their favorite teachers and staff members, thanking them for their hard work, dedication, and honest compassion. The notes filled the bulletin board outside the William J. Murphy Library. Faculty and staff also enjoyed treats like donuts and bagels throughout the week. Thank you to everyone who works at Molloy for making a difference in all of our Stanners' lives!

Konchalski to Enter College Basketball Hall of Fame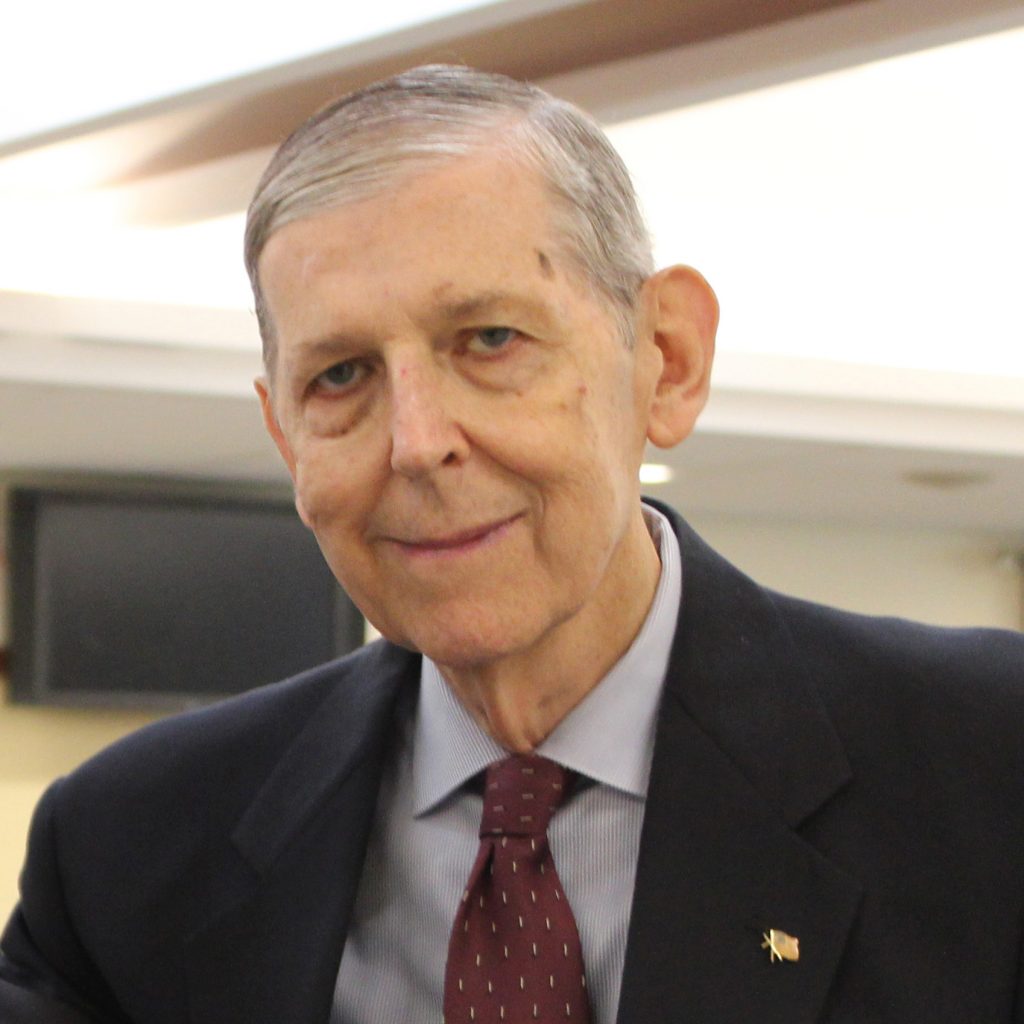 The National Collegiate Basketball Hall of Fame has announced that it will honor the late Thomas C. Konchalski '64, renowned basketball scout, by inducting him alongside the winningest coach of all time. Mr. Konchalski will be inducted posthumously along with the legendary Coach Mike Krzyzewski. Other inductees include Coach Herb Magee and former players Johnny Dawkins and Tyler Hansbrough. The National Collegiate Basketbal Hall of Fame's Class of 2023 will be inducted during a ceremony on August 30th in Chicago, Illinois. Click the button below for more information from ESPN.
---
Another Great Alumni Zumba Night!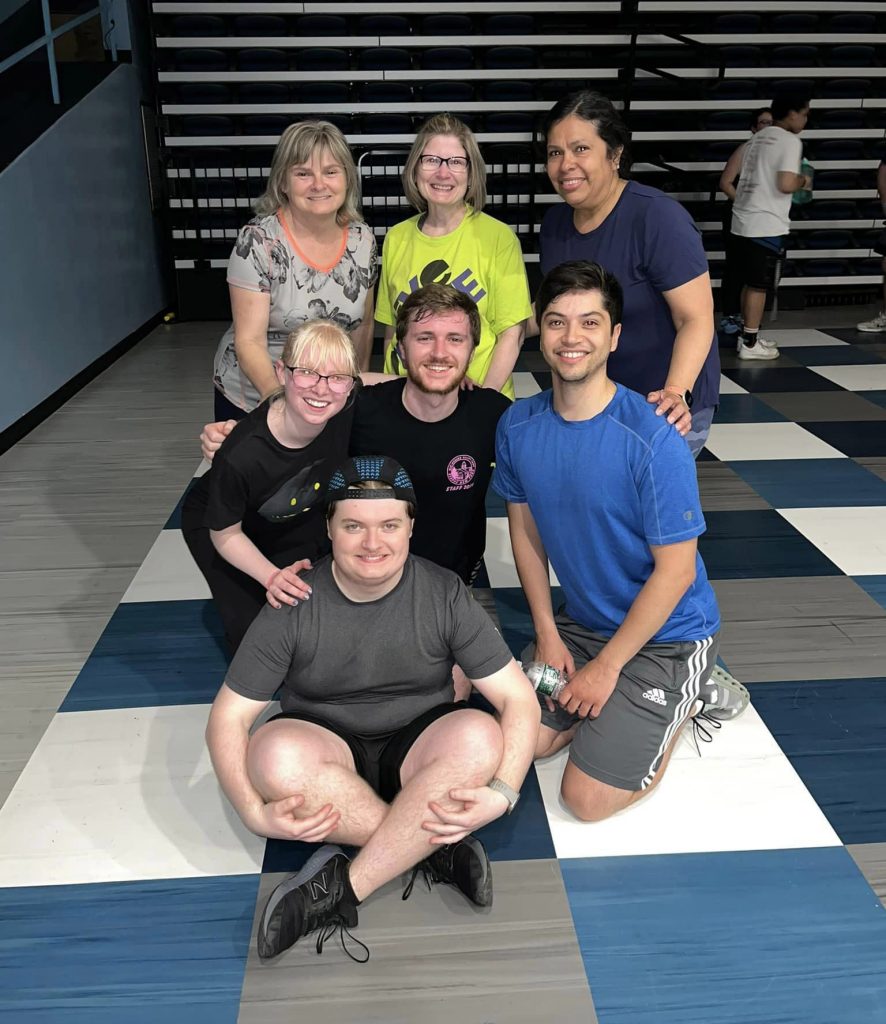 We had a great turnout for the third installment of Alumni Zumba Night on May 8th! Over 30 alumni, parents, faculty, staff, and friends of Molloy joined in the hour-long workout class.
Pictured are a few of our amazing alums and their parents! Thank you to Ms. Liz Murdocca and Mr. Chris Autera '16 for leading the group in high energy dances!
Keep your eyes out for another class in June before summer break starts. The event will be free and all are welcome..
---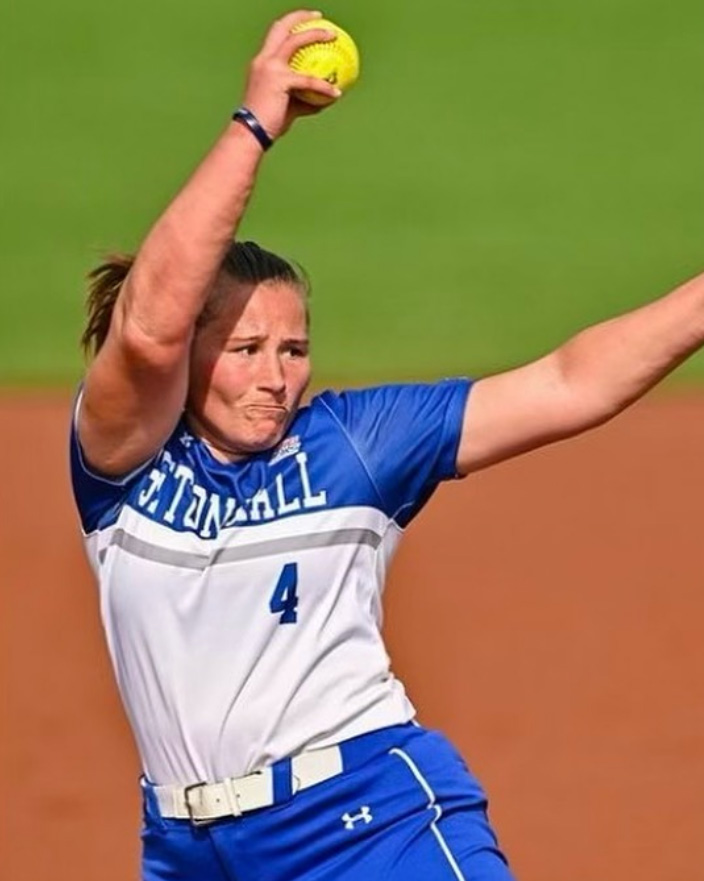 Congratulations to Kelsey Carr '20, who recently pitched a complete game to lead Seton Hall to victory in the Big East Championship Game!! They now advance to the NCAA tournament! Great job Kelsey!
Click Here for more info about Kelsey
Photo courtesy of Seton Hall Athletics.
---
The following update was submitted by Edwin Sanchez '05, Sergeant Deputy Commissioner, Public Information. Pictured left to right: John Grimpel '92 hire photo; John's academy photo; John's exit photo.
"Lieutenant Special Assignment John Grimpel '92 was sworn into the NYPD on July 18, 1996 and retired on April 27, 2023. He was last assigned to the Office of the Deputy Commissioner, Public Information (DCPI) where he was tasked with supervising police officers and detectives that liaison with local and international media and provide updates on emergency incidents, crimes and active investigations. One of his most important responsibilities was coordinating his staff to respond to developing police incidents in real time around the city. On behalf of his DCPI family, we would like to wish John the best in retirement! He is missed in the office but we are happy for him."

– Edwin Sanchez '05
---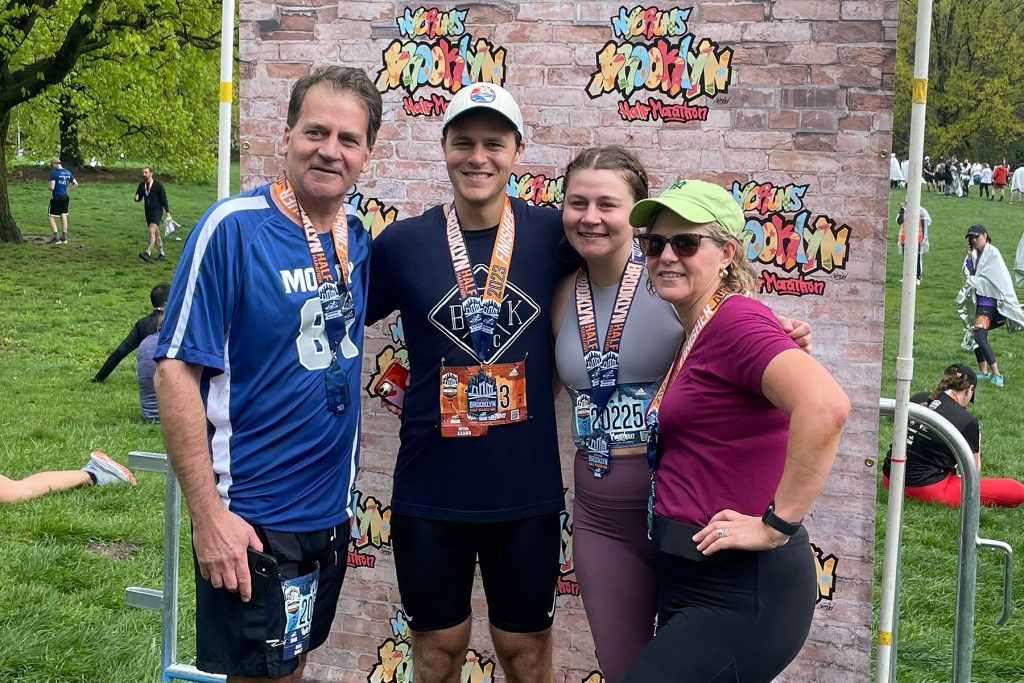 On April 23, 2023, Rob Rossi '81, Sandra Rossi, Robby Rossi '12 and Elena Rossi '17 ran the NYCRuns Brooklyn Half Marathon. Rob was sporting a Stanners jersey. Rob, Robby and Elena all ran track at Molloy.

Please join us in prayer for Matt Hopkins. Matt is a former Marist Brother who previously taught at Molloy. Matt is currently in hospice care.


Please pray for the repose of the soul of Patricia Fullerton, aunt of Heather Green-Wresch (Executive Director of Enrollment Management), as well as Keith Green '90 and Kelly Green, sister of Mrs. Mickey Green and sister-in-law of Mr. Donald Green, and great aunt of Emma Wresch '20, Brooke Wresch '23, and Sean Green '25. All at Molloy send our deepest condolences.
---
Please pray for the repose of the soul of Richard M. McGrade, brother-in-law of Michele McGrade (IT Systems Coordinator), and uncle of Ella McGrade '20, Anna McGrade '21, and Dean McGrade '26. All at Molloy send our deepest condolences.
---
Please pray for the repose of the soul of Caroline Manna, mother of Geno Manna, MD, '66. Caroline passed away on May 1, 2023, at age 100.